When only the best speed skates will do, Bont Skates is one of the top speed skating brands to check out. As manufacturers of some of the best inline speed skates on the planet, their carbon fiber and heat moldable boots are some of the best out today.
In today's article, I'm going to go over the 8 best Bont speed skates out right now. Bont is best known for their speed inline skates, but we'll also cover a couple of their top quad skates as well.
The Top 8 Bont Skates for Speed Skating
Detailed Reviews of the Best Bont Skates for Speed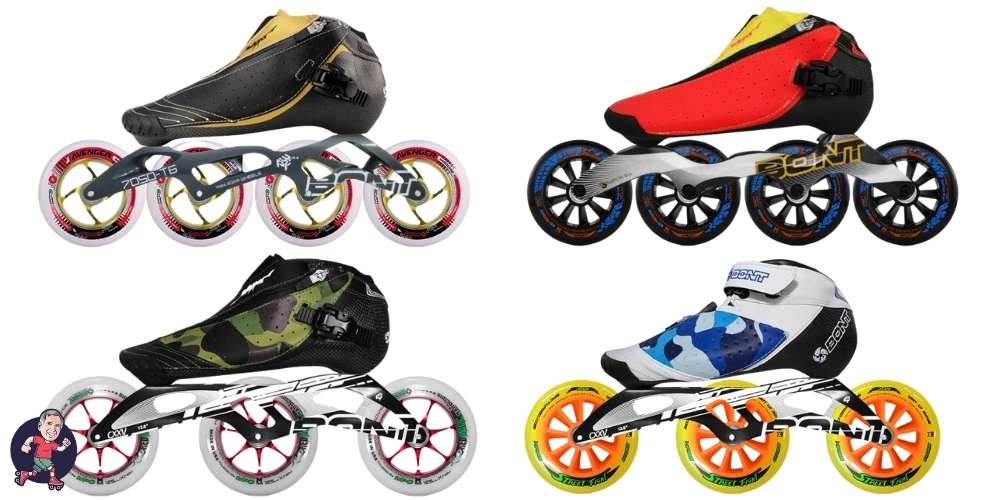 The Bont Vaypor is one of the top inline speed skates in the world today. These skates are designed by Inze Bont, one of the world's leading skate designers. They have been worn by some of the best skaters in the world.
Bont is a trend setter in the industry. They were the first footwear manufacturer to use carbon fiber, fiberglass, Kevlar and heat moldable resins in their speed skates. They are a pioneer an the industry.
The Vaypor Bont boots are constructed of carbon fiber, which makes them both light and comfortable. It also includes memory foam cushioning for added comfort and support.
The boots are made-to-order, and the skates are 100% unique so they are no in stock but rather custom made. They will take about 8 to 9 weeks to arrive since the boots aren't produced until you order them. This ensures that they are made just for you.
Also, I highly recommend you check out their skate size chart before you buy as these skates don't always match your shoe size.
You can find a more detailed review on the Bont Vaypor here.
---
2. Bont Crono 2 – Best Inline Speed Skates (Runner-Up)

Another great pair of bont inline skates for speed skating are the Bont Cono 2. These feature nice lace covers and a new tighter fitting. They has aluminum strengtheners and so many wheels to choose from in your custom configuration, it will make your head spin.
This innovative skate is designed to provide an aerodynamic advantage, helping you zip up to downhill speeds of over 60mph.
You can find a more detailed review on the Bont Crono 2 here.
---
3. Bont BNT – Best Inline Speed Skates (Bronze)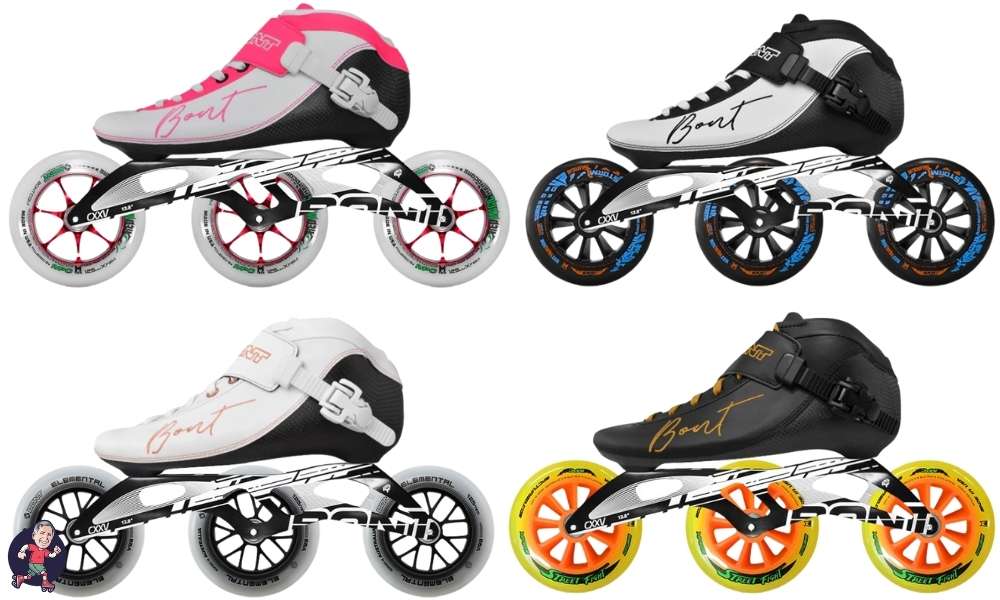 Next up in the Bont BNT. This skate is made with a 100% carbon fiber base, which is heat moldable and ultra-lightweight.
The Bont BNT Inline Speed Skate is a boot designed for agility and has a tight heel for maximum precision. The tongue of this skate is ventilated to keep your feet cool and dry, while the laces are waxed for long-lasting durability.
You can find a more detailed review on the Bont BNT here.
---

The Bont Jet Inline Speed Skates are made with high-quality materials, including carbon fiber and fiberglass, which make them lightweight and strong. The boots have also been upgraded to provide better support and stability at high speeds. Thanks to these improvements, the Jet inline speed skate is now around 40% stronger than earlier Bont skates.
You can find a more detailed review on the Bont Jet here.
---

The Bont Semi Race Inline Skate are perfect for both beginner and experienced skaters alike. Built around a tried-and-tested design, this skate features a one-piece construction that is both lightweight and durable.
The boot also features a heat-moldable tongue for a personalized fit, and super mold technology allows it to be molded to your foot with ease for improved comfort. The tongue is formed from heat-sensitive EVA that can be tailored to your feet.
You can find a more detailed review on the Bont Semi Race here.
---

The Bont Luna Inline Speed Skate features an improved last that provides better support and comfort while skating. Every aspect of this skate, from the hand-wrapped carbon fiber and fiberglass to the heat-moldable epoxy resin, is designed to give you the edge over the competition.
You can find a more detailed review on the Bont Luna here.
---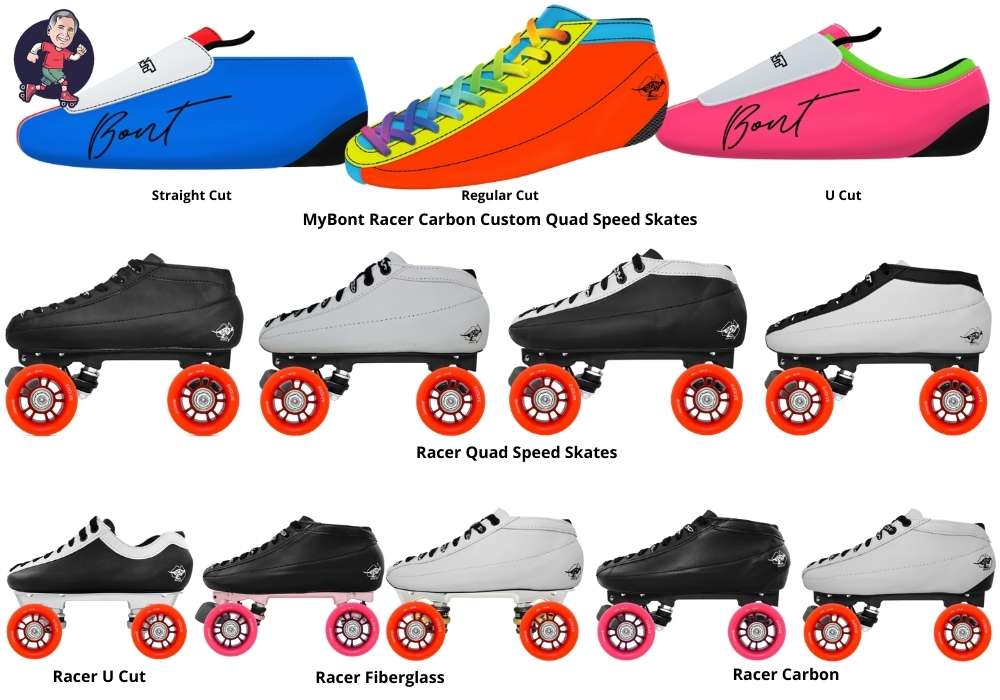 The Bont Racer has so many options to choose from. There are dozens of styles to choose from, or with the MyBont Racer, you can completely customize your skate colors and style. It is one of the most customized quad skate boot on the market today. The 3 boots at the top of the image are all ones I customized in under 5 minutes.
With the MyBont Racer, choose between three different boot cuts: straight cut, regular cut or U-cut. Or, go with the cheaper, less-customized Racer U-Cut, Fiberglass or Carbon speed skates. Finally, there are the regular Racer Quad Speed Skates that come in black, white, black/white or white/black boot designs.
There are so many options to choose from, it can be a bit intimidating when you first look at them all. However, they are all pretty much the same skate. The only difference is the boots and how customized you want to get with them.
MyBont is Cool
For me, I'd go with the MyBont package. These top-of-the-line quad speed skates out right now and they give you a lot of configuration options. You can choose colors for 10 different parts of the skate (left side, right side, tongue, laces, stitching color, logo color, etc.).
Next, you can even customize how much padding is in the boot, whether or not you want a heel rise, the kind of arch you want in the skate and, most importantly, the width of the skate. If you want to customize everything, MyBont is worth a look.
---
Bont's popular roller derby Quadstar boot has now been modified for those with a need for speed! The boot on this skate is constructed of 100% Australian leather and is extremely lightweight to help you reach your maximum speed.
This quad skate package comes premounted with the No Toe Stop (NTS) Tracer plate with the option to pick and choose your wheels and bearings to find the perfect setup for your skating surface.
Wrap Up
There you have it. The top 8 Bont skates for speed skating that covers both inline speed skates and quad speed skates. I hope you liked the list. As you can see, Bont offers some of the best skates for speed skating out right now. If you are serious about speed skating, I would definitely check them out.