When it comes to quad speed skating, having the right set of quad roller skate wheels is key to reaching your top speed and winning the race. And, in today's article, I will be going over the 15 best speed skate wheels on the market right now.
Then, after going over my top picks, I will dig into what to look for in a set of roller skate wheels for speed skating. In the buyer's guide below, I will get into the important aspects of a speed wheel like wheel diameter, profile (or width), looking for the maximum contact patch, durometer, wheel cores and more.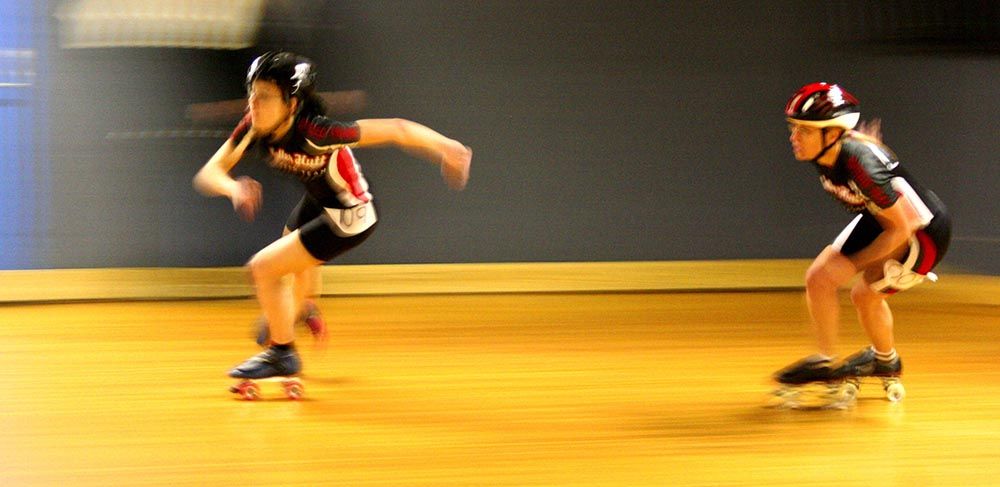 This article is all about quad speed skate wheels. If you have a pair of inline skates, then check out my article on inline speed skate wheels. Or, if you are interested in a different roller sport, be sure to check out a lot of my other roller skate wheels articles for quad wheels below:
This one is for all of you quad speed skaters out there. So, if you're ready, let's get started!
My Top 15 Best Roller Skate Wheels for Speed Skating
---
Detailed Reviews of the Best Speed Wheels
When only the best wheels for speed skating will do, then be sure to check out RollerBones Turbo. These roller skate wheels offer an aluminum core and 7 different wheel hardness levels. Choose from softer wheels at the 80A range that will work outdoor skating or the 101A harder wheels that are perfect for indoor skating.
What I love about these taller wheels is they clock in at a whopping 62mm diameter allowing you to reach maximum speed while you roll smoothly. The rigid core of the wheel is made out of aluminum. It has hybrid aluminum / hollow cores. These allow for more power transfer on each of your pushes and is extremely light weight. The best of both worlds.
RollerBones Turbo At a Glance
---
2. Sure-Grip Hyper Shaman – Best Indoor Skate Wheels for Speed Skating (Runner-Up)
Next up, we have some Sure Grip wheels, the Hyper Shaman. These indoor wheels are perfect for speed and also can be used as roller derby wheels. They come in 4 different colors and durometers from 89A which will offer more grip to 97A which will allow for less traction and higher overall speeds.
What I like about these wheels is just how fast they are on the rink floor. I have a pair of white 97A Shamans and they fly. These wheels provide a smooth ride on polished concrete and do really well on coated surfaces like wood floors. The harder 97A are great on these sticky floors as the harder wheel provides a lot less grip but a lot more speed. You can get some serious roll time on these wheels.
Sure-Grip Hyper Shaman At a Glance
---
The next wheel on my list is one of my favorite speed skate wheels from a few years ago, the Hyper Cannibal from Sure-Grip. These wheels are 62mm tall and come in either a soft 92A durometer or a hard and fast 96A durometer.
I used to speed skate for my local team here in town in the 96A orange Cannibals. Even though they are an older wheel and a little harder to find, they are still some of my favorites. My daughter, Lily, speed skated in the 92A blue version. She preferred a little more stick. I preferred the hard wheels. They really do give you a much better roll and top speed if you can control them.
The only negative I have had with these wheels is that it can sometimes be hard to get the skate bearings into them. The skate bearings snap into place eventually but only after a bit of force.
Sure-Grip Hyper Cannibal At a Glance
---
Next up on my list are a new roller derby and speed skate wheel made for when you skate indoors – the Sure-Grip Monza. These new wheels come in 4 different colors and 3 durometers. They also have a nice, wide 62mm x 42mm profile and aluminum cores that makes them perfect for speed skating.
What I like is that these wheels are a newer model that recently just came out from Sure-Grip. They double as a good derby wheel and are also a solid speed skating wheel. The aluminum core and wheel profile is also ideal for quad speed skating.
Sure-Grip Monza At a Glance
---
Next up, we have the Bont Evolve roller derby and speed skating wheels. These wheels come in 2 different diameters and 6 different wheel hardness levels so there is really a size and hardness for every skater and skating surface.
The first thing I like about these wheels is that they come from Bont. This company is known for excellent speed skates and parts. Granted they are better know for their inline speed skates, but still these quad speed wheels are also really good. The other thing I like is the 2 different wheel profiles and the 6 different durometers. This means I can easily mix and match based on the surface I am skating on that day.
Bont Evolve At a Glance
---
Up next are the first wheels from Riedell – the Radar Halo. These are also on my best roller derby wheels page as one of the top picks just based on the the well-made materials and the fact that it comes in so many durometers.
Choose from either nylon or alloy hubbed wheels. The 84A-86A wheels can be used outdoors. The alloy hubbed wheels are great for speed skating. The only reason this wheel isn't higher on my list is because of the wheel profile – it only comes in a 59mm tall / 38mm wide profile. This is really too small for my liking for most serious quad speed skaters. I much more prefer wheels in the 62mm-65mm range for speed skating.
Riedell Radar Halo At a Glance
---
The Sure-Grip Zombie is the next wheel on the list. This quad speed wheel also made the roller derby list. It comes in 2 different diameters and 2 different widths – a 62mm x 42mm that is best for speed skating or derby players who want more top speed. Then, there is a 62mm x 38mm and 59mm x 38mm that are better for derby.
These wheels are really popular in the derby and speed communities. They have been around for awhile now and have good reviews from serious skaters. If you want a good wheel that can provide a decent amount of speed, the Zombie is worth a look.
Sure-Grip Zombie At a Glance
---
Next on the list are the Riedell Sonar Ninja wheels. These speed wheels double as some pretty good jam skating wheels, too. In fact, they made my best jam skate wheels list. They come in 2 diameters – a 59mm and a 62mm. The 62mm wheels also come in a 43mm width – one of the widest quad wheels on our list.
Overall, this is a nice quad speed skate wheel. However, the only thing I don't like about them is their durometer choices. With a range between 88A-94A, there are no choices for super hard wheels in the 96A-103A range. Because of this fact, they had to slip further down my list. These will do well as speed skate wheels on a slicker surface, but on coated, tight surfaces, you will struggle more to get a top speed in these wheels.
Riedell Sonar Ninja At a Glance
---
Next from Riedell are the Sonar Demon. These speed wheels come in a variety of colors but only in 1 profile and durometer – 62mm x 43mm and a 95A durometer. This makes them ideal for sticky surfaces and this is a good beginner speed skate wheel at a modest price.
I like the hollow nylon cores. That makes this wheel pretty lightweight. The colors are also nice and bright. While there is a lack or durometers, I do think 95A is a great midway hardness for most speed skaters skating on wood rink floors.
Riedell Sonar Demon At a Glance
---
Next on the list is the Sure-Grip Twister wheel. This beginner speed skate wheel is affordable and comes in a 62mm x 42mm profile with a 96A durometer. The wheel can be used both for speed skating, roller derby or recreational skating.
Sure-Grip Twister At a Glance
---
11. Sure-Grip Zoom – Best Budget Quad Speed Skate Wheels (Runner-Up)
Another good budget beginner speed skating wheel is the Sure-Grip Zoom. Like the other wheels before it, these wheel sport a 62mm x 42mm profile and a 95A durometer. If you are just starting out in speed skating and don't want to break the bank, then the Zoom is a good starter wheel.
Sure-Grip Zoom At a Glance
---
Now, lets move on to some quad speed outdoor roller skate wheels. That's right! Speed skating outdoors is a real thing. The Sure-Grip Aerobic outdoor wheels are perfect for those who are just trying to pick up the pace on their roller skates while skating outdoors and looking to break a sweat.
The Aerobic has a 62mm diameter and a 38mm width. It also has an 85A durometer that makes it a good hybrid wheel for both indoor and outdoor skating. It will be a little bumpier than outdoor roller skate wheels like the Atom Pulse, but it also will be faster, too.
Sure-Grip Outdoor Aerobic At a Glance
---
13. Atom Road Hog – Best Skate Wheels for Outdoor Speed Skating (Runner-Up)
If doing skating marathons in your quads is more your speed, then check out the Atom Road Hog outdoor skating wheels. These wheels come in at a whopping 66mm diameter – the largest wheel on our list. They also have a wide 42mm width. The durometer is a softer 78A, but the extra height really helps with maintaining a top speed while skating outside. They have been around for quite awhile and are a fan favorite among a lot of long-time skaters.
Atom Road Hog At a Glance
---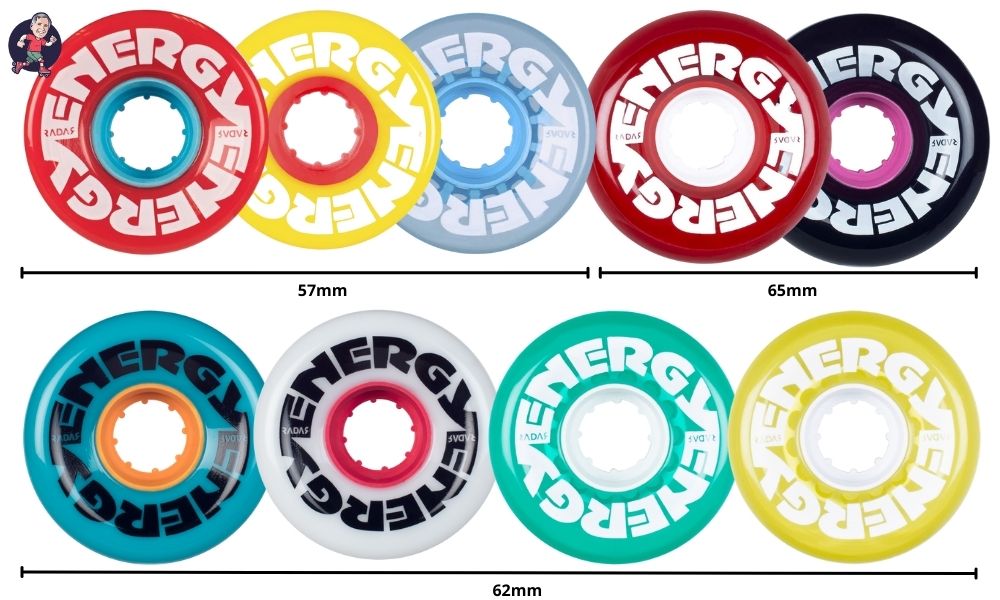 Next on the list are the versatile Riedell Radar Energy wheels. These narrow wheels are good for recreational and artistic skating. The 57mm smaller wheels are really geared more towards advanced skaters or artistic skaters who are looking for artistic skate wheels. However, the 62mm and 65mm wheels can be used for some outdoor speed skating.
The durometer comes in at a soft 78A. So, you won't be going super fast on these, but they do roll smoothly and comfortably on rough outdoor surfaces.
Riedell Radar Energy At a Glance
---
15. Riedell Radar Villain – Best Outdoor Skate Wheels for Speed Skating (4th)
Last on the list we have the Riedell Radar Villain outdoor speed wheels. These wheels come in a bit small in the 59mm x 38mm profile. However, they do have a nice hybrid durometer at 84A. This will make them roll at a higher speed than the softer 78A wheels I mentioned above. It's just too bad they don't come in a larger profile, otherwise, they would have been higher on this list.
Riedell Radar Villain At a Glance
---
Finding the Right Wheels for Your Next Speed Skating Race
It can be a challenge to find the right roller skate wheels for quad speed skating. There are so many choices and so many things to take into consideration before making a choice.
In the guide below, I breakdown speed wheels into all of the important characteristics that you need to think about including wheel durometer, diameter, width & contact patch and hub type. I then go over your skating surface and how that also plays a major role in choosing the right roller skate wheels.
Let's go!
Important Characteristics of a Quad Speed Skate Wheel
Wheel Durometer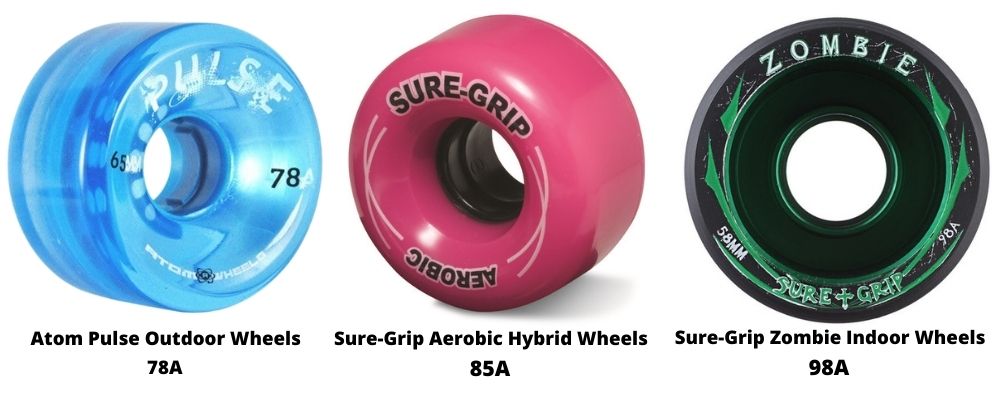 For speed skating, you want as hard of a wheel as you can stand on for your skating surface. Wheel speeds vary based on the hardness of the wheel. The softer the wheel, the slower it will go. Softer wheels provide good grip and glide smoothly with most outdoor use – even on bumpy asphalt. Softer wheels are also better when you first learn roller skating as that extra grip and reduced speed really help promote stability and good balance.
However, if you are an advanced skater who is into speed skating, then you want a harder wheel. Harder wheels allow for longer cruise ability at your top speed. The harder wheel will roll longer and for faster than the softer wheels.
For speed skating, a wheel in the 92A-101A range is what I would recommend to most speed skaters (depending on your surface). Are most speed roller skate wheels universal in their material type? Yes. Almost all speed skate wheels are made out of urethane today.
Wheel Diameter
Next up, we have the wheel diameter or height. Smaller wheels in the 45mm-58mm range are better as rhythm or artistic wheels. These are lighter wheels and allow for quick movements on your skates.
However, shorter wheels are much slower than taller wheels. This is why inline speed skates are so much faster than quad roller skates. The wheels on most inline speed skates are in the 100mm-125mm range – nearly 2x the height of a quad speed skate wheel.
A taller wheel can maintain it's top speed more than a shorter wheel. The shorter wheel will accelerate and reach it's top speed faster compared to a taller wheel, but the larger wheel will spin faster and for longer than the shorter wheels.
For quad speed skating, I really recommend going with a wheel that is no smaller than 59mm in diameter and really recommend 62mm or more.
Wheel Width & Contact Patch
Next, lets talk about wheel width and the contact patch. The width of your wheel is it's total size in mm. The contact patch is the part of the wheel that touches the skating surface. For quad speed wheels, you want a nice size contact patch so you can get a good strong push off the floor.
The size of the contact patch is often determined by the lips of each wheel. Some skate wheels have rounded lips and others have square lips. What you want to look for is that you have a tall, wide, hard wheel that has a solid amount of that wheel hitting your skating surface.
Hub Type
Next up, we have the hub type of nylon, hollow or aluminum core. Nylon and hollow core wheels are lighter but don't allow the wheel to keep their shape as well as aluminum core wheels. The aluminum core wheels are sometimes heavier than nylon or hollow core wheels unless they are made with special aircraft aluminum. However, the aluminum wheels also allow for better power transfer and more fluid roll.
For my taste, I typically go with aluminum core wheels. I feel they provide me a better overall roll and allow me to get and stay at my top speed.
Skating Surface
Last up, and certainly most important on this list, is your skating surface. Most quad speed skating that I have participated in happens either on hardwood indoor skating rink floors or out on the rough, hot, asphalt streets of Texas. You need very different wheels depending on your skating surface.
If your surface is sticky, like the wood floor shown in the picture above, then you can get away with a very hard and fast wheel in the 97A-101A range. However, using that same hard wheel on a slick wood, tile or concrete floor will send you sliding and will make it very difficult for you to achieve your top speed.
Rougher surfaces like asphalt really require wheels somewhere in 78A-88A range. For outdoor quad speed skating, I am often looking for a wheel in the 82A-85A range. This allows you to reach a higher speed than if you were wearing a narrow 78A outdoor wheel but also allows you to not experience the insane leg jiggling you will get if you try to wear a much harder wheel on these rough outdoor surfaces.
Wrap Up
I hope you enjoyed my article on the best quad speed skate wheels out right now and the handy guide above. If you have any questions or comments, please leave them below. And, thanks for rolling by!