Roller skating is so much fun and is great for helping to get in shape, shed those extra pounds and stay mentally fit. Plus, it's just fun! If you are new to skating, or even if you are a professional roller skater, today I will be going over the best roller skates for women on the market today.
First, I will go over my top 16 list for the best roller skates for women for all kinds of different categories including the best women's roller skates for beginners, outdoor roller skates, roller derby skates, artistic roller skates, indoor roller skates, cheap roller skates for women and more.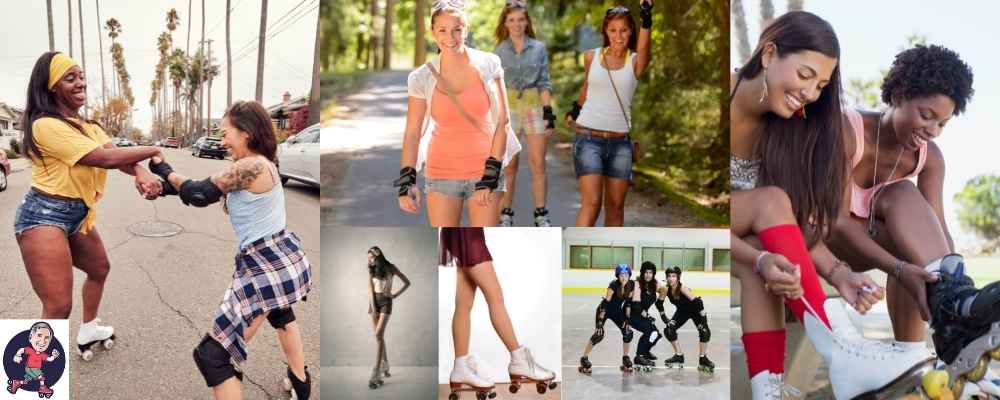 Then, the bottom of this page will have a women's roller skate guide that will give you all kinds of tips and details of things to look out for before you buy.
---
But, Why Trust My Advice on Skates?
My name is Jeff Stone. I have over 40 years of skating experience. I was an artistic roller skater (yes, that exists) and spent several years competing at a national level – even winning a national championship as a teen. That's me over there to the right with a lot more hair and smugness. 🙂
But, more importantly, I'm a parent of two wonderful young women who both are excellent skaters. I taught both of them how to skate as little kids. I also have helped 1000s of other kids learn to skate while working and teaching skate lessons at my local roller rink as a teenager.
I also just know skates. My hobby / fun thing to do while couch surfing is to research quad skate and inline skate products and write about them on this blog. I have bought and actually tested dozens of skates from leading skate manufacturers. I guess you could call me a bit of a skate nerd.
These days, I skate every week for fitness, mental health and just plain old fun. I love to skate. It's in my bones. For more, read About Roller Skate Dad.
---
Now, this page is all about quad roller skates for women. I also have an article about the Best Rollerblades if you were more interested in inline skates. Be sure to also check out my page on the Best Roller Skates if you want to see the best skates available right now for a variety of different roller sports and skill levels.
And if you're not sure which type of skates are best for you, check out my article Comparing Rollerblades vs Roller Skates vs Inline Skates.
My Top 16 Best Roller Skates for Women List
Best Roller Skates for Women – Detailed Reviews
My favorite roller skates for women are the Sure-Grip Boardwalk outdoor roller skates. These are my top pick for overall best roller skates because they have a nice high-top boot that provide solid ankle support. They also come in a lot of fun colors.
The softer wheels on these outdoor roller skates are also perfect for all kinds of roller skating surfaces from asphalt to hard wood. You'll go a little slower on the rink floor with these soft wheels, but that's okay for a beginner. As you advance and want more speed, buy a second pair of bearings and wheels for indoors, and you'll fly.
Round it out with an adjustable toe stop on each skate for stopping. This is a great all-around skate. I own a pair myself and shot all of my How to Roller Skate videos in a pair of tan Boardwalk skates.
Want 15 more recommendations for beginners? Check out my best roller skates for beginners page.
Sure-Grip Boardwalk At a Glance
---
Next up, we have the Beach Bunny roller girl skates from Moxi Skates. The Beach Bunny are some of the most popular roller skates on the planet. They come with a high-top boot in a lot of fun colors.
The Beach Bunny skates come with an aluminum frame that is nice for extra power transfer. It has soft outdoor wheels that are perfect for asphalt but can also be used indoors. They also come with nice, adjustable toe stops.
These bright and colorful skates are a favorite amongst the ladies. They are well-constructed for the price and the reviews on this skate from skaters are well good.
Want 15 more recommendations for beginners? Check out my roller skates for beginners page.
Beach Bunny Skates At a Glance
---
3. Bont Prostar – Best Beginner Skates (Bronze)
For all you beginners out there looking for a great pair of skates, check out the Bont Prostar. These skates are great for recreational skating, roller derby or speed skating. They come in 2 different styles – a black vinyl or 1 of 5 different suede colors including black, teal, blue, purple or pink.
The Prostar boot comes in unisex size 3-12.5. Bont has a special sizing to their boots, so be sure to check out their skate sizing chart before you order so you get the perfect fit. These boots have a lot of extra memory padding to make them super comfy. The boots are also heat moldable using a hair dryer so you can get a perfect fit.
The Bont Prostar comes with a light weight Prodigy skate plate that is fiberglass reinforced making it strong. It also has 20 degree action for that perfect balance between agility and stability.
Finally, the wheels on this skate package depend on where you order it. If you order on Amazon, you get the Bont Glow LED wheels. These light up as you roll and are an 83A hybrid durometer making them good for both indoor or outdoor skating.
If you order from the Bont website, then you have your choice of 8 different wheels and 4 different sets of bearings. On Amazon, you will get ABEC-5 bearings installed in your skates.
Want 14 more of my top picks for beginners? Check out my Best Roller Skates for Beginners page.
Bont Prostar At a Glance
---
Next up, we have one of the best outdoor skating roller skates from Moxi – The Lolly. If you are after a smooth ride in style on lot of different surfaces, then these good street skates may be for you.
First, the Lolly comes with comfortable leather boots. It comes in 7 fun colors and black so something for every taste. Next, you have the Moxi Gummy wheels. These wheels are made for outdoor surfaces like asphalt and concrete.
A lot of lady roller skaters love these skates. During the pandemic, they were really having a hard time keeping them in stock. They are also made right here in the USA. Whether you are skating at the skate park or rolling at the rink, the Lolly is my top pick for best outdoor roller skates for women.
Want 9 more recommendations for outdoors? Check out my best outdoor roller skates page.
Moxi Lolly At a Glance
---
5. Bont ParkStar – Best Roller Skates for Outdoors for Women (Runner-Up)
If you want some top of the line skates for outdoor skating or skating in bowls, then check out the Bont ParkStar. These skates come with a suede high-top boot that are comfortable. The boot is heat moldable and comes in size 3-13 in 6 different colors.
The Tracer Derby skate plate on these skates is made of 6061 aircraft aluminum. This makes the plate super strong and amazingly light weight, too. It has a 20 degree action for added agility and stability.
If you order this skate on Amazon, you will get ABEC-5 bearings and 89A Street Flow wheels. If you decide to order on Bont.com instead, you get your choice of 8 different wheels and 4 different sets of bearings. Either way, you get a truly high-end outdoor skate that looks great and performs well.
Want 9 more of my top picks for outdoor skating? Check out my Best Outdoor Roller Skates page.
Bont ParkStar At a Glance
---
6. Sure-Grip Malibu – Best Outdoor Roller Skates for Women (Runner-Up)
If you are looking for a good pair of roller skates that are a little more affordable, then the Sure-Grip Malibu is a nice alternative. These skates come with a vinyl boot, vinyl skate plates and 57mm diameter wheels.
The wheels are for both indoor and outdoor terrain. They come in with an 88A durometer which is a little hard for asphalt, but they will do fine on concrete. You'll get a little more leg jiggle, but the upside is they will also work at indoor skating rinks.
Want 9 more recommendations for outdoors? Check out my outdoor roller skates page.
Sure-Grip Malibu At a Glance
---
If you know you will be primarily rink skating, then I recommend the Sure-Grip Fame. This is a great first pair of roller skates to own. It comes with a high-top synthetic artistic roller skate boot. It has Rock nylon skate plates and harder wheels great for the roller rink.
The wheels have a 57mm diameter and a 95A hardness – perfect for beginning art skaters. They also come with adjustable toe stops. If you ever get serious about art skating, you'll want to upgrade. But, these skates from Sure-Grip are a great overall indoor skate at this price and a good beginner art skate, too.
Sure-Grip Fame Skate At a Glance
---
8. VNLA Junior – Best Indoor Skates (Runner-Up)
If you want a low-cut boot with a lot of style, check out the VNLA Junior indoor skates. These skates were originally made for jam skating, but they also work great as an indoor skate for regular rink skating or even quad speed skating.
The boot is leather and comes with laces and a flap to hide those laces. The Junior also comes in a lot of fun colors perfect for showing off your style. They come with the VNLA Gorilla vinyl skate plates and 62mm diameter x 42mm width Backspin wheels. The wheels have a 95A hardness making them good for the rink.
Both my daughters wear VNLA Junior jam skates and they love them. They are comfortable and durable. We still have the original pair that both my girls wear and they are still going strong. We've just changed out the wheels, bearings and toe stops over time.
VNLA Junior At a Glance
---
9. Bont Quadstar – Best Roller Derby Skates for Beginners
Next on our list are the Bont Quadstar. This roller derby skates powerhouse comes from Bont – one of the leading manufacturers of roller derby and speed skates. The Quadstar comes with a 100% Australian leather boot. As with most of these high-end derby skates, Bont recommends that you use their skate sizing chart to get a perfect fit.
The boots also have a piece of thermoplastic in the heel of the skate. This allows you to mold your boots with a hairdryer around your foot to get a super custom fit. It takes about 10 minutes to do the heat molding process. This is especially good for skaters with skinny or wide ankles.
The fiberglass reinforced Prodigy plate is very light weight and has 20 degree action. Next, the Bont Ballistic wheels are made with premium high rebounding urethane. They have a 92A durometer which is good for indoor surfaces. Then, this skate is outfitted with high precision ABEC5 bearings to keep your rolling smoothly down the track.
Bont Quadstar Highlights
If you want to get started in roller derby and need a good beginner skate, then the Sure-Grip Rebel Fugitive is a good starter derby skate.
This skate comes in with a low-profile leather boot with lots of padding. It has laces and a power strap to keep your ankle in place. It has the Sure-Grip Probe vinyl plate with adjustable toe stops. Finally, it has the Sure-Grip Fugitive roller skate wheels which are a 62mm diameter x 44mm width and a 92A durometer.
Roller derby skates can get really expensive. If you want a good pair of starter derby skates but can't drop a lot of dough, then check these skates out. And, if you are into derby and want more high end skates, then check out my Best Roller Derby Skates page where I cover the higher end skates.
Want 11 more recommendations for roller derby? Check out my roller derby skates page.
Sure-Grip Rebel Fugitive Highlights
---
11. Riedell Dart – Best Derby Skates for Beginners (Bronze)
Another good starter derby skate comes are the Riedell Dart skates.
These skates are durable and made of breathable vinyl that keeps your feet comfortable and cool. They feature a PowerDyne Thrust nylon plate for decent support on all rink surfaces.
The 62 mm polyurethane wheels and ABEC-5 bearings are suitable for beginners and intermediate level skaters. The wheels provide good traction both indoors and outdoors.
Riedell is one of the leading skate manufacturers of high-end skates and this is a good pair of roller skates for rink skating. It also comes in 3 different styles from plain black, to a duotone look (Dart Ombre) or the Pixel.
Want 11 more recommendations for roller derby? Check out my roller derby skates page.
Riedell Dart Hightlights
---
If you want to get started in quad artistic skating, then take a look at the Riedell 120 Competitor artistic roller skates. These are a great entry model into the world of double axles and sit spins.
Riedell Skates makes some of the best artistic figure skates for both roller skating and ice skating,. They are best known for their boot construction. The Riedell 120 feature a leather material with Drilex lining and extra padding that keeps your feet dry, cool, comfortable and blister free.
It comes with Sure-Grip Competitor roller skate plates that has a jump bar and 10 degree double action perfect for art and rhythm skating. It also has a cinch screw for your adjustable toe stops instead of the typical lock nut tightening found on cheaper models.
Finally, it has ABEC-7 roller skate bearings and RC Medallion 57mm diameter, 30mm width and 96A hardness artistic roller skate wheels that are perfect for art and rhythm skating.
Riedell 120 Competitor At a Glance
---
13. Riedell 111 Angel – Best Women's Artistic Skates for Beginners (Runner-Up)
If the Riedell 120 is a little out of your price range, then check out the Riedell 111 Angel. These art skates sport a vinyl, synthetic boot that has extra padding and reinforced ankle support. It has a lightweight PowerDyne Thrust nylon plate that uses a lock nut for it's adjustable toe stops.
It also comes with ABEC-7 bearings and the same RC Medallion skate wheels as mentioned earlier. It's also about $150 cheaper than the Riedell 120 – mostly because of the downgrade in the skate boot and plate.
However, if you're just getting started and need a good beginner art skate, then the Riedell 111 Angel is a good jumping off point.
Sure-Grip Boardwalk At a Glance
---
For those of you on a budget, check out Moxi Skates Rainbow Rider roller skates. Coming in at just over $100, these colorful, fun skates sport a high-top boot in 3 different color choices – black, pink and yellow. They feature a multi-color rainbow etched on the side and have rainbow skate laces.
The skate boot is made of vinyl. They have a Drum-dyed vinyl that resists fading and scratching and are pretty comfortable. The skates have a heavy diecast aluminum plate which won't help you win any speed awards, but it is sturdy and solid. It also has a lock nut adjustable toe stop.
It comes with ABEC-5 skate bearings and Rainbow Riders skates wheels 58mm diameter x 40mm width wheels. The wheels are 78A durometer making them great for asphalt. This is my pick for the top cheap women's roller skates without sacrificing quality.
Moxi Rainbow Rider At a Glance
---
15. Xudrez Roller Skates – Best Cheap Roller Skates for Beginners (Runner-Up)
Our runner-up in the cheap women's roller skates competition is the Xudrez Roller Skates. These roller skates from China come in just over $50. A hard price to beat if you need a pair of skates and just want to get rolling. And, even at such a low price point, the reviews and ratings on this skate are really pretty good. A lot of beginner skaters really love them.
The Xudrez roller skates come with LED flashing light wheels, ABEC-7 bearings, a vinyl boot and vinyl skate plates. It's not going to win any awards for best roller skate ever, but it will get you skating. And that's the whole point. Get out there and skate!
---
Last, we have the The Classic from Chicago Skates. These get a bad wrap by a lot of judgmental bloggers and Youtubers online, but I think they are just fine for what they are – basic, cheap, beginner skates. Plus, they are under $50. It's hard to beat that price.
They come with a vinyl boot, an aluminum skate plate with adjustable toe stops and a jump bar. It's funny to me that a cheap pair of skates has a jump bar, but alas it does. I would not being doing axles in these babies but it has the bar there if you want to try. They have clean bearings and 60mm urethane wheels.
(Dad soap box rant begins)
I recommend these skates to cash strapped folks who just want to roll because these are the skates I learned how to skate in back in the 80s. I upgraded about a year later, but I wore a black pair of these skates in my parents garage for months practicing before I stepped foot in a rink. I was 8. I didn't care if I had fancy skates, I just wanted to skate.
Having any pair of skates is better than having no skates.
Sure these have cheap wheels and boots that aren't the most comfortable. Stop complaining and put 2 pairs of socks on! That's what we did! We also used to walk uphill both ways in the snow to and from school and we didn't complain a bit. And, we liked it. 🙂
Remember, having any pair of skates is better than having no skates.
Chicago Skates has been around forever. These skates have over 2000+ positive Amazon ratings. People like these skates even if you don't YouTubers. Yes, I'm talking to you. You know who you are.
Sure they aren't Moxi, Sure-Grip or Riedell skates, but they're also affordable to everyone. So, stop being a hater and lets get everyone to be a skater first. Then you can tell them you don't like their skates.
(Dad finally getting down off his soap box)
---
Best Roller Skates for Women Tips and Buyer's Guide
Next, lets go over what you should think about before buying a pair of roller skates. First, we'll discuss each piece of the skate and what to think about before you make a decision. Then, I'll discuss what to look for if you are an absolute beginner. Next, I'll talk about what kind of skates to get if you are thinking about playing a roller sport. Finally, I'll answer a few common questions.
Here is what we'll cover in the guide:
Roller Skate Anatomy
Boots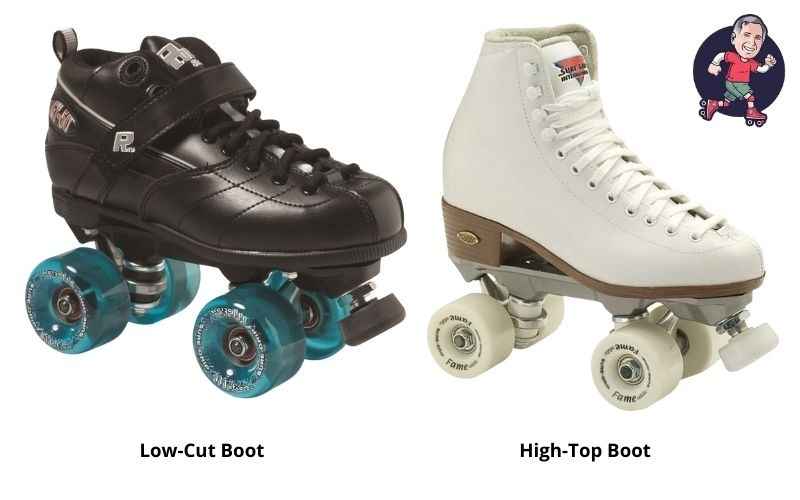 Comfort is Key
First, lets talk about roller skate boots. A comfortable boot will make or break how much you enjoy your new roller skates.
If your boots are uncomfortable, you will curse the heavens. If they are nice, soft and comfy, you will feel like you are skating on clouds. So, a comfortable boot is the main key to getting a great pair of roller skates.
Choose Your Boot Material: Leather or Vinyl
Next, you have two main choices of construction materials to choose from: vinyl or leather.
When it comes to comfort, leather is king. This long-lasting, natural material has the added benefit of becoming more malleable as you wear your skates. However, these boots are more expensive (sometimes 2x as much as their vinyl counterparts).
Each time you skate, your boots become a little more broken-in. So, if you want soft boots that will be really comfortable with time, then you want to go with leather boots.
On the flip side, a durable vinyl boot is less expensive than its leather cousin. It also doesn't need as much break-in time because it's not really going to change much over time. Sure it will get a little broken in as you skate, but it's not going to meld to your feet and ankles as much as leather.
High-Top or Low-Cut Boots
Next, you have your choice of either a high-top or low-cut boot. For beginners, I recommend a high-top boot. This is because the taller boot offers more ankle support making it easier for new skaters to stay upright.
However, if you know you want to get into speed skating or roller derby, then you definitely will want a low-cut boot. Why? Because a low-cut boot allows more maneuverability. You can bend down lower in a low-cut boot and hug the corners lower on your crossovers. Just realize you do sacrifice some stability.
For artistic roller skating you'll almost always be in a high-top boot. Quad roller hockey can be done in either style (though most skaters wear high-top, inline roller hockey skates). Jam skating can also be done in either profile, but the low-cut is most common.
Wheels
Next, lets talk about your roller skate wheels. Wheels come in a variety of different wheel hardness scales, widths and heights for different skating surfaces and types of roller sports.
Each of these play a factor when trying to make the right choice, so lets go over each in a little more detail.
Durometer / Wheel Hardness
First, lets talk about wheel hardness – also known as durometer. All roller skate wheels have a hardness. Most roller skate wheels fall in the 78A-103A durometer reading. The lower the number, the softer the wheel. The higher the number, the harder the wheel.
Hard wheels are great for indoor, sticky surfaces – like a roller rink floor that has that plastic coating on it (Note: a slippery rink floor will not have a shine to it, but one coated in plastic will and it will be tighter). Hard wheels roll faster, are more slippery and last longer.
Soft wheels on the flipside are better for outdoor roller skates and outdoor surfaces or slippery indoor surfaces (like roller hockey sports courts). They provide a smooth roll and you will see them most often on street skates. Gummy outdoor roller skate wheels made for asphalt street skating are usually a 78A durometer.
Most advanced skaters will have two sets of wheels and bearings (or if you are like me 10+). This is because we quickly change our wheels out when we change the skating surface we are skating on or when we need a different wheel type for a roller sport.
Diameter (Height) and Profile (Width)
Now that you are a wizard at durometer, lets talk about the diameter and profile of your wheels as both have an effect on your skating.
Diameters (or height) in wheels range from 40mm all the way up to 125mm (those are more common on inline speed skate wheels). The smaller wheels go slower but accelerate more quickly and provide more maneuverability. Larger wheels take a little longer to accelerate, but will have a higher top end speed once you get them rolling.
Profile (or width) in wheels range from just a couple of millimeters (for inline skate wheels) all the way up to 44mm. Narrow wheels provide less stability but more maneuverability. Wider wheels are more stable but harder to make sharp movements on.
For beginners, I recommend a short, wide wheel. When you are just starting out, you want to go slow, so go with a wheel that is 65mm in diameter or smaller. This will give you more balance, stability and better ability to control your speed.
For more advanced skaters, it really depends on what you are after – speed vs. maneuverability vs. stability – and the roller sport and skating surface you are on. Check out the link at the bottom of this section to geek out on wheels with me.
Skating Surfaces
Next, lets talk skating surfaces. If you will be doing mostly outdoor skating, then go with soft wheels in the 78A-89A range. Stick to 78A-82A for street skating on asphalt. On smooth concrete, skate parks and outdoor sports courts you can go with harder wheels in the 82A-89A range.
For those at indoor rinks, go with harder wheels in the 85A-103A range. Beginners should go with a softer wheel in the 85A-95A range. The more advanced among you likely will want to be on something in the 92A-103A range.
I personally love 103A because I love to slide and I'm a wanna-be artistic roller skater from the 80s who still likes to do a few moves from his glory days. 🙂
Fun!
Wheels are by far the most fun part on a roller skate. You have easily 100 different colors to choose from and some even light-up! Some wheels have ice cream cones printed on them. Some have stars. Some even have glitter infused into them. There is something for everyone.
Want Even More Wheel Info?
You can really geek out on wheels as there are so many out right now. And, I have definitely gone a bit coo-coo for them on this site. See my Best Roller Skate Wheels page to learn a whole lot more and fall down the rabbit hole with me.
Plates – Vinyl Plates vs. Aluminum Metal Plate
Next, you have a few different choices when it comes to skate plates. Skate plates are made out of nylon, a couple different kinds of aluminum or magnesium. I'm going to talk today about nylon and regular aluminum.
The most common skate plate is nylon (or synthetic). These plates are typically made from a reinforced plastic that makes them strong enough for most skaters. They are lightweight. They do not provide as much power transfer or support as an aluminum plate, but they will do just fine for most skaters. They are also cheaper.
On the flip side, aluminum plates are a bit heavier than nylon plates, but provide more stability (especially for heavier skaters) and more power transfer on each of your pushes. They also cost a little bit more.
Skate plates are actually a very nuanced, configurable piece of machinery. So, if you want all the details, check out my Best Roller Skate Plates page where I talk a lot more about skate plates. I cover aircraft aluminum and magnesium plates and even get into geeky stuff like kingpin angles. It's great bedtime reading for when you can't fall asleep at night. 🙂
Bearings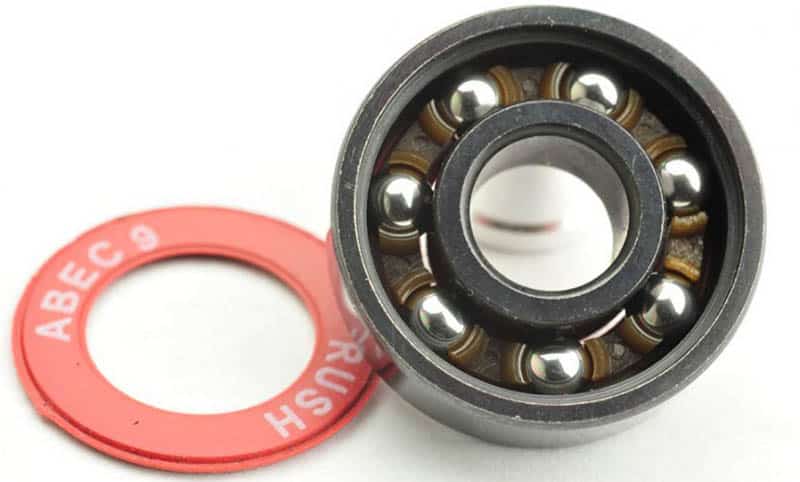 Next, we have your roller skate bearings. These are what make your wheels spin on the axle of your skate plate. The most important thing about bearings is that they are clean and lubed. After that, it's really a matter of personal preference. So, I'm not going to go into the details here.
All of the skates listed on this page have good skate bearings and they will all be cleaned and lubed as they are new. However, if you want like to geek out on skate bearings and want more information, check out my Best Roller Skate Bearings page.
Roller Skate Safety Gear
Finally, if you are a beginner, make sure you pad up and protect yourself. There is nothing worse then being excited about learning a new activity like roller skating, and then you get hurt and don't want to do it anymore. That would be sad.
So, at the bear minimum, I recommend all beginners get a roller skating helmet and roller skating pads like knee pads, wrist guards and elbow pads. They also sell padded shorts (what I call butt pads) that protect you when you fall.
To learn more, check out my Best Roller Skate Helmets and Best Roller Skate Pads pages to get the right gear.
Choosing the Right Skates for Different Roller Sports
For derby, you are going to want a low-cut boot. This profile boot allows you more maneuverability when you are cutting across the track or digging down low for positioning and crossovers.
For wheels, you have choices. Taller wheels will give you more speed but less maneuverability. Shorter wheels will go slower but allow you to cut across the track more easily.
You also want to pay attention to the width of your roller derby wheels. Narrow wheels will give you more maneuvering potential and keep you from clipping other players wheels, but the wider wheels will give you more contact patch to push off from and more stability.
Finally, choose the skate plate that works for you and your budget. Many beginner derby players do just fine on synthetic plates. More advanced players will go for magnesium or high-end aircraft aluminum to get the superior power transfer and lightweight nature that only these materials can give you.
For more information, check out my Best Roller Derby Skates and Best Roller Derby Skate Wheels pages.
Speed Skating
For you ladies that have a need for speed on quads, you are going to want a low-cut boot. This gives you the ability to more easily get low on each of your pushes and around the corners as you do crossovers.
Then, for ultimate performance, go with an aircraft aluminum or magnesium plates. Synthetic plates will also work if you are strapped for cash, but the lightweight nature of these higher end plates really makes a difference.
Next, for speed quad wheels, check out my Best Roller Skate Wheels page. I outline a couple of good quad speed skate wheels. You are going to want a wheel that is 62-65mm tall and in the 40-44mm width range. Also, as hard of a wheel as you can control for your surface.
If you are really wanting to achieve top speeds on skates, though, you really have to move to inline skates. Quads just can't compete when we are talking about speed skating. For more information, check out my Best Rollerblades & Inline Skates for Women and my Best Inline Speed Skate Wheels page.
Roller Hockey
If you are into roller hockey, then you most likely are going to want to take a look at inline hockey skates. While I have played roller hockey in the past on quads, most hockey players prefer inlines. These special skates are designed with hard top boots to take the pounding, wear and tear that this demanding sport requires.
They also often come with soft roller hockey wheels for indoor tile sports court where most roller hockey is played. This surface is slick and therefore requires soft wheels. This is the one time where you'll actually want harder wheels outdoors (82A-85A) than on indoors (76A-78A). Like I mentioned before, it's all about the skating surface.
They also mostly come with aluminum frames (the name for the inline skate plate) and no adjustable toe stops. Advanced roller hockey players don't need no stinking toe stops! Hockey stop like a pro already!
If you see yourself doing camels, sit spins and double axles, then welcome to artistic roller skating. Just like ice skating, this roller sport cousin also exists – though it is nowhere near as popular. However, it's a lot of fun to do. My sister, Kelley, and I spent 6 years of our teenage years competing in art skating.
All art skating used to be done on quads in decades past. That has changed where more people are starting to also do it on special inline skates made for art. It really is a matter of preference when it comes to wheel configuration. The one thing that is common is that you will have a high-top boot. This is to give you stability in and out of jumps and spins.
Next, I recommend an aluminum skate plate / frame. Synthetic is not recommended. On quads, get a jump bar on your plate. This helps with stabilizing the plate on jumps.
Next, you will want hard indoor artistic roller skate wheels. The hardest ones you can handle and stay upright on without your feet slipping. These harder wheels are much easier to spin on. Finally, artistic skates come with toe stops for doing some of the jumps.
Next up, we have jam and shuffle skating. Jam skating is a dance style roller sport where skaters do different dance moves while skating. Shuffle skating is also a form of dancing on skates. You'll often see shuffle skating performed as a group kind of like line dancing.
Both jam and shuffle skaters use both high-top and low-cut boots. VNLA makes some popular jam skates and most of their boots are low-cut. Though, they do have the new Godfather boots that are high-top. So, again, it's really about preference here.
Next, you have the jam skate wheels. If you are indoors, go with a harder wheel. This makes spinning a lot easier. Most of these jam skates also come with a durable synthetic skate plate, which is fine for this kind of skating,.
Frequently Asked Questions about Women's Roller Skates
What are the best women's roller skates?
My top pick for the best women's roller skates are the Sure-Grip Boardwalk. They have a nice colorful boot made out of suede that are comfortable. They also have outdoor roller skate wheels which make them great for skating on asphalt. They will also work indoors, too, but just will be a little slower. A close runner-up are the Beach Bunny roller skates by Moxi Skates.
What size women's roller skates should I get?
Roller skates should fit snug without any pinching or pressure points. You don't want your feet sliding around on the inside. That's how you get blisters. Before you buy your skates, be sure to check out my guide on how to size roller skates. You'll find the roller skating size charts for most of the manufacturers I listed here on that page.
What skates should a beginner use for roller skating?
For beginners, I recommend roller skates that have a high-top boot and soft outdoor wheels. The biggest reason for both of these recommendations is stability. A high-top boot offers more stability than a low-cut boot. It helps to keep the ankle secure.
Soft, outdoor wheels work great on things like asphalt and concrete. They also work good indoors, but will just be a little slower. The best part about soft wheels is they dig into the surface more. This gives you more overall stability. They are also less slick than hard wheels giving you even more stability.
What are the best brand of roller skates for women?
Some of the best brands for roller skates come from Riedell, Sure-Grip, VNLA and Moxi Skates. Riedell and Sure-Grip have both been in the business for over 70 years each and they are battle tested. VNLA and Moxi are newer kids on the block both being around for a couple of decades.
How much are women's roller skates?
The price for most women's quad beginner roller skates are on average about $150. They range from $50-$350. For more information, check out my article on how much are roller skates.
Join the Roller Skate Dad Club
If you are looking for even more great information about roller skating, join my email list. I send out monthly newsletters with the latest roller skating news, gear and tips to help skaters at all levels. I discuss what to look for when buying roller skates, how to pick out the right gear and skate maintenance. We even talk to pro roller skaters and go over roller skating tutorials from time to time. Plus, it's 100% free and I won't spam your inbox.