If you have wide feet, it can be tough to find a pair of roller skates that fit. Most roller skates are made for those with regular, narrow feet, so if your feet are wider than the average skateinlliner, it can leave you searching.
Well, in today's article, I hope to put your search to an end. I will be covering the best roller skates for wide feet. First, I'll give you my top 15 list. Then, I'll give you a handy buying guide that will go over all the things you need to take into account before you buy your next skates.
---
In a Hurry? My Pick for the Best Roller Skate for Wide Feet
If you have wide feet, then my top pick for you are the Sure-Grip Boardwalk roller skates. These skates come in men's sizes 4-13 and have a wider profile and toe box. Many skaters with wide feet have tried these skates and they fit great.

The Sure-Grip Boardwalks come in 7 different colors. They also come in men's sizes 4-13. This skate comes with a Rock nylon plate, adjustable rubber toe stops, and ABEC-3 skate bearings.
It also comes with Sure-Grip's Boardwalk outdoor roller skate wheels – one of my favorite outdoor wheels. These wheels are 78A in durometer and are 65mm in diameter – perfect for outdoor skating and beginner skaters.
But Are They Good for Wide Feet?
I owned a pair of tan Boardwalks. I shot all of my how to roller skate videos in them. And, from my own personal experience, these skates have a wide profile.
But. don't just take my word for it. I did a lot of research while preparing this article and I found lots of quotes like the ones below from skaters with wide feet:
Skates look as seen in pictures. Great quality and comfortable for my wide feet. They were also shipped right away and I received them before the projected arrival date.

Read Full Review on Amazon
Just my perspective on shoe size, I'm a 9 to 9.5 in women's but my feet are a bit wide. The size 8 fit me perfectly. The skates themselves are very comfortable and glide over concrete. Worth every penny spent.

Read Full Review on Amazon
And, here are a few Reddit reviews online about this exact topic from skaters who went with Sure-Grip Boardwalks for their wider feet: Link 1, Link 2, Link 3.
---
When you are buying roller skates, its important to remember that comfort is king. That is the number one tip for selecting quad skates – that your boots fit well and you are happy. It's hard to have fun when your feet hurt. So, keep reading for all my recommendations and tips for wide feet skaters.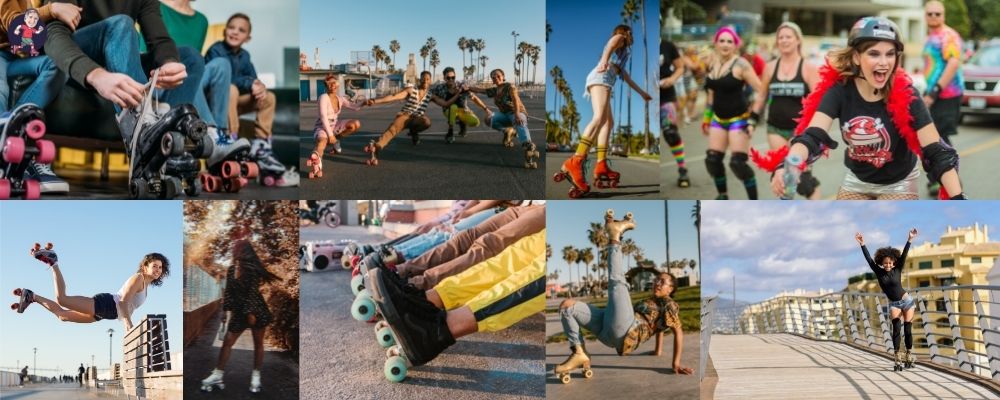 Please note that I am only going over the best roller skates for wide feet skaters in this article. Some of the skates for wider footed individuals are also good skates that I recommend to other skaters, too. So, you will see some of the same picks on this page as you will find on some of my other guides.
Interested in other types of roller skates? Check out some of my other lists of the top skates including:
Or, check out my rollerblades page if you are more into inline skates.
---
But, Why Trust My Advice on Skates?
My name is Jeff Stone. I have over 40 years of roller skating experience. I was an artistic roller skater (yes, that exists) and spent several years competing at a national level – even winning a national championship as a teen. That's me over there to the right with a lot more hair and smugness. 🙂
But, more importantly, I'm a parent of two wonderful young women who both are excellent skaters. I taught both of them how to skate as little kids. I also have helped 1000s of other kids learn to skate while working and teaching skate lessons at my local roller rink as a teenager.
I also just know skates. My hobby / fun thing to do while couch surfing is to research roller skate and inline skate products and write about them on this blog. I have bought and actually tested dozens of skates from leading skate manufacturers. I guess you could call me a bit of a skate nerd.
These days, I skate every week for fitness, mental health and just plain old fun. I love to skate. It's in my bones. For more, read About Roller Skate Dad.
---
Alright. Let's get those wide feet of yours into a great pair of skates!
My 15 Top Roller Skates for the Wide Footed Roller Skater
Detailed Reviews of the Best Roller Skates for Wide Feet
1. Sure-Grip Boardwalk – Best Roller Skates for Wide Feet – Outdoors

My top pick for the top roller skates for wide feet are the Sure-Grip Boardwalk. Besides flexible boots with extra ankle support and a wider box for your toes, these roller skates correctly provide all of the aspects that a beginner skater needs to get rolling.
The Sure-Grip Boardwalk softer wheels are great for indoor and outdoor skating. These outdoor wheels have a nice 78A durometer that makes them easy to use on asphalt, on the sidewalk or in the roller rink. They just are the right roller skates for so many skaters out there. Especially those just getting started.
As I mentioned above, these skates have a wider toe box area. They also come in men's sizes, so ladies should go down a full size.
Sure-Grip Boardwalk At a Glance
---
Next up, we have the Bont Quadstar roller derby skate. These are roller derby elite skates that are made for the advanced skater who is into lap skating, roller derby or just needs a good pair of speed skates.
First, the Bont Quadstar roller derby skate comes with 100% genuine Australian leather. It has triple layer protection around the toe area and is designed with a thermoplastic in the heel that enables the skater to heat mold their boots for a customized fit. Finally, it has Bont's Ballistic speed wheels that are perfect for the indoor track.
These skates have a wider toe box area plus they are heat moldable. This really can help with shaping the width of your boot around pesky areas like bunions or stubborn pinky toes.
Bont Quadstar Prodigy At a Glance
---
3. Sure-Grip Fame – Best for Wide Feet – Indoor Skating
If you are looking for a more classic roller skate or a nice beginner pair of artistic skates, then check out the Sure-Grip Fame roller skates. These skates are some of the best skates on the market for the price.
First, the high-top roller skate boot design is perfect for beginners who need extra ankle support. Next, these quad skates have a nylon plate and aluminum trucks. They also sport Sure-Grip's Fame wheels which are made for indoor roller rinks.
However, the most important thing here is the boot. This skate has a decent size toe box. And, if you are interested in other's advice on the Fame skates, check out these Reddit links: Link 1, Link 2 and Link 3.
Ladies are recommended to go down 1 size as all the skates are in men's sizes. As you can see from several of the links above, some women go down 2 sizes for the perfect fit. Be sure to check out the manufacturers skate sizing charts before you purchase.
Sure-Grip Fame Skate At a Glance
---
Next on my list are some of the best entry level jam skates / speed skates – the VNLA Junior. These quad skates make skating fun with their unique colors and style. Both of my girls used them for quad speed skating. They aren't the best skates for speed, but they will do when you are just starting out.
Even though VNLA doesn't have a great skate sizing chart, a lot of their skates are wider, so thus the recommendation here. For some skaters, this model does rub the ankles. So, I recommend a pair of EzeeFits ankle socks to prevent rubbing. I wear them with all my skates now….even my comfortable, expensive ones.
They come with indoor speed / jam skating wheels and a decent nylon plate and bearings. The biggest thing to keep in mind is that these skates come with a replaceable toe plug. So, make sure to grab some extra toe stoppers if you need them.
VNLA Junior At a Glance
---
5. Riedell 220 Avanti – Best Roller Skates for Wide Feet – Riedell
Now on to the king of boots – Riedell. The Riedell 220 Avanti is a great wide width roller skate. The black pair featured here from Roller Skate Nation comes in Riedell's D Wide width. Yes, Riedell actually makes this skate in 3 different widths (Narrow – AA, Medium – B and Wide – D).
The white boot is for ladies and I do not feature it here because it is sold on Roller Skate Nation as a Medium B. If you want wide skates, then go with the Black Wide D boot. Ladies – you can choose to either go with the white and don't size down or go with the black boot and size 1 full size down. Riedell offers good skate size charts, so be sure to check those out before you purchase.
These roller skates come with full grain leather boots that are high top to provide extra ankle support. They also come with Sure-Grip high-end Avanti aluminum skate plates and RollerBones indoor artistic wheels. It's really a great all-around skate.
Riedell 220 Avanti At a Glance
---
If you are just getting started in artistic skating or you just want a great pair of comfortable roller skates without breaking the bank, then check out the Riedell 120 Competitor artistic skates. This skates comes with Riedell's 120 leather boot that is comfortable and great for wide feet.
The black pair of Riedell's come in men's sizes and, most importantly, come in Riedell's D Wide width. They also have a white version, but those are in ladies Medium B width. For ladies with wide feet, you can go with the black boot and just size down 1 size. Please check the skate size chart just to be sure.
Besides the boot, this skate also comes with the Sure-Grip Competitor aluminum plate with jump bars that are good for doing jumps on your skates (or just for extra support). They also come with skinny, slick art wheels – the RC Medallions.
Riedell 120 Competitor At a Glance
---
7. Riedell 111 Angel – Best Roller Skates for Wide Feet – Riedell Budget
If you want a budget pair of Riedell skates for artistic skating or just rolling around the rink, then check out the Riedell 111 Angel. Like the 120 and 220 above, the black version of these skates come in men's sizes and a Wide "D" width. Perfect for wide feet.
They also offer a women's sizes white boot, but that skate comes in Medium "B" width. So, ladies with wide feet should go with the black boot and size down 1 size. Always check the manufacturer skate size charts, though, just to be sure.
These skates come with a nylon plate, aluminum trucks, RC Medallion Plus wheels and ABEC-7 bearings. It a great beginner skate for those with wide feet.
Riedell 111 Angel At a Glance
---
Next up, we have Crazy Skates' Evoke quad skates. These skates come in men's sizes 4-9 (or ladies 5-10). There are several wide feet skaters who rave that these skates fit just like a glove on Amazon's reviews. All with 5 star ratings.
These skates come 3 different colors to choose from. They also come with a nylon plate, outdoor wheels, bearings and adjustable toe stops. They even come with a nice, colorful suitcase to store your skates in, which is a nice touch.
Crazy Skates Evoke At a Glance
---

Next we have some high end jam skates from VNLA called the Freestyle Pro. These skates come in men's sizes 3-13. Like other VNLA skates, these tend to do well for skaters with wider feet. Ladies will want to go down one size (regardless of boot color) as all of these are in men's sizes.
These fancy skates also come with VNLA's Gorilla nylon plate and metal trucks. They also have a nice Backspin Remix wheel that is good for jam, speed or everyday rink skating. These are good for beginner, advanced or intermediate level skaters of all ages.
VNLA Freestyle Pro At a Glance
---
10. VNLA V-Line – Best Wide Feet Rhythm Skates
If you want a high-top pair of rhythm / jam skates for indoor skating, then take a look at the new VNLA V-Line skates. These skates are also typically wider than most and come in men's sizes 5-14. For ladies, you'll want to go down a size.
These are typically made for rhythm and jam skating, but you can use them for regular rink skating, too. They have Gorilla nylon plates, Sure-Grip Fame artistic wheels and ABEC-9 bearing with small toe stoppers. They are a nice fit for those wanting a rhythm or jam skate with a high top boot.
VNLA V-Line At a Glance
---
11. VNLA Parfait – Best Outdoor Roller Skates for Wide Feet – New for Women
The VNLA Parfait is a brand new skate in women's sizes 5-11 and is good for skaters with wider feet.
The Parfait is the first Ladies high-top outdoor roller skate designed by the brand. Each pair comes with contour insoles that can be added if your feet are narrow; offering a more snug fit! If your feet are wide, just remove the insoles.
They come in 3 different colors, an aluminum plate and trucks, 78A outdoor wheels and ABEC-7 bearings. Everything you need to get rolling outdoors.
VNLA Parfait At a Glance
---
Next up we have the Sure-Grip Rebel Fugitive roller derby skates. These skates comes with a well-padded low cut boot with a velcro strap and laces to insure a snug fit. Many skaters with wide feet also say these skates are comfortable. They come in men's sizes 4-14.
They come with 2 different kinds of plates – either nylon or the Avanti Aluminum. They both have Fugitive wheels that are good for indoor rinks and tracks. You also get ABEC 7 bearings and top stoppers that adjust.
Sure-Grip Rebel Fugitive Highlights
---

Next up, we have my top pick for the best budget skates on the list – the Sure-Grip Rock GT-50. These beginner roller derby skates are popular for both indoor or outdoor skating. All depending on whether you put harder or softer wheels on them.
The GT-50 skate boot is fairly room and has a good toe box for wide feet skaters. Like other skates, it comes in men's sizes – 1-15. Ladies will need to go down a size or two depending on your feet measurements. As always, use the manufacturer's skate sizing chart to insure a correct fit.
These skates also come with a nylon plate, ABEC bearings and adjustable toe stoppers. Then, the real difference is in the wheels you decide to choose. The only exception to this is the last boot in the picture above which is the GT-50 Plus roller skate that has LED lights on the bottom of the boot.
Sure-Grip Rock GT-50 Highlights
---

The BTFL Pro skate features boots that come in women's sizes 5-14 and are good for people with wider feet. They have a nice toe box and a variety of different fun colors. Plus, they won't break the bank.
They feature a nylon skate plate, skate bearings and adjustable toe stoppers. They also have a good pair of hybrid wheels coming in at an 80A durometer. This will make them good for both indoor and outdoor skating.
BTFL Pro Roller Skates At a Glance
---
Last but certainly not least, we have the Riedell 265 Avanti Energy. These roller derby elite skates are great for those advanced skaters who want roller derby skates or speed skates that will take your skating style to the next level.
These are the best skates on this list because the skate features the top of the line 265 boot from Riedell and the best Sure-Grip lightweight plate on the market – the Avanti Aluminum. If you are into competitive skating, then this skate will make you drool.
The boots come with a velcro strap and skate laces to keep your foot secure. They also have Radar Energy 78A outdoor wheels for outdoor skating.
Riedell 265 Avanti Energy At a Glance
---
Buyer's Guide for Picking the Best Roller Skates for Wide Feet
When you need the very best roller skates for wide feet, there are a number of things to take into consideration. The first is making sure you get comfortable boots. Then, you want to make sure the rest of the parts of your roller skates are also the best quality you can afford. Below, I cover everything you need to know to get you roller skating.
7 Tips for Getting the Most Comfortable Boots for Wide Feet
Let's face it. If you're on this page looking for roller skates for your wide, flat feet, then the #1 thing you care the most about in your next pair of roller skates is a comfortable boot.
When your feet hurt you don't want to skate. And not wanting to skate make me (and everyone) sad. So, lets see if we can't correct that now.
1. Look for Roller Skates with a Wide Toe Box
When I say wide feet, what we are really talking about are roller skates with wider toe boxes. And, there are skates that come with wider toe boxes.
All of the skates I recommend above all have wider toes boxes when compared to the rest of the roller skates on this site that are more geared for skaters with regular, narrow feet.
2. Go with a Reputable, High-End Skate Manufacturer
One of the reasons I love Riedell skates so much is that most of their higher-end boots come in multiple widths. When ordering their skates from a place like Roller Skate Nation, be sure to read the Skate Sizing Tips tab on the site so you can insure you get the right fit.
Also, you'll notice that above I show a lot of the Riedell skates only as a black pair of roller skates. This is because most of the black Riedell's sold by Roller Skate Nation come in a "D" boot that is perfect for wide feet. Just remember, ladies, that the black boots are in men's sizes. So, be sure to go down a size.
Of course, the biggest downside to Riedell skates are the cost. But, if you love to skate and you are tired of cursing how uncomfortable your skates are, then I would give them a try.
Sure-Grip and VNLA also are good skates for wide feet, but they don't really come in different widths. The Sure-Grip and VNLA skates I recommend above just happen to have a toe box that is wider.
So, lots of skaters with wide feet often comment that their Sure-Grip and VNLA skates are also really comfortable. The added bonus is they are a little cheaper, too.
3. Use the Manufacturer's Skate Sizing Chart
One of the most important tips on this list. Always use the skate manufacturer's roller skating size chart before purchasing. Most manufacturer's sizing guide will come with step-by-step instructions on how to measure your foot to get the right size skates. You'll typically need a ruler / tape measure, a piece of paper and a pencil to get started.
Check out my article on how to size roller skates for more information. In this article, I go over some tips on how to size your skate correctly and give you most of the major skate manufacturers size charts.
4. Talk to a Roller Rink or Skate Retailer
Call a retailer, go to a local pro skate shop (if you are so lucky to have one near you) or go to a roller rink and talk to them about which skates are best for your wide feet.
This is really the best tip for anyone really struggling with finding the right boot. Talk to someone, preferably in person, who knows how to fix your problem.
However, that can be a challenge these days with roller rinks closing and very few pro shops around. If you are in that predicament, then look for an online retailer like Roller Skate Nation. There you can talk to someone online whose entire job is to get you a pair of roller skates you'll love.
5. Synthetic, Vinyl Boots vs Leather Boots
Next, you need to think about what kind of boots you want and can afford. Synthetic, vinyl boots are typically cheaper and won't break in much after you purchase them. Suede and leather boots however are more expensive and will break in the more you skate in them.
For folks with wide feet like you, I really recommend leather or suede boots. Yes they are a bit more expensive, however, you will be able to get them to fit better to your feet the more you skate on them.
6. Heat Molding for a Better Fit
On some of the higher end, leather skates, you also can get a boot that is heat moldable. The Bont Prodigy and Riedell 265 that I recommend in the list above both have heat moldable boots.
Heat molding is a process where you take apart your skate and put your boots into a semi-warm oven. Then, the skates become malleable. You place the skates on your feet (after they cool down) and lace up your skates. Then, you can use the flat end of a blunt object to maneuver the boot around spots where you may have bunions or other pinch points.
Here is a good video that shows you how to heat mold a Bont Quadstar Roller Derby skates.
7. Ask Other Skaters
One great way to get advice on which boots are most comfortable is to talk to other skaters.
If you skate at a local rink, go up to other skaters who are not wearing rental skates and ask them about their skates. It's a great way to meet new people and most rink rats love nothing more than talking about their ride.
If you are shy or don't have a rink around you, then you can look for information online (like you are doing right now).
Read reviews on my site plus ask questions on popular roller skate forums like Skate Debate, Southern Skater or Reddit Roller Skating.
You can also read reviews online from retailer sites like Amazon and Roller Skate Nation.
Roller Skate Anatomy
Hopefully that was enough advice on how to pick the right roller skate for wide flat feet. Lets now talk about everything else that makes up a great roller skate. We'll quickly cover each below.
Boots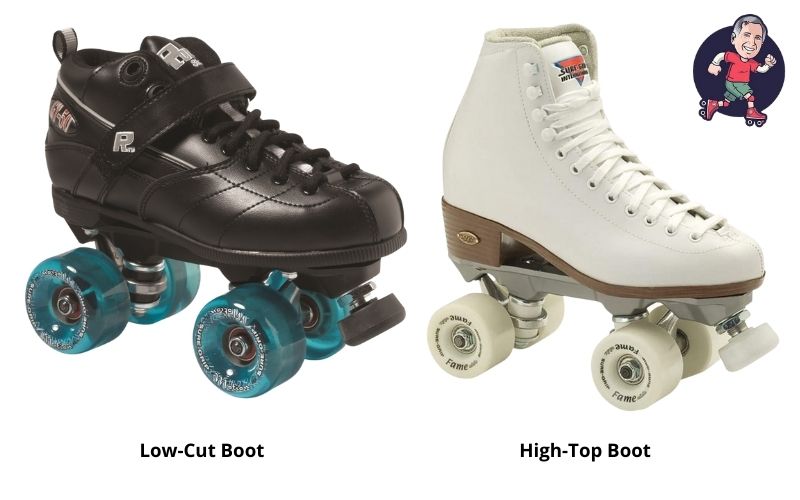 We talked already about boots in our 7 tips section above. However, we did not discuss low cut vs. high top boots. If you are a beginner roller skater, then I recommend a high-top boot.
A high top boot will give you more stability as the boot provides more ankle support.
Low-cut boots are better if you are an advanced skater who plays roller derby, speed skating or quad roller hockey.
Low-cut boots allow these advanced and intermediate skaters to get low when they are doing crossovers around corners or trying to quickly cut across the rink floor. However, they do not provide the same level of ankle support as a high top boot.
Also, if you want to protect your boots from scuffs and scrapes, be sure to check out these toe guards for roller skates.
Plates
Next up, we have the plate. This is the plastic or metal piece that attaches to your boot. It has trucks and axles on the front and back of the plate where the wheels with bearings will go.

When choosing a skate package above, your skate plate is already chosen for you by the manufacturer.
You have a number of choices when picking a skate plate, but the two most common on children's roller skates are going to be nylon or aluminum.
Nylon Plates
Nylon is cheaper and makes for a lighter overall skate, but transfers less power from each push to the wheels.
It also has a very slight chance of breaking. In the past this was more common, but today most of the nylon plates sold on skate packages are reinforced with fiberglass or another material to keep this from happening.
I have many skates with nylon plates, weigh over 200 lbs and speed skate in them just fine.
Aluminum Plates
On the flip side, aluminum plates are more expensive, heavier and more sturdy. They provide a good ride and deliver more power from each push to your wheels.
For skaters looking to skate with more aggression or speed, aluminum may be the way to go. However, for most children roller skates, nylon will do just fine.
To learn a whole lot more about plates, check out my Best Roller Skate Plates page and guide where I go into the details.
Roller Skate Wheels
Next, we have my favorite part of the skate – the wheels. This is the most important piece of the roller skate and also has the most variety. Urethan wheels come in all shapes, sizes and wheel hardness. Lets go over each now.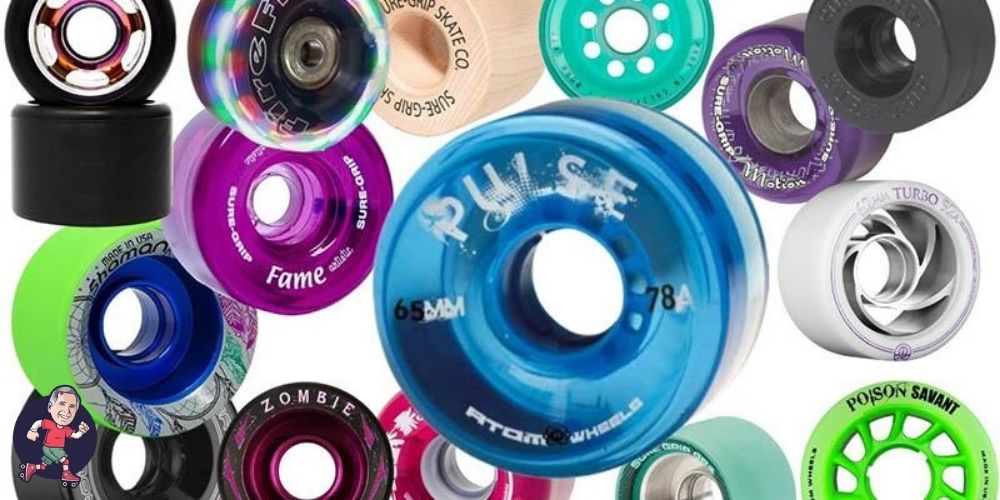 Wheel Width and Diameter
Your wheel's height (or diameter) determines how fast you can go and for how long. Taller urethane wheels take slightly longer to accelerate but roll at top speeds for a longer period of time.
This is why speed skaters use inline speed skates with super tall wheels (some as tall as 125mm). The larger the wheel, the faster you'll go.
Taller wheels, though, do have the drawback that they are much harder to stay stable on. No beginner should ever try skating on 125mm inline skate wheels – unless you like falling.
Smaller wheels provide more stability for the beginner and more maneuverability for the advanced derby skater. Taller wheels provide more speed but less maneuverability and stability.
Your wheel's width (or profile) determines how much of your wheel is touching the skating surface. The wider the wheel, the more stable you will feel.
They also have the added benefit of giving you more power transfer on each push. A more narrow wheel however will give you more maneuverability.
Wheel Hardness or Durometer
Next, we have the wheel hardness or durometer. Durometer is a scale that usually falls in the range of 78A-103A for most quad wheels with the lower number (78A) being soft and the higher number (103A) meaning hard.
To find the most suitable wheels, you want to match your skating surface up to your wheel durometer.
For a smooth ride, go with soft wheels with a 78A durometer. This soft wheel is best for outdoor surfaces like rough asphalt. It will also go slower, though.
For indoor surfaces or for those wanting more speed and slip, go with a high performance wheels that are harder. Most of the indoor skates listed above will have wheels in the 92A-96A range which are good for indoor surfaces without causing you to slip.
To geek out a whole lot more on urethane wheels, check out my Best Roller Skate Wheels page.
Bearings
Next up, we have the roller skate bearings. The most important thing to remember about bearings is that they need to be clean and lubed to insure a smooth ride. All of the bearings that come in the skates above will have clean, lubed bearings, so you will be good to go.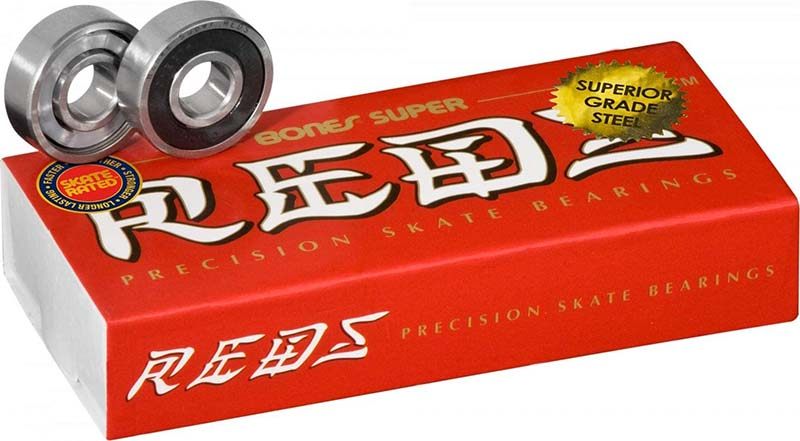 There is, of course, a whole lot more to bearings then just them being clean. However, for most beginners, this is the number one thing to keep in mind.
But, if you want to learn a whole lot more about this part of your skate, then please check out my Best Roller Skate Bearings page.
Safety Gear
Finally, we have the last piece of the roller skate that is not actually a part of the skate itself – the safety gear. For beginner skaters, I recommend you get yourself knee pads, wrist guards, elbow pads and a helmet.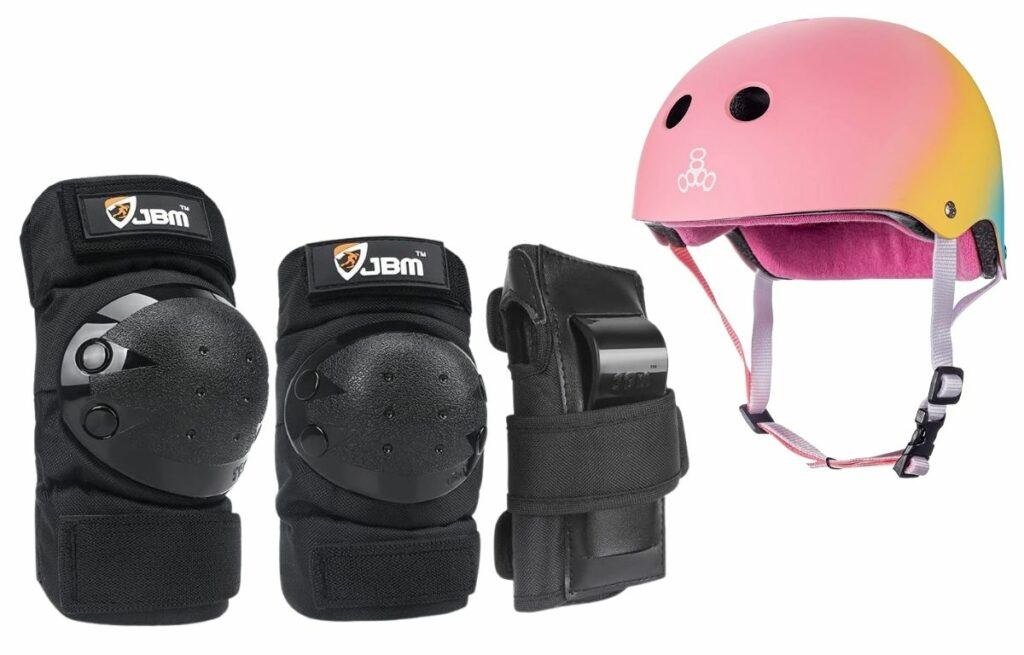 There are a number of combo packs you can buy that have all three pads in them together – wrist, elbow and knee pads. Then, you just purchase the skate helmet separately.
I highly recommend getting these especially for kids. Falling down hurts and hurting is not fun. And we want skating to be fun.
Of course, I didn't use pads when I was a kid and I turned out just fine….I think. Of course, my younger sister begs to differ. 🙂
Anyways, to learn a whole lot more, check out my Best Roller Skate Helmets and Best Roller Skate Pads pages.
Frequently Asked Questions
What skates are good for wide feet?
Riedell, Sure-Grip and VNLA make some of the best fitting roller skates for wide and flat feet. Riedell is especially good because they actually make the same roller skate in different widths.
If you have really wide feet and have tried everything and are about to give up, then give Riedell a try. They are more expensive, but they really do make the most comfortable skate boots.
Are Moxi Roller Skates OK for wide feet?
Moxi Skates have one width per skate line and they mostly cater to ladies with more narrow feet. Now, that's not to say you can't wear them if you have wide feet, but just realize it may take some work, time and cursing to get them to stretch out.
You can find all kinds of forum posts like this one where people talk about how they have tried all different kinds of things to stretch them out. The top tip is to experiment with different skate lacing techniques to open up more space in the skate. Maybe that will work for you, so check it out.
Should my toes touch the end of my skates?
Your toes should barely be touching the end of your boot or be close to touching. Here is a good overall rundown of how to make sure your skates fit right.
Want to Learn Even More About Skating?
Want more reviews on roller skates? Check out my Best Roller Skates page for a list of all of the quads I recommend. I also have pages for roller skates for men, roller skates for women and roller skates for kids where I recommend the best skates on the market today for each group. Or, check out my roller skates for beginners if you are completely new to roller skating.
Or, if rollerblades or inline skates are more your style, then check out my rollerblades for men, rollerblades for women or rollerblades for kids pages. Or, if you are completely new, check out my rollerblades for beginners page.
Finally, for a detailed review on the different types of skates, be sure to check out my Comparing Rollerblades vs Roller Skates vs Inline Skates article.