Roller skating with the little ones is so much fun! So many great times rolling at the local rink or in the park. Teaching them how to roller skate. The falls, the bumps, the bruises, the tears and the smiles. But, before you can have all those memories, you first need to get them some roller skates! So, in today's post, I'm going to cover some of the best roller skates for kids and toddlers that are on the market here in 2023.
There is nothing more fun then watching a kid quickly pick up roller skating. It really is the best when they go from barely being able to skate to whipping your butt in the races. (sadly happens to me all the time)
---
In a Hurry? Get My Top Pick for Best Children's Roller Skates
The Sure-Grip Fame is my top pick for the best roller skates for kids and toddlers. They come in a variety of sizes from 9J for toddlers all the way up to size 14 for adults. They come in black or white boots. This makes them a super versatile skate that anyone of any age can wear.
They also come from a leading US skate manufacturer (Sure-Grip) that has been making roller skates for 75+ years. They have a soft, comfortable synthetic skate boot, a nylon plate and solid urethane wheels. Plus, they come with adjustable toe stops. They also just happen to be one of my top picks for best roller skates for beginners, too.
---
In today's article, I'm going to go over my top picks for the best children's roller skates. Then, I'll give you a detailed buying guide on what to look for before you make a purchase.
And, what is my definition of a "kid"? I consider a kid anyone 12 or under in age. For teenagers, I recommend you look at my Best Roller Skate for Women and Best Roller Skates for Men pages. Skates for teenagers and adults are pretty much the same thing. Even some of the kid skates below will have adult sizes.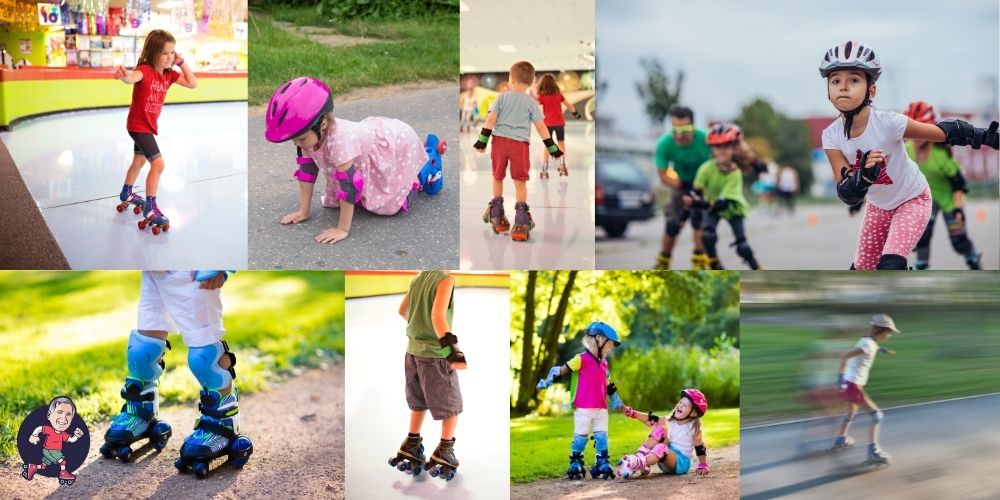 I'm only going to be covering quad roller skates in this article. So, if you are looking for inline skates or rollerblades, please check out my Best Rollerblades & Inline Skates for Kids page.
Want even more reviews on roller skates? Check out our Best Roller Skates page for a list of all of the quad roller skates I recommend for all different kinds of ages, roller sports and skill levels.
Or, if inline skates and rollerblades are more your style, check out my Best Rollerblades & Inline Skates page.
---
But, Why Trust My Advice on Roller Skates?
My name is Jeff Stone. I have over 40 years of roller skating experience. I was an artistic roller skater (yes, that exists) and spent several years competing at a national level – even winning a national championship as a teen. That's me over there to the right with a lot more hair and smugness. 🙂
But, more importantly, I'm a parent of two wonderful young women who both are excellent skaters. I taught both of them how to skate as little kids. I also have helped 1000s of other kids learn to skate while working and teaching skate lessons at my local roller rink as a teenager.
I also just know skates. My hobby / fun thing to do while couch surfing is to research roller skate and inline skate products and write about them on this blog. I have bought and actually tested dozens of skates from leading skate manufacturers. I guess you could call me a bit of a skate nerd.
These days, I skate every week for fitness, mental health and just plain old fun. I love to skate. It's in my bones. For more, read About Roller Skate Dad.
---
Ok, enough already. Lets get that kid of yours skating!
My List of the Top 18 Best Kids Roller Skates
My top roller skates for girls or boys is the Fame skate by Sure-Grip. This is one of the best skates on the market today for beginners because it comes with a high-top boot and comes in a wide array of sizes – from 9J (young skaters size) all the way up to a men's 14. It is my top pick for the best roller skates for kids.
The high-top boot is nicely padded and provides great ankle support. It has a padded collar and dual front brakes – sporting an adjustable toe stop on each skate.
Sure-Grip is a very well-known brand who has been in business for over 85 years. They know how to make a good skate. They have dozens of models, and the Fame skate is a great one for those just starting out.
Sure-Grip Fame Skate At a Glance
---
2. VNLA Junior – Best Kids Quad Roller Skates (Runner-Up)
My next pick in the best roller skates for kids is the VNLA Junior. These are good roller skates for girls or boys and are super popular amongst the pre-teen / teen crowd. VNLA is best known for creating jam skates, and the Junior is by far their most popular skate.
First, recognize that the boot on these skates is low-cut. This means this skate does have a lack of ankle support that a high-top boot like the Fame above would offer. However, if your child is a little better at skating already (or just likes this style of skate), then these are great skates.
Also, note that most of these skates come with a toe plug and not a toe stop. Why? Because these skates were made for jam skaters. However, you can easily change out the toe plug for a toe stop – something I did for both of my kids' skates so they could speed skate in them. Both my girls have these skates and they love them. Even in their 20s, they are still skating in them.
VNLA is a good all-around skate. If your kids are interested in quad speed skating or jam skating, then this is a good starter skate for both sports. You can upgrade to my favorite speed skate wheels down the road as your child gets more competitive.
VNLA Junior At a Glance
---
3. Riedell Dart – Best Quad Child Skates (Bronze)
If you are looking for the best children roller skates on a budget, then check out the Riedell R3 Dart lineup. These low-end roller derby skates come with a low cut boot that will have a lack of ankle support for beginners, but will provide more maneuverability if your child is into derby or speed skating.
The boot comes in a wide variety of sizes – from size 1-14 and has a velcro strap and laces to insure a snug fit. The only real difference between the 3 Dart models are the color of the boots, Otherwise, they all come with the same plates, wheels, bearings and toe stops.
Riedell Dart At a Glance
---
If you are looking instead for a great adjust skate, then check out these Roller Derby skates called the Candi Girl Lucy. The roller skates for girls have adjustable sizing coming in 2 different sizes: Small (sizes 12J-2) or Medium (sizes 3-6).
The roller skate has a little knob on the back that you loosen, then you pull on the front part of the skate to make them longer. Finally, tighten the knob back up to lock that size into place.
These come with a high top boot for extra ankle support. The urethane wheels are good for roller skating both indoors or outdoors.
Roller Derby Candi Girl Lucy At a Glance
---
Next up, we have adjustable sizing roller skates for girls or boys, the Trac Star roller skate from the Roller Derby brand. This high top skate comes in 3 different colors and provides a buckle system like on inline skates to provide extra ankle support.
To adjust the size of this skate, use the Quick Fit button on the side of the skate. Push it in and pull out on the skate to make it larger.
Whether you are roller skating outdoors or at the skating rink, these skates from Roller Derby should fit the bill.
Roller Derby Trac Star At a Glance
---
If you are looking for a bright color, adjustable roller skate, then you might want to take a look at Crazy Skates Soda Pop roller skates for girls or boys.
These high top boots provide extra ankle support and come in 2 different sizes: Small (Sizes 12J-2) and Medium (Sizes 3-6). Turn the knob on the back and pull to make the skates larger.
If you like roller skating outdoors or at the skating rink, these skates will do in both locations as the wheels are made for either surface.
Crazy Skates Soda Pop At a Glance
---
Now, we move on to skates for the young skaters out there – the Fun Roll Jr. This adjustable skate comes in a high top boot for extra ankle support and has a padded collar, power strap and a brake in the back like you'll find on most inline skates.
These skates feature really small sizes perfect for toddlers. The small comes in sizes 7J-11J. The medium comes in sizes 11J-2. This makes them a perfect roller skate for the littlest skaters roller skating among us.
Roller Derby Fun Roll Jr At a Glance
---
These adjustable Chicago skates are great for the young kids. They are similar to the Chicago Classic roller skates in that they sport a high-top boot for extra ankle support, a padded collar, a power strap and toe brakes on each skate.
The high top boot also has a hard boot shell like found in most inline skates. Younger skaters will work great in these as they come in sizes 10J-13 for the small or sizes 1-4 for the medium. This makes them perfect for the younger kids.
Chicago Adjustable Quad Skates At a Glance
---
Next, we have another roller skate for the younger skaters, the Playwheels. These shoe skates adjust from size 6J – 12J making them the smallest skates found on the market. They are also some of the lightest roller skates made today. They are completely made of plastic and have a Velcro strap to keep your child's feet in the skate while roller skating.
These skates also come with toe brakes for stopping. Many of these skates also come with free knee pads and some even with a free helmet. If you just need to get the little one on the floor, these can be a good first time skate just to get moving.
Playwheels At a Glance
---
If you are looking for a great pair or quad skates for your kid, then the Sure-Grip Boardwalk should be at the top of your list. These are some of the best outdoor roller skates on the market today. They have a high-top, suede boot that provides great ankle support.
They have 78A durometer outdoor wheels which will provide a smooth ride while you're roller skating on asphalt. This roller skate really works great whether you are indoor or outdoor skating.
Sure-Grip Boardwalk At a Glance
---
11. Moxi Beach Bunny – Best Outdoor Quad Skates for Kids (Runner-Up)
Next up, we have the Moxi Beach Bunny roller skate for girls and ladies. These colorful, high-top quad skates provide extra ankle support when you are roller skating. They also come with Moxi 78A wheels for a smooth ride on asphalt or smooth surfaces.
These skates come in sizes 1-10, so they will fit most children. They sport an aluminum plate, adjustable toe stoppers and ABEC-5 bearings. Everything to have a great time while skating in the park or the rink.
Moxi Beach Bunny At a Glance
---
The last in our outdoor childrens roller skates line up is the GT-50 quad skates from Sure-Grip. These skates come with the Sure-Grip Motion 78A wheels that will give you a nice smooth ride wherever your child is roller skating. They also come in men's sizes 1-13, so they have a size for most kids.
The boot is low-cut, so it won't provide as much support for the ankle, but this is a great first speed or derby skate. The boot has a velcro strap and laces to ensure your child's feet are secure. It's rounded out with nylon plates, ABEC-5 bearings and adjustable toe stoppers.
Sure-Grip Rock GT-50 At a Glance
---
Now we get to the real fun. We have quad skates with LED wheels – the Sure-Grip GT-50 Plus. This rolkler skate come in men's sizes 4-10.
Typically, LED skates have wheels light as you roll. In these skates, the LED lights go around the skate between the boot and skate plate. You then can push a button on the inside of the boot to make the lights perform different patterns.
These skates have laces and a velcro strap to keep your kid's feet securely while they are roller skating. Skate indoors with the lights on at your favorite roller rinks and watch as you turn heads with these light up skates.
Sure-Grip GT-50 Plus At a Glance
---
14. Pacer Comet – Best Light Up Quad Child Skates (Runner-Up)
The wheels light as you roll on our next quad skates from Pacer – the Comet. This low-top roller skate has laces and a velcro strap to keep your child's feet secure while they are roller skating. These skates come in kids' sizes 12J-5.
It's important to note the on these light up skates on the 2 outside wheels light up. The 2 wheels on the inside are just regular wheels without lights.
Pacer Comet At a Glance
---
15. Kuxuan LED Skates – Best Roller Light Up Child Skates (Bronze)
The last in our light up roller skate series is the Kuxuan LED skates. These quad skates has a high top shell like an inline skate and toe stops in the front. It comes with a buckle system to lock the ankle in tight while roller skating.
It comes with light up wheels that are bright and kids love. The skates are adjustable by 4 sizes fitting the smallest of skaters.
Kuxuan Light Up Skates At a Glance
---
16. Sure-Grip Malibu – Best Budget & Quality Children's Skates
Next up, I have the Sure-Grip Malibu quad roller skates. These are good for beginner skaters and are of a decent quality at an affordable price. This roller skate comes in men's sizes 1-12. It also has hybrid urethane wheels that are good for roller skating both indoors or outdoors.
Sure-Grip Malibu At a Glance
---
17. Riedell RW Wave – Best Budget & Quality Roller Skates for Kids
Next up, we have Riedell's budget skate – the RW Wave. This roller roller skate has high top boots that provide good ankle support. They have wheels that will work both indoors or outdoors and have a smooth ride. These quad skates are great for kids who want to get roller skating on a budget.
Riedell RW Wave At a Glance
---
18. Pacer Stratos – Best Budget & Quality Roller Skates for Kids (Bronze)
If you want a good pair of no-nonsense quality skates for under $100, check out the Pacer Stratos. They have a nice, padded high-top boot, aluminum plates and good indoor / outdoor wheels. They also have adjustable, rubber toe stoppers and ABEC-5 bearings. They are a good pair of first skates for the beginner. These are a decent pair of good cheap roller skates.
Pacer Stratos At a Glance
---
Best Roller Skates for Kids Buyer's Guide
Now that we have gone over all of the skates, you may have questions about which is the right one to get for your child. This buyer's guide is here to help you understand the skates better.
I will cover important topics like:
Let's go!
The Right Age to Learn to Skate
What is the right age to skate for a child? Most kids do well learning how to roller skate once they have hit about 4 years old. By this age, they are walking, running and steady on their feet. They also have the mental ability to listen to instruction from a teacher and follow basic rules.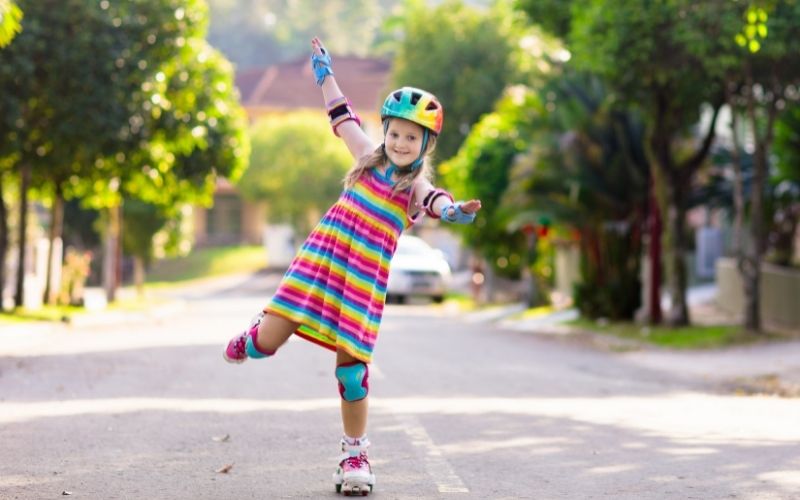 But, how early can you get started? My motto: If your child can walk, then they can skate. Children can learn how to roller skate as early as 2 years old. I know it may sound crazy to some of you, but it's true.
I've helped many a young tike learn to skate. If you have a child who is steady on their feet and you will supervise and follow them 100% of the time, then you can get them skating as early as 2 years old.
And, it's a great sport for building all the muscles in the lower body and giving them the essential skill of balance early in life. Balance is so important.
You have fewer skate choices for kids at this age, but it is still very doable to get started this young. However, only you can determine if your child has the right fitness and ability to get rolling. They need to be steady when walking. Children that are still having trouble just walking are going to struggle skating.
Plus, be sure you get the appropriate safety gear – knee pads, elbow pads, wrist guards and a helmet are a must at this age as there will be a lot of falls.
And, you're never too old to learn to skate. Nice try mom and dad. You can skate, too! And, as a parent, I really urge you to get out there and skate with your child. Young children have a lot more fun doing an activity when their parent is involved and also is taking part.
Teaching Your Child How to Skate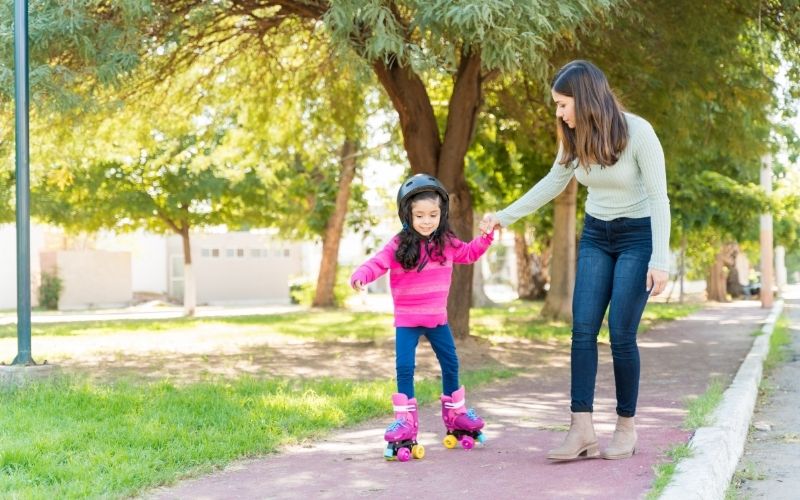 Teaching a child how to skate can be quite rewarding, but also challenging at times – especially if the youngin' is still learning how to talk (and listen). The most important thing to keep in mind is to have patience. Rome wasn't built in a day.
You want to get them started with getting used to their skates first. Lace and strap their skates on their feet. Then, have them practice walking around on carpet or in the grass.
On some skates, you can also use a hex skate tool to tighten the wheels down if they are rolling too freely and you want to slow them down. Some of the toddler skates also have special devices in them to keep the wheels from rolling freely.
However, it is amazing to me over the years just how quickly kids pick up roller skating. With weekly practice, you can easily go from having a child who can't stand up in skates to zooming around the rink in just a couple of months. They are that fast at learning.
Teaching others is a whole subject unto itself, so to learn more, check out my podcast episode about teaching others how to roller skate. In it, I go over teaching children to skate. You can also check out my How to Roller Skate video series and article that will give you all the basics to help you get started.
Getting the Right Size Skates for Your Child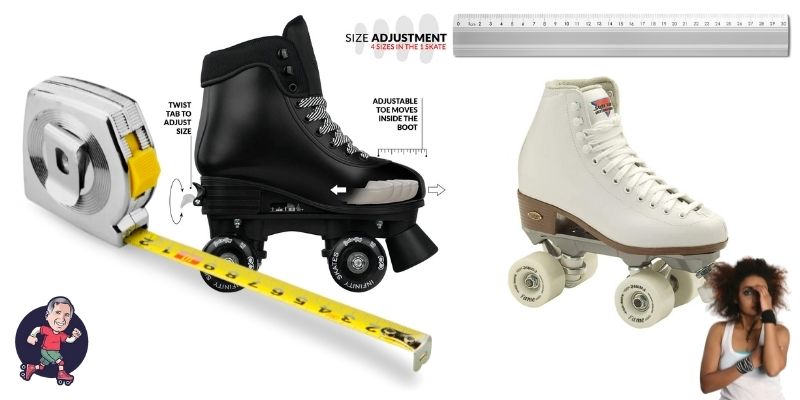 Picking out the right size skates is very important. You can skates to fit children's feet snuggly without a lot of wiggling. Most importantly, you want their ankles secure. This insures they will be sturdy on their feet and more capable of controlling the skates. However, be sure they are not too tight. There should be no pinching of the feet.
Most roller skates come matching your shoe size, but not all! So, be sure to read before buying. Also, to get the right size, it's super important to use the skate manufacturers skate sizing chart.
Often, these roller skating size charts may be as simple as "skates will match your US shoe size". Other times, they will be a table or gird that show you length in centimeters or inches. Or, it will be a detailed 2-3 page guide that explains in detail how to properly measure your child's feet.
But, fret not if you make a mistake. Most pro skate shops (like Roller Skate Nation) are great about helping you with skate sizing. Just give them a call or send them an email. Most are also great at accepting returns / exchanges if you get the wrong size. Amazon in particular is known for accepting returns and exchanges on skates.
But, try to do your homework upfront on getting the right size so you don't have to go through the hassle of exchanging skates. For more details, see my article on How to Size Roller Skates.
Benefits of Roller Skating for Kids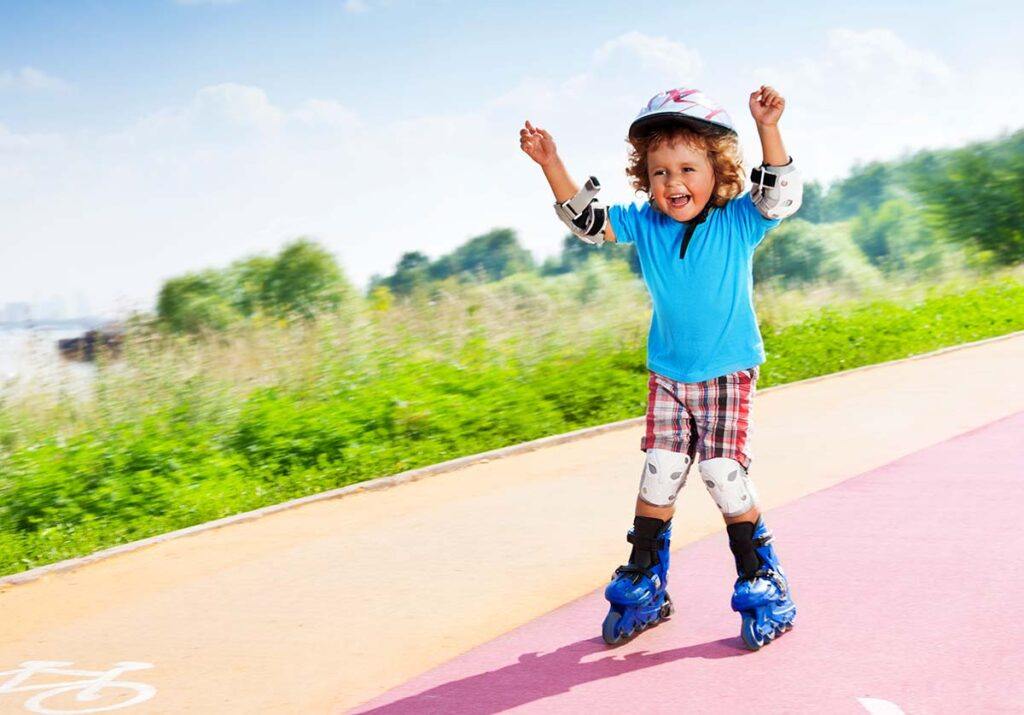 Roller skating helps to improve balance and coordination for all ages of skaters. Learning to stand on skates can be tough, but improving balance at a young age will make them better at other sports and activities as they grow older.
Skating also helps to strengthen important muscle groups, especially in the lower body and your core. The thighs, calves, and butt all get a great workout. Plus, your abs have to play a part, too, as you try to keep your balance. Also, if you skate regularly at a roller rink your child will also get the benefit of socializing with other children.
For more on how roller skating is great for you and your child, see my 10 Amazing Health Benefits of Roller Skating article.
Non-Adjustable vs. Adjustable Roller Skates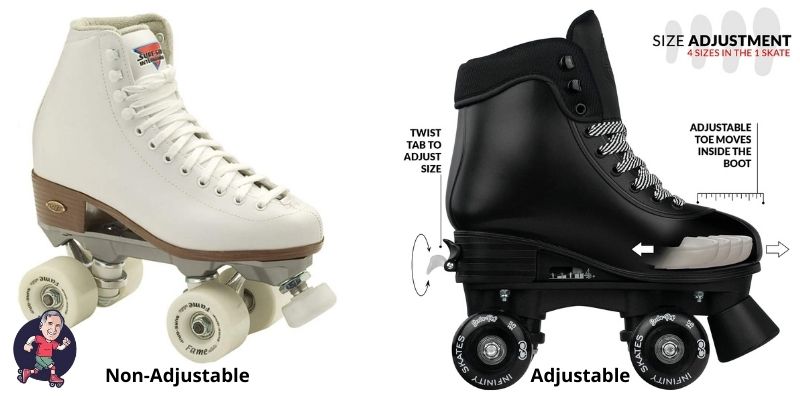 How Non-Adjustable Skate Sizing Works
Non-Adjustable, regular quad skates are just like shoes. You find your child's size on the manufacturer's skate sizing chart and you're done. Then, when your child's foot grows, you have to buy new skates. As child's feet grow regularly each year, you'll need to get a new pair.
Non-Adjustable, Regular Roller Skates Pros & Cons
Pros
Regular skates are usually of higher quality. Their adjustable cousins are typically of lower quality.

There are a larger selection of regular, non-adjustable roller skates on the market today.
Cons
Every time your child's feet grow, you will have to buy new skates.
How Adjustable Roller Skate Sizing Works
Adjustable roller skates, on the other hand, usually come in a range of sizes. For example, one skate can have a small size of 9J-13J a medium skate in sizes 1-3 and a large skate in sizes 4-6. In this example, the 9J-13J skate can be adjusted to size 9J, 10J, 11J, 12J or 13J, as an example.
Adjustable skates usually come with a button or a dial that you turn to allow the skate to be adjusted. Then, you pull on the front of the skate to slide it to the desired length. Finally, you release the button or tighten the dial again to lock the size in place.
Adjustable Roller Skates Pros & Cons
Pros
Adjustable skates can handle your child's feet growing within a certain size range (sometimes up to four sizes).
This means you save money because you can buy one pair of skates and use them longer.
Cons
Many adjustable roller skates are not as high quality as their non-adjustable peers.
Anatomy of a Roller Skate
Next, lets go over all the parts in a quad skate so you can get the right roller skates for your child so they can really enjoy roller skating.
Boots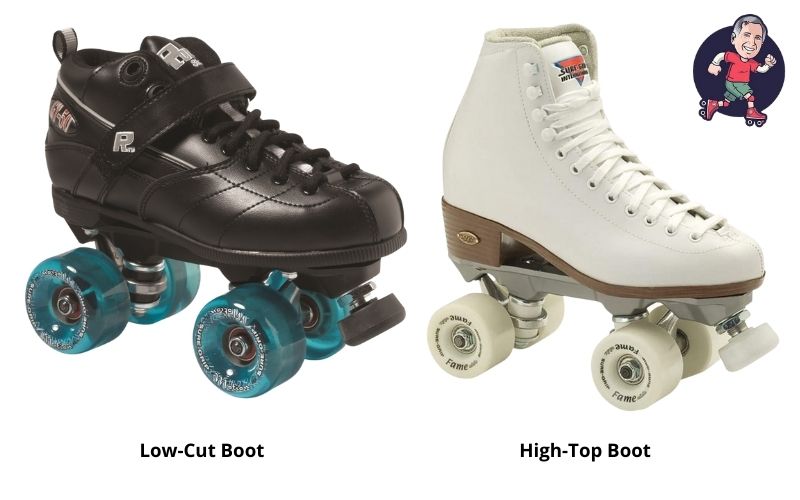 High-Top Boots
The high-top boot is ideal for beginner skaters who need extra ankle support. I recommend these kinds of boots for younger skaters just learning how to roller skate because this extra support really helps the younger kids. You will have a little less maneuverability in a high-top boot.
Low-Cut Boots
Low-cut boots are better for having more agility and maneuverability on the floor. This is why you'll see all roller derby players and speed skaters wearing these boots. Both of these roller sports require the skater to get low in turns while doing crossovers and avoiding other skaters. Just not that you don't get nearly the ankle and leg support that you do from a high-top boot.
Leather vs Synthetic
Finally, you have your choice between leather or synthetic / vinyl boots. Most of the boots in my list above are going to be vinyl boots. This is because they are cheaper. Leather can easily double the cost of a pair of skates. However, leather boots are more comfortable than vinyl after a break-in period. They are better quality and feel better as the boot better molds to your feet the more you skate in them.
Plates

Next up, we have the plate. This is the plastic or metal piece that attaches to your boot. It has trucks and axles on the front and back of the plate where the wheels with bearings will go.
When choosing a roller skate package above, your skate plate is already chosen for you by the manufacturer.
You have a number of choices when picking a skate plate, but the two most common on children's roller skates are going to be nylon or aluminum.
Nylon Plates
Nylon is cheaper and makes for a lighter overall skate, but transfers less power from each push to the wheels. It also has a very slight chance of breaking. In the past this was more common, but today most of the nylon plates sold on skate packages are reinforced with fiberglass or another material to keep this from happening. I have many skates with nylon plates, weigh over 200 lbs and speed skate in them just fine.
Aluminum Plates
On the flip side, aluminum plates are more expensive, heavier and more sturdy. They provide a smooth ride and deliver more power from each push to your wheels. For skaters looking to roller skate with more aggression or speed, aluminum may be the way to go. However, for most children roller skates, nylon will do just fine.
To learn a whole lot more about plates, check out my Best Roller Skate Plates page and guide where I go into the details.
Wheels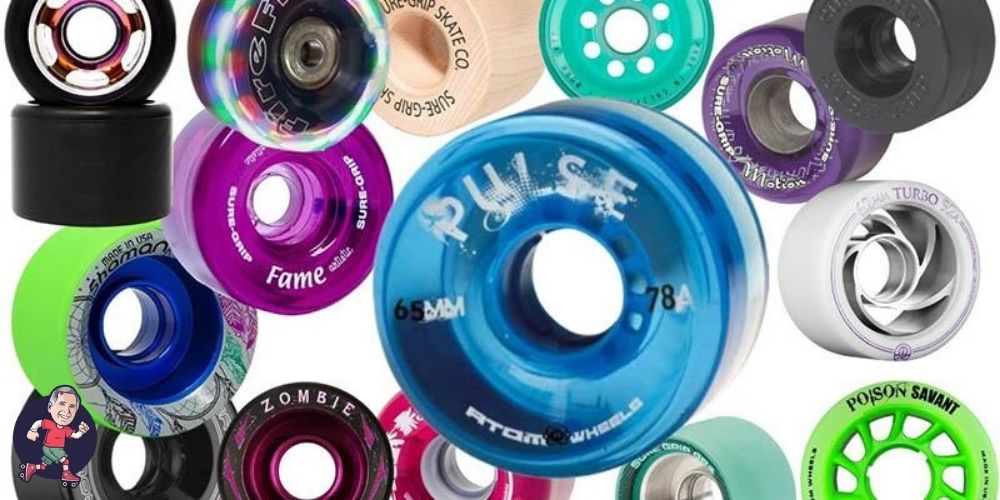 Next, we have my favorite part of the roller skate – the roller skate wheels. This is the most important piece of the roller skate and also has the most variety. Urethan wheels come in all shapes, sizes and wheel hardness. Lets go over each now.
Wheel Width and Diameter
Your wheel's height (or diameter) determines how fast you can go and for how long. Taller urethane wheels take slightly longer to accelerate but roll at top speeds for a longer period of time. This is why speed skaters use inline skates with super tall wheels (some as tall as 125mm).
Taller wheels, though, do have the drawback that they are much harder to stay stable on. No beginner should ever try skating on 125mm inline skate wheels – unless you like falling.
Smaller wheels provide more stability for the beginner and more maneuverability for the advanced derby skater. Taller wheels provide more speed but less maneuverability and stability.
Your wheel's width (or profile) determines how much of your wheel is touching the skating surface. The wider the wheel, the more stable you will feel. They also have the added benefit of giving you more power transfer on each push. A more narrow wheel however will give you more maneuverability.
Wheel Hardness or Durometer
Next, we have the wheel hardness or durometer. Durometer is a scale that usually falls in the range of 78A-103A for most quad wheels with the lower number (78A) being soft and the higher number (103A) meaning hard.
For a smooth ride, go with a soft, outdoor wheel with a 78A durometer. This soft wheel is best for outdoor surfaces like rough asphalt. It will also go slower, though.
For indoor surfaces or for those wanting more speed and slip, go with a harder wheel. Most of the indoor skates listed above will have wheels in the 92A-96A range which are good for indoor surfaces without causing you to slip.
Color and Light Up Wheels
You can find wheels in every color of the rainbow. There are wheels with glitter and the young skaters really love the light up / LED wheels. They are fun and really turn heads when you're at the local rink.
To geek out a whole lot more on urethane wheels, check out my Best Roller Skate Wheels page.
Bearings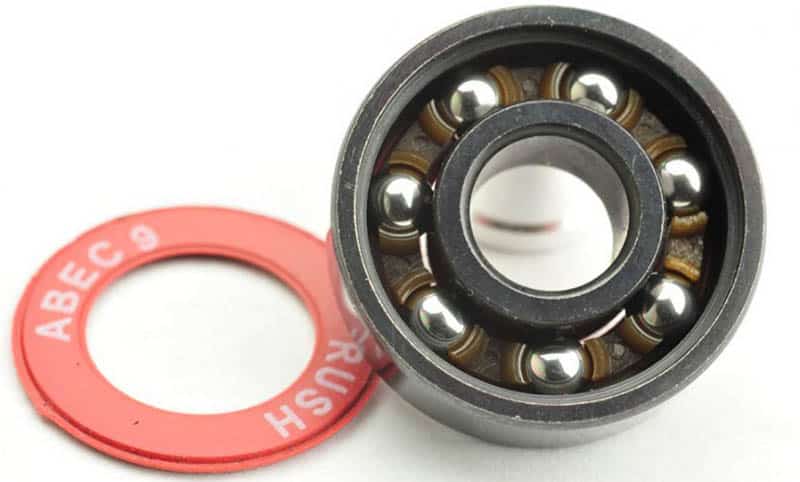 Next up, we have the roller skate bearings. The most important thing to remember about bearings is that they need to be clean and lubed to insure a smooth ride. All of the bearings that come in the skates above will have clean, lubed bearings, so you will be good to go.
There is, of course, a whole lot more to bearings then just them being clean. However, for most beginners, this is the number one thing to keep in mind.
But, if you want to learn a whole lot more about this part of your skate, then please check out my Best Roller Skate Bearings page.
Safety Gear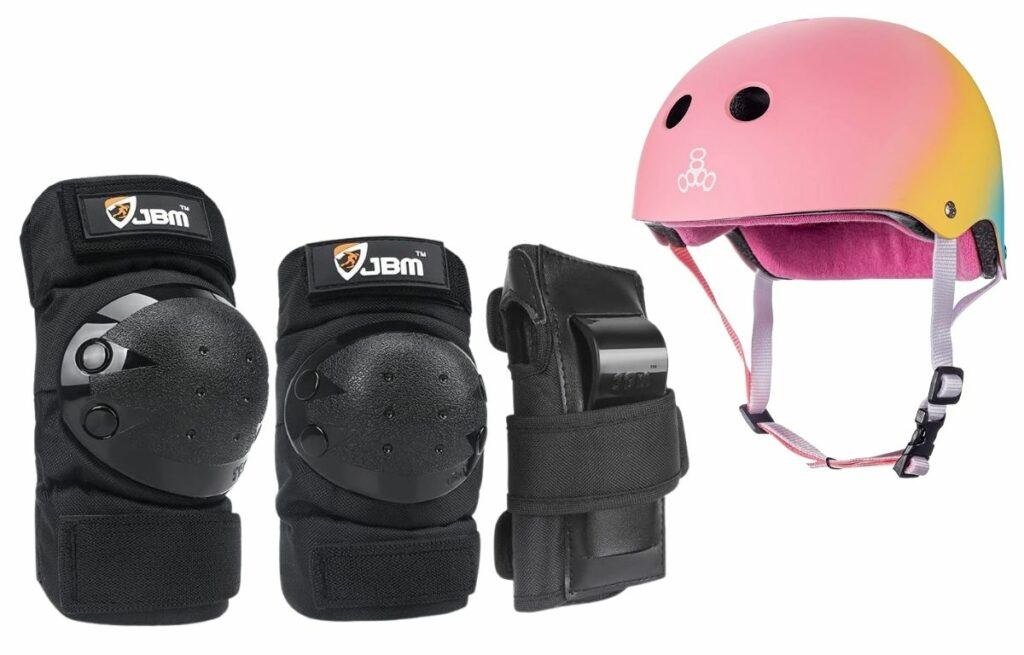 Finally, we have the last piece of the roller skate that is not actually a part of the skate itself – the safety gear. For beginner skaters, I recommend you get yourself knee pads, wrist guards, elbow pads and a helmet.
There are a number of combo packs you can buy that have all three pads in them together – wrist, elbow and knee pads. Then, you just purchase the skate helmet separately.
I highly recommend getting these especially for kids. Falling down hurts and hurting is not fun. And we want skating to be fun.
Of course, I didn't use pads when I was a kid and I turned out just fine….I think. Of course, my younger sister begs to differ. 🙂
Anyways, to learn a whole lot more, check out my Best Roller Skate Helmets and Best Roller Skate Pads pages.
Toe Guards
Lastly, you may want to invest in some toe guards. These are little caps that fit over the toe of your child's skate and insure that the boot does not get all scuffed up. Check out my best toe guards for roller skates article for more information.
Frequently Asked Questions
What is a good brand for kids roller skates?
The best brands of roller skates for kids include some of the oldest roller skating manufacturers like Riedell, Sure-Grip and Roller Derby. These three companies have been in the skate business for over 75 years. Then, you have VNLA and Moxi Skates which are two of the newer kids on the block (about 15 years each).
All 5 of these skate manufacturers are based right here in the USA and many of them manufacture some of their top skates right here in America.
What roller skates should beginners get?
For most beginner skates, I recommend a high-top boot. This taller boot gives the beginner skater more stability as it wraps the ankle. Low-cut boots will also work (as I mention several above), but you will have less stability in that version. The low-cut will provide more maneuverability, however.
I also recommend beginners go with soft, outdoor wheels. A softer wheel insures you go slower. Plus, they have the advantage of working well both indoors and outdoors. Softer wheels also provide more stability and slow you down more – something beginners need while they work more on their balance.
I consider all of the skates listed above as good beginner roller skates. If you are looking for more advanced skates for roller derby, speed skating, jam skating or some other roller sport, please see my Best Roller Skates page as a jumping off point to some of the best recommended skates on this site.
What age is suitable for roller skates?
You need to make sure your kid can walk well before you attempt to teach them how to roller skate. For most children, I would not start teaching skating before the age of 3, which is still really young. As the child gets to age 4 and 5, it's a lot easier to teach them.
With that said, if everyone in your family skates or you are a good teach, then you may be able to start even earlier. It just takes more patience.
A little tike who is constantly watching everyone in the family skating without them will certainly want out on the floor….like now!
I've had several little kids go running across the floor in shoes during a session with 100s of people skating trying to catch a brother, sister or parent. If that is happening to you with your little one, then I'd get them some skates so they can get moving.
What is easier to learn how to skate on – quads, roller blades or inline skates?
Quad roller skates are easier for first time beginners in comparison to roller blades or inline skates. Quad skates have four wheels – two on the front and two in the back side-by-side. This pattern gives the skater more balance and more evenly centers the skater's weight than an inline skate.
In contrast, inline skates have all four wheels in a single row directly in the middle of the skate boot. This is harder to balance on because you have to keep all of your weight balanced on a single blade vs. your weight being spread out on a wider plane.
However, many people who already know how to rollerblade, ice skate or have good balance will disagree with everything I said above (and they do – I get emails all the time). 🙂
Inline skates (especially Rollerblades) have done a much better job over the years of making their boots more stable by having hard, high-top boots that really lock the foot and ankle in place. This gives the skater less foot wiggle. And, this can give more stability.
So, as you can see, it's a bit of a debate. See my Rollerblades vs. Roller Skates vs. Inline Skates page for a lot more details.
I will wrap up here by saying that if your child has their heart set on inline skates or rollerblades, then go with what they want. Even if you and I both know it will be a little harder for them to balance, the heart wants what it wants.
And it's better to get the child what they want then listen to all their belly aching. Inline skates are very popular and there are many great choices out there. Check out my Best Inline Skates & Rollerblades for Kids page to learn more.
Want to Learn Even More About Skating?
Want more reviews on roller skates? Check out my Best Roller Skates page for a list of all of the quads I recommend. I also have pages for roller skates for men, roller skates for women and roller skates for kids where I recommend the best skates on the market today for each group. Or, check out my roller skates for beginners if you are completely new to roller skating.
Or, if rollerblades or inline skates are more your style, then check out my rollerblades for men, rollerblades for women or rollerblades for kids pages. Or, if you are completely new, check out my rollerblades for beginners page.