Whether you are really into rollerblading and have been doing it for years or you are a complete beginner, getting the best inline skates you can afford is important. In today's article, I am going to review the best rollerblades for women that are on the market today, plus give you a lot of personal tips of what to look for before you buy.
First, I'll go over my top 19 best rollerblades for women, then I'll give you the most thorough buyer's guide on the web. We'll discuss rollerblade boots, frames (or plates), wheels, bearings, brakes, safety gear and more.
So, whether you've been inline skating for a decade or you are just starting out, I've got a pair of rollerblades with your name on them! Let's get skating!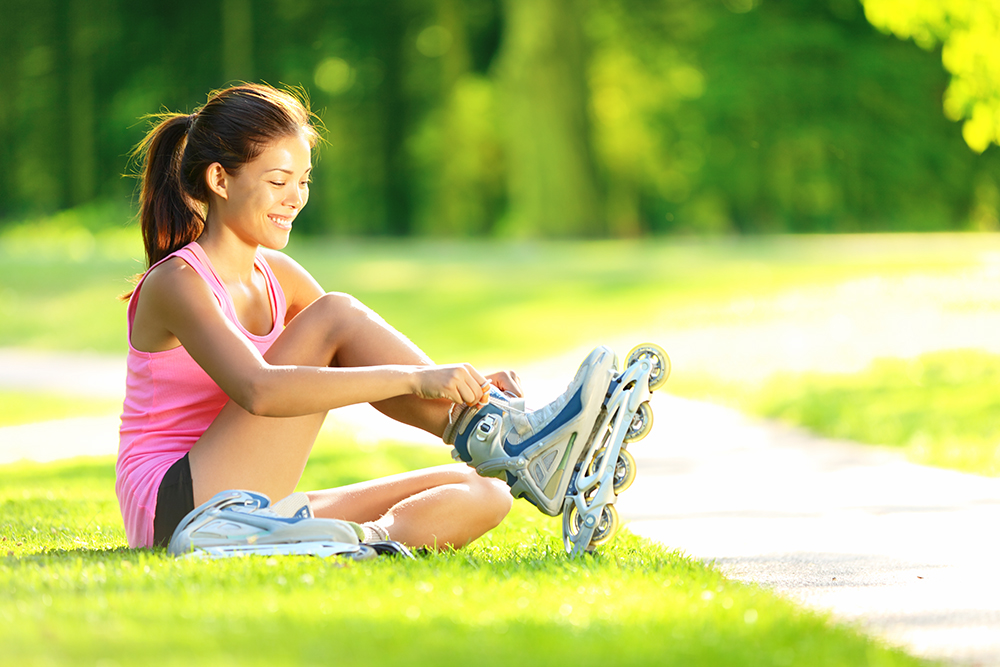 But first, if you want to learn even more about roller blades and inline skates in general, then be sure to check out my Best Rollerblades page. Or, if you are instead interested in quad roller skates, check out my Best Roller Skates page.
Both of these pages give a lot of general advice about picking the best skates for your next roller skating adventure. Or, if you're not sure which are best for you, then check out my Rollerblades vs Roller Skates vs Inline Skates page.
Ok, let's get started!
My Top 19 Best Rollerblades & Inline Skates for Women
The Rollerblade Advantage is our top pick for all you beginner skaters out there. This is due to the fact that it's a good skate from a great manufacturer at a price everyone can afford.
The Rollerblade Bladerunner has a padded liner with extra padding to keep your feet comfortable. It also comes with skate laces and a power strap and a buckle to keep your feet safe and secure. It also has a brake so you can stop easily.
The Bladerunner Advantage has a composite, plastic frame and comes with four 80mm Bladerunner wheels. It's a good skate for those of you out there who are okay with moderate speed and want to focus more on stability.
These inline skates from Rollerblade is the cheapest model they offer for beginners, but is still a great skate on parts. If you are just getting started and want the best rollerblades for beginners, check out the Bladerunner.
Rollerblade Bladerunner Advantage Pro XT Highlights
What I Like
Ideal skate for beginner skaters who are just starting rollerblading.
For a cheaper, beginner skate, the internal soft boot design has nice padding and is comfortable.
Priced at right around $100, they fit most people's budget when first starting. That is why it has our top spot. Good price and good quality without breaking the bank.
---
Rollerblade Zetrablade – Best Women's Inline Skates for Beginners (Runner-Up)
Next up, we have the Zetrablade from Rollerblade. These are a little more expensive than our top pick, but you also get a nicer pair of inline skates. First, the liner is nicer and more padded. The boot also has a nicer mesh and a seamless toe box that makes the skate more comfortable.
It has a lace, power strap and buckle closure system like you will find on most rollerblades. The inline skate comes with a composite frame and 80mm diameter wheels – both which are good enough for those just starting out.
If you are looking for a comfortable pair of rollerblades that will give you a smooth ride, then check out the Zetrablade.
Rollerblade Zetrablade & Rollerblade Zetrablade Elite Highlights
What I Like
Both Zetrablade versions typically come in at under $150. This makes the skate affordable for most people just starting out inline skating.
The 80mm / 82A hybrid wheels make this inline skate good for both indoor and outdoor skating.
---
K2 Kinetic – Best Women's Inline Skates for Beginners (Bronze)
Rounding out our list of best rollerblades for women beginners, we have the K2 Kinetic. One of the nice things about K2 skates is they often come in half sizes – not something Rollerblade always offers. K2 also often offers speed lacing systems that make putting on your skates faster. This is true with the K2 Kinetic Pro that offers this feature.
The K2 Kinetic has a composite frame that has a low center of gravity giving you extra stability. It also has 80mm diameter wheels which are good for a beginner. You want to be on smaller, shorter wheels when just starting out.
K2 Kinetic Highlights
What I Like
This is another great pair of budget rollerblades for beginners just starting inline skating. The boot is comfortable and it has a low 80mm wheel that will keep you sturdy and upright.
---
The Rollerblade Macroblade is our top pick for all of you intermediate skaters out there that want a smooth ride and a sleek look without breaking the bank. The Macroblade is one of Rollerblade's hottest selling inline skates. It comes in a variety of different wheel heights from the 80mm beginner skates to the 110mm for advanced skaters.
The Macroblade comes in half sizes from 5-10.5. It has an aluminum frame which is perfect for extra power transfer, more stability and just a better overall feel while skating – especially on rough roads and asphalt. The Macroblade 80 and 90 come with four wheels, whereas the 100 and 110 have larger wheels and so only come with three wheels.
If you are a beginner, then stick with the Macroblade 80 or 90. They offer a lower center of gravity which is important for newbies who are just getting started. You'll have more stability and balance on the smaller wheels.
The Macroblade 90 or 100 are more intermediate level skates. These taller wheels will give you the extra speed that you are after. Finally, for all you advanced bladers, the 100 or 110 are probably what you are after for the superior speed. The large wheels will bring superior speed compared to small wheels.
Of course, even those skaters with a lot of experience still like shorter blades for the increased maneuverability. So, it's up to you. Rollerblade has a Macroblade size for every skating level and type. Enjoy!
Rollerblade Macroblade Highlights
What I Like
The Macroblade is Rollerblade's new beginner to advanced skater model. They have a wheel size and skill level for each skater type. It's a major upgrade in quality from the Bladerunner or Zetrablade. If you want the best fitness rollerblade then this is the one you want.
The aluminum frame is really nice. This gives better power transfer on each of your pushes and makes for a much better inline skate than those previously mentioned.
---
K2 Alexis – Best Fitness Rollerblades for Women (Runner-Up)
Next on our list we have the K2 Alexis. These inline skates are good for every skate level whether you are a beginner or a pro skater. For all of you beginners, stick with one of the Alexis 80 models. Those of you with better balance who want more speed can then go up to the 84 or 90 models.
The Alexis skates come in a variety of models, but really they are the same skate. The only difference is the wheel diameter and the frame. All of the Alexis skates accept the 80 Pro and 80 BOA come with an aluminum frame. These two beginner models instead come with a composite frame. The aluminum frame is typically what I recommend (even to beginners) but composite will do fine, too.
Then, you have K2's BOA models. These versions of their skates come with a small dial on the front that you can turn to get your skates tightened or loosened quickly. You can turn the dial while you are taking a break to give your feet some breathing room, then use the dial to tighten them back up for performance while you skate. That's a pretty cool feature.
The Alexis is a nicer model than their Kinetic beginner offering, so they do cost a little more. However, the extra price is worth the extra quality you get in this skate. You get a better boot, frame, wheels and bearings.
K2 Alexis Highlights
What I Like
The BOA system is a nice touch. It's a little dial on the front of the skates that let you easily tighten and loosen your skates. You still have laces and a buckle, this just gives you a little extra precision.
I like that there is an aluminum plate on all of the skates from 80 ALU on up. Aluminum frames just make your skate feel more solid.
---
K2 F.I.T. – Best Fitness Rollerblades for Women (Bronze)
To round out the fitness category, we have the K2 F.I.T. skates. This is an older K2 model (2019) that has been sold for the last few years and is still popular. It is a little cheaper than their Alexis model.
All of the skates in this lineup are in men's sizes, so be sure to size down appropriately (usually 1 full size). Like the Alexis, this skate comes with aluminum plates on all of the models except the 80 Pro and 80 BOA which have a composite frame. It also comes in either 80mm, 84mm or 90mm wheels – per the model number. All of the wheels are good for skating outdoors – whether it be on asphalt, sidewalks or a bike path.
Besides being an older model, this skate also gets our 3rd place mark because a number of skaters complain about these skates not being good for those with wide feet. So, if you fall in that category, you may want to look elsewhere.
K2 F.I.T. Highlights
What I Like
The aluminum frame on all of the models except the 80 Pro and BOA is nice. Aluminum frames just make inline skates feel more solid and sturdy. Not to mention they are just better.
These are a little cheaper than the newer Alexis and Rollerblade Macroblade.
What I Don't Like
Folks with wide feet have complained about these skates not being comfortable. Others have complained about the overall quality. This is why it gets our Bronze prize as it is not as nice as the Rollerblade Macroblade mentioned above.
---
If you really love to ski and you are looking to cross train off season, then look to inline skating! It's a great way to stay in shape when there is no powder on the slopes. If that sounds fun to you, then the Rollerblade Maxxum Edge is the skate for you!
These skates are for more intermediate to advanced skaters or skiers who already have good balance and stability – especially for the 125mm skates. The Maxxum Edge boot is a durable, vented boot that keeps your feet from sweating. It also has a V-cut cuff to allow for extra flex and versatility as you skate.
It has a heel shock absorber to keep vibration to a minimum. It also has a high performance, active airflow foot bed and a premium mesh liner to keep your feet cool while you roll outdoors.
Finally, it has an aluminum frame which is solid and offers the best power transfer with each of your pushes. This helps to make the inline skate faster, more sturdy and longer-lasting than it's composite counterparts.
Rollerblade then offers two of it's top wheels on both of these inline skates. The Edge 90 comes with the Rollerblade Supreme wheels. The Edge 125 comes with the Rollerblade Hydrogen wheel.
If you really want a more advanced, solid pair of rollerblades, check out the Edge series.
Rollerblade Maxxum Edge Highlights
What I Like
For you more advanced inline skaters out there who need a great skate, the Maxxum Edge has it all. A great boot, aluminum frame and the best rollerblade wheels that Rollerblade offers today.
---
K2 VO2 – Best Cross Training Rollerblades for Women (Runner-Up)
Another good pair of cross training rollerblades are the VO2 rollerblades from K2. Again, if you are into skiing and need to cross train offseason or if you just want to take your fitness to the next level, then check these out.
K2's softboot technology is combined with a speed lacing system that makes it easier and quicker to lace your skates in a single pull. It also has a Vortech ventilation system that provides a comfortable, breathable fit to keep your feet dry. It also has a lot of extra padding around the cuff.
The K2 VO2 comes with an aluminum frame that makes them faster, more study and longer lasting than their composite counterparts. The boot It also comes with ILQ 9 skate bearings.
K2 VO2 Highlights
What I Like
The fast speed lacing system is a nice feature. It makes putting and taking off your skates a whole lot faster.
---
If you are looking for a great pair of rollerblades for city skating or commuting to work / school, then check out the Twister Edge from Rollerblade. This rollerblade was especially created for you city slickers who are skating in an urban setting but still want to skate for fitness.
The boot has a new, anatomical transfer footbed that provides extra cushioning, shock absorption and support while you skate on those city streets and sidewalks. It also has a V-cut liner to ensure that the boot breathes well and keeps your feet dry.
It has an aluminum frame has lateral sliders built-in. It's a great frame for extra speed, stability and power transfer. It also has Rollerblade's Supreme wheels which are some of the best they offer.
If you want a great fitting skate that is comfortable and will get you up and down those city streets, then the Twister Edge is a good choice.
Rollerblade Twister Edge Highlights
What I Like
The Supreme wheels from Rollerblade are some of the nicest rollerblade wheels on the market.
The extruded aluminum frame is laterally adjustable.
---
Rollerblade RB Cruiser – Best Urban Rollerblades for Women (Runner-Up)
If you really love to commute to work in rollerblade or just like some good old fashioned urban street skating, then take a look at the RB Cruiser from Rollerblade.
The RB Cruiser is a moderately priced skate for the parts included. It is a tough, easily maneuverable skate that is fast.
It has RB hard shell, molded boots that are durable and comfortable. It has an extruded aluminum frame that is great for extra power transfer and stability.
Then, it comes with 80mm / 85A durometer wheels that provide a lower center of gravity and a smooth roll. Smaller wheels always are more maneuverable, perfect for an urban setting where there are always lots of thing to dodge.
The best part is that unlike the Twister Edge, the RB Cruiser can usually be had for less than $200.
Rollerblade RB Cruiser Highlights
What I Like
A well made urban skate with 80mm wheels and a nice hard shell boot for dodging plants, trees, humans and cars. You need a skate that can move when you have obstacles to avoid.
Pre-pandemic pricing had these skates at under $200. Some sizes are over $200 as these skates are popular and harder to find.
---
K2 Uptown – Best Urban Rollerblades for Women (Bronze)
Last in our best urban rollerblades for women list we have the K2 Uptown. This is another great skate for skating in urban areas where you need to be able to maneuver, turn and dodge objects quickly. If you need a good commuter skate, this is also worth a look.
These rollerblades are unisex so they are in men sizes. So ladies, be sure to go down one size. They also only come in the one color – black with the brown highlights. They have an aluminum frame which is great and they also have a low 80mm diameter wheel which keeps you lower to the ground and more able to dodge quickly.
K2 Uptown Highlights
What I Like
The wide range of sizes is great including half sizes. It also looks like a sneaker, which is kinda cool.
The boot is snug and responsive. The frames and wheels are rockerable in every position by simply flipping the frame spacer
They also can double up an an aggressive trick skate for those tricksters among us.
---
For you skaters on a budget that want a high performance skate, check out the Rollerblade BladeRunner Formula 100. These skates are great for those of you who started on the beginner Bladerunner or Zetrablade skates are now looking to upgrade.
The boot has the familiar strap, buckle and lace closure system that you already know. Then, it has an engineered mesh liner with extra padding to give you the comfort you need. All of that extra padding also provides the extra support you'll need on these larger 100mm / 82A wheels.
The skate comes with an extruded aluminum frame that supports a three wheel design. The brake is also standard and already mounted. If it's time to upgrade to a new skate but you aren't ready to go all out on a Macroblade, then give the BladeRunner Formula 100 a try.
Rollerblade Bladerunner Formula 100 Highlights
What I Like
The taller wheels really help increase your overall speed. Great for an intermediate blader who is ready to upgrade to the next level.
---
Roller Derby Aerio Q80 – Best Budget Performance Rollerblades for Women (Runner-Up)
Next up, we have the Aerio Q80 rollerblades from Roller Derby. An older version of these rollerblades are what my youngest daughter, Violet, first learned how to rollerblade on. They are a great pair of budget rollerblades and she loved them until they didn't fit her anymore.
The Aerio Q80 is a well-padded rollerblade that is comfortable with extra memory pad foam. It has an 84mm diameter wheel with an 82A durometer. This makes it great for all outdoor surfaces. It will work indoors, too, it will just be a little slower than harder wheels.
It also comes in a bunch of colors including two versions of black and then a mint and purple color. All of them are stylish and typically cost less than $150.
Roller Derby Aerio Q80 Highlights
What I Like
The fact that my daughter skated in these rollerblades for a good 2 years and loved them give me fond memory of these rollerblades. They aren't the best skate on this list, but if you are just starting out and want a good rollerblade, these are pratty great.
---
Roller Derby V-Tech 500 – Best Budget Performance Rollerblades for Women (Bronze)
If you really are after a budget skate but want something with adjustable sizing, then take a look at the Roller Derby V-Tech 500. This skate has adjustable sizing where you use a button on the side of the skate and pull on the front of the boot to change the size.
This size adjustable skate has a buckle closure type in three places with no pesky skate laces to get in the way. They have 76mm wheels which are great for beginners as this keeps you low to the ground and more stable.
Roller Derby V-Tech 500 Highlights
What I Like
If these skates will fit you, the adjustable sizing is nice. I'm not a huge fan of adjustable skates, but some skaters love them. Especially good for kids or teenagers whose feet are still growing.
---
Wait a minute! What are wheels doing on a page about rollerblades? Well, a lot of the rollerblades on Amazon with light up wheels are just cheap in construction.
A much better option is to buy a real rollerblade (like the Rollerblade Macroblade) and then buy a second set of roller skate bearings and a set of light up wheels. Then, you can easily change out your wheels when you want to light up the rink floor or the night sky!
One of the most recommended light up rollerblade wheels is the Rollerblade Moonbeam wheels. These super bright light up wheels will have you rolling smoothly while lighting your path. Just make sure to get the correct size wheel for your frame – most likely the 80mm.
Rollerblade Moonbeam Wheel Highlights
What I Like
These are super bright white light up wheels. They aren't super colorful like some of the wheels mentioned below, but they are bright and well made.
If you want a light up wheel from a manufacturer that you can trust (Rollerblade), then this is a good choice.
---
If you really love inline skating at night or in the dark at your local rink, then you are going to love the Luminous Light Up Wheels.
What makes the Luminous great is that it is a little harder than the Moonbeam coming in at 85A. This makes it a hybrid wheel that works well both indoor and outdoor skating. It also comes in a variety of fun colors. Just be sure to get the size that matches your frame – most likely the 80mm.
Luminous Inline Skate Wheel Highlights
What I Like
Lots of different colors to choose from. That makes them extra fun.
The 85A durometer makes this a nice hybrid wheel that will work when you are inline skating indoors at the roller rink or outside under the stars.
---
If you are really into some crazy light up wheels, then these adjustable sizing roller blades called Papaison inline skates may be right up your alley. This inline skate comes in at under $100 and the overall construction is pretty good for the price.
It comes in 4 different sizes with a push button system that allows you to adjust the skate sizing. You push the button on the side of the skate and then slide the boot out to extend. That makes these great for beginners who just want to get skating.
Plus, the retailer who sells these on Amazon is doing it right. They also ship every pair of rollerblades with extra skate brakes for when your first brakes wear out. Plus, they give you a free pair of skate socks to help you prevent blisters. A super nice added touch.
Papaison Adjustable Inline Skates Highlights
What I Like
If you are into light up wheels, these are some of the best around. Plus, you get a free pair of skate socks and an extra set of brakes.
The overall skate is not bad for an inline skate that is under $100. The quality is not as good as the Rollerblade Macroblade, but you aren't going to get that kind of quality for this price.
---
Finally, we come to the last category in our ultimate guide – inline skates for speed skating. And the Rollerblade Powerblade Pro 125 wins our first prize. These bad girls are fast. They sport a lightweight aluminum frame that is great for superior power transfer.
The boot is low cut which means it provide very little ankle support (like none). That's great because aggressive skating when speeding around tight corners requires you to get low. You already have superior balance if you are rocking these skates.
They have larger wheels than almost all inline skates – sporting Rollerblade's top-of-the-line Hydrogen 125mm wheel. With an 85A durometer, these wheels are great on all outdoor surfaces and really fly! I should also mention to you beginners out there that please don't even try. These skates have no brakes and they are really only for the serious skaters among us.
These really are the best inline skates on this page and are only for you super advanced skaters out there who have a death wish and a need for speed! 🙂
Rollerblade Powerblade Pro 125 Highlights
What I Like
If you have a need for speed, then these are the skates you crave. 125mm wheels, heat moldable boots, aluminum frames. This is the perfect pair of skates to dust the competition.
---
Atom Luigino Strut – Best Women's Inline Skates for Speed Skating (Runner-Up)
If the Powerblade is not your style (or within your budget), but you still are an advanced skater who needs some aggressive wheels, then check out the Atom Luigino Strut speed skates.
When my daughter Violet competed in inline speed skating, she wore a pair of these in all of her races. The has a carbon fiber boot that is heat moldable. The skate frame is the Strike Mark II aluminum frame. It a great frame that will hold four wheels.
All the wheels on this pair of skates are 100mm tall and are an 86A durometer. The Atom Matrix wheels are a great hybrid wheel that is mostly for outdoors but can also be used indoors (though it will be slower). Check out my best inline speed skate wheels page for some other wheel recommendations for indoors.
Atom Luigino Strut Highlights
What I Like
---
Best Rollerblades for Women Buyer's Guide
If you love inline skating, then you want to make sure you get the best pair of rollerblades your money can buy. In the below guide, I'm going to go over everything you need to understand to make sure you get the best you can afford. We're going to cover rollerblade boots, plates, wheels, bearings, brakes, safety gear and more.
Let's get started!
Rollerblade Boot Design
First, rollerblade boots can come in a soft shell boot or hard shell boot. The vast majority of rollerblades will come with the hard shell boot which will give you more stability, a snug fit and lateral support. Most rollerblades also will match your shoe size and have a lot of extra memory padding to give you a secure fit.
They also typically come with both laces and either a power strap and/or buckles that you tighten. This gives you the ability to tighten your blades and give you more stability. It makes the rollerblades feel like they are really attached to your feet and this will give you more confidence to skate without falling.
However, if you are a more advanced skater, you may want a low cut inline speed skating boot. This type of boot allows the advanced skater to get super low to the ground but requires a lot more control and balance as the boot provides no ankle support.
Most importantly, make sure to check the Rollerblade and K2 sizing charts to make sure your skates will fit well. Skates that are too big can cause blisters as your feet move around inside the skates. And, small skates can cause pressure points that make the rollerblades no fun to wear. You want something that fits just right, so use the sizing charts. They are your friends. When in doubt, ask the skate retailer for help.
Rollerblade Plate or Frame
Next, lets talk about your rollerblades' plates or frame. This is the part on your rollerblade that connects to your boot and supports all the wheels on your inline skates.
Composite / Plastic Frames
A composite frame are the cheapest rollerblade frames and what you will find on most beginner and intermediate rollerblades. The composite frame is lightweight and sturdy but will not offer as much power transfer and speed as an aluminum frame.
Aluminum Frame
An aluminum frame is a metal frame that you will find on higher end rollerblades and inline skates. All of your aggressive inline speed skates and many top-of-the-line fitness rollerblades will have an aluminum frame. They do cost more, but they also offer superior performance, speed and power transfer.
Rollerblade Wheels
Next, lets talk a little about wheels – one of my favorite topics. Besides insuring you get a comfortable pair of skate boots, I feel this is the most important aspect of your inline skate. There are two main components about wheels to understand. Let's go over each below.
Wheel Durometer vs. Skating Surface Explained
First, we have wheel durometer or the hardness of the wheel's surface. The harder the wheel the faster that it can travel. Softer wheels on the other hand roll slower and are more stable. Harder wheels are better for indoor, sticky surfaces – like roller rink wood floors. Softer wheels are better for outdoor terrain like sidewalks, concrete, uneven pavement and asphalt.
All of this is measured on a scale called durometer. A softer wheel will be on the low end of that scale (usually around 78A for softer outdoor wheels). A harder, indoor wheel will be in the 90A-103A spectrum. Then, we have the hybrid wheels that are good for most indoor and outdoor surfaces. Those usually fall in the 85A-90A range.
Wheel Diameter Examined
Next, lets discuss the height of your wheels. Larger wheels (taller) go faster than smaller wheels. However, they are much less stable and require the skater to be more advanced and have superior balance. Beginners should stick with smaller wheels (80mm or below) because they provide a lower center of gravity. This provides better balance and more stability.

Advanced speed skaters on the other hand will want super tall wheels – some as tall as 125mm. These larger wheels take longer to accelerate on, but they are easier to keep at top speeds once you get them rolling. They are typically worn by speed skaters doing marathon racing.
Almost all of the rollerblades on this page feature rollerblades under 100mm. The larger wheels are better if you are skating long distances. You won't have to exert as much effort to keep your speed up. However, the smaller wheels are great for those who want more agility and stability.
Just remember that if you are a beginner and just now learning how to rollerblade, smaller wheels are better. You need to focus on balance and stability first. Speed will come later.
To geek out even more on wheels, check out the Best Roller Skate Wheels page. I have spent a lot of time researching and writing about this roller skate part. A lot of the information on that page is about quad wheels, but the guide applies to all skate wheels – rollerblades included.
Rollerblade Bearings
Next, we have roller skate bearings. Two of these spinning disks slide into each of your rollerblade wheels and then attach to your skate frame with an axle screw. There are two main types of bearings – steel and ceramic.
Steel bearings are the most common bearings that you will find and are what included on all of the rollerblades above. You'll see them typically listed as ABEC 1-9. Don't worry too much about this ABEC rating as it's not that important for roller skates. What is important is that your bearings are clean and lubed – which they will be on all of the inline skates above because they are new! 🙂
Ceramic bearings have the little ball bearings made out of ceramic instead of steel. This allows these bearings to roll super smooth. However, they are 2-3x more expensive than steel bearings. This is why you won't find them on more rollerblades. You have to buy them separate and install them yourself.
To learn a whole lot more, check out my Best Roller Skate Bearings page.
Rollerblading Protective Gear
Helmet
I've had several head injuries in my 30+ years of roller skating, and they are never fun. So, it's important (even for advanced skaters like me) to wear a helmet. If you are a beginner skater and doing a lot of outdoor inline skating, then please get a helmet. Yes, it is a little more money to spend, but you will be grateful you got it. Trust me….concussions are no fun.
To learn more, check out my post on the Best Roller Skate Helmets.
Knee Pads, Elbow Pads & Wrist Guards
Next, we have some roller skate safety gear. For beginners, I recommend you get a set of all three of these pads. You may even want to invest in a good tail bone / butt pad, too. These are just a pair of super padded shorts – kind of like hockey goalies and skiers wear.
I've broken my radial bone in my left elbow, damaged my tailbone, broken every blood vessel in my hands and sprained both wrists pretty badly throughout the years and all without pads. The radial bone break alone cost several hundred dollars just in X-rays plus a sad couple of months off my skates. 🙁
A great set of new roller skate pads can easily be found for under $100. They are well worth the investment and rarely have to be replaced unless you are into derby or hockey.
To learn more, check out my post on the Best Roller Skate Pads.
Frequently Asked Questions
What is a good brand of rollerblades?
The best brands for rollerblades and inline skates are Rollerblade, K2 and Powerslide. If you are into aggressive inline speed skating, then Bont and Luigino are also great brands for those types of inline skates.
The best overall quality for the price are going to come from Rollerblade (the original company that make rollerblades). K2 is also a nice brand, but they tend to be a little cheaper – both in price and overall quality. Therefore, I recommend Rollerblade for most of the rollerblades here because they are just better quality than K2.
Can you lose weight by rollerblading?
Yes, you can lose weight rollerblading! Skating is such a great way to drop those extra pounds. It's a full body workout and you can burn up to 600 calories in just 1 hour of casual skating. Say goodbye to the personal trainer and instead strap a pair of skates to your feet and get moving! If you want to learn more, I have a whole article called the 10 Amazing Health Benefits of Roller Skating that you should check out.
What size roller blades should I buy?
Your feet should fit snug in your roller blades without a lot of movement. Feet moving inside of skates is bad because it can cause blisters. However, you also don't want them too tight that your feet hurt. So, make sure to always check out the manufacturer or retailers skate sizing chart before purchasing. Most rollerblades are the same as your shoe size, but it's always best to check before buying.
Is rollerblading good for your legs?
Rollerblading is great for your legs, butt, back and even upper body. Roller skating is a great full body workout that works almost every muscle in your body. Plus, its scientifically proven that it's 1000% more fun than running. 🙂
Want to Learn Even More About Skating?
Want more reviews on roller skates? Check out my Best Roller Skates page for a list of all of the quads I recommend. I also have pages for roller skates for men, roller skates for women and roller skates for kids where I recommend the best skates on the market today for each group. Or, check out my roller skates for beginners if you are completely new to roller skating.
Or, if rollerblades or inline skates are more your style, then check out my rollerblades for men, rollerblades for women or rollerblades for kids pages. Or, if you are completely new, check out my rollerblades for beginners page.