Are you an adult who is just getting started roller skating for the first time? Maybe you saw a TikTok or YouTube video with some younger kid skating and you thought, "Hey, I'd like to give that a try!" If so, then today's article is for you. I'm going to be covering the 16 Best Roller Skates for Beginners below.
Or, maybe you're coming back to skating again after decades away from this great sport and hobby. Or, maybe you're like me and you need to lose 25 lbs but you hate to run on the treadmill. 🙂
Or, are you working with your child or grandkid to teach them how to roller skate for the first time and you thought you'd skate along with them? Good for you!
If any of these are you, then you're going to need a good pair of roller skates to get started roller skating.
But where do you start? There is so much information on the web, how do you choose?
I wrote this article to help you, the beginner skater (or the returning skater after a long hiatus), cut through the cruft, get the pertinent information you need so you can get your skates and get rollin'!
I'm on a mission to get more people skating. I hope this article and my site help you get started skating, too!
---
In a Hurry? My Top Pick for the Best Beginner Roller Skates
If you are a beginner, then my top pick for you are the Sure-Grip Boardwalk roller skates. These outdoor roller skates come in men's sizes 4-13 and come with soft outdoor roller skate wheels that are actually great for both indoors and outdoors.

The Sure-Grip Boardwalks come in 7 different colors which gives you a color for every taste and style. This skate comes with Rock nylon roller skate plates, adjustable rubber toe stoppers, and ABEC-3 skate bearings.
The Sure-Grip's Boardwalk wheels are one of my favorite roller skate wheels for rough outdoor surfaces. These wheels are 78A in durometer and are 65mm in diameter – perfect for indoor or outdoor skating.
---
In the article that follows, I give you my 16 top picks for the best beginner quad skates and then give you a detailed beginners skating guide to help you choose the right skates for you.
In the skate picks, I will give you the reasons why I picked that skate as good for those just starting out. Then, I detail in a nice table all the specifics about the skate – boot sizes, plate & wheel types, etc.
Then, in the guide I give you my 7 Tips for Picking Out the Best Beginner Roller Skates along with a section on roller skate anatomy so you have some knowledge about the different parts that make up your skates.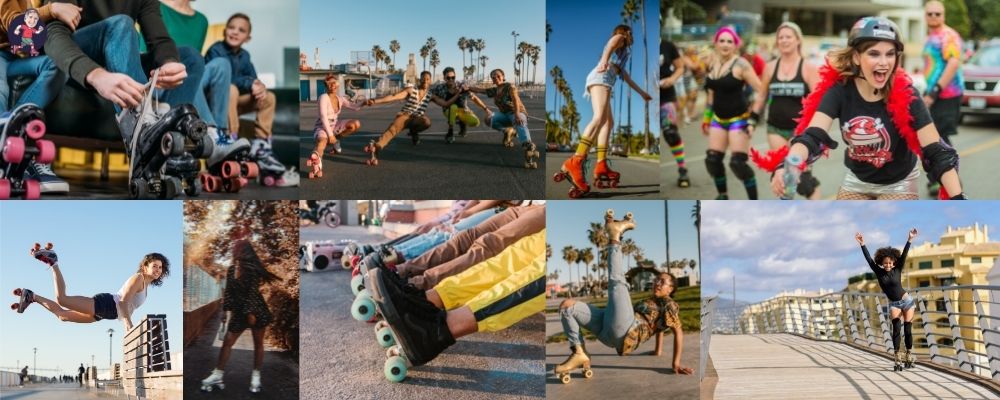 Please note that I am only going over the best roller skates for beginners in this article. Some of the skates here are for the novice skater but are also good skates that I recommend to other skaters, too. So, you will see some of the same picks on this page as you will find on some of my other guides.
Interested in other types of roller skates? Check out some of my other lists of the top skates including:
Or, maybe you are more into inline skates and you landed on this page by accident. If so, check out my rollerblades page or my best inline skates for beginners page if you are more into inline skates. Or, if you're not sure which are best for you, then check out my Rollerblades vs Roller Skates vs Inline Skates page.
---
But, Why Trust My Advice on Skates?
My name is Jeff Stone. I have over 40 years of skating experience. I was an artistic roller skater (yes, that exists) and spent several years competing at a national level – even winning a national championship as a teen. That's me over there to the right with a lot more hair and smugness. 🙂
But, more importantly, I'm a parent of two wonderful young women who both are excellent skaters. I taught both of them how to skate as little kids. I also have helped 1000s of other kids learn to skate while working and teaching skate lessons at my local roller rink as a teenager.
I also just know skates. My hobby / fun thing to do while couch surfing is to research quad skate and inline skate products and write about them on this blog. I have bought and actually tested dozens of skates from leading skate manufacturers. I guess you could call me a bit of a skate nerd.
These days, I skate every week for fitness, mental health and just plain old fun. I love to skate. It's in my bones. For more, read About Roller Skate Dad.
---
My Top 16 Picks for the Best Roller Skates for Beginners
---
Detailed Reviews of the Best Roller Skates for Beginners
1. Sure-Grip Boardwalk – Best Quad Roller Skates for Outdoor Beginners

The best overall roller skates for those just starting out are the Sure-Grip Boardwalk. I just really like these outdoor skates. They are a great quad skate regardless of whether you are skating on a slippery rink floor or skating outdoors on the sidewalk or asphalt.
First, what makes these skates good for beginners is that they come with a comfortable high top boot. The high top boot will give you more stability than a shorter, low cut boot. High top boots provide more ankle support that will keep you feeling more secure.
They also come with 78A soft wheels that will provide you extra stability and give you more grip. The softer wheels also are what make this a great pair of street skates. As you skate on the asphalt or sidewalk outdoors, your feet won't jiggle because of these wheels and your skates will be able to handle small debris and pebbles without you toppling over.
Also, I don't just recommend these skates just to beginners. If you browse my site enough, you'll also notice that these are on every single list article on my website for more advanced skaters, too. I own a pair myself, and they are a really good pair of outdoor roller skates.
Want 9 more of my top picks for outdoors? Check out my best outdoor roller skates page.
Sure-Grip Boardwalk At a Glance
---
Next on my list, I give you the GT-50 outdoor skates from Sure-Grip. This quad skate comes in a low-cut boot for those beginners out there that already have a little bit more balance.
If you have roller skated before or have pretty decent balance from other activities, then you can probably get away with a low-cut boot. When I came back to skating after a bit of a break, I went into a low-cut boot without any problem because my balance as an ex-art skater was still good.
This good beginner skate features a nice padded GT-50 skate boot. I like the padding around the ankle portion. It fit well around my foot and was comfortable for me to skate in for an extended period.
These skates come in a couple of different varieties online. Most of the variety is around the wheels. You'll see from the picture above that there are 3 different skate packages sold with different wheels.
The Motion package has the softer Sure-Grip Motion 78A wheels. This one is great for outdoor terrain. This is the best one if you want a little more stability, slower speeds and a wheel that is really great outdoors.
Then, you have the Zen that has a pair of 85A wheels on it. Hybrid wheels are wheels that are good for both indoor and outdoor skating.
Then, there is the Sparkle Sonic that has a slightly different boot, plate and wheels. The boot is the same GT-50 boot, it just sparkles. The plate is a cool crystal clear nylon plate that you can see through. And, the Sonic hybrid wheels are 85A making them good for indoor and outdoors.
It's also a great all-around skate that I recommend on a lot of my pages.
Want 9 more of my top picks for outdoors? Check out my outdoor roller skates page.
Sure-Grip Rock GT-50 At a Glance
---
3. Bont Prostar – Best Beginners Outdoor Skates – Bronze
For all you beginners out there looking for a great pair of skates, check out the Bont Prostar. These skates are great for recreational skating, roller derby or speed skating. They come in 2 different styles – a black vinyl or 1 of 5 different suede colors including black, teal, blue, purple or pink.
The Prostar boot comes in unisex size 3-12.5. Bont has a special sizing to their boots, so be sure to check out their skate sizing chart before you order so you get the perfect fit. These boots have a lot of extra memory padding to make them super comfy. The boots are also heat moldable using a hair dryer so you can get a perfect fit.
The Bont Prostar comes with a light weight Prodigy skate plate that is fiberglass reinforced making it strong. It also has 20 degree action for that perfect balance between agility and stability.
Finally, the wheels on this skate package depend on where you order it. If you order on Amazon, you get the Bont Glow LED wheels. These light up as you roll and are an 83A hybrid durometer making them good for both indoor or outdoor skating.
If you order from the Bont website, then you have your choice of 8 different wheels and 4 different sets of bearings. On Amazon, you will get ABEC-5 bearings installed in your skates.
Want 14 more of my top picks for beginners? Check out my Best Roller Skates for Beginners page.
Bont Prostar At a Glance
---
4. Sure-Grip Malibu – Best Beginner Skates for Outdoor Skating – 4th
Next on the list are a budget pair of hybrid roller skates, the Sure-Grip Malibu. The Malibu are good indoor and outdoor skates because they have Malibu hybrid wheels that have an 85A durometer.
These won't be as nice to skate on asphalt with as the Boardwalk above, but they will work on them. You just will get a little more jiggle on rougher surfaces. If you are on sidewalks or practicing in a basement or garage, these will work just fine and they are about half the price of the Boardwalks.
These are a good value skate for those of you just starting out. The quality is decent. The biggest downside to these skates are that the toe stoppers are fixed. That means you can't adjust them. However, for a first pair of skates and for the price, these are a good buy.
Want 14 more of my top picks for beginners? Check out my roller skates for beginners page.
Sure-Grip Malibu At a Glance
---
5. Sure-Grip Fame – Best Indoor Skates for Beginners
If you will mostly be roller rink skating, then I recommend the Sure-Grip Fame quad skates. These skates come with indoor wheels that are harder and made for indoor surfaces. This skate is one of my favorites. In fact, it is my top roller skates for kids pick, but you'll also find it somewhere on almost all of my lists.
Why? Because the boot on these quad roller skates are nice and comfortable. The high-top boot is nicely padded and provides great ankle support. It has a padded collar and dual front brakes – sporting an adjustable toe stop on each skate.
They also come in a variety of sizes from 9J all the way up to a Men's size 14. It's one of the few high top skates that come in that many sizes. All of the sizes are in men's sizes (even the white boots), so ladies will need to go down one size. Check the skate sizing charts to be sure.
Sure-Grip is a very well-known brand who has been in business for over 85 years. They know how to make a good skate. They have dozens of models, and the Fame skate is a great one for those just starting out.
Sure-Grip Fame Skate At a Glance
---
6. Riedell Competitor 120 – Best Indoor Roller Skates for Novice Skaters – Runner-Up
If you have a little bit more money to spend and want an awesome pair of beginner artistic roller skates, then check out the Riedell 120 Competitor skates. This skates comes with Riedell's 120 leather boot that is comfortable and well padded. Riedell makes some of the best boots around.
This Riedell skates also has different sizes for the black and white boots. The black boot is in men's sizes. The white boot is women's sizes. This is a common feature of Riedell boots. They also provide a much better skate size chart then most of the folks in the industry.
This skate costs a little more first because of the leather boots. Then, it also has an upgraded aluminum plate with jump bars that are good for doing jumps on your skates (or just for extra support).
These skates also come with harder wheels, so they will be a little slicker than the outdoor skates I recommended above. That's why these are further down on the list.
Absolute beginners with balance issues will do much better on wheels made for outdoors. However, if you want a beginner skate that you can really grow into as your skills progress, this is one of the best.
Riedell 120 Competitor At a Glance
---
7. Riedell 111 Angel – Best Roller Skates for Indoor Skating for Beginners – Bronze
If you want a budget pair of Riedell skates for artistic skating or just rolling around your local rink, then check out the Riedell 111 Angel. This is Riedell's budget artistic skates and are about half the price of my #5 pick above.
The black skate comes in men's size and the white skates come in ladies sizes. The boot is a nice synthetic material that is padded. The high top boot will provide extra support for the beginner. They also sport nylon plates, and aluminum trucks.
These also sport the RC Medallion Plus wheels that are made exclusively for indoors. These will be a lot slicker than the outdoor wheels I recommend for most beginners above. However, these are good for indoor skating and the price is really pretty good for the parts (under $200).
Sure-Grip Boardwalk At a Glance
---
8. Moxie Beach Bunny – Best Roller Skates for Women Beginners
For you ladies who want to do some street skating and are looking for some quality skates with fun colors, then you definitely want to check out the Moxi Beach Bunny roller skates.
These outdoor roller skates for women are made right here in the USA. The boots on the Beach Bunny roller skates are made out of vinyl and Moxi uses a drum-dyed technique to insure pure color saturation so you get a truer, longer lasting color. The boot also provides extra ankle padding giving you more stability. The boots come in ladies sizes 1-10 in a medium width.
All of the Moxi Skates, including the Beach Bunny roller skates, are really popular. If you look at YouTube or TikTok, you will see lots of people roller skating in them. They are quite popular and the brand does a great job getting influencers to talk about their skates – something the old brands like Riedell and Sure-Grip could learn a thing or two from.
I also like the metal plates and soft outdoor wheels on these skates. Add in the fact that the toe stops are adjustable, and this is a great first pair of skates.
Want 12 more of my top picks for women? Check out my roller skates for women page.
Beach Bunny Skates At a Glance
---
9. Moxi Lolly – Best Womens Beginners Skates – Runner-Up
Next up on the list are the Lolly from Moxi Skates. Lolly skates are one of Moxi's higher end skates because they come with leather boots. The soft leather boot slowly breaks in after you skate on it for awhile. Nothing is like leather. It forms to your foot better, lasts longer and is more durable than it's synthetic counterparts.
The skates come in men's sizes and the colors are bright. The boot comes in men's sizes 4-10 in medium width. The boots are comfortable and the high-top profile will give the beginner skater the extra support they are after.
These skates come with Moxi's Gummy outdoor wheels on it. These wheels are 65mm tall x 35mm wide and have a 78A hardness rating. That makes them perfect for skating on rough surfaces like asphalt, concrete, sidewalks and other outdoor surfaces.
They come with ABEC 5 carbon steel bearings, a lightweight Powerdyne Nylon plate and adjustable toe stops. This is a good, higher-end beginner roller skate with quality parts.
Want 12 more of my top picks for women? Check out my best roller skates for women page.
Moxi Lolly At a Glance
---
10. Moxi Rainbow Rider – Best Quad Skates for Women Beginners – Bronze
For those of you on a budget, check out Moxi Skates Rainbow Rider roller skates. Coming in at just over $100, these colorful, fun skates sport a high-top boot in 3 different color choices – black, pink and yellow. They feature a multi-color rainbow etched on the side and have rainbow skate laces.
The skate boot is made of vinyl. They have a Drum-dyed vinyl that resists fading and scratching and are pretty comfortable. The skates have a heavy diecast aluminum plate which won't help you win any speed awards, but it is sturdy and solid. It also has a lock nut adjustable toe stop.
It comes with ABEC-5 skate bearings and Rainbow Rider Wheels 58mm diameter x 40mm width wheels. The wheels are 78A durometer making them great for asphalt. This is my top pick for cheap roller skates for women without sacrificing quality.
Want 12 more of my top picks for women? Check out my women's roller skates page.
Moxi Rainbow Rider At a Glance
---

Next up, I have some high end jam skates from VNLA called the Freestyle Pro. I have a pair of these skates and they are nice. These skates come in men's sizes 3-13. Ladies will want to go down one size (regardless of boot color) as all of these are in men's sizes.
The boot is pretty comfortable. It doesn't have any extra padding, but it's a nice fit. It is a low-top skate, so absolute beginners who need the extra ankle support for balance should pick a different skate. However, if you are into speed skating or just a good all-around pair of roller skates, then these are pretty good.
These skates come with VNLA's Gorilla nylon plate and metal trucks. I weigh around 200 lbs. and it support me just fine. They also have a nice Backspin Remix wheel that is good for jam, speed or everyday rink skating. I switched my wheels out for harder wheels, but the wheels that come on these skates are good, too.
Want 9 more of my top picks for men? Check out my roller skates for men page.
VNLA Freestyle Pro At a Glance
---
12. VNLA Junior – Best Men's Novice Roller Skates – Runner-Up
Another good pair of roller skates also from VNLA are the Juniors. Don't let the name fool you. These are for kids and also for adults. They come in men's sizes 3-13 and they are a good entry level speed / jam skate.
Both of my girls used them for quad speed skating. They aren't the best quad skates for speed, but they will do when you are just starting out. Again, this is a low-profile boot, so it's not the best if you need the extra ankle support.
For some skaters, this model does rub the ankles. Both me and my girls always wear a pair of EzeeFits ankle socks to prevent rubbing with all of our skates. I don't need them with my Riedell or Sure-Grips, but I've gotten so used to wearing them I just wear them now with all my skates….even my comfortable, expensive ones.
They come with indoor speed / jam skating wheels and a decent nylon plate and bearings. The biggest thing to keep in mind is that these skates come with a replaceable toe plug. So, beginners will want to grab some extra toe stoppers and an adjustable lock nut to go with them.
Want 9 more of my top picks for men? Check out my best roller skates for men page.
VNLA Junior At a Glance
---
Next up we have the Sure-Grip Rebel Fugitive roller derby skates. These pair of roller skates comes with a well-padded low cut boot with a velcro strap and laces to insure a snug fit. They come in men's sizes 4-14. Again, this is another low-cut boot, so make sure you have enough balance to try these skates.
They come with 2 different kinds of plates – either nylon or the Avanti Aluminum. They both have Fugitive wheels that are good for indoor rinks and tracks. You also get ABEC 7 bearings and top stoppers that adjust.
Want 9 more of my top picks for men? Check out my men's roller skates page.
Sure-Grip Rebel Fugitive Highlights
---
For all you parents out there looking for a good beginner pair of roller skates for kids that are adjustable, I recommend the Roller Derby Candi Girl Lucy skates.
These Roller Derby skates have adjustable sizing coming in 2 different sizes: Small (sizes 12J-2) or Medium (sizes 3-6). So, they are good for toddlers and kids whose feet are constantly growing.
Sizing the skate is pretty easy. You just use the little knob on the back that you loosen, then you pull on the front part of the skate to make them longer. Finally, tighten the knob back up to lock that size into place.
These come with a high top boot for extra ankle support. The urethane wheels are good for roller skating both indoors or outdoors.
Want 17 more of my top picks for kids? Check out my best roller skates for kids page.
Roller Derby Candi Girl Lucy At a Glance
---
Another good pair of roller skates that has adjustable sizing is the Roller Derby Trac Star. This high top skate comes in 3 different colors and provides a buckle system like on inline skates to provide extra ankle support.
To adjust the size of this skate, use the Quick Fit button on the side of the skate. Push it in and pull out on the skate to make it larger.
Whether your kiddo is roller skating outdoors or at the skating rink, these skates from Roller Derby should fit the bill.
Want 17 more of my top picks for kids? Check out my kids roller skates page.
Roller Derby Trac Star At a Glance
---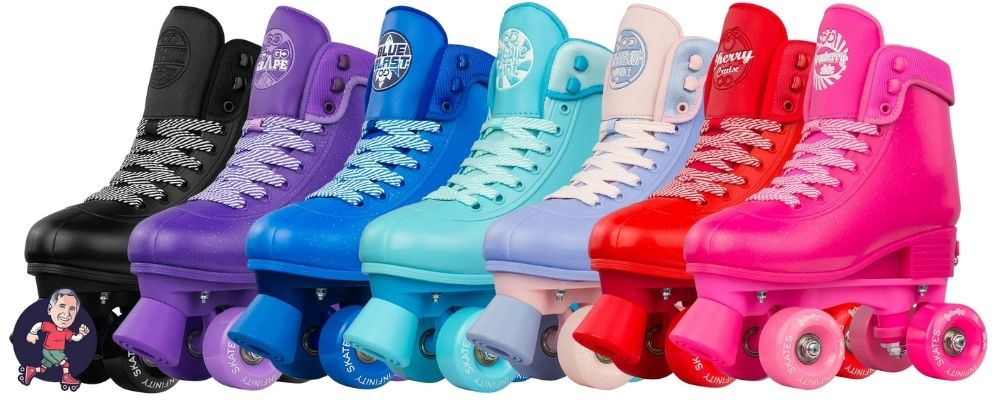 If you are looking for a bright color, adjustable roller skate, then you might want to take a look at Crazy Skates Soda Pop roller skates for girls or boys.
These high top boots provide extra ankle support and come in 2 different sizes: Small (Sizes 12J-2) and Medium (Sizes 3-6). Turn the knob on the back and pull to make the skates larger.
If you like roller skating outdoors or at the skating rink, these skates will do in both locations as the wheels are made for either surface.
Want 17 more of my top picks for kids? Check out my roller skates for kids page.
Crazy Skates Soda Pop At a Glance
---
A Beginner's Guide to the World of Roller Skating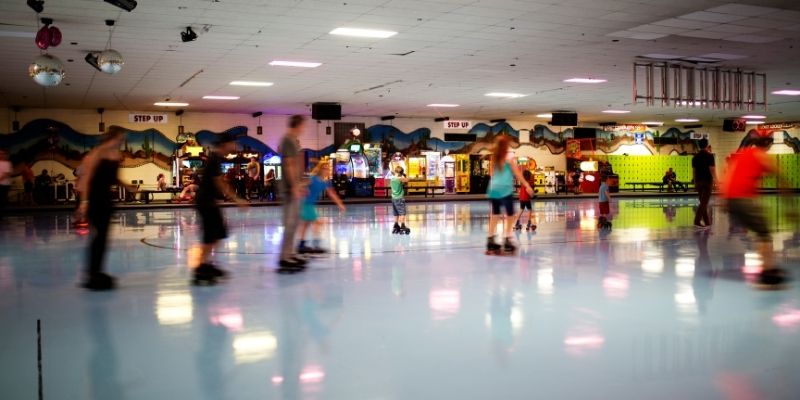 If you are just getting started learning how to roller skate and you are picking out your first pair of skates, then this guide below is for you. Buying roller skates for the first time is super exciting. I hope this guide provides you with enough information to make an informed decision.
In this guide, I give you my 7 Tips for Picking Out the Top Roller Skates for Beginners. Then, I will go over the basic anatomy of a roller skate so you understand all the parts that go into making your skates. It's important to know what to look for before you buy, so thus the reason for this guide.
Here is a breakdown of everything that is to come:
7 Tips for Picking Out the Best Beginner Roller Skates
1. Understand Your Current Skill Level
First, you need to understand your current skill level. Yes, even as a beginner there are different levels of a beginner. The biggest question you need to ask yourself is how good your balance already is without skates on your feet.
If you practice yoga, have ice skated or been skiing, then roller skating for the first time will be easier for you. You already have the most important asset you need – balance. Because of that, you can really consider yourself a more advanced beginner and you have a bit more choice when it comes to picking out skates. You can even go with inline skates if you prefer.
However, if you don't already have good balance then don't worry. You can still roller skate. It just will take you a little bit longer because you also need to work on your balance, too. Pay special attention to the tips on boots and wheels below to maximize your stability.
2. Go with a Reputable Skate Manufacturer
Getting a good quality pair of skates is important. There are so many cheap brands of skates out there today that fall apart with continued use. That is the reason you'll notice that my list above really only comes from a select few manufacturers. I don't recommend just any skate brand.
Just remember that the most important thing is that you get roller skating. So, any brand will do especially for a beginner. No judgement on my part at all. However, there is a difference in quality and I have found the brands below to be the most reputable over time and the best from my own, personal experience.
Each of these manufacturers also have their specialty. But, for beginners, you can't go wrong with skates from Riedell, Sure-Grip, Moxi Skates, VNLA, Roller Derby or Crazy Skates.
Riedell Skates is best known for it's boots and is one of the leaders especially in building really comfortable boots that come in 3 different widths. So, if you need a roller skates for wide feet, I would check them out. They have been making skates for over 75 years.
Sure-Grip Skates is a great all-around skate brand. I recommend them a lot because they make great skates at an affordable price. I think they are often the best value – especially for beginners. They have been selling skates for over 85 years, so they know their stuff.
Moxi Skates are made almost exclusively for women skaters. They come in a lot of bright colors and have good overall quality. You'll see all kinds of ladies skating in them on YouTube, TikTok and all the other social media channels. They have been around for around 15 years.
VNLA is best known for their rhythm and jam skates. They used to be called Vanilla, but shortened the name a few years ago to just VNLA. If you are into jam skating, then I'd check them out. They have been in business for over 17 years.
Roller Derby and Crazy Skates are going to be more for those beginners on a budget. Their products are more entry level and slightly lower quality. Crazy Skates is an Australian based skate company that has been around since 2004. Roller Derby is a US based company that has been in business for over 80 years.
Check out my how much are roller skates article for more information on pricing of the top skate brands.
3. Get the Right Size Skates
The most important thing is that you learn how to size roller skates. Roller skates should fit comfortable like a pair of shoes, but should be snug. Ideally, you don't want a lot of wiggle inside your boot.
They should fit nice and snug but not pinch you. Loose skates with ankles and feet wiggling everywhere is also not going to help your stability. You are also more prone to blisters if your feet are moving around and rubbing against the boot as you skate. You want the skates to fit snug.
My best tip for skate sizing is to really read the manufacturers roller skating size charts. Some companies like Riedell do a really good job of providing a guide that shows you exactly how to measure your foot to get the right size. This involves using a tape measure, pencil and piece of paper to get the measurements right.
Most roller skates come in men's sizes. It's just the standard that many of the skate manufacturers follow to make sizing easier for them. So, ladies often have to size down on their skates a full shoe size to get the right fit. This is not always true, though, as some skates do have both men and women's sizes, so check the retailer's site carefully before purchasing.
So, always read the Skate Sizing Tips section on Roller Skate Nation's site or the description and questions / answers on Amazon's site to understand the sizing of your skates before you purchase. Both retailers allow you to return for a different size, but it's best to get the sizing done right the first time so you know they will fit well.
4. High Top Boots Give Added Stability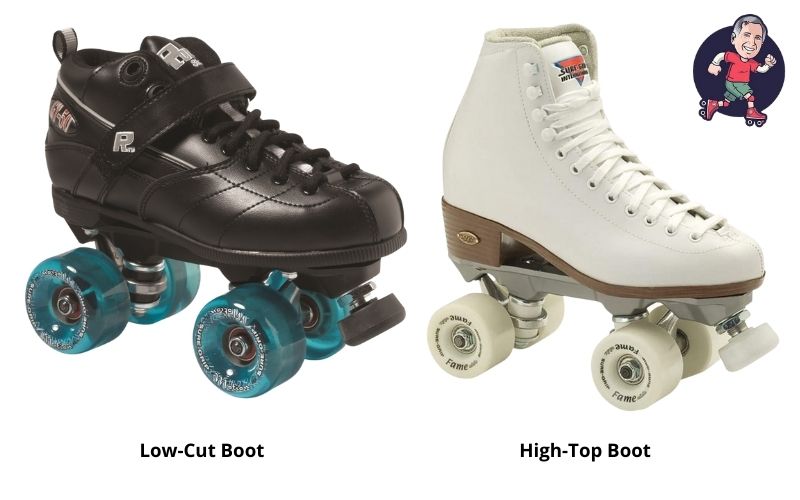 Next, for absolute beginners who need extra stability, I recommend you go with a high top boot. High top boots will provide more stability than a low-cut boot. High top boots wrap up over the ankle keeping your foot more in place and thus keeping you more stable. Many outdoor, art and rhythm skates come in high top boots.
For more advanced skaters or beginners with better balance, you may want to go with a low cut boot. These shorter boots are used in roller sports like roller derby, speed skating and jam skating because they allow greater maneuverability of the ankle. This allows for the skater to get lower to the ground easier on crossovers and to pivot and cut across the track.
5. Softer Wheels Offer More Practice Opportunities
Now, lets talk about roller skate wheels. There are many different sizes, colors and shapes. But in this tip, I'm going to talk about wheel hardness or durometer. For beginners, I recommend you go with a set of soft, outdoor roller skate wheels.
So, how do you tell what is a soft outdoor wheel? All urethane wheels come with a durometer reading. This is a wheel hardness scale that is between 1-100+ with the letter A attached to the end of it. So, a 78A wheel is softer than a 103A wheel, for example.
For beginners, I recommend you go with good outdoor wheels because it allows you to wear your skates both indoors and outdoors. The softer wheels allow you to use your skates on rough outdoor surfaces like asphalt and sidewalks. Hard wheels on these surfaces make your legs and feet jiggle more – not helping stability. The softer wheels will roll more smoothly and handle outdoor debris easier. Soft wheels also work indoors, too.
The other upside of soft wheels is they do roll slower. This could be bad if you are a pro speed skater, but for beginners this is exactly what you want – a nice, controlled, slower speed. Then, as you practice and get better, you can easily buy another pair of harder wheels and switch them out for when you skate indoors.
Check out my best places to practice roller skating article for ideas on where to lace up your skates.
6. Make Sure You Have Toe Stops
As a beginner, make sure your new skates have adjustable toe stops. On quad skates, the toe stop will be on the front of both skates. On rollerblades or inline skates, they will be on the back of the skate.
There are also several types of toe stop fasteners. The most common is the adjustable lock nut. To tighten or loosen these, you will need a standard wrench.
On the more advanced speed and art skates, you will find a cinch screw. This is a small bolt that you loosen or tighten with a hex, "L" or "T" wrench.
I personally prefer the cinch screw, because it just holds better. But you really have to go with Riedell, Bont or another high end manufacturer to get the cinch screw format.
Some more advanced speed skates and jam skates will not have toe stops in them. Some of the VNLA jam skates I recommend will sometimes be sold by retailers with toe plugs.
These are small little plugs that are screwed into the toe stop holes. When skaters are jam skating, they often like their skates to not have toe stops so they can spin on their toes.
7. Strap on the Safety Gear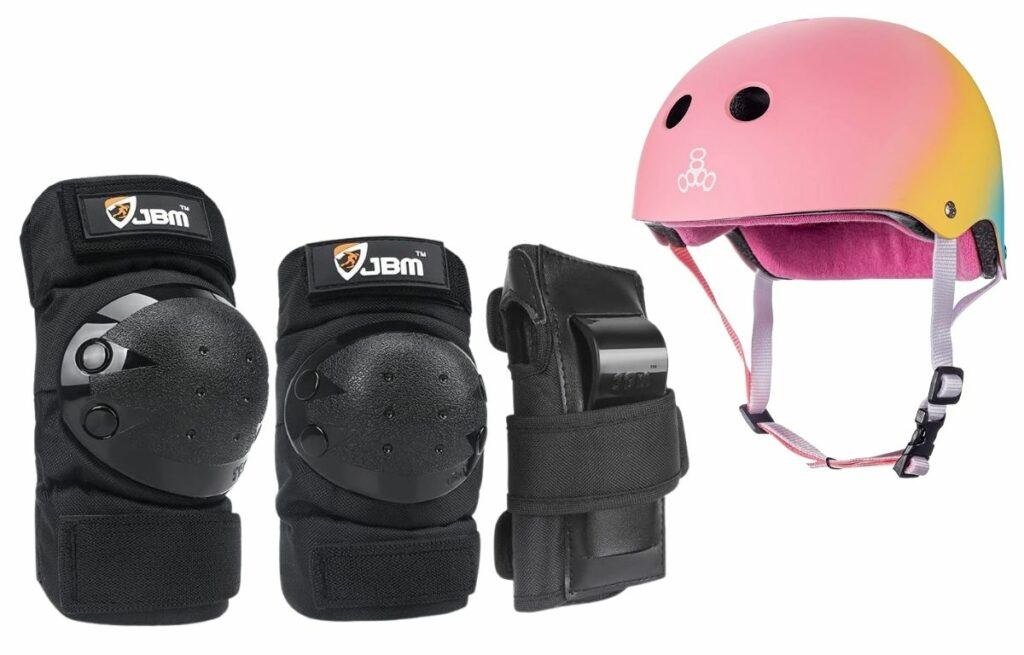 Finally, make sure you get the right safety gear. Knee pads, wrist guards, elbow roller skating pads and a roller skating helmet should really be worn by everyone, but especially for beginners.
I have been skating for over 30 years now, and I still wear roller skate pads and a roller skate helmet most of the time when skating outdoors. It's just hard to predict when a rock, debris or some other unforeseen obstacle may take you down – even for the most experienced skater.
The Basics of Roller Skate Anatomy
Boots
We talked already about boots in our 7 tips section above. However, we did not discuss boot materials. Boots come in two primary types of materials – leather and vinyl / synthetic.
A durable vinyl boot is going to be a little bit harder and won't break in as much as leather boots. This means that the comfort of synthetic boots are about the same as when you buy them. They will break in some, but not as much as leather boots.
The biggest upside to synthetic boots is that they are cheaper. Typically 2x cheaper than their leather counterparts. The other upside to synthetic is that they didn't have to kill any animals to make them. So, it's a win-win in that regard.
Real leather boots, on the other hand, will be harder when you first get them and then will break in over time. These will eventually fit more like a glove the more and more you use them. They are more expensive, but if you want the best and can afford it, then this is the material for you.
Also, if you want to protect your boots from scuffs and scrapes, be sure to check out these toe guards for roller skates.
Wheels
Next, we have wheels – the most important piece on the roller skate. I already covered durometer or wheel hardness in the tips above, so here I'm going to focus on wheel diameter (or height) and your wheel's profile (or width).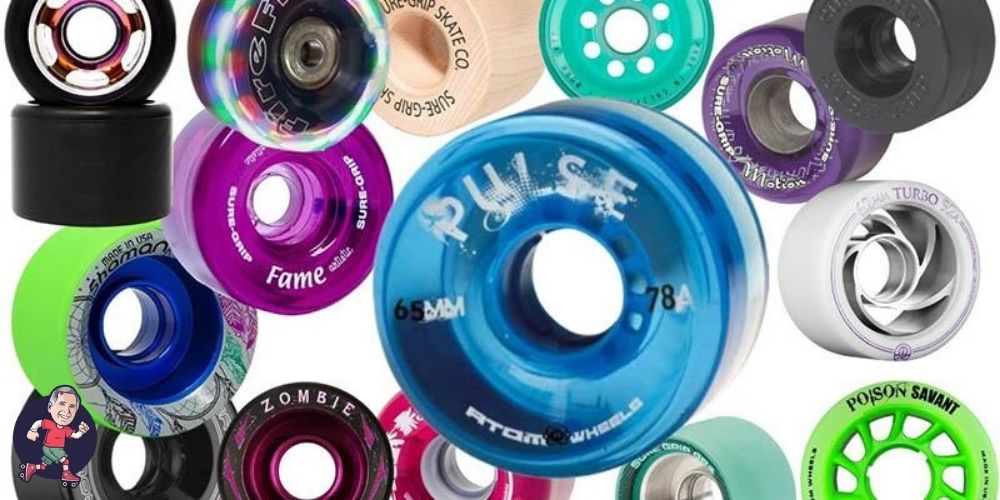 Wheel Diameter
Your wheel's height (or diameter) determines how fast you can go and for how long. Taller urethane wheels take slightly longer to accelerate but roll at top speeds for a longer period of time.
This is why professional roller skaters use inline skates with super tall inline speed skate wheels (some as tall as 125mm). The larger the wheel, the faster you'll go. So, the professional roller skater who is inline speed skating usually will go with a really tall wheel. Smaller wheels, on the other hand, will go slow and are the best roller skate wheels for beginners.
Taller wheels, though, do have the drawback that they are much harder to stay stable on. No beginner should ever try skating on 125mm inline wheels – unless you like falling. They are even hard for advanced skaters who are not used to that much height on their wheels.
Smaller wheels provide more stability for the beginner and more maneuverability for the advanced derby skater. Taller wheels provide more speed but less maneuverability and stability.
Wheel Profile (Width)
Your wheel's width (or profile) determines how much of your wheel is touching the skating surface. The wider the wheel, the more stable you will feel.
They also have the added benefit of giving you more power transfer on each push. A more narrow wheel however will give you more maneuverability.
For beginners, you do not want a narrow wheel. Stick with standard to wide wheels. Most quad wheels you will see me recommend are perfect for beginners.
To geek out a whole lot more on wheels, check out my Best Roller Skate Wheels page.
Plates
Next up, we have the skate plate. This is the plastic or metal piece that attaches to your boot. It has trucks and axles on the front and back of the plate where the wheels with bearings will go.

When choosing a skate package above, your roller skate plates are already chosen for you by the manufacturer. You just select your skates and get rolling. However, I think it's nice for the beginner to understand the differences in all of the parts of the skate. That way, you know the pros and cons of the different choices you are making by selecting one skate over another.
Nylon Plates
Nylon is cheaper and makes for a lighter overall skate, but transfers less power from each push to the wheels.
It also has a very slight chance of breaking. In the past this was much more common, but today most of the nylon plates sold on skate packages are reinforced with fiberglass or another material to keep this from happening.
I have many skates with nylon plates and I weigh over 200 lbs. I also speed skate in skates with nylon plates and they hold up just fine.
So, for beginners, you can absolutely get away with a skate with nylon plates.
Aluminum Plates
On the flip side, an aluminum metal plate are more expensive, typically heavier and more sturdy. They provide a good ride and deliver more power from each push to your wheels.
For skaters looking to skate with more aggression or speed, aluminum is the way to go. The high end skates are made with a special aircraft aluminum that is light like nylon, but sturdy like heavy cast aluminum. This is what you will find on many high end speed and roller derby skates.
However, again, for most starter skates, nylon plates will do just fine. If you have the money and want the higher end quality, though, don't let me stop you.
To learn a whole lot more about plates, check out my Best Roller Skate Plates page and guide where I go into the details.
Bearings
Next up, we have the roller skate bearings. The most important thing to remember about bearings is that they need to be clean and lubed to insure a smooth ride. All of the bearings that come in the skates above will have clean, lubed bearings, so you will be good to go.
There is, of course, a whole lot more to bearings then just them being clean. However, for most beginners, this is the number one thing to keep in mind.
But, if you want to learn a whole lot more about this part of your skate, then please check out my Best Roller Skate Bearings page.
Learn More Roller Skating from the Roller Skate Dad Newsletter!
Be sure to sign up for the Roller Skate Dad newsletter. In my regular newsletter, I send out skating tips and tricks that are perfect for beginners. I also typically have 5-6 contests per year where I give away free skate gear.
Learn more about the top skates available today, the newest skate gear, as well as how to improve as a roller skater. I even posts roller skating tutorials to help you learn this fun activity. The newsletter is geared to casual skaters who want to learn more about this great sport and occasionally hear from professional roller skaters, too. We talk roller derby, speed skating, street skating, art skating, jam skating and more.
Sign up below! It's 100% free.