If you have been roller skating for awhile, then there is a pretty good chance that you've worn down your fair share of roller skate toe stops. So, in today's article, I'm going to give you everything you need to pick out the best roller skate toe stops for your roller skates.
First, I'm going to go over my top 10 toe stops list with small reviews on each stopper that I recommend. Then, I'm going to give you a detailed toe stop buying guide so you can understand everything there is to know before you choose. I'll also answer a few of the most common questions that I get from readers and listeners about toe stops.
Okay, let's get started!
My Top 10 Picks for the Best Adjustable Toe Stops
---
My Detailed Roller Skate Toe Stop Reviews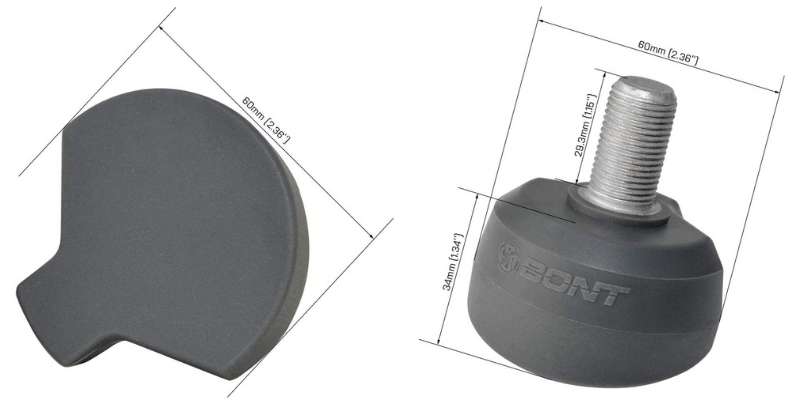 First up on the list are the Bont ToeGo toe stoppers. This toe stop has a flat surface area for extra stability. They offer superior grip. This is a thick stopper and is extremely durable.
I really like these stoppers for beginners, too. The large, flat surface area make them great for stability. I also like how the stopper is cut out in the back to insure that you don't clip your front wheels when stopping. That's a nice added touch.
---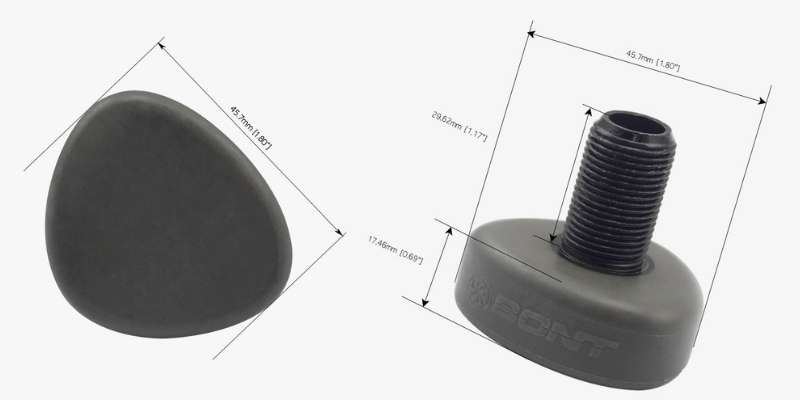 If the ToeGo is not your bag, then check out Bont's Infinity. Bont did a lot research on these toe stops investigating rubber to make a superior stopper. Their proprietary rubber blend is called Magic Molta which is very durable and long-lasting. Plus, it has ultra-high rebound.
Aimed at the roller derby player, these toe stops are light and durable. To make the toe stop light, they used a hollow aluminum stem. This really makes them super lightweight. The toe stop has a high abrasion resistance so it won't leave marks when you stop. The special rubber formula also provides maximum grip.
---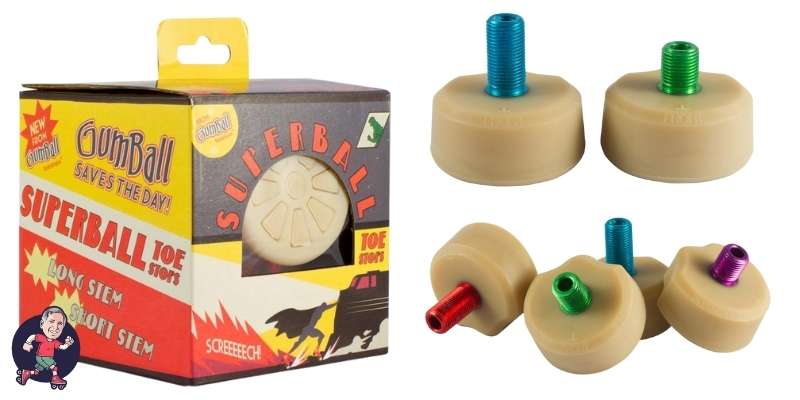 Next up, we have Riedell's Superball stoppers. These come in two different stem lengths (short and long) and a variety of stem colors. The stem is hollow helping it weight less. The rubber stopper surface is 60mm in diameter.
This stopper also is the first dual durometer toe stop. It is made out of a soft natural rubber but then also includes 8 hard rubber pads around the middle to help with maximizing grip. The natural rubber is a 73A durometer and the hard pads are an 85A durometer.
---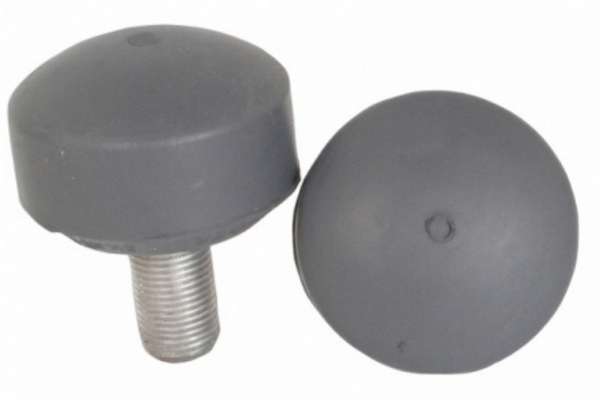 One of my favorite stoppers are the Snyder Adjustable. These are the old school stops that I used to use when I did artistic skating as a teenager. So many good memories jamming these into the ground while attempting to do double toe loops and flips.
These toe stops come in 3 different sizes:
Small Dance: 37mm surface and 25mm depth
Medium Junior: 44mm surface and 29mm depth
Large Standard: 52mm surface and 35mm depth
They are made out of real rubber and have a lot of spring. They have a 30mm stem length.
---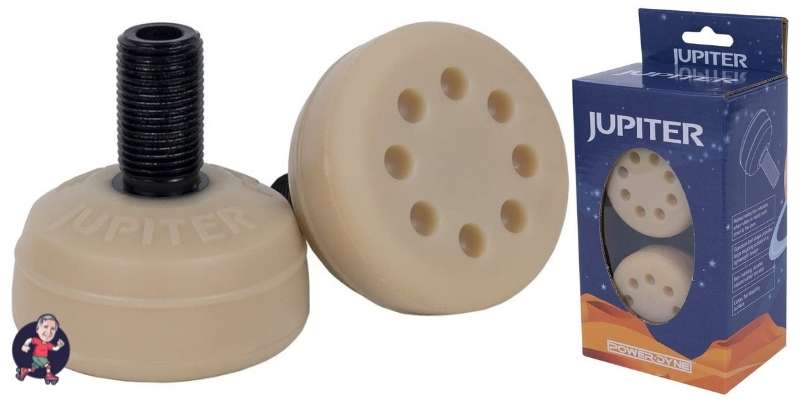 If you are looking for a good pair of stoppers for indoor and outdoor use, then check out the Riedell Jupiter. These natural rubber stoppers can grip on any surface whether it's wood or asphalt. These toe stops won't leave any marks when you stop.
The dimples in this stopper are there to help with fast stops. These stoppers have a long, hollow stem to help make them light weight.
---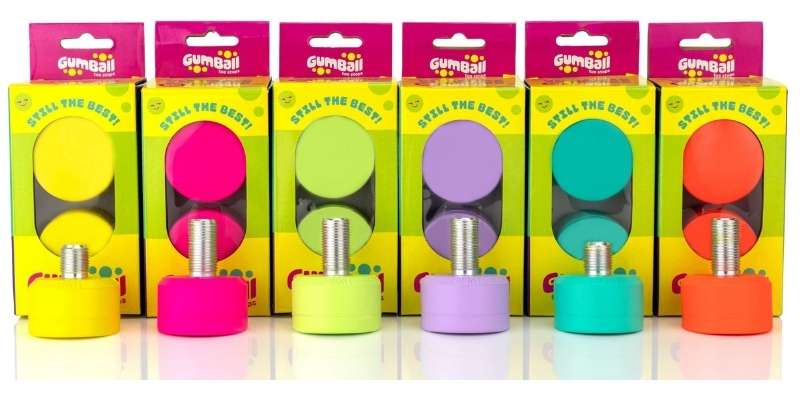 Another great toe stop for both indoor and outdoor use are the Riedell Gumball. These unique stoppers come in 7 different colors, 2 different durometers (or stopper hardness) and 2 different stem lengths (short and long). So, there is something for everyone!
First, choose between a 18mm or 30mm stem size. A short stem allows you to adjust the stopper up close to your boot. The longer stem will allow you to extend the stopper down closer to the ground for easier stopping.
Next, choose your stopper hardness. You have a soft 75A for slick surfaces and a harder 83A for rougher outdoor surfaces. I really like all the choices that are available with these stoppers.
---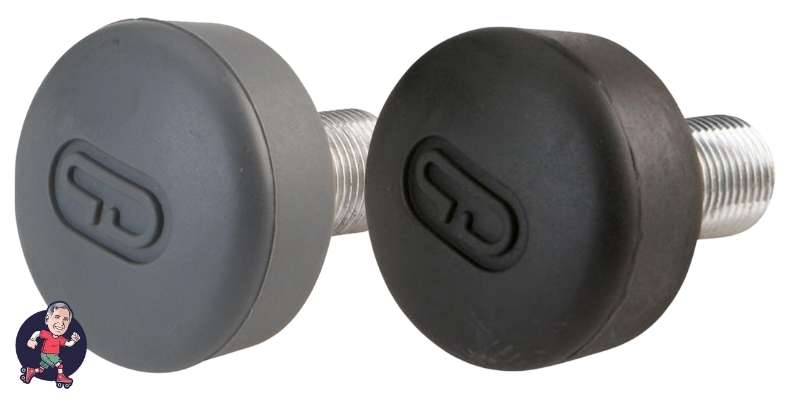 If you are looking for a good pair of budget toe stops from a reputable manufacturer, then check out the Riedell Powerdyne. These stoppers come with a 5/8″ width stem that it the typical size of most roller skate toe stop housings.
\The toe stop is made out of a nice rubber urethane. There are no frills with these toe stops, but they are some of the cheapest on my list (under $10).
---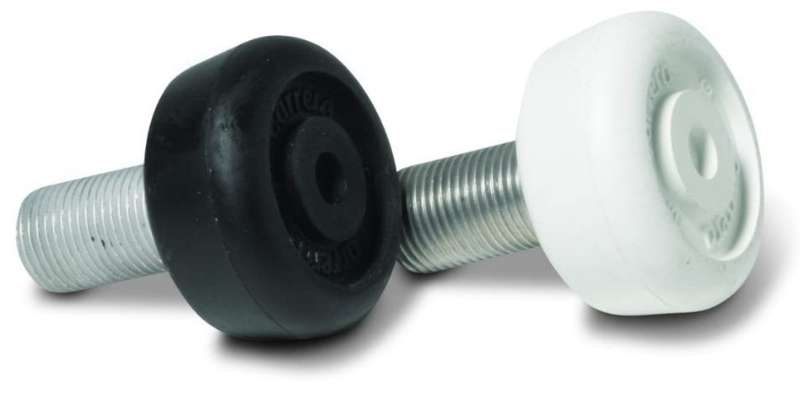 Next up our my budget pair of stoppers on Amazon – the Sure-Grip Carrera. These toe stops have a smaller surface area than some of the other stoppers I have mentioned. However, they will get the job done. They come in standard black and white colors and will fit most roller skates with it's 5/8″ standard bolt size.
---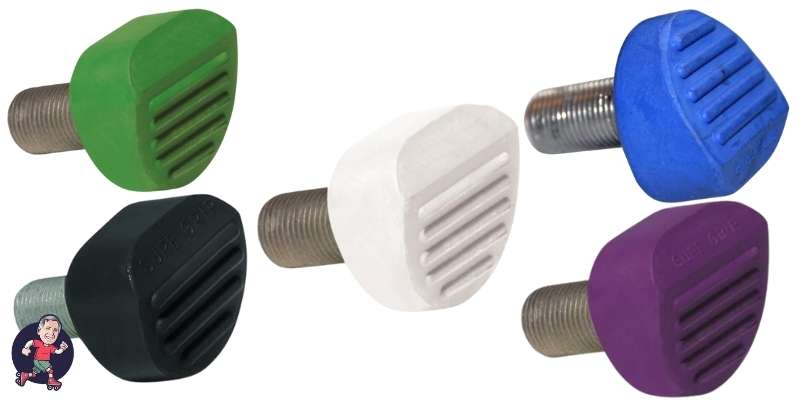 Rounding out my list of adjustable toe stops are the Sure-Grip Mini-Gripper. These smaller stoppers have a small bevel to them making stopping easier on the smaller 38mm surface area. The stem on these also comes in at 25mm. My girls and I have used these on some of our skates and they work great for everyday roller skating.
---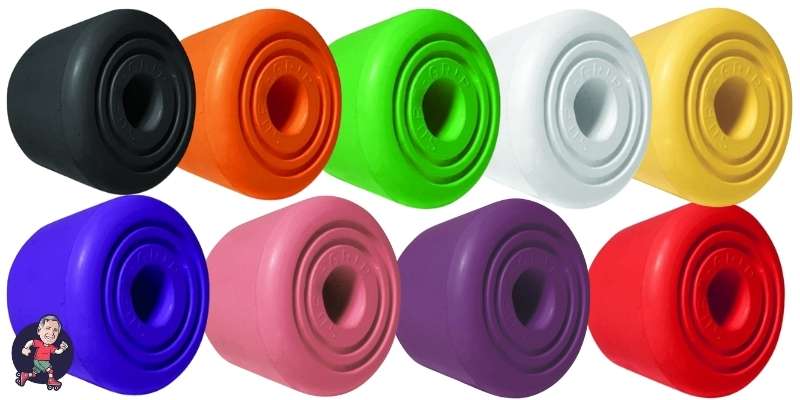 Last up are the only pair of fixed toe stops on the list, the Sure-Grip Bullseye. I only recommend 1 pair of fixed toe stops because most people upgrade their roller skates on these kinds of beginner skates. Fixed toe stop skates are good to get started, but if you are serious about skating, you want a skate plate that allows for adjustable toe stops.
These toe stops come in a variety of colors and will work whether you are indoor or outdoor roller skating. They come in 9 different colors so there is a color for whatever mood you are in. 🙂
---
The Ultimate Guide to Roller Skating Toe Stops
In this guide, I'm going to give you a breakdown of all of the things you need to consider before you buy your next pair of toe stops for your roller skates.
First, I'll discuss the type of toe stop you need be it adjustable toe stops with a lock nut / cinch screw or fixed position toe stops with a bolt. Next, I'm going to cover the toe stop housing or profile. This is the natural rubber compound designed to make contact with your various skating surfaces. I'll go over the differences between flat and rounded shape toe stops, toe stop size and density.
Then, I will go over the differences between long and short stem toe stops. Then, I will touch on jam plugs and how they differ from toe stops. Finally, I'll answer a few common questions about toe stops.
Here is a quick index to allow you to jump to the section you are interested in:
Ok. We have a lot to cover. Let's go!!!
Types of Toe Stops
There are two main types of toe stoppers: fixed position and adjustable. Lets go over each in more detail.
Fixed Position
The fixed position toe stop cannot be moved or adjusted. The toe stop is secured with a bolt that is screwed into the skate plate. This style of stopper is one quick way to determine a cheap pair of skates from the competition. This stopper cannot be adjusted up or down but most of the times can be removed. Some of the cheapest skates out there don't even provide a screw to remove the toe stop at all.
Adjustable
On most good roller skates for beginners and on all intermediate and advanced skates, you will find adjustable toe stops. This type of stopper allows you to easily adjust it up or down to your preferred height.
If you are roller skating and don't feel that you are getting a good stop, then you can easily move the toe stop up or down as you see fit. Beginners typically like the toe stops a little lower. This makes stopping quick and painless (hopefully) because they don't have to raise their heel as far off the ground in order to stop. More advanced skaters typically raise the toe stop a little more so it is out of the way or remove it all together and go to a pair of jam plugs.
Toe Stop Profile
Next up, we have the profile of the toe stop. This is the part of the stopper that touches the ground when you stop. We have a lot to cover here from the different shapes, sizes, density and durability. Let's dig in more!
Flat Shaped
A flat shaped stopper is just that – flat. These types of toe stops are very stable and typically have a large contact area for stopping. This is why these type of stoppers are great for beginners. The flat surface allows the beginner to more accurately stop without losing their balance. They also are better for really aggressive stops – like stopping on both stoppers at the same time while rolling backwards.
Rounded Shape
A rounded shape stopper is better for those who want a smaller contact area when stopping. The rounded shape means that the entire surface won't make contact when you stop. These stoppers are better for extra agility. They also make changing directions easier because you can more easily pivot off the stopper due to it's rounded shape.
Size Matters
Small toe stoppers are best for more advanced skaters who don't want them to get in the way. On the other hand, larger stoppers give you more surface area to push off from. Quad speed skaters and some roller derby jammers like larger stoppers because it allows them to run on them to quickly gain speed.
Density, Durability & Longevity
Next, lets talk about the density of your stoppers. Soft stoppers are obviously less durable and will break down quicker. However, they provide smoother and more aggressive stops. On the flip side, harder stoppers are more durable but often don't provide as much grip when stopping. This is especially true on slippery surfaces.
Stem Size
The stem on a toe stopper is the metal, threaded screw part that is on all adjustable toe stops. If you have fixed position stoppers, you will not have a stem. The bolt instead acts as the stem. Stems typically are in the 17″ – 30″ length range. Lets cover the different stem lengths.
Short Stem
If you like your toe stops really high up and close to your boot, then you'll need a shorter stem stopper. Longer stem stoppers can't be threaded all the way up because they are too long. So, if you want your toe stops really high up, go with a shorter stem.
Long Stem
For most beginners and intermediate skaters, you are going to want your stoppers closer to the ground. If you want your stoppers to be in the normal low-to-mid range, then go with a long stem toe stop.
A Quick Mention on Jam Plugs
This page was all about toe stops. However, some more advanced skaters prefer jam plugs. A jam plug is a small plastic piece that you screw into your toe stop housing in the space where a toe stop would normally be located. Advanced skaters doing rhythm, jam or artistic skating typically will sometimes where jam plugs because toe stops can get in the way of doing certain roller skating tricks like spins on your toes.
A jam plug is also used to protect your skate plate when a toe stop is not in use. Also, many roller rinks will require toe plugs to protect their wood floor from scrapes. An open toe stop housing pressed down on a nice indoor floor can cause quite a bit of damage.
Frequently Asked Questions about Roller Skate Toe Stops
Are roller skate toe stops universal?
No. There are two main types of toe stops – fixed position or adjustable. You will find fixed position on cheaper, beginner skates. Most intermediate and advanced skates will all be adjustable. Toe stop stem size length and the material the toe stopper is made out of also differ. So, be sure to check out the rest of the guide above for more details.
Are all roller skate toe stops the same size?
The toe stop stem width are typically all the same size. However, the rubber/plastic portion of the toe stop that makes contact with your skating surface comes in all different shapes and sizes. Some have larger surface areas than others. There are also rounded toe stops and flat toe stops to consider.
How do you change roller skate toe stops?
How you change your toe stops depends on how your toe stop is attached to your roller skate plates. There are three ways that toe stops can be attached to your plates:
Fixed position toe stops have a hole in the middle of the toe stop. A screw is slid through the toe stop and then screwed into the skate plate. To remove it, simply completely unscrew the bolt until it comes out. Your toe stop will come off once you remove the screw.
Adjustable toe stops are typically attached using a lock nut. All you need to do to remove these toe stops is use a wrench to loosen the lock nut from the toe stop. Then, simply unscrew the toe stop turning counter-clockwise until the toe stop comes out of the skate plate.
On higher end skates, adjustable toe stops are secured using a cinch screw. This small screw needs an Allen wrench or hex key to loosen / tighten the screw. The hex screw is located on the side of the skate plate just above where the toe stop is located. To remove the toe stop, simply loosen this screw by turning counter clockwise a few times. Then, slowly unscrew the toe stop from the housing.
What are the best roller skate toe stops for beginners?
Beginners are best using flat toe stops to start off. This is because flat toe stops provide the most stability when you are stopping. Sometimes rounded toe stops can give beginners trouble and cause them to go off balance. Flat toe stops also usually have a larger surface area which makes stopping easier.
How do you stop on roller skates with toe stops?
To stop on roller skates using your toe stops, simply raise the heel of your skate off the ground until the toe stop is making contact with your skating surface. Then, drag your toe stop until you come to a complete stop. I made a whole article just on How to Stop on Roller Skates. It has step-by-step instructions and videos to show you everything you need to stop effectively every time.