Roller skate wheels, boots and roller skate bearings are so important to a great pair of roller skates, but without a skate plate, you'd never get those wheels attached to your skate. In today's article, I'm going to break down the best roller skate plates on the market today.
This article is more for our intermediate and advanced skaters out there. Most beginner roller skates already come with everything you need to get started and therefore already have a skate plate. Please be sure to check out our Best Roller Skates for Beginners article and our main Best Roller Skates page. You will find what you are after on those two pages. And, if you are just starting out, be sure to check out our How to Roller Skate series.
For you advanced skaters out there who are looking for more speed, better performance, a plate that is both lightweight but also durable and will still give you more power transfer when you push off, then stick right here.
Or, if you are a beginner and just want to learn more about skate plates, please keep reading, too. 🙂
Top 11 Roller Skate Plates for Art, Roller Derby, Speed and Outdoor Skating

The Labeda Proline skate plate has been around for over 40 years. It a solid piece of machinery that is near indestructible. Known by serious skaters because it will likely be the last skate plate you will ever buy. It's that good.
It's made right here in the USA so the quality is top notch. Made from 7000 series aircraft aluminum, these plates are super lightweight. They have a special 5 degree angled kingpin to reduce the stress that is put upon the trucks and kingpins. The kingpin is twice as strong and lighter than standard milled steel. So, it's less prone to breaking.
Also, unlike most skate plates that require you to loosen or tighten the king pin or locking nut, the Labeda Proline does truck adjustments at the top using an allen wrench. This means you'll never have to loosen or tighten your kingpin again. By doing it this way, it eliminates the main reason most king pins break.
Also, the truck's geometry makes this one of the most precise and quickest turning skate ever. It has a micrometer-adjustment (.001) locknut so you can dial in truck deflection to a very high degree of consistency – meaning your adjustments won't loosen like on some other plates.
They come in both 7mm and 8mm sizes. Great for all kinds of skating including recreational, speed, artistic roller skating, roller hockey and even roller derby. If you think plastic is the devil and you want the best that money can buy, this is your skate plate.
---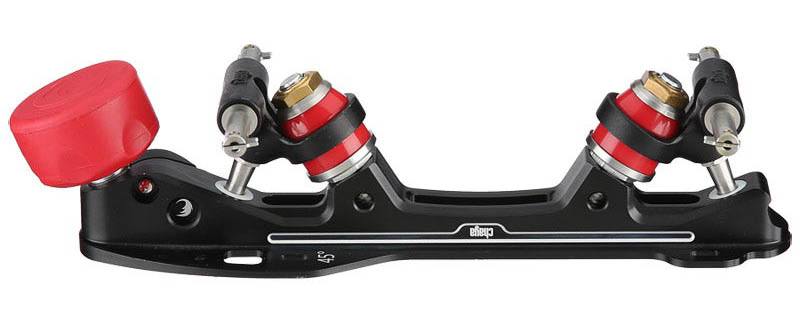 Next up, we have the Chaya Shiva plate. This is one impressive skate plate. Constructed from 7000 series aircraft aluminum, these lightweight skate plates are perfect for all levels of roller derby skates or recreational skating.
The Chaya Shiva plate is specially designed to be used with Chaya boots. By pairing the two, you get a user-friendly Dual Center Mount (DCM) technology that allows for better adjustability. The 20 degree kingpin action also allows for quick and accurate response time.
They come with forged aluminum double-action trucks, 8mm axles and a micro-adjustable locknut. The hex screw toe stops are perfect for getting your toe stop at just the right height. If you are a serious derby player, these are some rock solid derby plates.
---

If you want to get into artistic roller skating, then take a look at the Sure-Grip Snyder Super Deluxe. These plates are also made of 7000 series aircraft aluminum, so they are super lightweight. It's also made right here in the USA.
The kingpin angle is set to a standard 10 degree with double action trucks making it one of the most stable plates on the market today. When you put this skate on it's edge, it stays on that edge! Control being super important with artistic skating.
Comes with either 7mm or 8mm axles. It's a perfect skate for freestyle, dance, figures or for those serious about their roller skate tricks.
---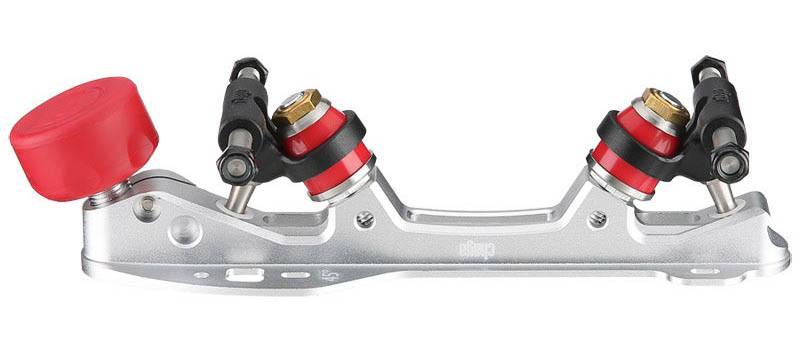 Next up, we have our first roller skate plate made out of 6000 series aircraft aluminum – the Chaya Ophira. Like it's cousin, the Shiva, the Ophira offers a dual center mount if you also have a Chaya boot. This makes mounting the plate to your boots super easy.
The plate comes with forged aluminum trucks that are set at 20 degrees – perfect for both mobility and power. This plate also comes with a cherry bomb toe stop and inter-locking cushions.
---
If you are a derby player, speed skater, hockey player or just into regular skating and you are after a skate plate that is tough and responsive, then look no further than the Roller Derby Elite Axis 45 Magnesium plate.
This skate plate was manufactured with a true 45-degree kingpin allowing you to turn very easily and precisely. The kingpin also has micro-adjustable settings allowing you to tune it just right.
The base plate has an onyx finish and it comes with aluminum, double-action trucks. The axles are 8mm in size. The skate comes in super light at only 427 grams on a boot size 6.5 skate. It also has a hex screw set of toe stops to round it out.
---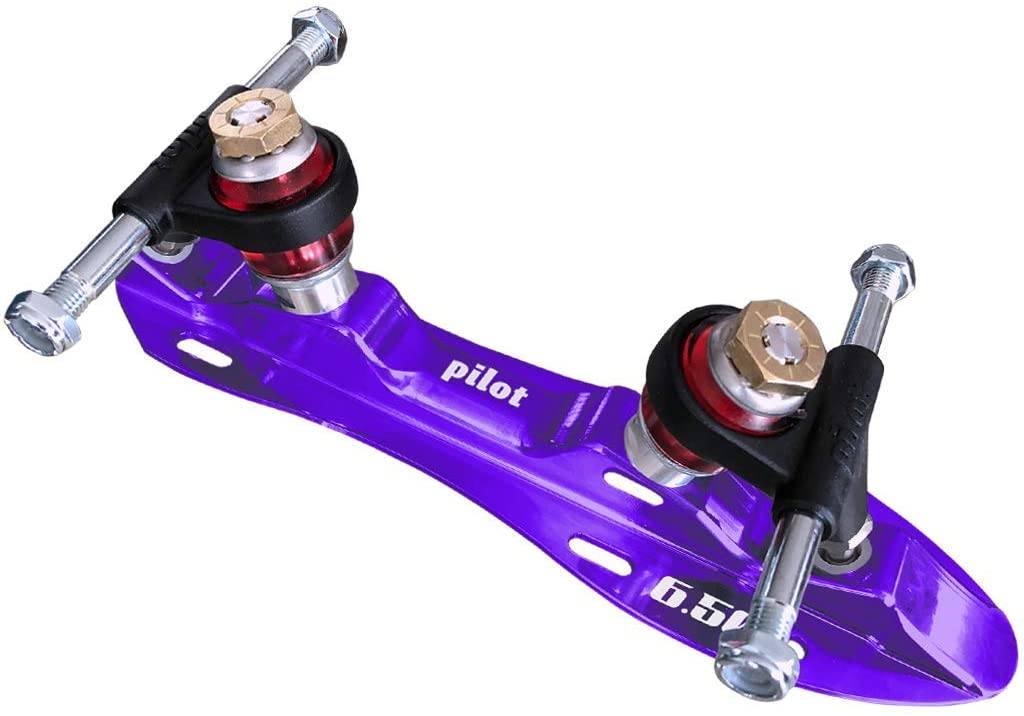 Next up we have our first skate plate with no toe stop housing – the Atom Falcon Plus NTS skate plate. This skate is a variation on Atom's regular Falcon Plate that does include toe stops.
Why would someone not want a toe stop? Lots of skaters prefer no toe stops, including yours truly. I almost always just plop toe plugs into the toe stop housing. This makes the skate even lighter and I use other methods beside my toe to stop on roller skates. Skaters who do dance and rhythm skating often use toe plugs so with this plate, you don't have to worry about it.
The baseplate is made out of 6000 series aircraft aluminum. The trucks are a 7000 series forged aluminum with 8mm axles. The kingpin is set at 16 degree action allowing for ultimate stability and power and comes with a micro-adjustable lock nut.
---

Next we have another magnesium allow skate plate called the Sure-Grip Avanti Magnesium. The baseplate is magnesium alloy and a size 4 with no axle nuts or toe stops comes in at just 556 grams! It's 48% lighter than the aluminum version of this plate.
The kingpin and aluminum double-action trucks are set at 10 degrees action for ultra-responsive double action. The plate is polished off with a smooth white powder finish. The plate comes with adjustable pivots and an 8mm axle size. The toe stops use a hex screw for locking it in place.
---

One of the lightest skate plates on our list are the Bont Athena plates. These plates come in at just 436 grams on a size 6 with no toe stops and axle nuts making them smooth and light. The baseplate is made out of 6000 series aircraft aluminum and trucks are made from chromoly steel. Bot are extremely strong and lightweight.
The 20 degree kingpin is perfect for roller derby – making it a nice balance between stability and maneuverability. The Athena also is one of the only plates on the list with a low profile – meaning the wheels are closer to the boot. This means your boot is closer to the ground. This brings improved stability, response and control over your skates.
The plate comes with an 8mm axle and hex screw 5/8″ stem toe stops.
---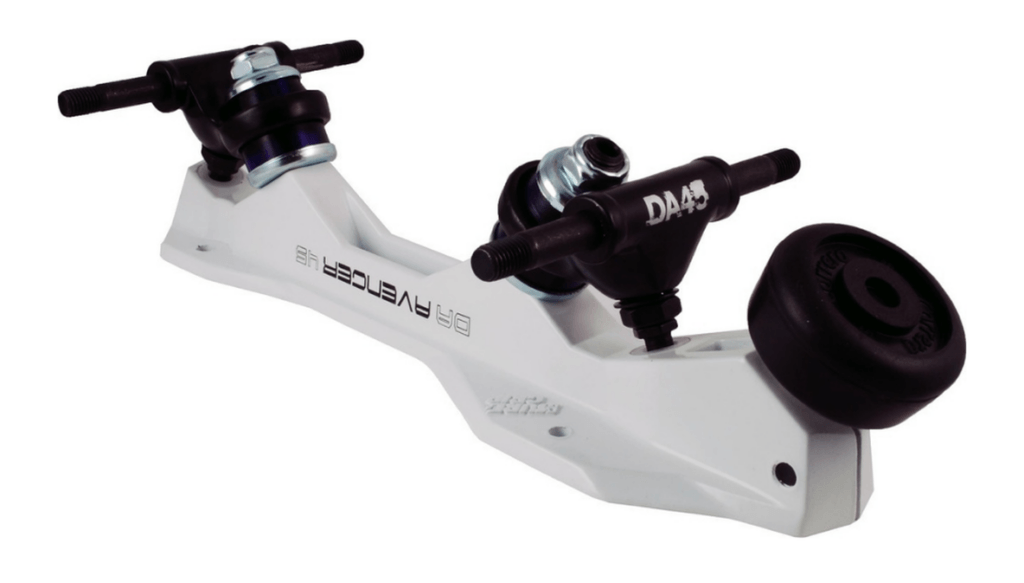 If you are into speed skating or roller derby, then check out one of Sure-Grip's top selling skate plates – the Avenger Magnesium. This is one of the lightest skate plates on the market today. These white magnesium alloy plates are 25% lighter than the aluminum plate. An assembled size 2 came in at just 476 grams. They even come with a hollow kingpin and hollow center to help reduce the weight of the plate.
They also come with 45 degree angled trucks that helps you turn on a dime. You can get these plates in both the standard 8mm or in 7mm. The kingpin is set at a 33 degree angle. The toe stop housing also comes with a hex screw.
---
If you are after a skate plate that can take a beating but you don't need all of the fancy adjustments of roller derby plates, then the Super-X by Sure-Grip is for you. These skate plates are great for outdoor and indoor recreational skating. You will see these plates on many beginner skate packages.
These aluminum plates are durable. With 10 degree double action they are perfect for stability and power. They come with a fixed toe stop housing.
---
Last but not least, we have the Sunlite plate. This is a nylon skate plate. These skate plates are both lightweight and durable. Plus, they come in a variety of different colors.
They have a Patented V Bracing design that gives them strength. They are also 40% lighter than your average aluminum plate. Sunlite is so sure you won't break these plates, they also offer a lifetime warranty.
The plate is rounded out with aluminum double action trucks with 7mm or 8mm axles (8mm is the standard).
---
The Roller Skate Plate Buyer's Guide
When most skaters see roller skates, they see the roller skate wheels first and then the boot. The beginner skater doesn't think much about the plate. However, the skate plate along with all of the other parts (trucks, cushions, king pin, axle, etc.) are extremely important when it comes to your agility and stability on your skates.
What are Roller Skate Plates?
A roller skate plate is technically just the nylon or aluminum piece that runs along the bottom of your skate boot and attaches the wheels to your boot. However, when most people refer to a skate plate, they are really talking about not only this part along the bottom of the skate but also the trucks, axle, cushions, king pin, washers, pivot pin and all of the other small parts that make up the plate.
Types of Roller Skate Plates
Plates come in many different materials and are made for many different types of skater. Lets cover each in more detail so you can get a good idea of which kind of plate is right for you!
Skater Experience
Beginners / Recreational
Most of the roller skates for beginners that I recommend on various pages throughout my site come with a basic nylon plate that is perfect for recreational skating. If you are a beginner, then going with a pair of skates with nylon plates (plastic) or heavier aluminum plates is perfectly fine.
Competitive
Most of the plates discussed on this page are more geared towards our competitive roller derby players, speed skaters, competitive artistic figure skaters or skaters who are just really serious about having the best roller skate gear. However, they will still work for recreational skating, too. Some of you are like me and don't compete but just want the best gear. In those cases, these plates are going to kick butt compared to what comes on most skate packages.
Skate Plate Materials Demystified: Nylon Plates vs Metal Plates
Next, lets talk plate materials. There are a number of plate materials to choose from but the two main plate groups are most commonly referred to as nylon plates and metal plates. Metal plates are then broken down into a variety of metal alloys including different grades of aluminum and magnesium.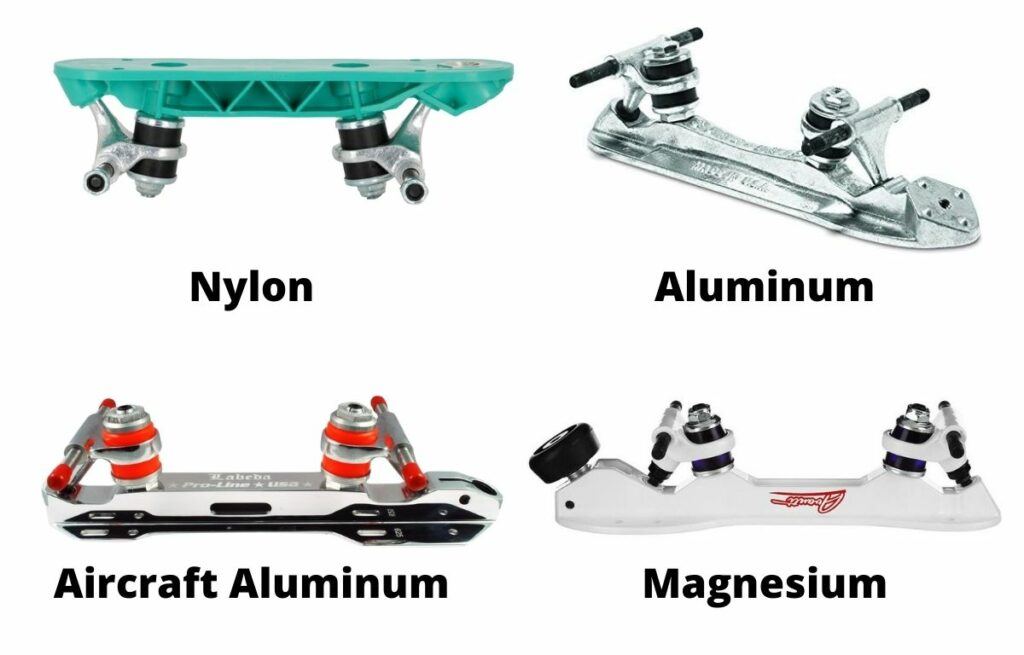 Nylon
Most beginner skate packages come with nylon plates. If you are on a tight budget, these plates are perfect. Besides being cheaper, nylon plates also are lightweight compared to basic cast aluminum plates which keeps fatigue down.
The nylon plate that comes on some low-end beginner skates can be weak and flexible so be careful. However, most nylon plates today (even on most quality beginner skates) are reinforced with fiberglass. This makes them more durable and stronger than they were in the past.
They are the perfect plate for recreational skating and some light competitive sports for most people.
Metal Plates
There are a variety of metal plate types. The two most common are aluminum and magnesium.
Cast Aluminum
The upside to cast aluminum plates are that they are sturdy and solid. The downside to these plates are they will be heavier. However, they are lighter on the pocketbook being the cheapest of the 4 metal plate types.
Aircraft Aluminum
Next, we have aircraft aluminum which are great for mid-level competitive skaters. These plates are more expensive than cast aluminum and nylon plates, but they are lighter and provide better performance for those more serious about their skating.
6000-7000 Aircraft Aluminum
The plates that have 6000-7000 aircraft aluminum are the top of the line plates. These babies are perfect for elite competitive skaters who want high performance, quality and long use. They are also lighter than other types of aluminum. They are even lighter than nylon plates! Their high performance and being super light make them a top choice for serious skaters.
Magnesium
Last but not least, we have magnesium plates. These are the newer kids on the block and they pack a serious punch because they are more rigid and even lighter than most aluminum plates (except for a few aluminum plates in the 7000 series). This high end material is a top choice for a lot of competitive roller skaters because of its light weight, responsiveness and durability.
Axle & Trucks
Axles
First, what is an axle? The axle are the long screws that stick out parallel to the ground from your trucks. There are 2 axles on each skate plate. One in the front and one in the back. The axle is the part of your plate that your wheels with bearing slide onto. Then, you secure the wheel onto the axle with an axle nut.
There are two sizes to be aware of with skate plates: 7mm (9/32) and 8mm (5/16). Most skate plates are 8mm, but some high-end plates can be 7mm. It is important to understand your axle size because this will then tell you what type of bearings and wheels you can buy for your skates.
Note: If you buy a 7mm axle (which is less common), then you have to also buy 7mm bearings and wheels. Because 7mm is less common, you will have less choice when it comes to bearings and wheels. Most roller skate bearings and wheels are of the 8mm variety. However, some high-end figure skating plates (and others) can be 7mm.
Single Action or Double Action Trucks
Most skates today come with double action trucks to provide you with the most flexibility when maneuvering on your skates. Action refers to how many cushions (or bushings) you have on your truck. Cushions are a urethane washer that slides onto your kingpin before the metal truck is slid into place.
Single action means that one cushion is used. Double action means that two cushions are used – one on either side of the metal truck.
Cushions are also rated like roller skate wheels using a durometer. The range here is between 71-98 with lower number being softer and the high number being harder.
"Hail to the King(pin), Baby!"
Kingpin Angle
Next, we have the kingpin angle. Most skate plates typically come with either a 10 degree angle or a 45 degree angle. 10 degree is most common, but you will see the 45 degree angle especially in roller derby plates.
Which angle is better? It all depends on what you are after. 1o degree plates are more common and provide more stability to the skater. This is because the kingpin and cushions are lined up with the skater's body vertically. The 45 degree plates provide quick changes in direction which is perfect for derby players who need quick agility.
Kingpin Nut Adjustment
On many derby plates, you also will have either a standard or micro adjustable kingpin nut. This allows you to more accurately adjust the pressure put on your cushions. This allows you customize the feel of your skates.
Jump Bar
A jump bar is another piece of removable metal that lays horizontally (parallel to your plate) and runs between the front and back truck. As the name states, it is usually added to skates for people who want to jump a lot – think figure skaters, skate parks and even derby skaters.
The jump bar is put on skates to brace between the king pins and it adds extra stability and strength to the plate. They are less common today as the materials have gotten better, but you will still see them on some skates. They really help to ensure you don't break that high end plate in half. 🙂
Toe Stop
There are three different types of toe stop housings for roller skate plates: Fixed, Lock Nut and Cinch Screw.
Fixed toe stops have a hole in the middle of the toe stop. You then push the bolt through the toe stop and screw it directly into the plate. You will find this type on cheaper beginner skates. Sadly the toe stops on these models are not adjustable meaning they are at one height forever.
The more common type is Lock Nut and it is one of two adjustable types. This type allows you to screw the toe stop into the plate and then you use a nut to secure it. This is the most common toe stop variety and you will see it on beginner and intermediate skate plates. This is better than the fixed toe stop because it allows for adjusting the toe stop to your preferred height.
The third type uses a cinch screw. Similar to the lock nut method, you screw your toe stops in. However, then you use the cinch screw on the side of the plate to secure your toe stop. This is the best of the toe stop housing types and you will see it on many high end skate plates.
Also, if you want to protect your boots from scuffs and scrapes, be sure to check out these toe guards for roller skates.
Frequently Asked Questions
How do you remove roller skate plates?
Removing a plate from your boot requires you to remove the mounting hardware. If you turn your skate over, you will see mounting screws that attach the plate to the boot. Typically, there are 4 screws (2 in the front and 2 in the back) that mount the boot to the plate.
Every skate can be a little different, but the basic steps are the same. First, remove the nuts on each piece of mounting hardware. Then, pull on the boot to detach the boot from the plate. The plate should slide out with the screws still attached to the boot.
If you are keeping your current skates plates and instead replacing your boots, then you will need to remove the insole from the inside of your boot and push up on the screws to remove them from the boot.
How do you measure plates for a skate and find the right size?
If you are keeping your existing boots and already have a plate attached, then measure the wheelbase on your existing skates. The wheelbase is measured from the pivot pin of your front axle to the pivot pin of the back axle.
Also, be sure to check the sizing chart for the skate plate you are interested in purchasing. Sizing is different per manufacturer and can even differ within the manufacturer for different plate types.
If you are ever unsure about size, please ask the skate shop who is selling your plates. Most online skate shops will even mount your new plates to your existing skates for you for free.
How do you install or mount plates on roller skates?
Here are the basic steps to install a plate on a boot. Always remember that most online & in-person skate shops and roller rinks will do this installation for you (usually for free with purchase or for a small fee):
First, make sure you use a sizing chart and buy the right size plates for your boots.
Next, if your boot is new, turn the boot upside down and place the plate on the boot in the center of the boot horizontally and vertically. If you have an existing boot, remove the old plate.
With a pencil, mark lines down the boot to outline where the plate should go.
Next, use your pencil to mark where all of the holes should go. Then, use a screwdriver to make a light impression / divot into each of these pencil markings so the drill doesn't slide around.
Make sure you have removed the insole! You don't want to drill through the insole. This is the part that covers the drill holes.
Now, drill holes into the bottom of the boots where you made your light impressions. Make sure they are straight up and down.
Slide the bolt through the top of the boot.
Slide the plate through the bolts. It should fit perfectly.
Add washers and the nut to the bottom part of the bolt and tighten. Put your thumb on top of the bolt inside the boot and press down as you tighten to make sure the top part of the bolt inside the skate stays flat.
Now, you have huge bolts sticking out the end of your boot. You need to break those off. Use the bolt tightener you just used and put it down on the bolt. Push the bolt tightener forward away from you, then back towards you and then forward again. This should break the bolt off. Do this on all of the bolt.
What is the lightest roller skate plate?
Nylon plates that come on most skates for beginners are actually pretty light and are cheap. However, nylon plates don't give the competitive and elite skaters the power transfer, agility and performance that they are after. So, if you are a competitive or elite skater, go with a 6000 or 7000 grade aircraft aluminum or magnesium plate. All of these are are lighter than nylon and much more sturdy.
What are the best brand of skate plates?
Some of the best manufacturers of skate plates include Bont, Chaya, Crazy Skates, Atom Skates (Pilot), Riedell PowerDyne, Roll-Line, Roller Derby Elite and Sure-Grip.
Picking the best really depends on the type of skating you are doing. Riedell and Roll-Line are going to be best for artistic roller skating. All of the brands above are well-known for roller derby and speed skating.
Want to Learn Even More About Skating?
Want more reviews on roller skates? Check out my Best Roller Skates page for a list of all of the quads I recommend. I also have pages for roller skates for men, roller skates for women and roller skates for kids where I recommend the best skates on the market today for each group. Or, check out my roller skates for beginners if you are completely new to roller skating.
Or, if rollerblades or inline skates are more your style, then check out my rollerblades for men, rollerblades for women or rollerblades for kids pages. Or, if you are completely new, check out my rollerblades for beginners page.