If you are really into roller skating but want to play roller derby, then you need a great pair of roller skates. Or, maybe you already play derby and you just need an upgrade. If so, you are in luck. In today's article, I am going to go over the best roller derby skates for beginners, intermediate and advanced skaters.
First, I will go over my top 13 picks for the best roller derby skates available today. Then, I'll give you a buyer's guide on all of the things to consider before you buy your next pair of derby skates. We'll talk derby boots, roller skate plates (aluminum plates vs nylon plates), roller skate wheels (surfaces, durometers, widths, profiles, contact patch), toe stops, safety gear and more.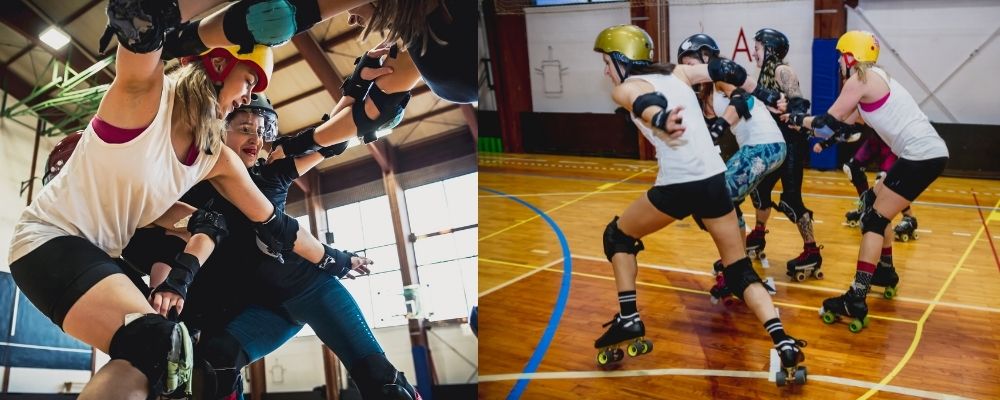 If you want to learn more about quad roller skates in general, be sure to check out my Best Roller Skates page where I cover the best skates for all kinds of roller sports. If you are more into inline skates, then check out my Best Rollerblades & Inline Skates page.
Lace 'em up, and let's get started!
My 13 Picks for the Best Roller Derby Skates on the Market
If you are a pro roller derby player (or an aspiring one), then these advanced quad skates from Riedell are some of the best derby skates money can buy. The Riedell Blue Streak Sport Pro are roller derby skates made especially for more advanced skaters.
The boot on this skate is good quality. It is one of the best boots for roller derby on the market today. Riedell knows how to make a comfortable skate boot. They've been doing it for 75 years! This iconic boot includes Kango leather on the uppers and the inside liner is made of Chinook leather.
And, being made of leather, the comfortable fit keeps improving as the pliable leather breaks in. The Riedell boots include a nylon cinch strap and waxed laces to make the boot more secure around you foot during your bouts. If you want comfort while you play, then this is your boot.
Next, the boot is mounted on Riedell's PowerDyne Reactor Pro plates. This aircraft aluminum skate plate is super lightweight and strong. This helps you maximize your speed while keeping you stable. It also can take all of the aggression, bumps, knocks and falls that come with playing derby.
The Reactor Pro offers a 10-degree kingpin angle, aluminum trucks with steel rod reinforced pivot arms, solid aluminum black anodized kingpins and durable Delrin pivot cups. It then is finished with a brilliant high-polish steel with a blue hue and laser-etched graphics.
Next, you have your choice of Riedell's Radar Presto roller derby wheels that come in five different colors and wheels hardness types ranging from 88A-97A. The softer wheels (88A) are better for slicker surfaces or for skaters who need a lot more grip. The harder wheels (97A) are best for advanced skaters with superior balance who want a lot more speed.
Finally, this Blue Streak package comes with Kwik Swiss Nitride skate bearings that will have you rolling smoothly while you jam. Plus, it's handmade right here in the USA! This is one of the best derby skates out there today.
Riedell Blue Streak Highlights
What I Like
The Riedell Blue Streak boots are super comfortable and top-of-the-line.
The PowerDyne Reactor Pro plates are made of aircraft aluminum so they are really strong and lightweight.
---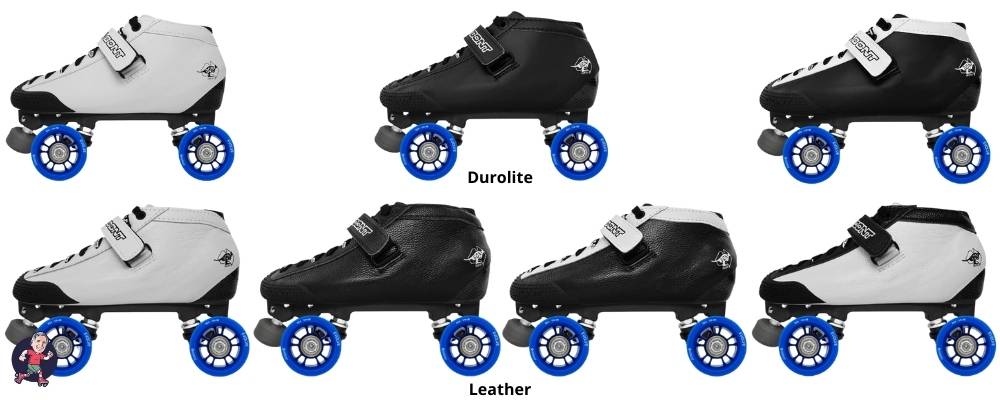 If you are looking for a true custom roller derby skate, then take a look at the Bont Hybrid Carbon. These skates come in 2 different materials – durolite or leather. Pick from traditional all-black design or a combination of black or white in different patterns (see image above).
Then, you get to pick the roller skate plates, wheels and bearings that you want for these derby skates. There are 5 different skate plates to choose from, 8 different sets of wheels and 4 different sets of bearings. Mix and match how you see fit.
And, if you want something truly custom, then check out their My Bont Hybrid Carbon boot configurator where you can order a completely customized boot just to fit your feet and style. Above is an image of a boot I designed with about 10 minutes of time. This is a way to get a true, one-of-a-kind custom pair of derby skates.
What I really love about the My Bont Hybrid Carbon option is you can really customize everything. The amount of ankle width, what kind of arches you have in your feet, boot height, boot stiffness, how much padding you want in your boots and a whole lot more. In fact, there are almost 25 different options to choose from for a truly custom skate.
The only downside to these skates is they do typically take 2-3 months to receive them because they are 100% custom-made. However, I think it's well worth the wait when you can literally customize everything on these skates.
What I Like
The Bont Hybrid Carbon is a truly custom skate. You have so many options with plates, wheels and bearings.
The My Bont boot configurator is super cool. I've spent at least an hour just playing with the 1000s of different designs you can make with it.
The My Bont boots also really allow you to customize all of the measurements of the boot. If you really want to get a skate that conforms to your feet, then I would check these skates out.
---
If you are looking to add your own personal preference to your roller derby skates, then why not look at building a good pair of custom skates specifically designed just for you! The Luigino Q4 Custom Skates from Devaskation allow you to do just that! You start with the Luigino Q4 boot and then add your plate, wheels, bearings, toe stops and more.
Most skaters who play derby for awhile wind up building their own skates as they continue with the sport. And this custom skate package made of Atom Skates parts is a great all-around derby skate with your personal touch.
Start with the Luigino Q4 boot that comes in sizes 4-12 including half sizes. The Q4 boot was one of the first boots designed for you to wear barefooted – no socks or extra padding required. Yes, these boots are that comfortable. It has an ankle powerstrap, a Pro Evolution foot bed and microfiber uppers and liners. Plus, it has top grain leather soles.
Next, choose from the Atom Pilot Falcon or Falcon Plus skate plates in your color choice including blue, pink, gold, purple, red or silver for a little color punch. These skate plates come with a 16 degree truck angle, adjustable pivots and are made of aircraft aluminum so they are super strong and lightweight.
Next, choose your derby wheels. We recommend the Atom Poison or the Atom Poison Savant wheels for roller derby. Both of these wheels are made more for indoor surfaces like wood and sports court where most derby bouts are played. They offer good grip, speed and power.
Then, you have your choice of roller skate bearings. Choose between Bionic, Yolo or Bankroll steel, swiss or ceramic bearings. The steel are the least expensive whereas the ceramic are the most expensive but provide a superior roll.
Finally, pick out your toe stop, skate lace color and lock nut color. With the color choices on the plates, wheels, laces and lock nut, you can make everything match or choose complimentary colors for a look that really pops. Check a few more boxes and the folks at Devaskation will hook you up with a custom skate that is unique to you and your playing style.
Luigino Q4 Custom Skate Highlights
What I Like
Who doesn't love building their own custom skate? Get the parts that you want to fit your skating style. It's the best way to get just what you want. Plus, the folks over at Devaskation put it all together for you. You just pick out the parts and wait for your custom skates.
The Q4 boot is comfortable. Atom Skates also makes some of the best roller derby wheels on the market.
---
Next on our list of best roller derby skates are the Bont Quadstar. This derby powerhouse comes from Bont – one of the leading manufacturers of roller derby and speed skates. The Quadstar comes with a 100% Australian leather boot. As with most of these high-end roller derby skates, Bont recommends that you use their skate sizing chart to get a perfect fit.
The boots also have a piece of thermoplastic in the heel of the skate. This allows you to mold your boots with a hairdryer around your foot to get a super custom fit. It takes about 10 minutes to do the heat molding process. This is especially good for skaters with skinny or wide ankles.
The fiberglass reinforced Prodigy plate is very light weight and has 20 degree action. Next, the Bont Ballistic wheels are made with premium high rebounding urethane. They have a 92A durometer which is good for indoor surfaces. Then, this skate is outfitted with high precision ABEC5 bearings to keep your rolling smoothly down the track.
Bont Quadstar Highlights
What I Like
The Bont Quadstar boot is made from 100% Australian leather and is heat moldable.
The fiberglass Prodigy plate is really lightweight.
---
If you didn't like the Luigino Q4 custom skates mentioned abover, then we have some other skates that are custom that may be more your style. The Jackson VIP Custom Skates again allow you to pick and choose so you can get the specific skate that you want the first time.
The Jackson VIP starts with the Jackson Vantage boot. This boot comes in a variety of sizes starting at size 4 and going all the way to size 14! And, it comes in half sizes up to size 11.5. The boot is very comfortable. Jackson makes some of the most comfortable boots for the price point.
The boot is great because it fits snug to your feet. The Vantage boot runs a tad small on men, but sizing is accurate for women. For men's sizes, go up 1 size.
Next, all of these skates come with Atom Skates Pilot Viper Plate F-16 which is lightweight and strong. It's made out of a Zytel material (nylon resin). So, it's not as fancy as the Q4 custom skates above, but it also is about half the price. That makes this a great custom skate that is affordable for most fresh meat (beginner) and intermediate derby players alike.
Now comes the configuration. Choose between BankRoll, Zen, Pulse, Poison and Savant wheels and Bionic, BankRoll and Yolo steel, swiss or ceramic skate bearings. Then, pick your toe stop, skate laces and lock nut color and you are ready to roll!
Jackson VIP Custom Skate Highlights
What I Like
The Jackson Vantage boot is really comfortable. It is not leather, like the top models above, but it is still comfortable and much more affordable.
The price point for these custom skates is really good. A great price for a custom skate.
---
Next on our list comes the best boot from Riedell and some awesome wheels from Sure-Grip into one tight roller derby skate package – the Riedell 265 Sunlite Fugitive.
First, these roller skates come with the top-of-the-line Riedell 265 boots. These skate boots are handmade with full-grain leather uppers and a heat moldable counter allowing the boot to form to your foot for a perfect fit. It has a Dri-Lex/Cambrelle interior lining that helps pull moisture away from your feet. The lace system goes from the ankle all the way to the toes allowing you to customize your fit easily through the lacing. This boot is well-padded and very comfortable.
This roller derby skate then comes outfitted with the Sunlite skate plate – a nylon plate that is long-lasting and super lightweight. It has a patented V Bracing design that give the plate optimum strength and is 40% lighter than standard aluminum plates. It also has a lifetime warranty from breakage.
These skates come with Sure-Grip's Fugitive wheels. They are a 92A durometer making them the perfect hardness for most roller derby tracks. They are 64mm in diameter and 44mm wide – making them one of the widest wheels on the market. These roll really nicely.
Riedell 265 Sunlite Fugitive Highlights
What I Like
The Riedell 265 is one of the best roller derby boots on this list. It is super comfortable, heat moldable and has a special lacing system that insures a snug fit.
The Sure-Grip Fugitive wheels on this skate are tall, hard and wide. You'll get a superior roll in these wheels on the track.
---
Next up on our list is the Sure-Grip Rebel Fugitive. These intermediate skates for derby are great for beginners and those skaters just starting out who don't want to break the bank on their ride.
First, the Sure-Grip Rebel boot is 100% leather. They are well-padded and fit snug on your foot. It has laces and a power strap to keep your foot in place. Next, comes the Sure-Grip Fugitive wheels which are 64mm in diameter and 44mm wide. They are also a 92A durometer making them perfect for indoor skating.
This skate comes in two flavors. The Roller Skate Nation Rebel Fugitive is slightly cheaper because it comes with the Sure-Grip Probe nylon skate plate. Whereas the Amazon version comes with Sure-Grip's higher-end Avanti aluminum skate plate.
Sure-Grip Rebel Fugitive Highlights
What I Like
The Sure-Grip Rebel boot is comfortable and moderately priced.

The Sure-

Grip Fugitive derby wheels are really tall and wide making them a great roll on the track.
---
Next up, we have the VNLA Junior Stealth. These are VNLA top of the line, most popular jam skates on the market, but they can also double as a decent roller derby skate, too.
These roller skates come with the VNLA junior boot that features a fan-favorite denim and leather combo. This is a top pick among skaters. They are stylish and comfortable. My kids have skated in a version of VNLA Junior skates for over 10 years and love them.
These skates have a nylon plate which is strong, sturdy and lightweight. We've never had any issues with the plate. It also has aluminum trucks. It comes with Reaction ABEC-9 skate bearings and VNLA's popular Backspin Stealth jam skate wheels which are a 95A durometer and 62mm x 42mm in size.
They do come with toe plugs, so if you are getting these for derby, be sure to substitute in some toe stops.
VNLA Stealth Highlights
What I Like
The VNLA Junior Stealth boot is comfortable and stylish. You'll look good in these skates even when your not playing derby.
The overall skate package on the VNLA Junior is surprisingly really good. The boot is comfortable, the plates are solid and the wheels and bearings are good for derby. Only downside is you have to buy some extra toe plugs.
---
Next up we have the Bont Hybrid Prodigy roller skates. These skates come in a classic 1980s style with all the modern enhancements you'd expect from Bont. The Hybrid boot comes in sizes 3-13 with half sizes. It's comfortable, well-padded and comes with a power strap to keep your feet in place. The boot is also heat moldable for a perfect fit.
The Prodigy plate is a nylon plate that is reinforced with fiberglass (a common technique these days to make the nylon plates stronger and keep them from breaking under a huge load).
These skates also come with the Bont Ballistic roller derby indoor wheels that are 92A durometer and measure in at 60mm x 40mm. The skate comes with ABEC 5 skate bearings and adjustable toe stops that can be modified using the built-in cinch screw.
Bont Hybrid Prodigy Highlights
What I Like
This is a great derby skate especially for those fresh meat, beginner skaters who are just starting out. If you roll up to practice with a pair of these beginner skates on you won't be laughed at.
The Ballistic wheels have a nice profile and are great for the indoor track.
---
Next up we have another pair of beginner roller derby skates from Sure-Grip called the Rock GT-50. This is a great derby skate that comes in at under $200.
The GT-50 skate boot is a synthetic leather boot that has a lot of padding. It comes with a power stap and laces to keep your foot secure. These boots are typically a little wider, so good if you have wide feet. Narrow footed folks should either wear thicker socks or go down one size.
The Rock nylon skate plate comes with aluminum trucks and is lightweight. It also has an adjustable lock nut toe stop.
Then come the wheels. The Roller Skate Nation version of this skate comes with the Cosmic Superfly wheels that are a 90A durometer. The Amazon version comes with the GT-50 Swirl wheels which are 95A durometer. If you need more speed, go with the Swirl wheels. If you want a little more grip, go with the Cosmic Super Fly wheels.
Sure-Grip Rock GT-50 Highlights
What I Like
For the price, these are some really good roller skates. You can use them for derby or for rolling around the rink.
---
Next up, we have another beginner roller derby skate coming in at around $150 – the Riedell R3. These roller skates come with the Riedell R3 boot that is made with a special grade of vinyl that is more durable than standard vinyl.
Strapped to the boot is the Riedell PowerDyne Thrust nylon plates that have a 15 degree action and aluminum trucks. The Thrust plate is both strong and lightweight.
Next, you have your choice of wheels. You can either go with the Sonar Cayman wheels that are 62mm x 43mm and a 95A durometer or you can choose the Cosmic Superfly that are 62mm x 40mm and a softer 90A durometer. The Cayman's will give you a little more speed and the Cosmic Superfly a little more grip.
Riedell R3 Derby Skate Highlights
What I Like
The R3 boot is one of Riedell's cheapest and most popular boots. It's good quality from a reputable boot manufacturer. They have been constructing boots right here in the USA for over 75 years.
---

For the casual skaters among you that are also thinking about getting into a little roller derby, check out the Riedell Dart. These roller skates come in three different flavors: the Dart, Dart Ombre and Dart Pixel.
All three of these skates are identical, the only difference is the colors of the boot. All three boots are vinyl and have good padding, laces and a power strap to keep your feet snug and comfortable. All of the skates come with an aluminum skate plate, ABEC 5 bearings and Dart 62mm, 93A wheels.
The original Dart boot is a classic pair of indoor skates that have been around for awhile now. It comes in black, blue or purple. Next, the Ombre comes in a duotone of purple / pink or neon green / black.
Finally, the Dart Pixel is the most unique of the three with it's white, red, gray and black pixelated design. You'll think you're playing the original Super Mario Brothers while skating in these roller skates.
Riedell Dart Hightlights
What I Like
A really nice, cheap roller derby skate for under $150. A lot of fun colors, too!
---
If you are a fresh meat skater and need a pair of cheap beginner skates for roller derby, then check out the Crazy Zoom skates.
These no frill skates come in men's sizes 1-8. They come in just one color – black. They are made of vinyl, have laces and a power strap to keep your feet secure. They have extra padding on the inside to make them comfortable.
They sport ABEC-5 skate bearings, the Crazy 93A, 62mm urethane wheels and adjustable toe stops. If you are someone on a tight budget but you need a pair of derby skates, then the Zoom is made for you.
What I Like
It's hard to get a derby skate for less than $100. The Crazy Zoom is a decent skate for the price point. As you progress in the sport and determine you really want to keep going, then you can always upgrade later.
---
Best Roller Skates for Roller Derby: The Ultimate Buyer's Guide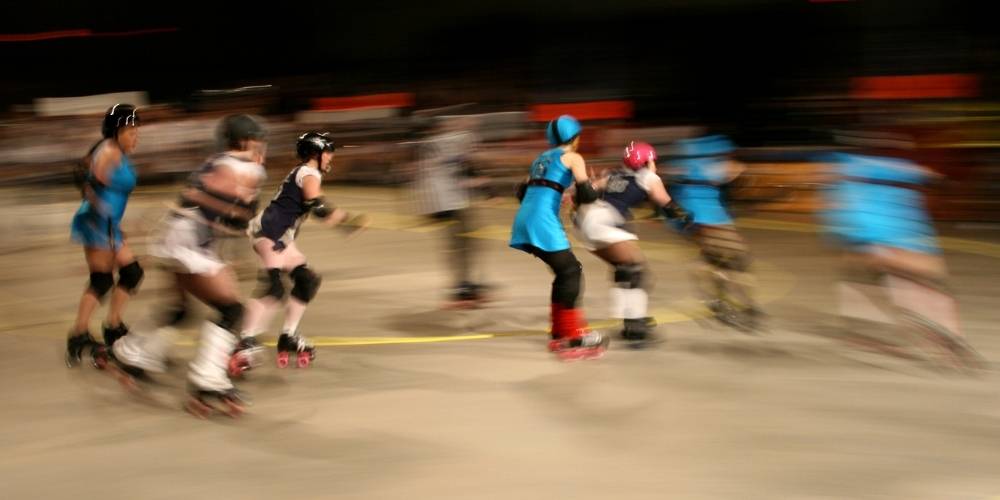 Playing roller derby is so much fun. The jams are fast-paced, high action and aggressive with that added touch of finesse. But to score the point or knock that jammer on their backside, the first thing you need is a great pair of derby skates.
Here in the guide below, we are going to go into everything that makes up a great pair of roller skates for roller derby including the boots, plates, wheels, bearings and toe stops. We'll even discuss the right safety gear, too.
So, strap on and let's go!
Choosing the Right Boots for Roller Derby

First comes the your roller skate boots. First, choose a boot that has enough ankle padding and ankle support. The more padding the boot has typically, the more comfortable it will be plus it will give you a snug fit.
All roller derby skates use low cut boots. This is to give the derby skater more flexibility at the ankle so you can do quick turns, jukes and get down lower in your skates. A lower cut boot is what you want if you are playing derby. Sites claiming high-top boots are derby skates are just wrong.
And, if you have wide feet, be sure to check out the boots made by Riedell and Bont. They often have multiple widths and are very precise at measuring your feet to ensure your boots fit like a second skin.
Vinyl vs. Leather Boots
The next choice you have is whether you prefer a leather or vinyl material. Vinyl or synthetic leather are usually much cheaper (sometimes as much as half as much) and don't require a break in period to have them reach their top comfort level.
However, leather boots (especially the hand-made ones) are going to be the nicest and most comfortable boots you'll ever own once the break in period has passed. There is just nothing that beats a great leather boot. It conforms to your foot best and is super comfortable. Many of the top models are also heat moldable to get a really superior fit.
Toe Guards
Another item a lot of derby players wear on their skates are toe guards. These are leather or vinyl covers that go over the front of your boot and help to protect it from scrapes and scuffs. It will help keep your boots looking nice and will lengthen the life of your boots.
Check out my article on the best toe guards for roller skates for more information.
Roller Derby Skate Plates
After you have your boots pick out, the next thing to focus on is your skate plates. Roller skate plates can be made out of a variety of materials including nylon, aluminum, aircraft aluminum and magnesium.
Nylon Plates
The modern nylon plate for roller skates typically have an additional material blended with the plastic (like fiberglass) to make it stronger. This helps to insure this less durable material doesn't break. They are also the cheapest type of plate in this list.
I've skated on nylon plates for well over a decade and I can say I've never broken one. Some heavier and rougher derby and speed skaters that I know, though, have broken them. So, that's something to keep in mind.
Aluminum Plates
Next up, we have the traditional aluminum plate. Aluminum plates are heavier than nylon plates, but are much more durable. These plates are usually just a little bit more than their nylon counterparts. They also have much better power transfer from each of your pushes down to your wheels. You get a better roll.
However, a lot of skaters don't like the traditional aluminum plates because they make each of your skates a bit heavier. This extra weight can tire you out easier. If you are a bigger skater and are really rough on your skates and don't have a ton of money to burn, then regular aluminum plates will do you well.
Aircraft Aluminum & Magnesium Plates
Then we have the aircraft aluminum and magnesium plates. These are the most expensive skate plates and the ones you'll find on our top picks above. The beauty of these two materials is that they are super durable and super lightweight. This gives you the best of both worlds.
Both are fairly common now in a lot of the best roller skate plates on the market today. All of your elite derby and speed skaters are typically sporting one of these materials on their skate plate.
Selecting the Right Roller Skate Wheels for Roller Derby
Next, we are going to go over your roller derby wheels. This part is one of the most important on your skate. We will discuss first wheel hardness (or durometer) and how to match that up with your skate surface. Then, we'll talk about wheel dimensions.
Wheel Hardness / Durometer Explained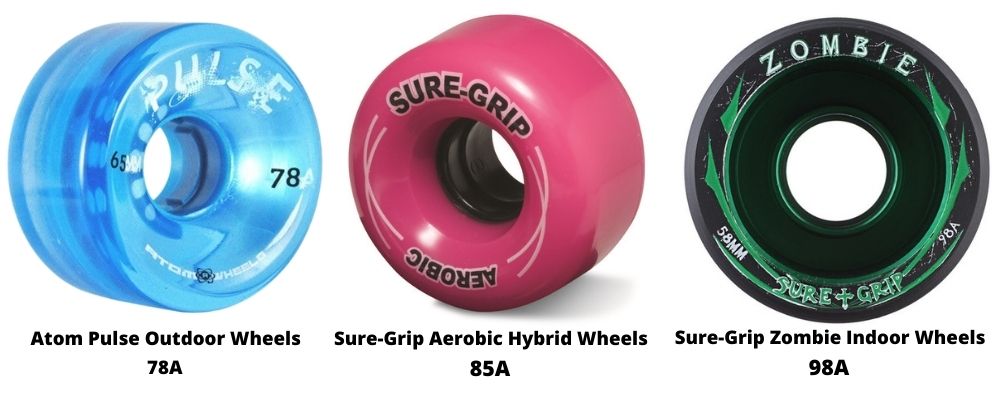 First, it's important to understand roller skate wheel hardness or durometer. The hardness of your wheels help to explain how grippy it will be on a skating surface. The basic rule is that softer wheels have lower durometer numbers (typically 78A-85A). Harder wheels have higher A ratings (90A-103A). Hybrid wheels are good for both indoor and outdoor terrain and typically fall in the 85A-90A range.
For smooth, indoor surfaces like wood where roller derby is commonly played, you want harder wheels. Typically something in the 90A-98A range. If you are indoor skating on slippery surfaces, then you want to go with softer indoor wheels (something closer to 90A). If you are on a tighter wood floor with plastic, then you can go with a harder wheel.
Softer outdoor wheels are typically 78A. They are really best for outdoor skating on rough terrain or even smooth outdoor terrain like brushed concrete, skate parks and sports courts.
For roller derby, stick with a wheel in the 90A-98A range.
Wheel Dimensions: Diameter & Width (Profile) Examined
Most roller derby wheels come with a diameter in the range of 57mm-65mm.
Shorter, smaller wheels are better for staying low to the ground. This gives the skater more stability than a taller wheel. However, smaller wheels go slower than tall wheels. The smaller wheels accelerate faster but they have a slower overall speed.
Shorter wheels will give you more agility. It's easier to make quick cuts across the track and quickly accelerate but you will have to work hard to keep up your speed.
The wheel width (or profile) is also important. A wider wheel again gives more stability and more contact patch to push off from to get more speed. However, in derby especially, a wider wheel has more opportunity to clip other players' wheels. This is why you'll see most derby wheels in the 35mm-48mm range.
For a whole lot more information about the best roller skate wheels, check out my Best Roller Derby Wheels article.
Choosing Your Roller Skate Bearings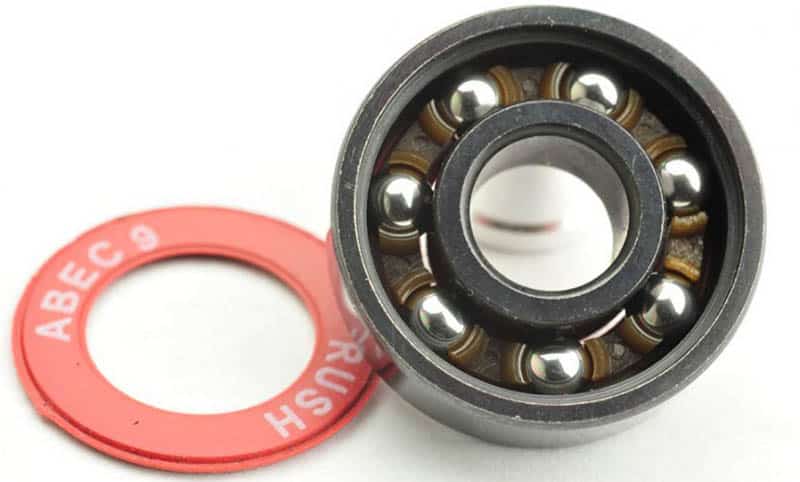 Next, we have your roller skate bearings. As I explain through out the site, the most important thing about bearings are that they are clean. That is more important than anything else.
You will find that most bearings come with an ABEC rating. This is a standard that measures how well the bearing rolls. A higher number means the ball bearings are more precise and round. This rating however was not designed for roller skates. It was designed for automated, industrial machinery, so the number is pretty useless for skates. However, manufacturers still use it all the time to describe their bearings.
Bearings come in two different main flavors: steel and ceramic. Steel bearings are what most derby players use and are the cheapest of the two flavors. Ceramic bearings, on the other hand, provide a superior roll. They have little ceramic ball bearings instead of steel balls, and that is why they roll so much smoother. However, they also cost 2-3x more.
For a lot more detail about bearings, check out my Best Roller Skate Bearings page.
Getting the Right Toe Stops
Next up, your derby skates need to have an adjustable toe stop. In derby, you will constantly need to stop and start. Most players use their toe stop to run to get to their top speed, too. Many beginner skates come with a non adjustable toe stop. Steer clear of those skates. All of the skates mentioned here have an adjustable stopper. It either secures in place using a lock nut or a cinch screw. On the higher end skates, the better cinch screw method is used.
Protect Your Noggin': Choosing the Right Roller Derby Helmet
Next up, please protect your most important asset, your head, and wear a helmet! In derby, it's super important that you go with a good helmet. You will be knocked to the ground all the time in this sport and heads hitting the ground is a common occurrence.
Check out my page on the Best Roller Skate Helmets to find the perfect one for you.
Protect Your Body with the Right Roller Skate Pads
Roller derby is a full contact sport, and as such, you need to make sure you are protecting all of your joints. Knee pads, elbow pads and wrist guards are all a must when playing. Some players even wear butt pads and mouth guards.
Be sure to check out my page on the Best Roller Skate Pads to pick out the right safety gear for your next bout.
Frequently Asked Questions
What type of skates are best for roller derby?
Roller derby skaters need quad skates with a low cut boot, a durable skate plate and a good solid indoor wheel. There is a lot of variety to choose from as we have presented above.
Are roller derby skates different than regular roller skates?
Yes. Many roller skates especially for beginners come with lower quality skate parts. Good roller derby skates require a better boot, skate plate and wheels to ensure that your skates can take the pounding of this sport.
Are roller derby skates good for beginners?
Yes! There are many great roller derby skates that are great for beginner skaters and that are moderately priced. My favorite is the Sure-Grip Rebel Fugitive, but there are several beginner derby skates mentioned above at all kinds of budgets.
Are roller derby skates true to size?
Before purchasing derby skates, please be sure to check out the manufacturer's roller skating size charts. You can find out more about sizing in my How to Size Roller Skates article.
Can roller derby skates be used outside?
Yes! If you buy an extra pair of outdoor wheels (78A durometer), then you can easily switch out your indoor roller derby wheels for outdoor wheels and use all the rest of your skate in both places. Many advanced skaters have multiple sets of wheels and bearings to make the process of switching wheels quick and painless.
Does roller derby use quad skates or blades?
Almost all roller derby skates and skaters use quad roller skates.
What are the best brands of roller derby skates?
Riedell, Sure-Grip and Bont make some of the best skates for roller derby and other roller sports, too. They are some of the oldest skate manufacturers around and their products can be trusted,.
How much do roller derby skates cost?
There is wide range on price for roller derby skates. You can get an absolute beginner pair of Crazy Skates for under $100. Many of the other beginner derby skates are around $150. The intermediate skates are in the $200-$300 range. The more advanced / elite skates start at around $400 and can easily exceed $800+ with all of the customization that some skaters do.
Check out my how much are roller skates article for more information on pricing of the top skate brands.
Want to Learn Even More About Skating?
Want more reviews on roller skates? Check out my Best Roller Skates page for a list of all of the quads I recommend. I also have pages for roller skates for men, roller skates for women and roller skates for kids where I recommend the best skates on the market today for each group. Or, check out my roller skates for beginners if you are completely new to roller skating.
Or, if rollerblades or inline skates are more your style, then check out my rollerblades for men, rollerblades for women or rollerblades for kids pages. Or, if you are completely new, check out my rollerblades for beginners page.