If you love to jam and are looking for the best roller derby wheels on the market today, then this article is for you. Whether you are trying to take out the opposing team's jammer or you're trying to score a grand slam, your roller derby skate wheels are the most important piece of equipment on your roller skates.
And there are so many wheels to choose from. Derby wheels that come in all kinds of wheel hardness scales, colors and sizes. Wider wheels for extra grip and speed. Narrow wheels for faster maneuverability. Taller wheels for more speed. Smaller wheels again for more agility and quick changes of direction. It can be kind of head spinning with all of the various choices.
Fret not! Below I have the top 10 best wheels for roller derby and then follow that up with a detailed buying guide to help you pick out of the best roller derby wheels.
Also, be sure to check out my article on the Best Roller Skate Wheels where I go over 16 of the best wheels on the market today for all kinds of roller skating. That article also has my Top 10 Tips for Picking Out the Perfect Roller Skate Wheels in it, too.
Ok, lets talk roller derby wheels! Let's get started!
My Top 10 Best Wheels for Roller Derby
If you want one of the best roller derby wheels on the market today, then Sure-Grip's Zombie wheels should be your choice. They have a wide range of durometer choices with a 89A-98A range – a perfect range for almost all indoor surfaces and skating styles.
The wheel also comes in 3 different wheels profiles including Max, Mid or Low. Max is 62mm x 42mm, the Low 59mm x 38mm and the Mid is 62mm x 38mm wide.
Plus, they sport an aluminum core for full power of your pushes to the wheel. This aluminum core also just makes the wheel a lot tougher. They stay more round and can really take a beating.
Wheel Features at a Glance
What I Like
These are my favorite roller derby wheels.
They come in a variety of different durometers so you can match up your surface and wheel hardness easily.
There are 3 different wheel profiles allowing you to increase speed (Max) or maneuverability (Low) to suit your needs.
What I Don't Like
These wheels also don't always match the colors in the photos on Amazon and Roller Skate Nation. This is due to the wheel colors being a little different on every press run. So, understand you are getting an awesome wheel and don't get too butt hurt if the red turns out to be a little more magenta.
---
The Savant by Atom Wheels is our runner-up for best roller derby skate wheels. These top of the line urethane wheels are one of the lighter wheels on the market coming in at just 68 grams! This is due to their being less urethane on the wheel and Atom's superior, new core design. If you are after light wheels, then these are some of the best out right now.
The Savant is also one of the top selling roller derby wheels around. It comes in 6 different durometers making a wheel for most indoor surfaces and skating styles. It also comes in 2 different profiles – 59mm x 38mm and a new wider 62mm x 40mm. The smaller profile gives the player a faster range of motion and the larger profile will give you more speed and stability.
Wheel Features at a Glance
What I Like:
If you want a light wheel, then this is your pick. 68 grams per wheel is pretty light for a derby wheel. This is due to the special hollow nylon core.
6 different durometers really allow you to dial in the right one for you and your surface. Or, pick 2 different durometers and use some advanced wheel configurations to give you a great balance between speed and stability.
These wheels were originally only made in 59mm × 38mm, but Atom realized they needed a bigger speed wheel so they now also offer the 62mm × 40mm.
What I Don't Like:
They are so popular that they are often sold out. So, get yours now!
---
Next up, we have our first wheel by Riedell called the Halo. This roller derby wheel comes in a wide range of durometers (10 scales on the nylon wheel) making it perfect for any indoor surface (and some outdoor surfaces, too)!
The Halo also comes in 2 versions. There is the regular Halo version that comes with a nylon core and 10 different hardness scales. Then, there is the aluminum Halo Alloy that comes in 5 different durometers.
Both wheels sport a smaller 59mm x 38mm profile. This makes the Halo a nice middle-of-the-road wheel. You're not going to get the same top speed as you would with a 65mm wheel, but you will get more agility on the track in this size profile.
Wheel Features at a Glance
What I Like:
Variety! You have a choice between nylon or aluminum alloy for your core. Then, you have 10 durometer choices for the nylon version and 5 choices for the alloy version.
Made by Riedell, one of the oldest, premier roller skate manufacturers.
What I Don't Like:
They are very popular and are often sold out right now during the pandemic.
---
Next up, we have a new kid on the block from Sure-Grip called the Monza. These wheels are one of the newer wheels made by the skate manufacturer and they are geared toward derby players and speed skaters.
This wheel is a combination of the Sure-Grip Zombie and the Hyper Cannibal wheels – two of Sure-Grips' most popular wheels. It has the grip of the Zombie wheel and the overall profile and top speed of the Hyper Cannibal.
It comes in three different hardness scales – 93A, 95A and 98A. The 98A will give you top speed with more slide and the 93A will be a bit slower but with more grip. The wheel is pretty tall and very wide coming in at 62mm x 42mm. If you want speed, that is great. If you are looking more for agility, then this probably isn't the wheel for you.
It has an aluminum core which is great for extra speed and wheel strength. It will make the wheel a little bit heavier, but that's pretty unnoticeable. These roll really well. It also comes in 4 different colors and you will typically found them sold in 8 packs online.
Wheel Features at a Glance
What I Like:
Nice wheel profile for speed. Super wide and pretty tall.
Durometer range is perfect for speed and most indoor surfaces.
The Monza's blend of the super popular Sure-Grip Zombie and Hyper Cannibal wheels means this wheel is likely to become very popular over the next few years. Both the Zombie and Cannibal are some of Sure-Grip's best wheels. The Monza will be the next on that list.
What I Don't Like:
A little too wide for some derby players who want more agility. At 42mm, these are some of the widest derby wheels we've seen. The overall speed of these wheels, though, can't be beat. If you like to speed skate and play derby, the Monza is right for you.
---
Next up, we have the Radar Morph wheels by Riedell. These unique wheels are really cool because they have 2 different durometers in the same wheel! The smaller, outer band of each wheel is softer allowing it to really stick on jukes and crossovers. The larger, inner band is harder. A great solution for really uncooperative floors.
This is a great alternative to the Advanced Wheel Configurations I mention below. Instead of half your wheels being soft and the other half being hard, you can just get a set of Morphs and you have 2 durometers in the same wheel. A lot of derby players really like them.
These wheels also have a smaller profile coming in at 59mm tall and 38mm wide. This is a nice size for agility without sacrificing speed. They come with a nylon core that is light weight. They also are sold in 4 packs online when you can find them. They are often sold out.
Wheel Features at a Glance
What I Like:
I think the 2 durometer design in the same wheel is really cool and unique.
Great for all different kinds of surfaces – even the trickier ones.
Good wheel profile for agility without sacrificing too much speed.
What I Don't Like:
Hard to find online. Often sold out.
---
The Sure-Grip Fugitive is one of the long-time, most popular derby wheels ever. It is made right here in the USA and has a lot of grip for indoor surfaces. It comes in 3 different durometers and 4 different colors. The lower durometer makes this one of the grippiest wheels around.
It is a soft urethan wheel with a flexible core with tapered edges. The wheel also has a super wide profile coming in at a whopping 44mm. That is the largest profile on this page. The 62mm diameter also gives this wheel a really solid roll.
Wheel Features at a Glance
What I Like:
The grip on this wheel is unmatched. It is super grippy.
The 44mm profile is super wide. Along with the super grip, you will be stable on these wheels.
Made here in the USA.
What I Don't Like:
The 44mm profile can really hamper your agility and make it easier to clip other skaters' wheels.
---
Next up we have another wheel by Atom – the Poison Savant. This is a combination from Atom Skates of their popular, super grippy Poison wheels mixed with their new Savant nylon hollow core design. This makes the Poison Savant super grippy (84A) and really lightweight, too.
This is a hybrid wheel that can easily be used indoors or outdoors. It has a nice profile coming in at 59mm tall and 38mm wide. Perfect for agility without sacrificing a lot of speed.
They come in a variety of colors and are sold in 4 packs.
Wheel Features at a Glance
What I Like:
If you love the old Poison wheels but want more speed and response, then this is your derby wheel.
The hybrid model really makes this a good sticky indoor wheel – and can even be used outdoors on most smooth surfaces.
The Savant nylon core really is a nice design and makes for a lighter wheel.
What I Don't Like:
Only one durometer at 84A. It would be nice to have a little more choice. But, this is the original Poison durometer, so it makes sense that only one is offered.
---
Next up, we have the Rollerbones Turbo wheels. These are some of my favorite speed skate wheels and they also double nicely as a roller derby wheel. They come in a variety of durometers that make them perfect for a lot of different indoor surfaces.
These indoor wheels sport aircraft grade aluminum cores which make them great for transferring the full force of each of your pushes to the wheel. This aircraft grade aluminum is also super lightweight compared to other aluminum cores. This helps to make the wheel roll faster without a ton of weight added to your skates. If you are into speed skating or roller derby, then the Rollerbones Turbo are a great pick.
Made in the USA, these quad wheels have good grip and are perfect for a smooth surface. Remember that the softer the wheel the more grip your wheels will have overall. And a hard wheel is more for advanced skaters as it will provide less traction but will roll faster. These are some of the top performing wheels on the market today.
Wheel Features at a Glance (table)
What I Like
My favorite overall speed skating wheels. They double as a good derby wheel.
With 7 different wheel hardness grades, it makes it easy to pick the right one for the right surface.
The aluminum core makes for a super strong wheel that is perfect for speed skating, roller derby and for getting the most out of each push. The skate bearings snap into these wheels pretty easily, too.
What I Don't Like
The only downside is that this wheel is so popular that it can be hard to find in stock. If you do find it in stock, be sure to grab a set because they sell out often.
---
Next up, we have the Bont Evolve. These wheels come in 4 different different durometers ranging from 88A – 98A making this wheel good for most indoor surfaces. The wheel has a hollow nylon core that makes the wheel super lightweight – only 70 grams!
The wheel profile measures in at 78mm x 38mm making it perfect for solid speed and agility while playing derby. It is also sold in 4 colors – blue, purple, red and black. Also, these wheels are sold in 4 packs, so make sure you have 2 packs if you need wheels for both skates.
Wheel Features at a Glance
What I Like:
A variety of different durometers to choose from.
Great for a lot of different indoor surfaces.
Only weigh 70 grams.
Nice wheel profile at 59x38mm giving you good agility on your wheels.
---
Finally, we have the Day of the Dead wheels by Rollerbones. These wheels are super cool and have a portrayal of a skeleton on each wheel. They come in a variety of different durometers including 80A and 86A which double as a hybrid wheels that could even be used outdoors. All of the 90A+ wheels are great for indoor derby.
The wheels comes in a 62mm x 38mm profile. The tall diameter helps with extra speed. The thinner profile helps with agility on the track.
Wheel Features at a Glance
What I Like:
The Day of the Dead design is really cool and unique.
The wide choice of durometer make the wheel super easy to find the right one for the right surface and skating style.
What I Don't Like:
The 80A can be difficult to find online, but they do exist. You just have to hunt for them.
---
The Ultimate Roller Derby Skate Wheels Buying Guide
If you are after great wheels for your roller derby skates, then you have to know what to look for before you choose wheels. Roller skate wheels come in a variety of different durometers (soft wheels vs hard wheels), materials, diameters, width, hubs, colors and more.
Lets break it all down so you make the right choice!
Roller Skating Surfaces vs. Hardness of Your Skate Wheels vs. Skater's Weight
This is by far the most important aspect of picking the right wheels. I'm going to break it down in a lot of detail below, but it's pretty simple.
Softer wheels work better on rough surfaces (like outdoor asphalt). Softer wheels also work better on super slick surfaces. Harder wheels work better on indoor, grippy surfaces. That's it in a nutshell, but the devil is always in the details.
Read below for more.
Skating Surfaces
Matching up your skating surface to your wheel choice is important.
Outdoor
If you are outdoor skating, trail skating or skating on asphalt, then you are going to want a 78A wheel. The 78A durometer wheels are the best outdoor roller skate wheels because they roll over small pebbles and debris effortlessly. Outdoor roller skate wheels also roll smooth on rough surfaces which keep your legs from jiggling a lot on asphalt. This helps to prevent you from getting tired. On polished concrete and roller rink surfaces, they will roll slower but give you a lot more grip. So, make sure you have soft wheels for your outdoor roller skates.
Grippy
If you are on sticky floors like coated roller rink floors, then you can go with a much harder wheel depending on whether you are after precise grip or more speed. If you are seeking more speed, then go with the harder indoor roller skate wheels (97A+). Just realize your feet will slip more on harder wheels. If you want more grip, then go with something in the 90A-96A range.
Slick
On slick, uncoated wood floors or polished concrete, your feet will slide out from under you a lot on harder wheels. If you are on these types of surfaces, stick with wheels in the 84A-92A range. These are also known as hybrid wheels because they work good both indoors and outdoors.
Regular
On sports courts you get a little of both grip and slide. On these surfaces, wheels in the 88A-96A range are perfect for roller derby.
Wheel Hardness
The three traits you need to look at to pick out the perfect roller derby wheels are: a wheel's hardness or durometer, what kind of surface you skate on (covered above) and finally how you skate (or want to skate). Let's go over wheel durometer or hardness in more detail.
Softer Wheels
Soft wheels are great for outdoor roller skates. They give better traction because they are made of soft urethane which provides more wheel flex – more of your weight pushes down into the surface of the wheel causing you to maintain traction.
Also, the softer the wheel the less your legs will jiggle on rough asphalt. On the flip side, the downside to soft wheels is they go slower. So, you have to make the tradeoff between speed, stability and a smooth roll.
Softer wheels range between 78A-84A.
Harder Wheels
Harder wheels deliver maximum speed and are traditionally only used for indoor skating. If you skate indoors, then a harder wheel is what you will want on your roller skates. Harder wheels are almost the complete inverse of softer wheels. They provide more speed overall because they keep their shape better under your weight. This gives them a better overall roll. This is why inline speed skate wheels are typically taller and harder – for more speed.
On the flip side, they will jiggle a lot on rough surfaces like asphalt – and this will tire you out more quickly. They are also less forgiving of debris and small pebbles. However, if speed is what you are after, then you want a harder wheel.
Harder wheels range between 92A-103A.
Hybrid Wheels
Then, we have the hybrid wheels. These are wheels that could be used both indoors and outdoors. These wheels typically fall in the 84A-92A range and provide a little faster roll with more jiggle outdoors and a slower, more stable roll indoors.
Some beginner skaters really like hybrids because of this dual purpose and they can take one set of wheels anywhere. However, the more experienced you get playing roller derby and just roller skating in general, the more you will realize you need multiple sets of wheels for different surfaces and types of roller skating.
Skater Weight Matters: Lighter vs. Heavier Skaters
Next, your weight also plays a roll in what wheels are best for you. Ah, yes, gravity. If you are a heavier skater, then you automatically achieve more grip because you are putting more weight onto your wheels. This means you can go with a slightly harder wheel and still achieve the grip you are after.
However, if you are a lighter skater, then you can get by with slightly softer wheels because you have the opposite situation – you don't have as much weight pushing down on your wheels into the surface so a harder wheel will slide more on you.
Wheel Width Up Close: Narrow Wheels vs. Wide Wheels
Next, lets talk about the width of your wheels and why that's important. Your wheel's width is a balance between balance, agility and speed.
Wide wheels typically start at 40mm wide and have more contact patch (the urethane surface area touching the ground). This gives you more wheel to push off from giving you more speed. It also provides more stability while sacrificing maneuverability. You also have the downside of clipping other roller derby players more easily because of the width of your wheels.
On the other hand, narrow wheels start at around 38mm and go down in size. Narrow wheels provide less stability, less speed but a lot more maneuverability. They allow you to pivot, change directions and cut across the line quickly. They also have the upside of being smaller so you don't clip other players.
Wheel Diameter Deep Dive: Taller Wheels vs. Smaller Wheels
Next, we have the height of your wheels to consider – also known as wheel diameter. With wheel height you have two competing forces: acceleration vs overall top speed.
It takes less effort to accelerate on smaller wheels. On larger wheels, it takes more effort to accelerate. However, larger wheels maintain their speed better and smaller wheels will take a lot more work to achieve that same top speed you can achieve on larger wheels.
This is one reason why almost all hard-core speed skaters have moved away from quad skates and to inline skates with 100mm+ high inline speed skate wheels. A taller, harder wheel is just way faster than a shorter, softer wheel. It's science! Physics, baby!
Most roller derby wheels will come in 59mm, 62mm or 65mm varieties. Just remember that the taller 65mm will roll longer with less effort whereas the 59mm will accelerate faster.
Core & Hub Style: Nylon Hub vs. Aluminum Cores
Next, we have the core or hub of the wheel. Your roller skate bearings slide into the hole in the core. There are 3 main types of cores: hollow, nylon and aluminum.
Nylon
Nylon is plastic and so therefore it is less expensive than aluminum. Its also lightweight compared to traditional aluminum. However, nylon wheels provide less overall speed because these wheels flex more under your weight.
Aluminum
Aluminum core wheels are more expensive than their nylon counterparts. Aluminum cores can also be heavier than their nylon counterparts. However, in a lot of higher end roller derby wheels, aircraft aluminum is used which makes wheels with this special material equal to their nylon counterparts in overall weight.
The main difference between nylon and aluminum cores is that aluminum provides a lot more speed because they roll longer. They don't flex like nylon cores. The aluminum also helps with transferring the power of each of your pushes fully into your wheel.
Heavier skaters will also do better on aluminum core wheels. They can just take a lot more wear, tear and abuse than the other cores mentioned here. This is why you see them in all of the top wheel mentioned above.
Advanced Wheel Configurations for Roller Derby Greatness!
Every roller derby player is trying to find that elusive zone between top speed, ultimate stability and maneuverability. Being able to do all 3 of these traits well will make you a dominant player.
To help achieve this goal, many derby players tinker with different wheel configurations. They will use harder speed wheels to gain maximum speed and use softer pusher wheels to keep them stable and provide more grip.
One of the reasons roller derby wheels are sold in 4 packs instead of 8 packs is because many roller derby players mix and match their wheels into various wheel configurations to achieve a perfect balance between speed and stability.
Below are a few wheel configurations to help you achieve your peak performance: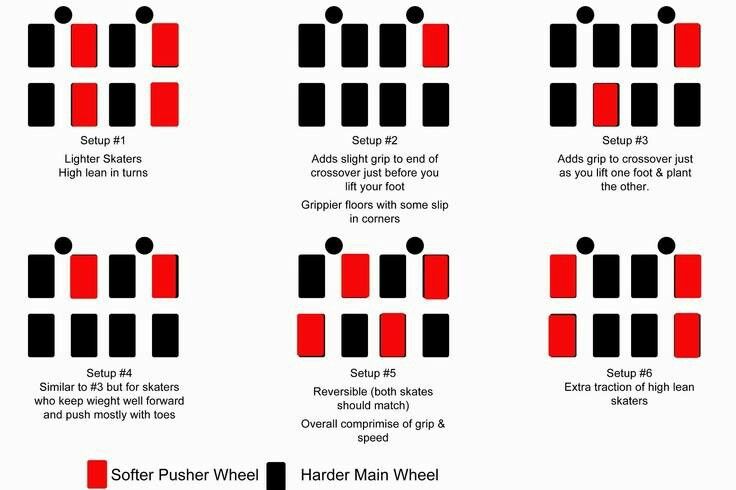 For a much more detailed discussion on wheel combinations, check out this link.
Want to Learn Even More About Skating?
Want more reviews on roller skates? Check out my Best Roller Skates page for a list of all of the quads I recommend. I also have pages for roller skates for men, roller skates for women and roller skates for kids where I recommend the best skates on the market today for each group. Or, check out my roller skates for beginners if you are completely new to roller skating.
Or, if rollerblades or inline skates are more your style, then check out my rollerblades for men, rollerblades for women or rollerblades for kids pages. Or, if you are completely new, check out my rollerblades for beginners page.