If you love to do freestyle, dance and figures, then you know you need the very best to compete at the top of your game. Well, today, I'm going to breakdown 12 of the best artistic roller skate wheels on the market today.
I will go over each of my picks broken down by type of art skating (dance, figures or freestyle) and which wheels are best for each event. Then, I'll give you a handy guide that will go over some of the aspects you need to think about before you select your next set of artistic skate wheels.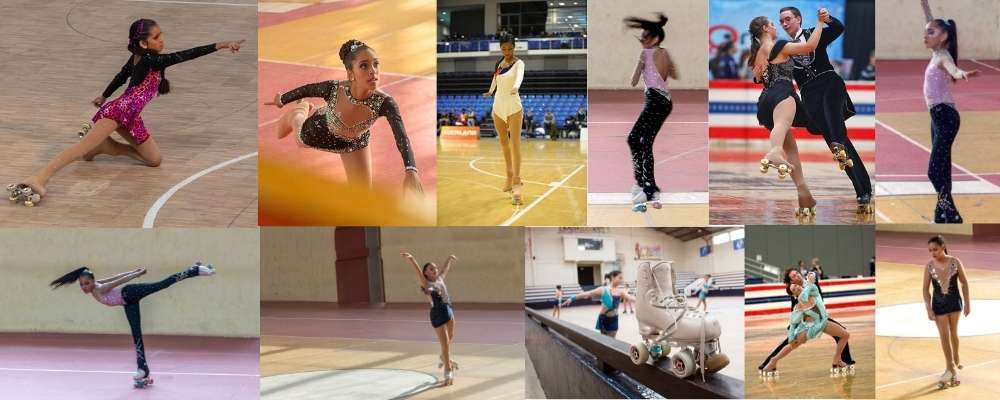 My 12 Top Picks for the Best Artistic Wheels
---
Detailed Reviews of the Best Artistic Skate Wheels
If you want some of the best artistic roller skate wheels around, then you want to check out Roll-Line Professional and Professional Light. These wheels are made specifically for freestyle skating and are great for spinning, jumping and strong edges.
These artistic skate wheels are used by most world and national freestyle champions. That's why they are #1 on the list. They are also made from Roll-Line – an Italian company that makes all kind of roller skate products but has a great reputation when it comes to high-end artistic skates.
They come in two different diameters – the Professional 57mm and the Professional Light 55mm. The larger wheel is better for a little more speed while the Light wheel will give you a little more agility.
These urethane wheels also comes in 4 different durometers / wheel hardness. The more grippy, softer Fox 92A are good for slippery rink floors whereas the Leopard 99A would be better for rink floors that have a lot more grip.
I usually went with hard wheels for competition because the rink would always recoat the floor and make it extra sticky right before a meet. Harder wheels make it easier to spin. However, there are enough durometers here for all your freestyle needs.
---
2. Roll-Line Devil – Best Skate Wheels for Freestyle (Runner-Up)
Next up, we have the Roll-Line Devil for freestyle roller skating. These wheels are special because they are not made of urethane. Instead, they are made from a patented, mixed-compound elastomeric formula that is instead measured using a D durometer instead of the typical shore A durometer.
These roller skating wheels are designed to be used on many types of extremely slippery skating surfaces including standard wood floors coated with plastic or poly urethane. However, it's also good on surfaces like tile, sports courts and even smooth concrete surfaces.
These wheels all come in a standard 57mm diameter which is good for freestyle skating and the 3 different durometer ratings. The 36D will be the softest better for slick surfaces. The 42D will be for those surfaces that are tighter – like a wood floor coated in plastic.
These artistic skate wheels are used a great deal internationally, where there are few indoor skating centers like there are here in the USA. Even though a number of rinks here have closed, we are still very lucky to have so many roller rinks here in the States.
---
3. Roll-Line Boxer – Best Artistic Roller Skate Wheels for Freestyle (Bronze)
Like the Devil wheels above, the Roll-Line Boxer is another freestyle art wheel that is made with a mono-compound elastomeric ThermoPlastiche formula that is special to Roll-Line. This wheel is also measured on using a D durometer instead of an A scale that is used for urethane wheels.
These indoor skate wheels are specifically made for beginner artistic skaters who need a wheel that can be used for figures, dance or freestyle. They are specifically made for freestyle, but can be used in the other 2 events, as well (see below though for better wheels for figures and dance).
These are entry-level 57mm wheels that come in 2 different wheel hardness ratings – the pink 57D or the cream 61D. The pink wheel will be a little softer and provide more grip on slicker surfaces.
---
If tracing those circles on the floor is more your style, then the Roll-Line 63mm Giotto is what you are after. These are the premier figure wheels on the market today and worn by many national and world champions.
This mono-compound elastomeric ThermoPlastiche wheel comes with a taller 63mm diameter and comes in 4 different D durometers. The Giotto Professional Figure Wheels are primarily used for the long, large figure circles, but can also be used for loops, too.
Figures and loops is such a high precision skill. And, Roll-Line has developed this wheel with a slimmer profile and more grip. This gives you just what you are looking for when you are trying to hold your edge and perfectly trace those lines.
---
5. Roll-Line Magnum – Best Artistic Skate Wheels for Figures (Runner-Up)
If you are looking for a great figures wheel that can also be used for dance events, then check out the Roll-Line Magnum. These artistic skate wheels come in a 63mm diameter that is a perfect height for giving you the roll you need to trace the large circles and has great grip for loops and loop circles.
The Magnum are a less expensive version of the Giotto mentioned above. However, they can also be used for those just starting out with dance events. However, these wheels are primarily used for loop circles and loops.
---
6. Roll-Line Ice – Best Artistic Roller Skate Wheels for Dance
If you are into dance and only the best will do, then check out the best dance roller skate wheels – the Roll-Line Ice. These ultra-light dance wheels are perfect for nailing that waltz, foxtrot or tango like a boss. This top of the line set of dance artistic skate wheels is made of a tri-compound polymer formula urethane.
This is the dance wheel worn by most national and world champions today who compete in both solo, couples and group dance events. This wheels has incredible smoothness, tight grip, low noise and has a super roll, too. Roll-Line is able to achieve all of this because they used 3 different polymers in their urethane to bring out all these attributes.
These artistic skate wheels come in 5 different durometers making them perfect for any surface. They also come with a 63mm height making them perfect for dance or even as a high-end recreational or rhythm skating wheel.
---
7. Sure-Grip Royal – Best Sure-Grip Artistic Indoor Skate Wheels
Next up, we have one of the best artistic roller skate wheels from Sure-Grip – the Royal. These artistic skate wheels are great for beginner freestyle skating with a 57mm diameter and a 101A hard durometer. They also come in a cool, whiskey clear color.
Sure-Grip makes some of the best roller skate wheels on the market today, and the Royal certainly belongs on that list for art skating.
---
8. Sure-Grip Fame – Best Sure-Grip Artistic Roller Skating Wheels (Runner-Up)
Next up, we have another great set of Sure-Grip artistic skate wheels for beginners – the Fame. These wheels come in 2 different hardness ratings (95A or 97A) and have a 57mm diameter – making them great for freestyle skating.
They also come in a variety of colors and style. There are the clear wheels that come in 4 different colors. Then, there are the solid color wheels that come in 7 different colors. The clear wheels are 97A durometer and the solid wheels are 95A durometer.
If you are just starting out and want a great beginner pair of indoor skate wheels for art skating, then the Fame wheels are a great jumping off point.
---
Next up, we have the Sure-Grip All-American Dream. These are some of the best rhythm skating wheels on the market today and are sometimes hard to find because they are very popular. They come in a 101A durometer that is nice and hard – maybe too hard for some artistic skaters….but I like my art wheels hard.
The Sure-Grip wheels are made from vanathane – a special clay-like compound making them hard. They roll well and are very easy to spin on – even on sticky rink floors.
---
Another great set of artistic skate wheels are the Roller Bones Elite. These are some of my favorite artistic skate wheels out right now – whether you are a professional skater or a casual artistic skater (like me).
They are super slick, roll well but also have a good amount of grip once you get used to them. I even used to speed skate in these bad boys at speed practice. No joke. 🙂
They come in 2 different diameters and durometers. The 57mm are geared towards artistic skaters looking for a great roll and increased agility. The 62mm is more for people like me who want a good art wheel but also want a faster roll.
If you are just getting started in art or you don't like / can't get a set of Roll-Line wheels, then check out these Roller Bones wheels. I even wrote a whole article about them talking about how much I love them here.
---
Next on my list are the Roller Bones Team Wheels. These wheels have been out now for over 40 years and they are still great for artistic skating. They come in a 98A or 101A durometer giving you a choice of how much grip you need for your indoor skating.
The Roller Bones Team Wheels also come in two different diameters – 57mm or 62mm. The taller wheel is going to give you more roll and a faster overall speed. The smaller wheel will give you more agility and quicker acceleration.
Roller Bones team wheels have proven competition shapes poured in a high rebound, easy to ride, medium hard, long-lasting formula. Roller Bones has an excellent reputation and are best known for their quality and innovative products and is known for making some of the world's finest skateboard products, too.
If you want some great wheels for your artistic roller skates, then check out the Roller Bones Team Wheels.
---
12. Sonar Riva – Best Riedell Artistic Skate Wheels
Last but certainly not least, we have the Sonar Riva artistic skate wheels. This set comes from Riedell – one of the leading skate manufacturers here in the US.
The Riva are a set of beginner artistic skate wheels that have a good 96A durometer and a 57mm x 32mm profile. They are sold in 4 different colors and often sold in 4 packs (so be sure to buy 2 sets).
They are a good affordable art wheel where a complete set is less than $50. At that price, they also are good for recreational skating, too.
---
The Ultimate Guide to Artistic Wheels for Roller Skates
In this guide, I'm going to go over all of the important aspects of the best artistic roller skate wheels. I will cover wheel height (or diameter), the wheel hardness (or durometer) and your skating surface.
Finally, I'll discuss picking the right wheels for your event: whether you are doing freestyle, dance or figures. Let's go over all of the details below so you can get rolling in your new wheels!
The Importance of Wheel Height (or Diameter) Explained
Artistic skate wheels come in a variety of different diameters. Whether you go with short or tall wheels makes a difference depending on your event. Lets discuss both below.
Short Wheels
Most roller skate wheels come in a variety of diameters. However, shorter wheels provide a skater more agility, quicker acceleration and maneuverability while sacrificing speed.
For freestyle skaters, most want a shorter wheel in the 55mm-57mm range. You will see that many of the high-end Roll-Line artistic wheel products mentioned above fall within that range.
Tall Wheels
Taller wheels are typically used for figures. When you are tracing circles and loop lines on the floor, you need a narrow, taller wheel to maintain your speed around the circle. Taller wheels have less maneuverability and acceleration, but have a longer roll and keep your speed for longer.
Many dance wheels are also taller to provide for more speed while doing your waltz, foxtrot or tangos, but this is really more up to the skater and their choice of preferred artistic wheel.
Narrow Wheel Width
Almost every artistic wheel has a narrow width. Most artistic skaters want a narrow wheel because it makes a big difference in being able to slide, spin and maneuver the wheel quickly against the floor. This makes the skate easier to turn and give the artistic skater ultimate agility.
On the flip side, roller derby, jam and quad speed wheels typically are much wider wheels. This wider wheel base gives each of these skaters more material touching the surface for pushing and gaining speed. When artistic skating, on the other hand, you want less grip, a super smooth roll and ultimate agility.
Wheel Hardness (or Durometer) Deep Dive
Hard Wheels
Most artistic wheels will fall in the hard wheel category. Hard wheels are best for smooth indoor surfaces like wood floors, sports courts and smooth concrete. Whether you are rink skating or skating on sports court, you're likely after a hard wheel for art skating.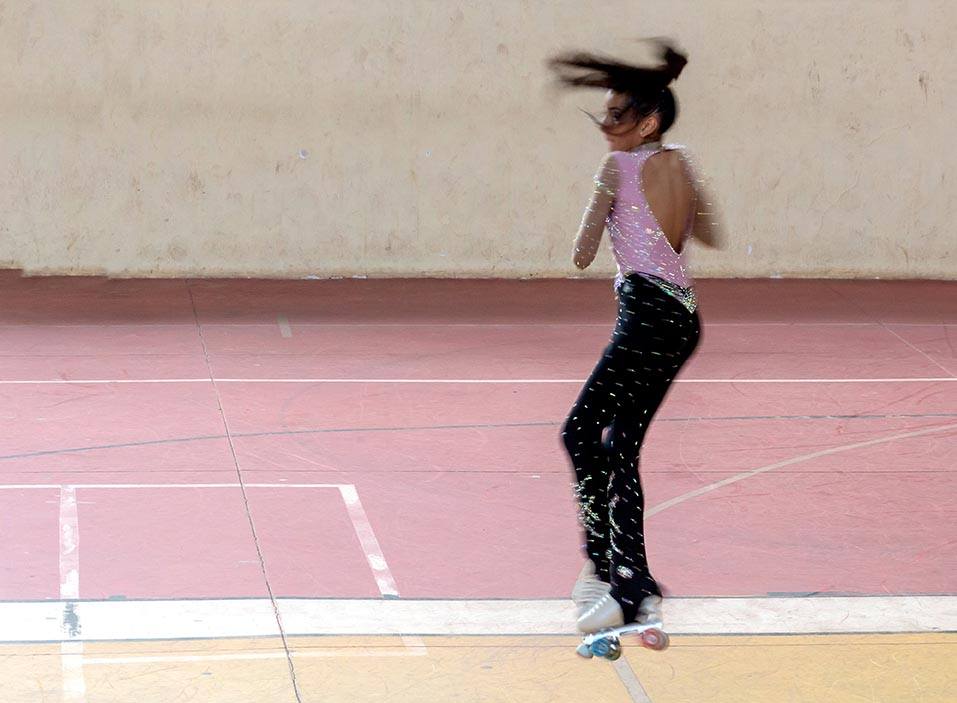 Art skaters typically like very hard wheels. This is because a hard artistic wheel really spins and slides easier against it's surface. It is also harder to control and hold edges without your feet slipping out from under you. However, this is why art skaters work diligently day in and day out on their balance. Artistic roller skating is all about balance.
Soft Wheels
Softer wheels (in the 78A-82A range) are typically used either on very slick surfaces or for rough surfaces when outdoor skating. Outdoor roller skate wheels typically are softer so that you can roll on concrete and asphalt easily without your legs jiggling. For artistic wheels, most are going to be classified as hard wheels.
Generally, a softer wheel will roll smoother than a harder wheel when outdoor skating. It will also roll slower than a harder wheel. However, it will provide more stability and more grip on all surfaces. This is why softer wheels are typically much better for beginner skaters.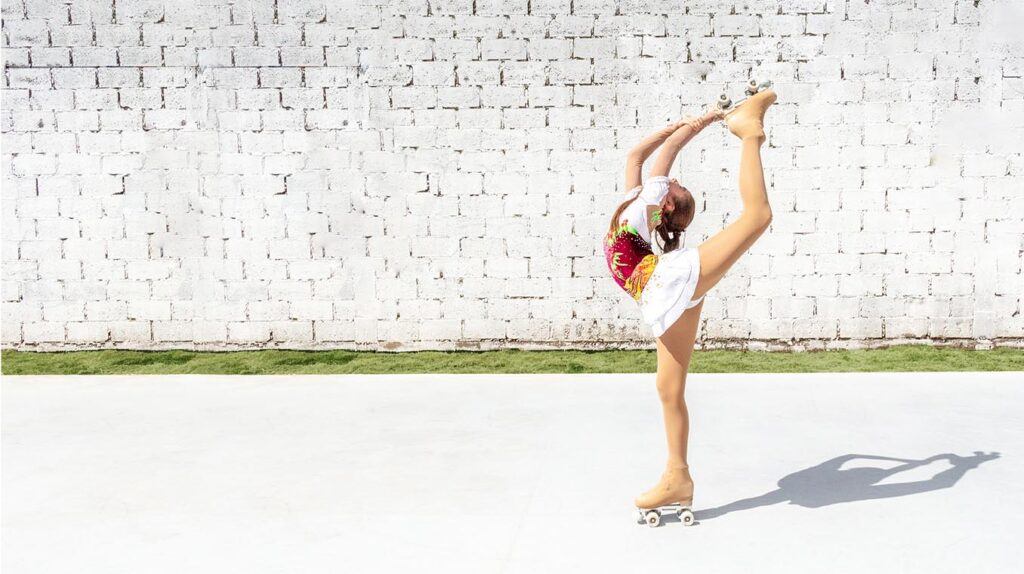 Skating Surfaces Deep Dive
Indoor Surfaces
Here in the US, a lot of artistic roller skating is done indoors at roller rinks. However, this is not always the case internationally. While the amount of roller rinks in the US has been declining, we still have more rinks than any other country in the world.
Most smooth indoor surfaces include materials like wood, sports court, smooth concrete or tile. Most artistic skating is done either on wood or sports court, but it really depends on the country you live in and what's available to you.
You then want to match your skating surface up with the wheels that you want to use. Harder wheels will be better for surfaces with a little more grip – like sticky coated wood floors and sports court. Softer wheels will be needed if you are skating on slick tile.
Outdoor Surfaces
As there are not many roller rinks in international countries, some artistic skaters have taken to performing outdoors. Sports court and smooth concrete tend to be the most popular surfaces for outdoor artistic skating. Again, match your wheels durometer up with your skating surface. Go with a harder wheel if your surface has a little pit of grip. A slightly softer wheel if your surface is super slick.
Picking the Right Wheels for Dance, Figures or Freestyle
Dance
Dance wheels can vary based on your skating surface and the skater's preference. The Roll-Line Ice wheels mentioned above are some of the best dance wheels in the world. They are used by many national and world champions. These wheels are on the tall side 63mm and are hard ranging from 88A-97A in durometer.
The extra height gives the dance skater more speed and a longer roll while sacrificing a little agility. I used to skate dance in a smaller 57mm wheel when I competed. The downside to these smaller wheels are they are harder to keep at top speed but do provide more agility and easier turns.
Figures
Most wheels made for figures are also going to be on the narrower and taller side. The Roll-Line Giotto mentioned above are 63mm in height, which is a fairly decent height for a quad wheel.
The upside again of this taller wheel is it will roll longer. In figures, you usually only get that one push to make it all the way around the circle. You want to make sure your wheels are going to roll well and long.
Freestyle
For freestyle skating, you typically want a shorter, harder set of wheels, but again how short and how hard are really determined by your skating surface and skater's preference.
Most of the high-end artistic wheels mentioned above fall somewhere in the 55mm-57mm range. These smaller wheels really give the art skater a lot more maneuverability on their skates. However, some art skaters like taller wheels for more speed. It really is up to the skater.
Want to Learn Even More About Skating?
Want more reviews on roller skates? Check out my Best Roller Skates page for a list of all of the quads I recommend. I also have pages for roller skates for men, roller skates for women and roller skates for kids where I recommend the best skates on the market today for each group. Or, check out my roller skates for beginners if you are completely new to roller skating.
Or, if rollerblades or inline skates are more your style, then check out my rollerblades for men, rollerblades for women or rollerblades for kids pages. Or, if you are completely new, check out my rollerblades for beginners page.