There is nothing more fun then watching your child put on a pair of rollerblades and go inline skating in the park with the family for the first time.
And, rollerblades have come a long way since the 1980s. Today, there are even rollerblades for the littlest roller skaters so they can also explore and enjoy their roller skating time with the family. So, if you're looking for the best rollerblades for kids, you've come to the right place!
---
In a Hurry? Here are the Best Inline Skates for Kids
My top pick for best children's inline skates goes to the Rollerblade BladeRunner Phoenix. This is because it is made by a leading manufacturer of inline skates, Rollerblade, and it's made of high quality parts at an affordable price.
They come in three different adjustable sizes ranging from 12J all the way up to size 8. They also come in two different colors. Plus, more importantly, you can get them for less than $100 at the time of this writing. Click here to read more details about this roller skate.
---
Now, lets get into the details. In today's article, I'm going to give you a run down of the best rollerblades for kids. In my top 20 list below, I cover both traditional rollerblades and some of the best adjustable inline skates on the market today.
Adjustable skates allow you to quickly and easily adjust the size by 2-3 sizes with the push of a button. A feature that is especially useful for younger kids whose feet are always growing. The first 13 rollerblades in my list are all adjustable. The last 7 rollerblades for the bigger kids are traditional, non-adjustable inline skates.
After I give you my list, I also have a detailed buyer's guide at the end of this article that will go into all the specifics you need to know to pick out the best inline roller skates for your child. In it, I'll cover all the parts that make up a great pair of inline skates – boots, frames, wheels, bearings and toe stops. I'll also cover adjustable roller skates, inline skate wheels and protective gear in a lot more detail.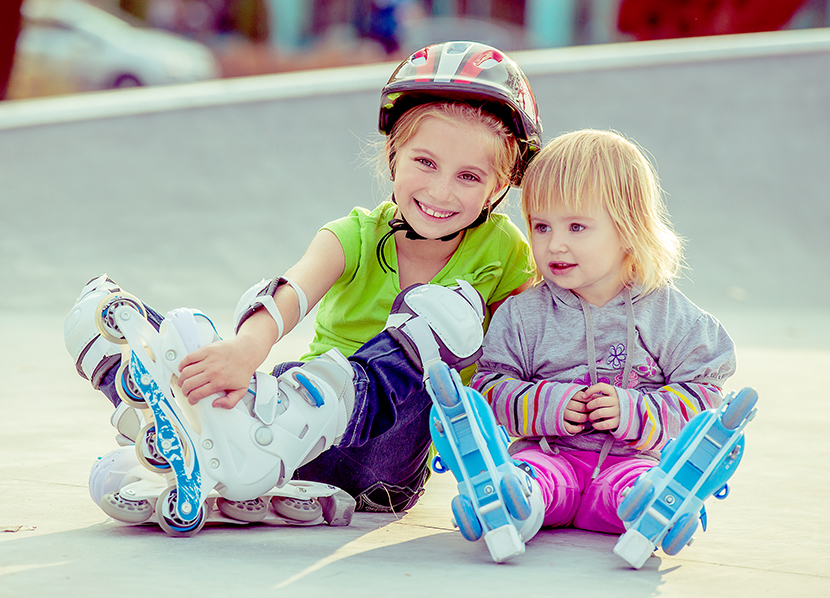 I'm only going to be covering inline skates in this article. So, if you are looking for quad skates, please check out my Best Roller Skates for Kids page where I go over the the best youth roller skates. Or, if you're not sure which are best for your child, then check out my Rollerblades vs Roller Skates vs Inline Skates page.
If you want more information about inline skates for yourself or others, check out my Rollerblades main page that has details about the best inline skates for adults, kids and all types of skating. I also have another page where I go over the best quad roller skates if traditional roller skates are more your style.
---
But, Why Trust My Advice on Roller Skates?
My name is Jeff Stone. I have over 40 years of roller skating experience. I was an artistic roller skater (yes, that exists) and spent several years competing at a national level – even winning a national championship as a teen. That's me over there to the right with a lot more hair and smugness. 🙂
But, more importantly, I'm a parent of two wonderful young women who both are excellent skaters. I taught both of them how to skate as little kids. I also have helped 1000s of other kids learn to skate while working and teaching skate lessons at my local roller rink as a teenager.
I also just know skates. My hobby / fun thing to do while couch surfing is to research roller skate and inline skate products and write about them on this blog. I have bought and actually tested dozens of skates from leading skate manufacturers. I guess you could call me a bit of a skate nerd.
These days, I skate every week for fitness, mental health and just plain old fun. I love to skate. It's in my bones. For more, read About Roller Skate Dad.
---
Ok, enough already. Lets get that kid of yours skating!
My List of the Top 20 Best Inline Kids Roller Skates
---
Detailed Reviews of the Best Kids Rollerblades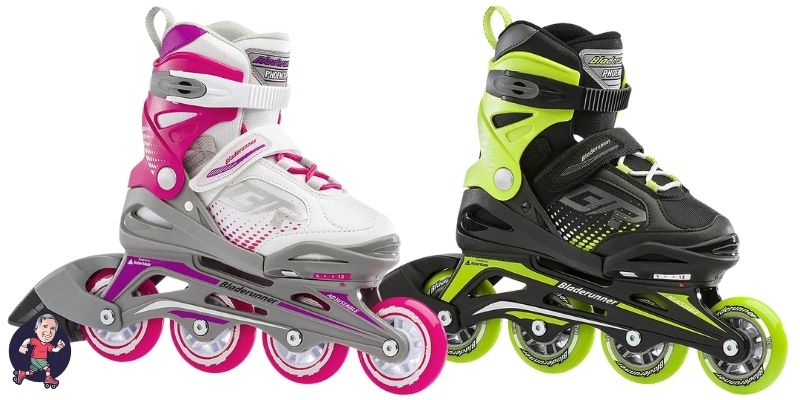 My top pick for the best rollerblades for kids is the BladeRunner Phoenix adjustable inline roller skates from Rollerblade. Beginner and intermediate skaters will like that these recreational skates come in 3 different adjustable size ranges that are easy to adjust with a simple push of a button and a pull on the boot. The medium skate alone has up to four sizes.
Beginner skaters will like the velcro straps and laces making it easy to secure the ankle. It also has 80A durometer wheels that are perfect for giving your child a smooth ride whether indoors or outdoors.
Rollerblade Phoenix At a Glance
---

Next up, we have the Rollerblade Microblade. These roller skates for kids and toddlers are a little kid version of the Rollerblade Macroblade for the bigger kids. They come in 3 adjustable sizes and have 2 different configurations – a 4-wheel 72mm version and a taller, 3-wheel 76mm skate. These are a little more expensive than our top pick Phoenix rollerblade, but they are a little nicer.
Rollerblade Microblade At a Glance
---
Next up, we have some little kids beginner hockey skates – the Rollerblade Bladerunner Dynamo Jr. These roller skates also come in adjustable sizes and are perfect for the younger kids. These come with 72mm diameter and 82A hybrid wheels which are perfect for a smooth ride both indoor and outdoor inline skating. It also comes with a high quality aluminum frame which makes it a much nicer pair of inline skates.
Rollerblade Bladerunner Dynamo Jr At a Glance
---
4. K2 Marlee – Best K2 Rollerblades for Girls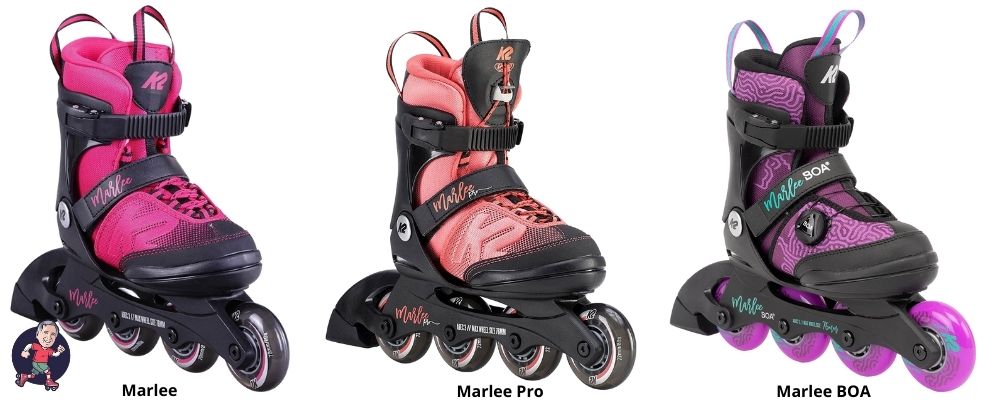 Next up we have another pair of adjustable roller skates – the K2 Marlee. These skates come in 3 different sizes that are easily adjustable. The Pro and BOA model have a slightly taller pair of wheels. The BOA system has a simple dial you can turn to quickly lace up and take off your skates.
K2 Marlee At a Glance
---
5. K2 Raider – Best K2 Rollerblades for Boys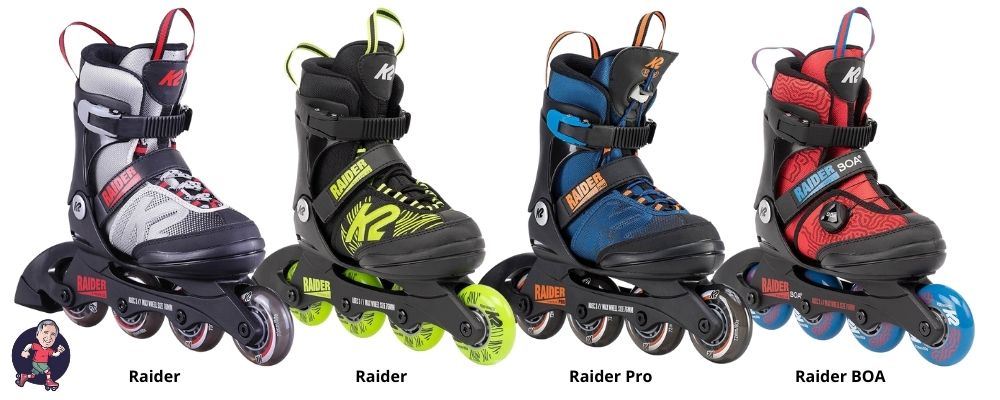 The K2 Raider rollerblades for boys is similar to the Marlee for girls. These skates also come in 3 adjustable sizes. There are also 3 versions: the regular Raider, Pro and BOA. The Pro and BOA models both have taller wheels on them. The BOA adjustable roller skates allow the skater to quickly lace up and take off their skates with a turn of the dial.
K2 Raider At a Glance
---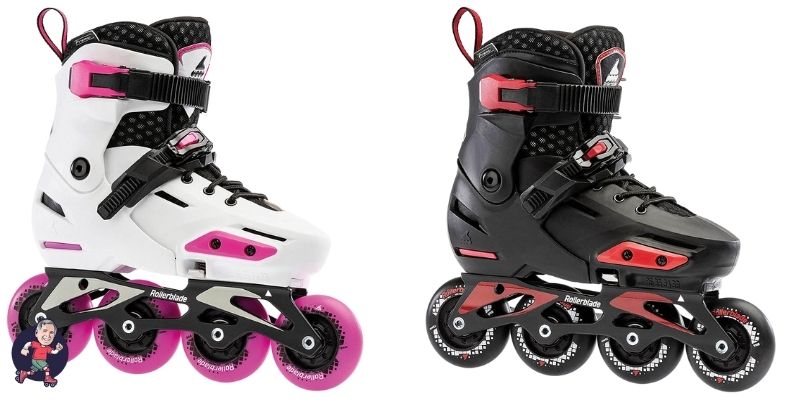 The Rollerblade Apex is a higher-performance urban and freestyle roller skates for kids. These skates come in 3 adjustable sizes. They also have aluminum and lateral slider plates ensuring ideal maneuverability for skating in the city, on the boardwalk or anywhere you like to roller skate.
Rollerblade Apex At a Glance
---
7. Rollerblade Fury – Best Urban Child Rollerblades (Runner-Up)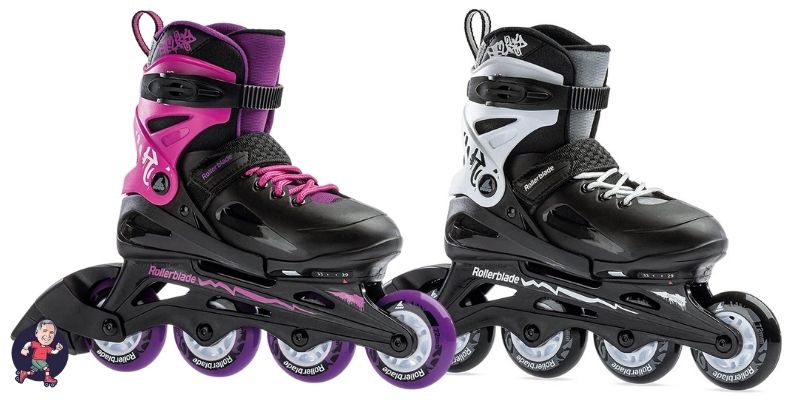 The Rollerblade Fury is an urban-inspired kids roller skates that adjusts up to four sizes. This skate features short 72mm urethane wheels which make them perfect for dodging in city streets or on the boardwalk. They have a high-top, durable boot which provides good ankle support. It's a good budget urban street skate.
Rollerblade Fury Kids Inline Skates At a Glance
---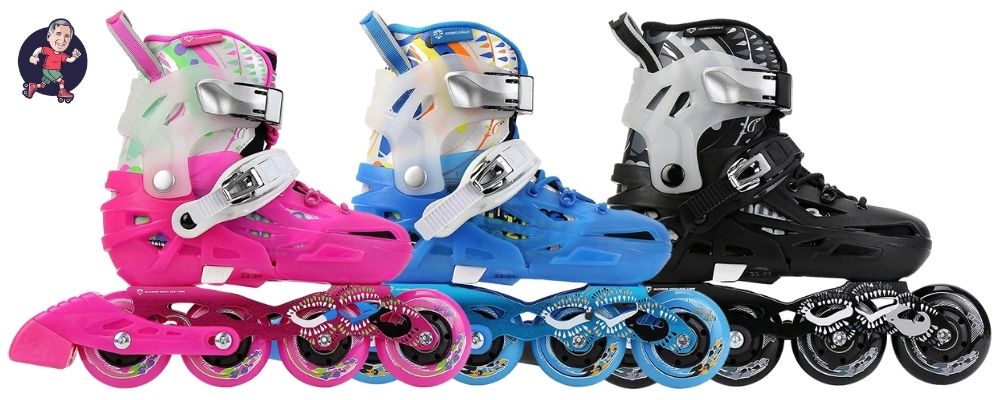 Our top pick for the best budget rollerblades for kids are the Flying Eagle S6S roller skates. This skate features a removable, washable boot liner. It also has an aluminum frame which is nice for the price. This is also an adjustable skate with each size capable of adjusting up to four sizes. The 85A hardness hybrid wheels are good for both indoor and outdoor use.
Flying Eagle S6S Rollerblades At a Glance
---
9. High Bounce – Best Budget Child Rollerblades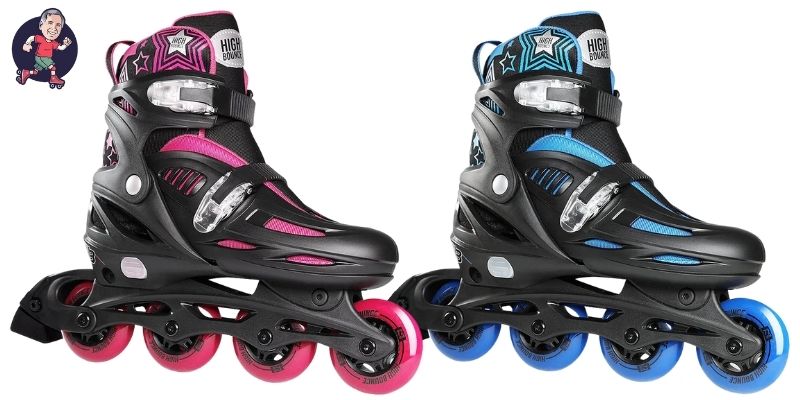 Next up, we have the High Bounce roller skates that are perfect for those on a tight budget (just over $50). They come with up to 4 sizes – all of them adjustable – and the skates adjust with a simple push of a button. They even come in Large and Extra Large sizes that make them also great for big kids. They have smaller 70mm wheels that are perfect for beginner skaters.
High Bounce Rollerblades At a Glance
---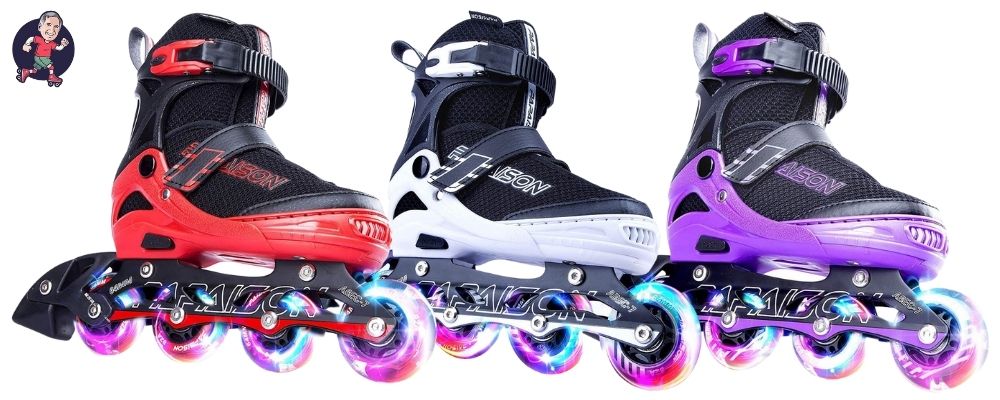 Bring on the colorful LED lights! The Papaison light up inline skates have colorful lights that really get people's attention. The colorful LED lights inside are rainbow color and will turn heads – turning you get the wheels rolling.
They come in up to four sizes – all adjustable. This makes them great roller skates for the little tikes or even your teen.
Papaison LED Inline Skates At a Glance
---
11. Kuxuan LED Skates – Best Light Up Child Rollerblades (Runner Up)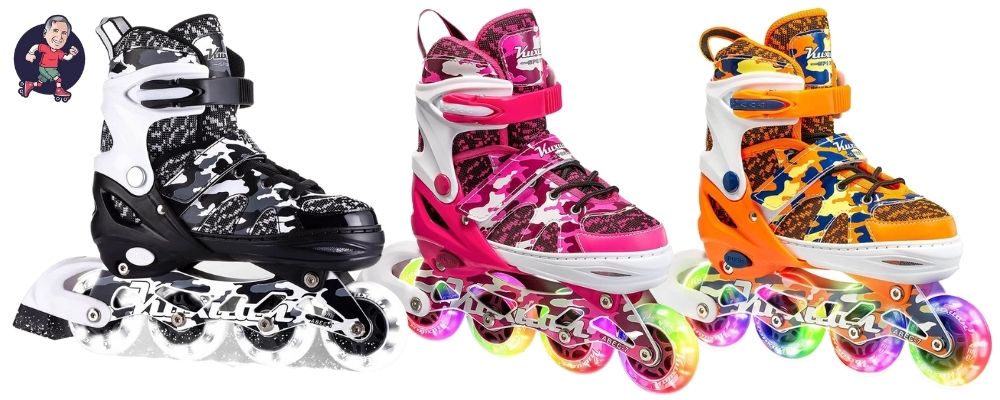 Next up, we have the Kuxuan LED Skates. Like our top LED pick, these skates feature four wheels that really light up with some crazy colors. The LED wheels light up when you get the wheels rolling. They also come in 3 different adjustable sizes geared for the little kids.
Kuxuan Light Up Skates At a Glance
---
12. Xino Sports – Best Kids Rollerblades with Light Up Wheels (Bronze)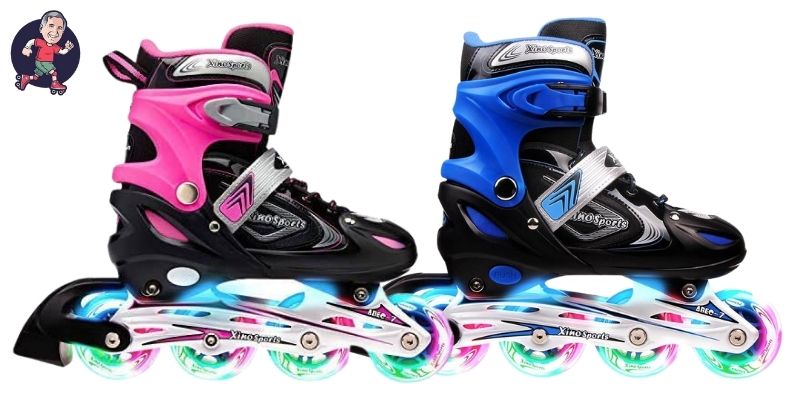 Our last chilren's inline skates with colorful lights are the Xino Sport LED roller skates. These rollerblades feature light up wheels that are a hybrid hardness making them great for both outdoor and indoor skating. It's the right skate if you want to really turn heads.
Xino Sport LED Skates At a Glance
---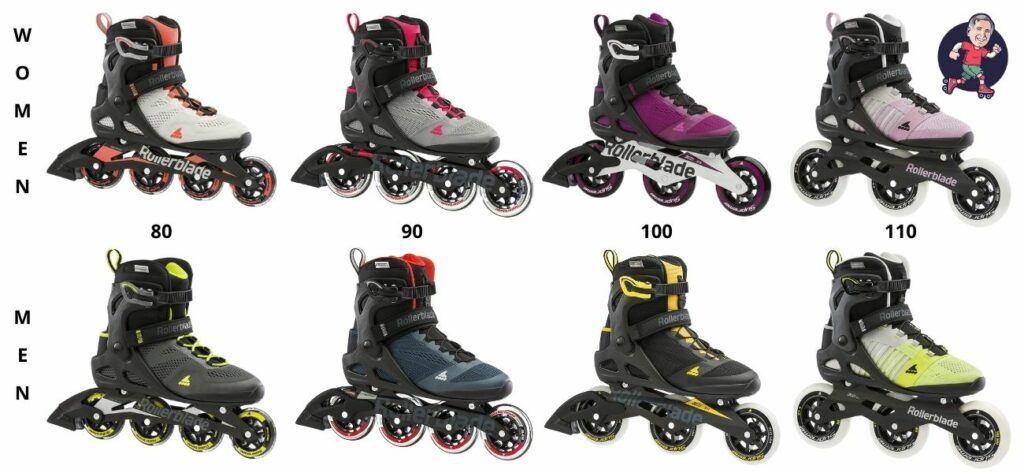 Next, we move on to the big kids. The Rollerblade Macroblade is one of the best recreational rollerblade on the market today and good for all kids ages. They are great for both beginner and intermediate skaters alike and work both for indoor and outdoor skating.
These skates are not size adjustable and instead come in adult and child shoe sizes. They come in 80mm, 90mm, 100mm and 110mm wheels. Beginner should stick with the shorter 80mm wheels. Intermediate and advanced skaters should look more to the 100mm and 110mm for more speed.
Rollerblade Macroblade At a Glance
---
14. K2 Alexis – Best Rollerblades for Teens & Pre-Teen Ladies (Runner-Up)

Next up, we have some great roller skates geared for the ladies out there. The K2 Alexis come in 3 different styles (Alexis, Alexis Pro and Alexis BOA) and also 3 different wheel diameters (80mm, 84mm and 90mm). These skates are geared more towards the beginner and intermediate skaters out there.
They come in half sizes to insure the perfect fit. The 80A hardness is perfect for a smooth ride whether you are indoor or outdoor skating.
K2 Alexis At a Glance
---
15. K2 F.I.T. – Best Inline Skates for Teens & Pre-Teens (Bronze)

Next up, we have the K2 F.I.T. Like the Alexis, this skate comes with aluminum plates on all of the models except the 80 Pro and 80 BOA which have a composite frame. It also comes in either 80mm, 84mm or 90mm urethane wheels – per the model number. All of the wheels are good for skating outdoors – whether it be on asphalt, sidewalks or a bike path.
K2 F.I.T. Inline Skates At a Glance
---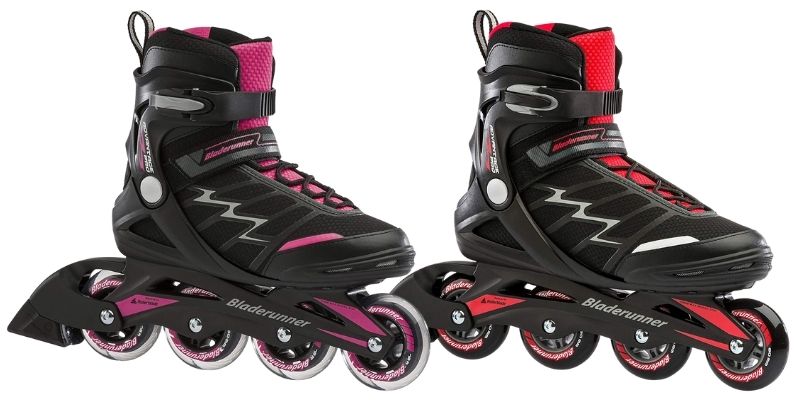 The Rollerblade Advantage is our top pick for all you beginner skaters out there. This is due to the fact that it's a good skate from a great manufacturer at a price everyone can afford.
The Rollerblade Bladerunner has a padded liner with extra padding to keep your feet comfortable. It also comes with skate laces and a power strap and a buckle to keep your feet safe and secure. It also has a brake so you can stop easily.
Rollerblade Bladerunner Advantage Pro XT At a Glance
---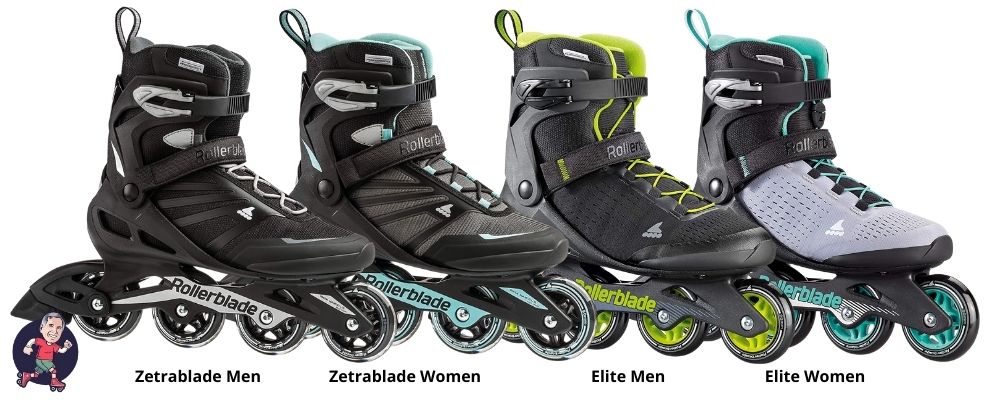 Next up, we have the Zetrablade from Rollerblade. These are a little more expensive than the BladeRunner Advantage Pro XT, but you also get a nicer pair of inline skates. First, the liner is nicer and more padded. The boot also has a nicer mesh and a seamless toe box that makes the skate more comfortable.
It has a lace, power strap and buckle closure system like you will find on most rollerblades. The inline skate comes with a composite frame and 80mm diameter wheels – both which are good enough for those just starting out.
Rollerblade Zetrablade At a Glance
---
18. K2 Kinetic – Best Beginner Roller Blade for Kids (Bronze)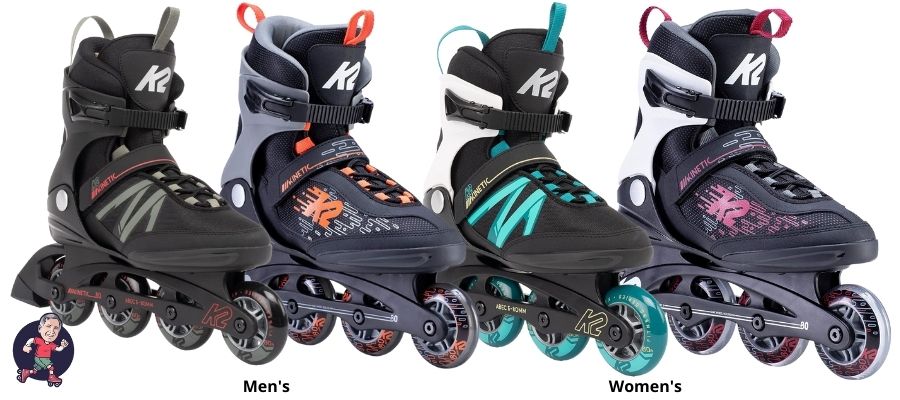 Rounding out our list of best rollerblades for kids beginners, we have the K2 Kinetic. One of the nice things about K2 skates is they often come in half sizes – not something Rollerblade always offers. K2 also often offers speed lacing systems that make putting on your skates faster. This is true with the K2 Kinetic Pro that offers this feature.
The K2 Kinetic has a composite frame that has a low center of gravity giving you extra stability. It also has 80mm diameter wheels which are good for a beginner. You want to be on smaller, shorter wheels when just starting out.
K2 Kinetic At a Glance
---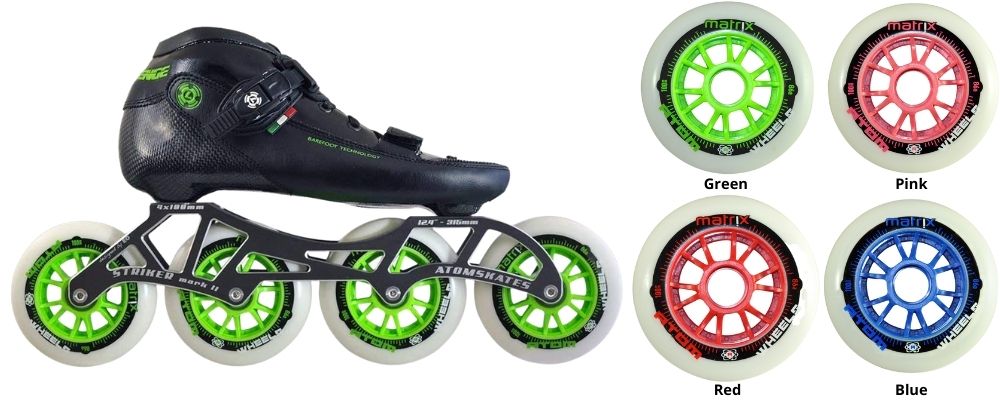 If your kid is really into inline speed skating and is an advanced skater, then take a look at the Atom Luigino Challenge roller skates. These inline skates sport a low-cut boot and 100mm wheels that are great for speed skating. The low-cut boot allows you to get low when doing crossovers around the turns. The high 100mm wheels provide good speed while not sacrificing acceleration.
Atom Luigino Challenge At a Glance
---
20. VNLA Carbon – Best Kids Rollerblades for Speed (Runner-Up)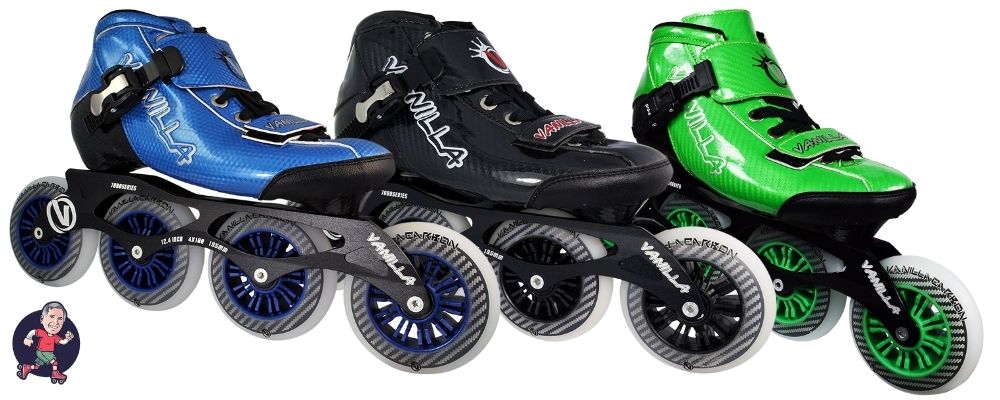 Our last skate on the list is also geared towards you inline speed skaters out there. These roller skates come in a wide array of sizes that make them great for little kids, as well as, adults. They have 100mm wheels that are great for maintaining your top speed. The low-cut boot and aircraft aluminum plate will keep you moving fast both around the corners and the straight aways.
VNLA Carbon At a Glance
---
Best Rollerblades for Kids Buyer's Guide
Adjustable Inline Skates vs. Regular Inline Skates Explained
Adjustable inline skates are ideal for young skaters. They are the best roller skates for many parents because the skates adjust as your kid's feet grow. Most adjustable inline skates have adjustable sizing up to 4 shoe sizes. That's awesome for the young kids whose feet can sometimes grow a size or two in just 1 year.

Adjusting the size on these skates is usually pretty easy. You just push a button or turn a lever, and then pull/push the skates to get them to change their size. Let go of the button or tighten the level to snap them into their new size.
Regular Inline Skates and Rollerblades
Regular rollerblades and inline skates however do not adjust. They come in one size and are made for both the young kids and big kids alike. These inline skates tend to me more durable skates than the adjustable variety and they come in a lot more different styles especially for roller sports like artistic roller skating, roller derby, speed skating and roller hockey.
Anatomy of a Rollerblade
Boots
There are two styles of boot on a rollerblade or inline skate: the classic high-top boot and the low-cut variety you will find inline speed skates.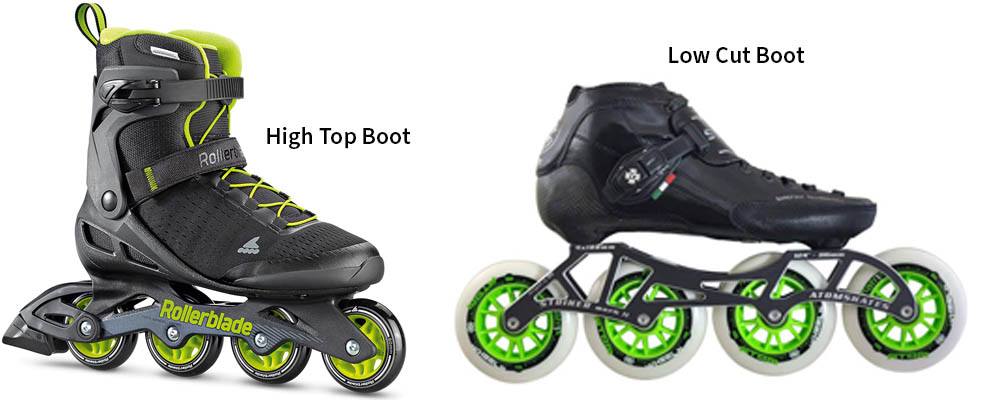 The high-top boots provide more ankle support than the low-cut boots. They also have more padding and often a padded boot liner to make them more comfortable and sturdy.
On the flip side, low cut boots provide more maneuverability. I only recommend the low-cut inline skates to people who have really good balance already.
Frames
Next, lets talk about your rollerblades' plates or frame. This is the part on your rollerblade that connects to your boot and supports all the wheels on your inline skates.
Composite / Plastic Frames
A composite frame are the cheapest rollerblade frames and what you will find on most beginner and intermediate rollerblades. The composite frame is lightweight and sturdy but will not offer as much power transfer and speed as an aluminum frame.
Aluminum Frame
An aluminum frame is a metal frame that you will find on higher end rollerblades and inline skates. All of your aggressive inline speed skates and many top-of-the-line fitness rollerblades will have an aluminum frame. They do cost more, but they also offer superior performance, speed and power transfer.
Rollerblade & Inline Skate Wheels
Next, lets talk a little about urethane wheels – one of my favorite topics. Besides insuring you get a comfortable pair of skate boots, I feel this is the most important aspect of your inline skate. There are two main components about wheels to understand. Let's go over each below.
Wheel Durometer vs. Skating Surface Explained
First, we have wheel durometer or the hardness of the wheel's surface. The harder the wheel the faster that it can travel. Softer wheels on the other hand roll slower and are more stable. Harder wheels are better for indoor, sticky surfaces – like roller rink wood floors. Softer wheels are better for outdoor terrain like sidewalks, concrete, uneven pavement and asphalt.
All of this is measured on a scale called durometer. A softer wheel will be on the low end of that scale (usually around 78A for softer outdoor wheels). A harder, indoor wheel will be in the 90A-103A spectrum. Then, we have the hybrid wheels that are good for most indoor and outdoor surfaces. Those usually fall in the 85A-90A range.
Wheel Diameter Examined
Next, lets discuss the height of your wheels. Larger wheels (taller) go faster than smaller wheels. However, they are much less stable and require the skater to be more advanced and have superior balance. Beginners should stick with smaller wheels (80mm or below) because they provide a lower center of gravity. This provides better balance and more stability.

Advanced speed skaters on the other hand will want super tall wheels – some as tall as 125mm. These larger wheels take longer to accelerate on, but they are easier to keep at top speeds once you get them rolling. They are typically worn by speed skaters doing marathon racing.
Almost all of the rollerblades on this page feature rollerblades under 100mm. The larger wheels are better if you are skating long distances. You won't have to exert as much effort to keep your speed up. However, the smaller wheels are great for those who want more agility and stability.
Just remember that if you are a beginner and just now learning how to rollerblade, smaller wheels are better. You need to focus on balance and stability first. Speed will come later.
To geek out even more on wheels, check out the Best Roller Skate Wheels page. I have spent a lot of time researching and writing about this roller skate part. A lot of the information on that page is about quad wheels, but the guide applies to all skate wheels – rollerblades included.
Bearings
Next, we have roller skate bearings. Two of these spinning disks slide into each of your rollerblade wheels and then attach to your skate frame with an axle screw. There are two main types of bearings – steel and ceramic.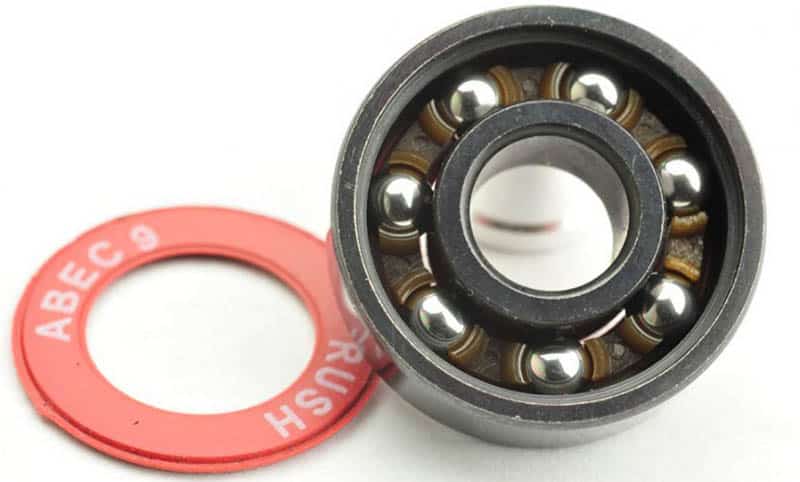 Steel bearings are the most common bearings that you will find and are what included on all of the rollerblades above. You'll see them typically listed as ABEC 1-9.
Ceramic bearings have the little ball bearings made out of ceramic instead of steel. This allows these bearings to roll super smooth. However, they are 2-3x more expensive than steel bearings. This is why you won't find them on more rollerblades. You have to buy them separate and install them yourself.
To learn a whole lot more, check out my Best Roller Skate Bearings page.
Protective Gear
Helmet
I've had several head injuries in my 30+ years of roller skating, and they are never fun. So, it's important (even for advanced skaters like me) to wear a helmet. If you are a beginner skater and doing a lot of outdoor inline skating, then please get a helmet. Yes, it is a little more money to spend, but you will be grateful you got it. Trust me….concussions are no fun.
To learn more, check out my post on the Best Roller Skate Helmets.
Knee Pads, Elbow Pads & Wrist Guards
Next, we have some roller skate safety gear. For beginners, I recommend you get a set of all three of these pads. You may even want to invest in a good tail bone / butt pad, too. These are just a pair of super padded shorts – kind of like hockey goalies and skiers wear.
A great set of new roller skate pads can easily be found for under $100. They are well worth the investment and rarely have to be replaced unless you are into derby or hockey.
To learn more, check out my post on the Best Roller Skate Pads.
Frequently Asked Questions
What is a good Rollerblade brand for kids?
Rollerblade and K2 are my top two brands for the best inline skates for kids. The best overall quality for the price are going to come from Rollerblade (the original company that make rollerblades). K2 is also a nice brand, but they tend to be a little cheaper – both in price and overall quality.
What age should kids start rollerblading?
If you can walk, you can skate. That's my motto. Kids can start as early as 2. Most kids start in the 5-12 year old range. Kids after the age of 4-5 tend to do much better with instruction from a parent or a coach when first learning – making it easier for the child.
However, it really depends on when the child is introduced to roller skating. Many kids first skate when they are invited to a roller skating party at a roller rink. Or, when an adult buys them their first pair of outdoor roller skates for a birthday or Christmas.
Other children get started much earlier if parents or other kids in the family already skate. This is usually where the 2 year old kids come from – skating families. The parents or other kids in the family already have enough experience themselves to know how to teach the wee ones.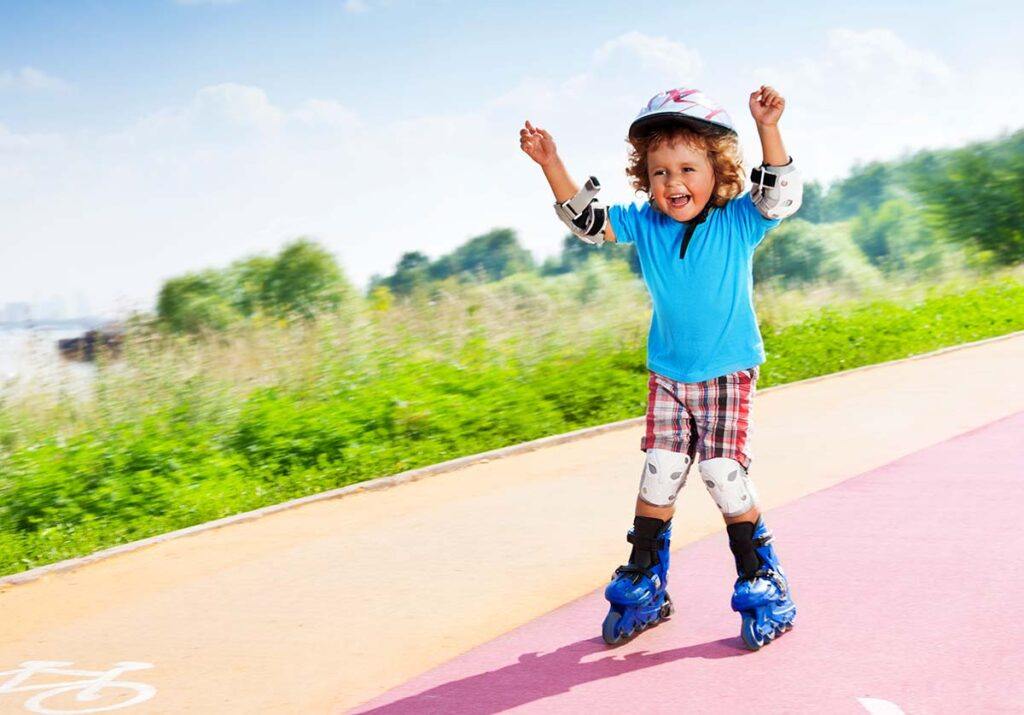 Can a 2 year old really roller blade?
Absolutely! With assistance from an adult. If a child can walk well (not falling over), then they can learn how to rollerblade. I wouldn't say this is the norm, but I've seen many children in the 2-3 year old range who can skate really well. It just take a little more patience to teach a child this small. Plus, as the parent, you need to supervise like a hawk while they are roller skating (just like you do with everything else at this age).
Do they make toddler roller blades?
Yes. There are many adjustable rollerblades from K2 and Rollerblade in my list above that will fit toddlers. Most toddler skate sizes will match their shoe sizes. They also come in juvenile skate size – example: 9J-13J. When buying rollerblades for a toddler, it's really best to go with an adjustable roller skate. It just makes sizing and foot growth easiest to deal with as the child grows.
Want to Learn Even More About Skating?
Want more reviews on roller skates? Check out my Best Roller Skates page for a list of all of the quads I recommend. I also have pages for roller skates for men, roller skates for women and roller skates for kids where I recommend the best skates on the market today for each group. Or, check out my roller skates for beginners if you are completely new to roller skating.
Or, if rollerblades or inline skates are more your style, then check out my rollerblades for men, rollerblades for women or rollerblades for kids pages. Or, if you are completely new, check out my rollerblades for beginners page.