It can be hard to find the best roller skates for men today. So many manufacturers cater more to kids roller skates or women's roller skates that it can leave some of us guys feeling left out.
Well, fret no more fellas. Today, I give you 12 of the best men's roller skates on the marker today. Below is my top pick (the roller skates that I roll in currently) along with 11 other picks that are great for all kinds of skating.
---
In a Hurry? Here is My Top Pick for Best Skates for Men
My top pick for the best men's roller skates are the VNLA Freestyle Pro. I use a version of these quad skates whenever I'm roller skating at the rink or when I skate outdoors at the park. They are really comfortable and with a separate set of outdoor roller skate wheels, they are great for both indoor and outdoor use.

This is a great high end set of jam skates that are perfect for experienced skaters. If you are into jam skating, speed skating or roller derby, then this is a great overall skate. It has a great roll and is comfortable.
It comes in 2 colors in black or white. Both are in mens skates sizes 3-13. They are outfitted with a VNLA Gorilla nylon plate, 92A indoor roller skate wheels, ABEC-9 roller skate bearings and adjustable toe stops.
---
In the article that follows, I give you my 12 top picks for the best skates for roller skating men. I also have a nice skating guide that you can read over on the best roller skates for women page. The information would be pretty much the same information, so I thought I'd send you there to see it and save the space.
In my picks below, I will give you my personal experience with each roller skate. Each quad pick also has a nice table with all the specifics – boot sizes, plate & wheel types, etc. I have personal experience with a number of these skates, so I denote that where appropriate.
Please note that I am only going over the best roller skates for men in this article. All of the skates here are for men but are also good skates that I recommend as roller skates for women and roller skates for kids, too. So, you will see some of the same picks on this page as you will find in some of my other guides.
Interested in other types of roller skates? Check out some of my other lists of the top quads including:
Or, maybe you are more into inline skates or rollerblades and you landed on this page by accident. If so, check out my best rollerblades for men or my best inline skates for beginners pages. And if you're not sure which type of skates are best for you, check out my article Comparing Rollerblades vs Roller Skates vs Inline Skates.
---
But, Why Trust My Advice on Skates?
My name is Jeff Stone. I have over 40 years of skating experience. I was an artistic roller skater (yes, that exists) and spent several years competing at a national level – even winning a national championship as a teen. That's me over there to the right with a lot more hair and smugness. 🙂
But, more importantly, I'm a parent of two wonderful young women who both are excellent skaters. I taught both of them how to skate as little kids. I also have helped 1000s of other kids learn to skate while working and teaching skate lessons at my local roller rink as a teenager.
I also just know skates. My hobby / fun thing to do while couch surfing is to research quad skate and inline skate products and write about them on this blog. I have bought and actually tested dozens of skates from leading skate manufacturers. I guess you could call me a bit of a skate nerd.
These days, I skate every week for fitness, mental health and just plain old fun. I love to skate. It's in my bones. For more, read About Roller Skate Dad.
---
My Top 12 Picks for the Best Roller Skates for Men
Detailed Reviews of the Best Roller Skates for Men

The first roller skate on my list is the VNLA Freestyle Pro. This jam skate is one of the more expensive pair of skates on my list, but they are also one of the best.
I have an older version of these skates and use them a lot when I skate at my local rink. The boot is pretty comfortable. It doesn't have any extra padding, but it's a nice fit.
It is a low-top skate, so absolute beginners who need the extra ankle support for balance should pick a different roller skate. However, if you are into jam skating, roller derby, speed skating or just a good all-around pair of quads, then these are really good.
They come in men's sizes 3-13. Ladies will want to go down one size (regardless of boot color) as all of these are in men's sizes.
These skates come with VNLA's Gorilla nylon plate and metal trucks. I weigh around 200 lbs. and they support me just fine. They also have a nice Backspin Remix wheel that is good for jam, speed or everyday rink skating. I switched my wheels out for some harder indoor roller skate wheels..
VNLA Freestyle Pro At a Glance
---
2. Sure-Grip GT-50 – Best Men's Skates (Runner-Up) & Outdoor Roller Skates (Runner-Up)

Next up is my top pick for the best budget skates on the list – the Sure-Grip Rock GT-50. These beginner roller derby skates are popular for both indoor or outdoor skating. All depending on whether you go with the harder or softer wheels on them.
The first four skates on the left of the picture above have outdoor wheels that will give you a smooth ride on things like asphalt, sidewalks and concrete. The two skates on the right have indoor wheels on them which are better for smooth surfaces you will find indoors.
The GT-50 skate boot is fairly roomy, has a padded collar and is quite comfortable. Like other skates, it comes in men's sizes – 1-15. This is really nice because there are so many sizes to choose from. As always, use the manufacturer's skate sizing chart to insure a correct fit.
These skates also come with a nylon plate, ABEC bearings and adjustable toe stoppers. Then, the real difference is in the wheels you decide to choose.
The only exception to this is the last boot in the picture above which is the GT-50 Plus roller skate that has LED lights on the bottom of the boot. I bought a pair of those for my young nephew and he loved them.
Sure-Grip is one of the oldest and best roller skate brands on the market today. They make some of the top skates and they have been in business for over 75 years.
Sure-Grip Rock GT-50 Highlights
---
3. Bont Prostar – Best Men's Roller Skates (Bronze)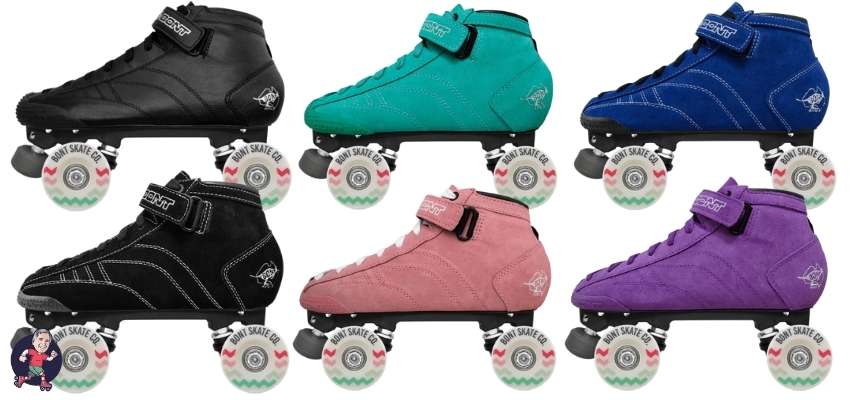 For all you guys who want a great skate that you can customize, check out the Bont Prostar. These skates are great for recreational skating, roller derby or speed skating. They come in 2 different styles – a black vinyl or 1 of 5 different suede colors including black, teal, blue, purple or pink.
The Prostar boot comes in unisex size 3-12.5. Bont has a special sizing to their boots, so be sure to check out their skate sizing chart before you order so you get the perfect fit. These boots have a lot of extra memory padding to make them super comfy. The boots are also heat moldable using a hair dryer so you can get a perfect fit.
The Bont Prostar comes with a light weight Prodigy skate plate that is fiberglass reinforced making it strong. It also has 20 degree action for that perfect balance between agility and stability.
Finally, the wheels on this skate package depend on where you order it. If you order on Amazon, you get the Bont Glow LED wheels. These light up as you roll and are an 83A hybrid durometer making them good for both indoor or outdoor skating.
If you order from the Bont website, then you have your choice of 8 different wheels and 4 different sets of bearings. On Amazon, you will get ABEC-5 bearings installed in your skates.
Bont Prostar At a Glance
---
4. Riedell Dart – Best Budget Derby Skates for Men

For you fellas out there looking for a good, basic skate on a budget or are into some beginner speed skating or roller derby, then check out the Riedell Dart. These quads come in three different flavors: the Dart, Dart Ombre and Dart Pixel.
All three of these skates are identical, the only difference is the colors of the boot. All three boots are vinyl and have good padding, laces and a power strap to keep your feet snug and comfortable. All of the skates come with an aluminum skate plate, ABEC 5 bearings and the Dart 62mm, 93A wheels.
The original Dart boot is a classic pair of indoor skates that have been around for awhile now. It comes in black, blue or purple. Next, the Ombre comes in a duotone of purple / pink or neon green / black.
Finally, the Dart Pixel is the most unique of the three with it's white, red, gray and black pixelated design.
Riedell Dart Hightlights
---
5. Sure-Grip Boardwalk – Best for Outdoors / Best Men's Beginner Skates

Next up are some of my favorite quads out right now – the Sure-Grip Boardwalk. These are a perfect pair of roller skates for beginners or a great pair of outdoor roller skates.
First, what makes these skates good for beginners is that they come with a comfortable high top boot. This gives you more stability than a shorter, low cut boot and provides more ankle support.
This roller skate also come with 78A, soft outdoor roller skate wheels that will provide you extra stability and give you more grip. They also are good for street skating on asphalt or sidewalks outdoors. Softer wheels insure your feet won't jiggle. Your skates will also be able to handle small debris and pebbles without you toppling over.
If you browse my site enough, you'll also notice that these are on every single list article on my website. This is because they are just good skates. In fact, I shot my how to roller skate videos in a tan pair of these skates. So, I own a pair myself, and they are a really good pair of quads for outdoors.
Sure-Grip Boardwalk At a Glance
---
6. Bont ParkStar – Best Men's Outdoor Skates – Runner-Up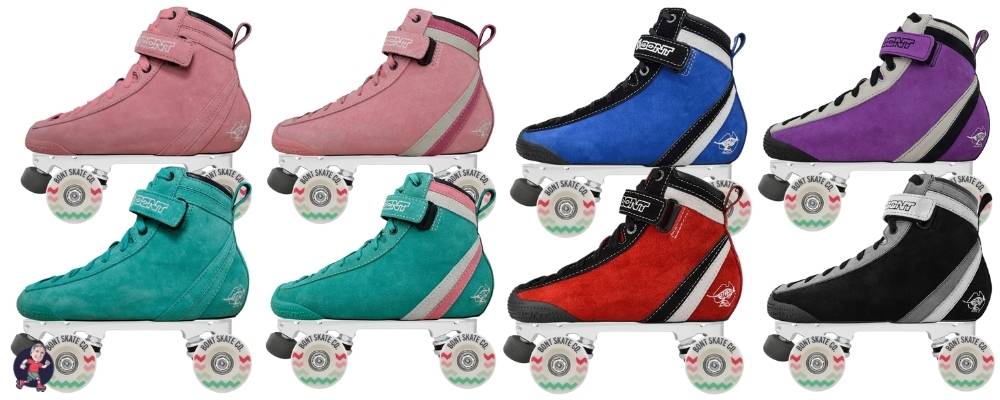 If you want some top of the line skates for outdoor skating or skating in bowls, then check out the Bont ParkStar. These skates come with a suede high-top boot that are comfortable. The boot is heat moldable and comes in size 3-13 in 6 different colors.
The Tracer Derby skate plate on these skates is made of 6061 aircraft aluminum. This makes the plate super strong and amazingly light weight, too. It has a 20 degree action for added agility and stability.
If you order this skate on Amazon, you will get ABEC-5 bearings and 89A Street Flow wheels. If you decide to order on Bont.com instead, you get your choice of 8 different wheels and 4 different sets of bearings. Either way, you get a truly high-end outdoor skate that looks great and performs well.
Want 9 more of my top picks for outdoor skating? Check out my Best Outdoor Roller Skates page.
Bont ParkStar At a Glance
---
If the Boardwalks are a little out of your price range and you want a pair of skates that will work both indoors and outdoors, then check out the Sure-Grip Malibu. The Malibu are good hybrid skates because they have Malibu hybrid wheels that have an 85A durometer.
These won't be as nice to skate on asphalt as the Boardwalk above, but they will work on them. They also will go a little faster indoors, too. You will get a little more jiggle on rougher, outdoor surfaces in these skates. If you are on sidewalks or practicing in a basement or garage, these will work just fine. Plus, they are about half the price of the Boardwalks.
These are a good value skate for those of you just starting out. The quality is decent. The biggest downside to these skates are that the toe stoppers are fixed. That means you can't adjust them. However, for a first pair of skates and for the price, these are a good buy.
Check out my how much are roller skates article for more information on pricing of the top skate brands.
Sure-Grip Malibu At a Glance
---
8. Sure-Grip Fame – Best Indoor Roller Skates for Men
Another one of my top picks for best men's skates are the Sure-Grip Fame. These are a classic, artistic roller skate that are some of the best skates on the market for the price. I recommend them on a number of my lists because they are a good quality roller skate for the price.
First, the traditional high top boot design is perfect for beginners who need extra ankle support. Next, this quad roller skate have a nylon plate and aluminum trucks. They also sport Fame four wheels on each skate which are made for indoor roller rinks.
If you are interested in skating outdoors, then I would go with a different pair of skates or get yourself another set of outdoor roller skate wheels to go with these skates.
Sure-Grip Fame Skate At a Glance
---
Next up we have the Sure-Grip Rebel Fugitive. This roller skate comes with a well-padded low cut boot with a velcro strap and laces to insure a snug fit. They come in men's sizes 4-14. Again, this is another low-cut boot, so make sure you have enough balance to try these skates.
They come with 2 different kinds of plates – either nylon or the Avanti Aluminum. They both have Fugitive wheels that are good for indoor rinks and tracks. You also get ABEC 7 roller skate bearings and top stoppers that adjust.
Sure-Grip Rebel Fugitive Highlights
---
10. VNLA Junior – Best Indoor Roller Skates for Men
Next on my list are some of the best entry level jam skates / speed skates – the VNLA Junior. These quad skates make skating fun with their unique colors and style. Both of my girls used them for quad speed skating. They aren't the best skates for speed, but they will do when you are just starting out.
VNLA Junior At a Glance
---
11. Bont Quadstar – Best Indoor Roller Skates for Men
Next on our list are the Bont Quadstar. This roller derby skates powerhouse comes from Bont – one of the leading manufacturers of roller derby and speed skates. The Quadstar comes with a 100% Australian leather boot. As with most of these high-end derby skates, Bont recommends that you use their skate sizing chart to get a perfect fit.
The boots also have a piece of thermoplastic in the heel of the skate. This allows you to mold your boots with a hairdryer around your foot to get a super custom fit. It takes about 10 minutes to do the heat molding process. This is especially good for skaters with skinny or wide ankles.
The fiberglass reinforced Prodigy plate is very light weight and has 20 degree action. Next, the Bont Ballistic wheels are made with premium high rebounding urethane. They have a 92A durometer which is good for indoor surfaces. Then, this skate is outfitted with high precision ABEC5 bearings to keep your rolling smoothly down the track.
Bont Quadstar Highlights
---
Last on the my top 10 list are the Riedell 120 Competitor artistic skates. These are the perfect pair of roller skates for those just starting in artistic roller skating or who want an awesome roller skate from one of the leading manufacturers – Riedell.
The boot on these skates is leather, so it's super comfortable and has an awesome roll. Besides the boot, this skate also comes with the Sure-Grip Competitor aluminum roller skate plates with jump bars that are good for doing jumps on your skates (or just for extra support). They also come with skinny, slick artistic roller skate wheels – the RC Medallions.
Riedell 120 Competitor At a Glance
Best Men's Roller Skates Wrap Up
There you have it. 10 of the best skates for men on the market today. I hope you enjoyed it. If I missed one or if you have any questions, leave them in the comments below. Thanks for rolling by!
Want to Learn Even More About Skating?
Want more reviews on roller skates? Check out my Best Roller Skates page for a list of all of the quads I recommend. I also have pages for roller skates for men, roller skates for women and roller skates for kids where I recommend the best skates on the market today for each group. Or, check out my roller skates for beginners if you are completely new to roller skating.
Or, if rollerblades or inline skates are more your style, then check out my rollerblades for men, rollerblades for women or rollerblades for kids pages. Or, if you are completely new, check out my rollerblades for beginners page.