Are you thinking about buying a new pair of roller skates, rollerblades or inline skates but don't know what to expect from a cost perspective? Then you're in luck. In today's article, I will answer the question, "How Much are Roller Skates"?
To answer the question quickly. for beginners, you can get a pair of roller skates for as low as $50, The high end for beginner skates is around $350. The average is typically around $150.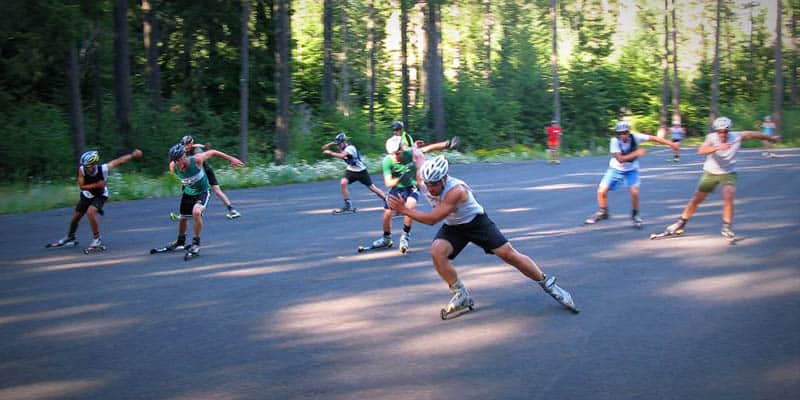 However, when it comes to buying roller skates, there are a lot of factors to consider. Today's article is going to be all about price and how much you can expect to spend. So, whether it's on a pair of beginner recreational skates, a pair of speed skates or fancy, artistic freestyle skates, I've got you covered.
And, if you're not sure which type of skates are best for you, then check out my Rollerblades vs Roller Skates vs Inline Skates page.
Quad Roller Skates & Inline Skates Cost Breakdowns
What is the Cost for Beginner Recreational Skates / Rollerblades?
Because most of you reading this article are likely beginner or intermediate skaters, I'm going to give you the price range for a typical pair of beginner skates.
So, the typical price for most starter skates (either inlines or quads) is about $150. You can certainly get them for much cheaper, or you can spend a whole lot more, too.
Skates that fit in this category are many street skates or urban skates that are made for city skating. Advanced skaters will want to continue reading and look at the sections below for more advanced skates.
What is the Cost for Intermediate Skates / Rollerblades?
For you intermediate skaters out there, the price goes up as your desire for quality ascends. You've been roller skating for awhile now, and you know what you do / don't like about your current skates. You probably have some skate friend that recommend different skates to you (or you read this blog).
For all you intermediate skaters, check out my Best Roller Skates and Best Rollerblades pages. These pages then funnel down into the best of for women, men and kids. The skates on these pages are all very similar, but there are some differences in products based on gender and age (thus the reason for the different pages).
Here is a cost breakdown for intermediate skaters:
Cost on the more intermediate skates are going to start around $150 and go up to as much as $500. The average cost for a good, middle of the road pair of skates (inline or quads) is going to run about $250.
What is the Cost for High-End Derby, Hockey, Speed & Freestyle Skates?
If you are an advanced skater playing in a roller sport like roller derby, speed skating, artistic skating or roller hockey, then prices really start to increase. It's not unheard of for fancy freestyle skates for artistic skating or roller hockey skates to cost north of $1,000.
Here is a cost breakdown for intermediate skaters:
For those of you playing a roller sport, cost varies widely. If you are just starting out, you can get by with a skate on the low end. However, as you progress, you'll quickly realize you need to upgrade. There really is a difference as you go up in quality. On many of the higher end skates in most of the roller sports you are really buying custom skates where you choose the boot, plate and wheels yourself.
Most low end / beginner roller sports skates start around $150. Then, they go up over $1,000 for the top-end skates. However, just because the high-end is $1,000 doesn't mean everyone in a roller sport skates on $1,000 skates (far from it).
Most skaters playing in a roller sport fall somewhere around the average (+ or – $100). It all just depends on the skater, their budget and their needs. Personal preference plays a big factor in picking out the best skates for advanced uses.
What Factors Determine the Price of a Pair of Skates?
Cost details may vary based on a number of factors, including:
Let's go over each one of these cost factors in more detail.
1. The Materials Used in the Skate Parts
The materials that are used in the roller skates you buy makes a big difference in it's price.
Boots
For example, leather boots cost a lot more than vinyl boots. Sometimes as much as 2x more. Vinyl is most typical and are just fine for a beginner skater. However, leather boots are the best. After a break-in period, leather will slowly conform to your foot and fit you like a glove.
It's also important to remember that many boots come in both women's and men's models. The biggest difference is in boot size, where most men's skates are usually 1 size bigger than ladies and can sometimes also have a wider toe box.
Plates

Next, there is the skate plate. Most skate plates are made out of a vinyl plastic material or a super heavy cast aluminum frame. The vinyl is the cheapest to make and heavy cast aluminum costs just a little more.
However, high-end skates are usually outfitted with special aircraft aluminum roller skate plates that will cost $200+ just for this part! Why so expensive? Because they are awesome. They are super solid AND super light. It's like wearing a feather on your feet.
Wheels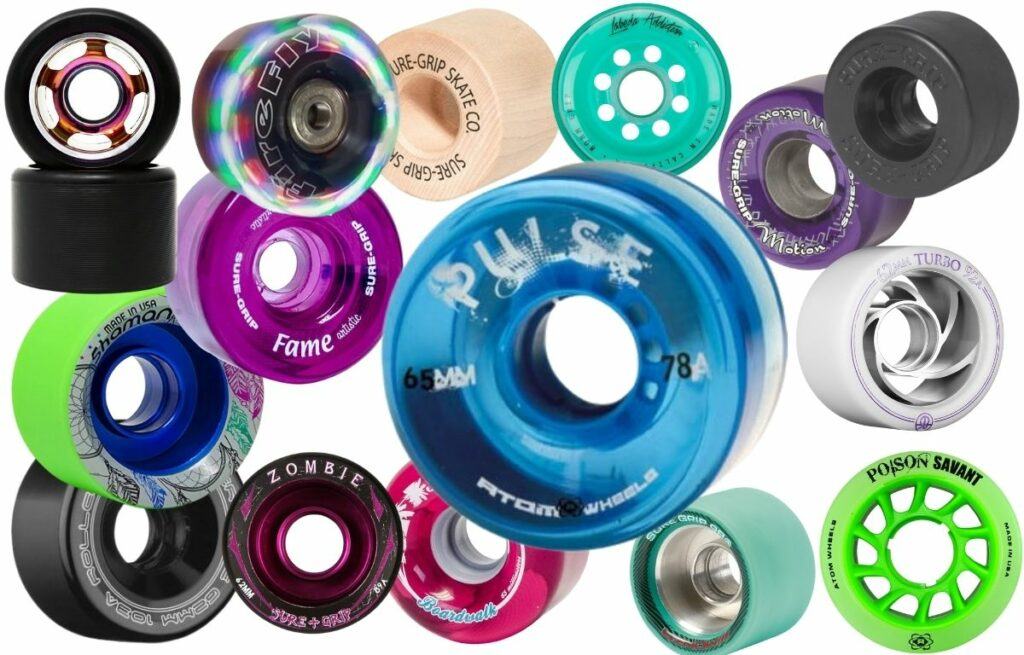 Cheap wheels made out of lower quality urethane will be less expensive than high end wheels made for speed, roller derby, artistic skating or jam skating.
Different roller skates are available in the market; thus, the prices vary from one skate to another. The cheapest wheels can be purchased for around $30 for a whole set, where as the highest end inline speed skate wheels can easily run $200 for a full set.
When picking out roller skate wheels, you'll want to take into account wheel size and hardness (or durometer). Smaller wheels will roll slower but provide more agility. Larger wheels will go faster but have less maneuverability. Harder wheels roll faster than soft wheels, but they are also more slippery and harder to control on slick surfaces.
2. The Roller Skate Manufacturer
Who makes your skates also determines the price. There are many, many cheap Chinese manufacturers on Amazon (thousands of them). Some of them are okay quality. A lot of it is junk. Most of them are cheap and poorly made, so buyer beware.
Most of the quad and inline skates that I recommend come from quality US manufacturers that have been making skates for many decades. They have fine-tuned the process of making skates and they provide a quality product.
Some of the best brands for roller skates includes Riedell, Sure-Grip, Moxi Skates, VNLA Skates, Crazy Skates and Roller Derby to name a few.
In the inline skating world, Rollerblade (the company) is really popular and still king of the market for beginner and intermediate skaters. K2 is also a good beginner to intermediate brand.
Then, as you move up the ladder, you have higher end brands like Bont, Powerslide and Luigino who along with Rollerblade make some of the best inline skates in the world.
3. Where the Skate was Manufactured
Many of the top brands I mentioned in #2 above manufacture many of their products right here in the USA! Manufacturing here in the States really allows the manufacturer to control product quality and give your skates that special touch.
Of course, because the skates are manufactured here, they do cost more than something manufactured in China or another part of the world with lower labor costs. However, the quality of the US products are just better quality.
Some of the best USA manufactured brands include Riedell, Sure-Grip and Moxi Skates. All three produce many of their products right here. Riedell and Sure-Grip have been manufacturing skates for over 75 years.
4. Recreational Skates vs. Skates for Roller Sports
Finally, buying recreational skates are much cheaper than buying skates for a particular roller sport. This is because the skates manufactured for recreation have lower quality parts that are manufactured at a higher volume. Parts made for roller sports have a specific use and are of a higher quality to ensure peak performance. This is common sense, but is worth mentioning the difference.
A Quick Note on Delivering Skates from US Manufacturers Overseas
I have a lot of readers from other countries who read the blog. A lot of times, people will tell me they just can't get Riedell, Sure-Grip, Moxi and other US-based skate manufacturers skates in their country. However, it is getting easier if you're willing to pay the extra shipping costs.
Most roller skate retail shops like Roller Skate Nation and Amazon can deliver to the United Kingdom, the United States or anywhere in the world. Just realize that if you are ordering from a site like Roller Skate Nation (a US-based company), then there is an extra fee to deliver to United Kingdom and other foreign countries.
Before deciding on the store, ensure that they can ship to your location. For instance, they can deliver to the United Kingdom or ship to a different country, depending on your location. Once you pick the country, change your delivery address.
See items that ship to that location, add them to the cart, and then set the payment option before placing the order.