When you are first learning how to rollerblade, you want the most affordable and the most comfortable rollerblades your money can buy. Your just getting started, so you don't want to plop down a lot of cash before you figure out if inline skating is for you.
And, in today's article, I'm going to give you my top picks for the best inline skates for beginners at a price you can afford. Even though a lot of these are cheap rollerblades, the quality is still good overall – especially for a beginner just starting out.
Inline skating can be so much fun, but it's not if your feet (or your wallet) hurt. 🙂
---
In a Hurry? Here are the Best Rollerblades for Beginners
My top pick for the best rollerblades for beginner and intermediate skaters are the Rollerblade Bladerunner. These affordable rollerblades are great for the whole family. They are very budget friendly and come from one of the leading manufacturers of inline skates in the world – Rollerblade.
The Rollerblade BladeRunner Advantage Pro XT is for mom and dad. And, the BladeRunner Phoenix is an adjustable inline skate for both boys and girls. Even kids as small as 2-3 years old can fit into the Phoenix!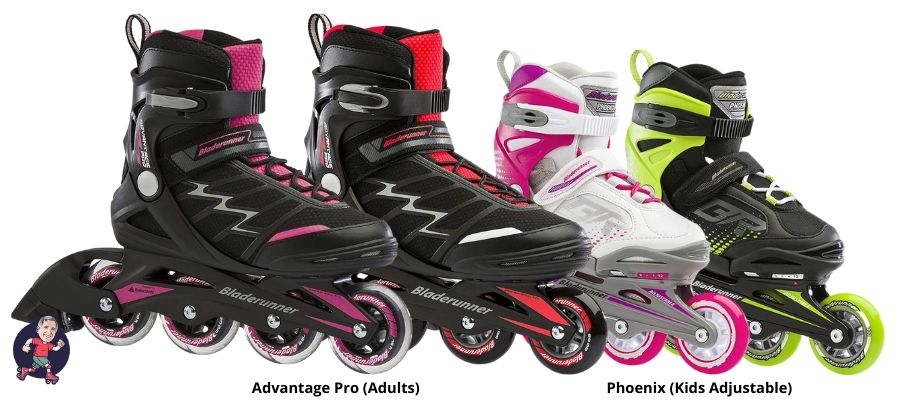 The BladeRunner Advantage Pro for adults comes in women's sizes 5-10 or men's sizes 7-13. It has a padded performance liner that is comfortable. It also has great ankle support with it's triple security system of laces, velcro strap and buckles. It's a great pair of rollerblades for men and women, too. The adult skates are not adjustable.
The kids BladeRunner Phoenix is an adjustable inline skate that comes in 3 different size ranges and 2 different colors. Adjusting the size is done with a push of a button. It's very easy and great for those little kids with growing feet.
The boys black pair come in sizes 12J-2 (small), 2-6 (medium) or 5-8 (large).
The girls white rollerblades also come in sizes 12J-2 (small), 2-6 (medium) or 5-8 (large).
---
After I cover my top picks, then I'm going to give you a detailed guide that will help you pick out the best pair of inline skates for you. We're going to cover all of the pieces that make up an inline skate: boots, bearings, wheels, frames, safety gear and more. Then, we're going to discuss some tips that new inline skaters should keep in mind when first getting started.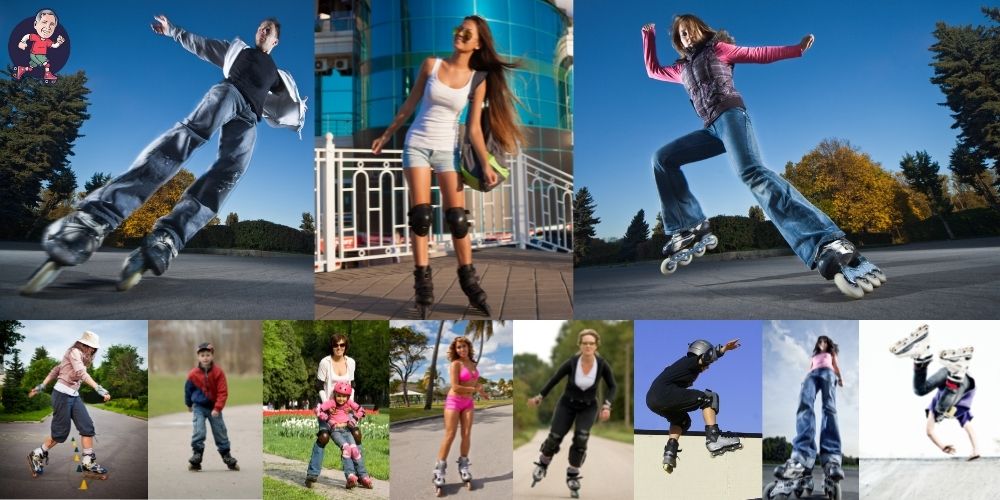 Please note that I'm only going to be covering inline skates / rollerblades for beginners in this article. This page is made just for the newbies out there.
So, if you are looking for quad skates, please check out my Best Roller Skates for Beginners page where I go over the the best quad skates for new skaters. I also have another page where I go over the best quad roller skates for all different types of quad roller skating if traditional roller skates are more your style.
And, if you want more information about inline skates for beginner, intermediate or advanced skaters, check out my Rollerblades main page that has details about the best inline skates for adults, kids and all types of different inline skating.
I also have separate pages covering the Best Rollerblades for Women, Best Rollerblades for Men and Best Rollerblades for Kids if you are a more intermediate or advanced skater.
---
But, Why Trust My Advice on Skates?
My name is Jeff Stone. I have over 40 years of roller skating experience. I was an artistic roller skater (yes, that exists) and spent several years competing at a national level – even winning a national championship as a teen. That's me over there to the right with a lot more hair and smugness. 🙂
But, more importantly, I'm a parent of two wonderful young women who both are excellent skaters. I taught both of them how to skate as little kids. I also have helped 1000s of other kids learn to skate while working and teaching skate lessons at my local roller rink as a teenager.
I also just know skates. My hobby / fun thing to do while couch surfing is to research roller skate and inline skate products and write about them on this blog. I have bought and actually tested dozens of skates from leading skate manufacturers. I guess you could call me a bit of a skate nerd.
These days, I skate every week for fitness, mental health and just plain old fun. I love to skate. It's in my bones. For more, read About Roller Skate Dad.
---
Alright. Let's get you rolling!
My List of the Top 12 Best Beginner Rollerblades
---
Detailed Reviews of the Best Beginner Inline Skates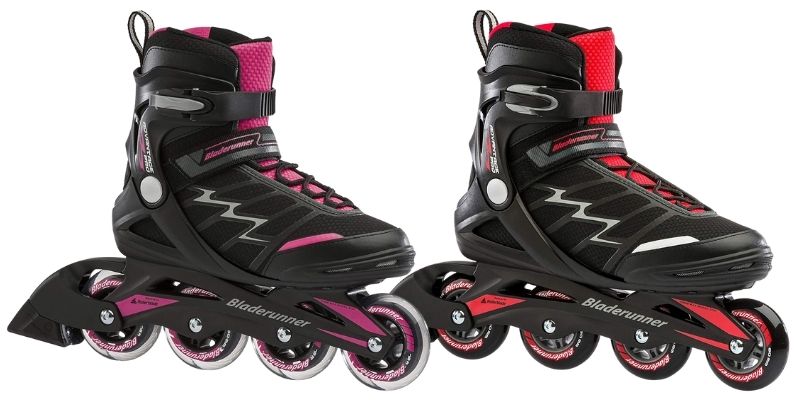 The Rollerblade Advantage is my top pick for best beginner inline skates. They have a low center of gravity with smaller wheels and a nice snug fit boot. It's a comfortable skate from a great manufacturer at a price everyone can afford.
The Rollerblade Bladerunner skates boast a padded liner with extra padding to keep your feet comfortable. It also comes with skate laces and a power strap and a buckle to keep your feet safe and secure. It also has a brake so you can stop easily.
The Bladerunner Advantage has a composite, plastic frame and comes with four 80mm Bladerunner wheels. It's a good skate for those of you out there who are okay with moderate speed and want to focus more on stability.
It is my top pick not because it's the best overall skate, but because it's the best inline skates from Rollerblade for the money.
Rollerblade Bladerunner Advantage Pro XT Highlights
---
2. Rollerblade Zetrablade – Best Inline Skate for Beginners – Men & Women (Runner-Up)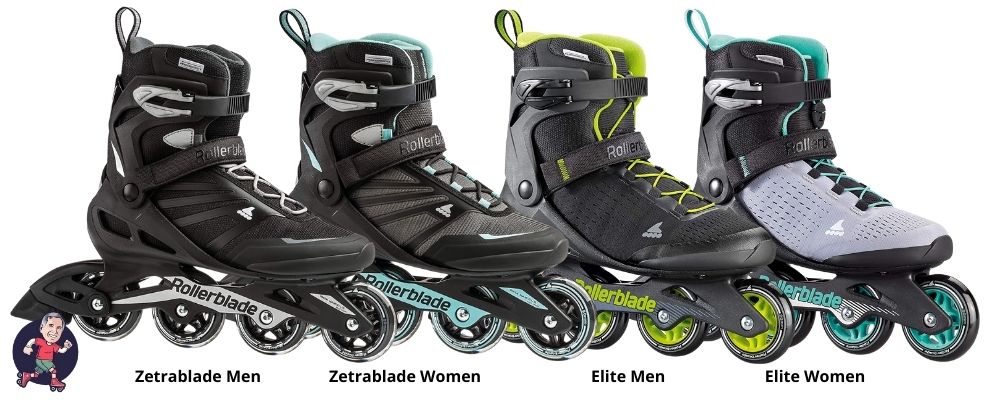 Next up, I have a nice pair of quality skates – the Zetrablade from Rollerblade. They are more expensive than my top pick, but you also get a nicer inline skate.
First, the liner is nicer and more padded. The boot also has a nicer mesh and a seamless toe box that makes the skate more comfortable. These skates boast small 80mm wheels that help you keep a low center of gravity.
It has a traditional lace up system, power strap and buckle closures that you will find on most roller blades. The inline skate comes with a composite frame and 80mm diameter wheels – both which are good enough for those just starting out.
Rollerblade Zetrablade & Zetrablade Elite Highlights
---
3. K2 Kinetic – Best Roller Blades for Beginners – Adult (Bronze)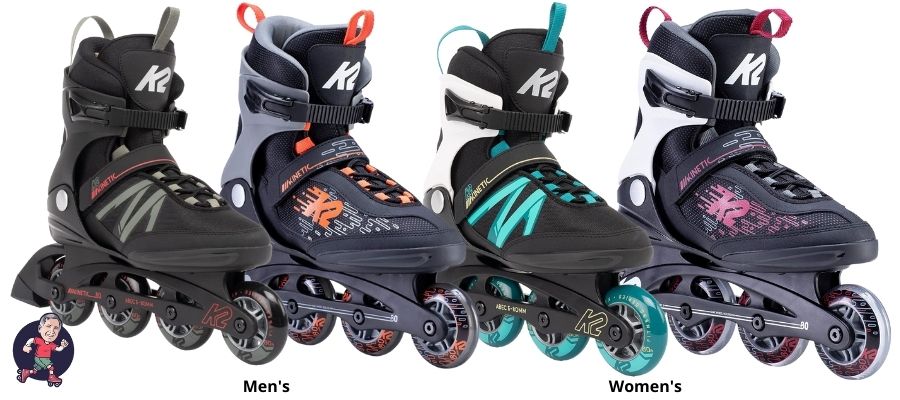 Rounding out my list of best inline skate for beginner adults, we have the K2 Kinetic. One of the nice things about K2 skates is they often come in half sizes – not something Rollerblade always offers. K2 also often offers speed lacing systems that make putting on your skates faster.
The K2 Kinetic has a composite frame and smaller wheels to keep you lower to the ground and giving you extra stability. These are also good for both outdoor or indoor skating.
K2 Kinetic Highlights
---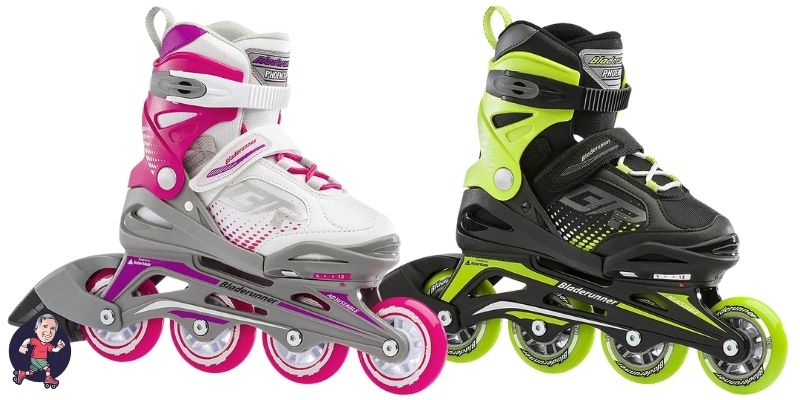 My top pick for the best pair of rollerblades for kids is the BladeRunner Phoenix adjustable inline skates from Rollerblade.
Beginner and intermediate skaters will like that these recreational skates come in 3 different adjustable skate size ranges that are easy to adjust with a simple push of a button and a pull on the boot. The medium skate alone has up to four sizes give you a lot of skating versatility for a longer period of time.
Newbie skaters will like the hard shell. padded liner, velcro straps and laces making it easy to secure the ankle. It also has 80A durometer wheels that are perfect for giving your child a smooth ride whether indoors or outdoors.
Rollerblade Bladerunner Phoenix Highlights
---
5. Rollerblade Microblade – Best Kids' Inline Skates for Beginners (Runner-Up)

Next up, we have the Microblade from one of the top rollerblade brands in the world – Rollerblade.
These solid pair of rollerblades for kids and toddlers are a little kid version of the Rollerblade Macroblade for the bigger kids. They come in 3 adjustable sizes and have 2 different configurations – a 4-wheel 72mm version and a taller, 3-wheel 76mm skate.
These are a little more expensive than my top pick Phoenix rollerblade (that's why it's not my top pick), but they are a little nicer than the Phoenix. The strategically placed padding makes the hybrid shell comfortable and it comes with a plush performance liner.
Rollerblade Microblade Highlights
---
6. K2 Marlee – Best Beginner Roller Blades for Kids (Bronze)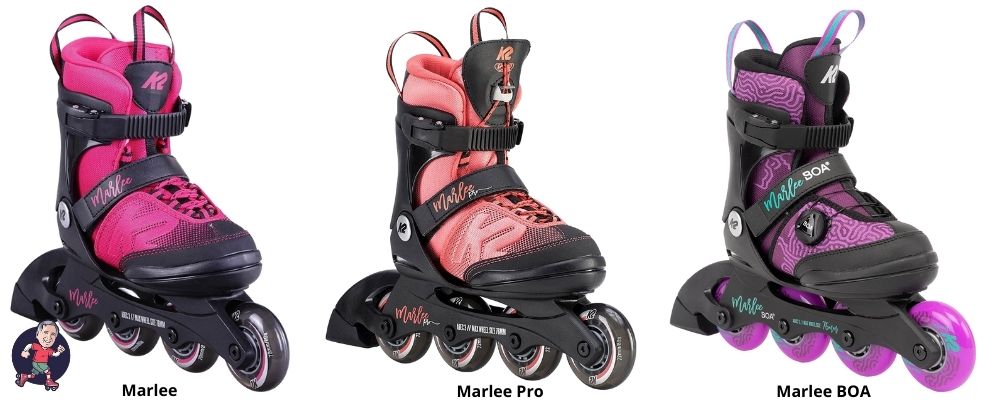 Next up, we have another pair of roller blades that are adjustable – the K2 Marlee. These skates come in 3 different sizes that are easily adjusted with a push of a button. The Pro and BOA model have a slightly taller pair of wheels. The BOA dial fit system has a simple dial you can turn to quickly lace up and take off your skates.
K2 Marlee Highlights
---
7. Roller Derby Aerio – Best Cheap Roller Blades for Beginner Adults

Next up, we have the Aerio Q80 rollerblades from Roller Derby. An older version of these roller blades are what my youngest daughter, Violet, first learned how to rollerblade on. They are a great pair of budget rollerblades and she loved them until they didn't fit her anymore.
The Aerio Q80 is a well-padded rollerblade with an internal soft upper that is comfortable with extra memory pad foam. All of the skates are stylish and typically cost less than $150.
Roller Derby Aerio Highlights
---
8. Roller Derby V-Tech 500 – Best Cheap Inline Skates for Adult Beginners (Runner-Up)
If you really are after a budget pair of roller blades but want something with adjustable sizing for adults, then take a look at the Roller Derby V-Tech 500. This skate has adjustable sizing where you use a button on the side of the skate and pull on the front of the boot to change the size.
This size adjustable skate has a buckle closure type in three places with no pesky skate laces to get in the way. They have 76mm wheels which are great for beginners as this keeps you low to the ground and more stable.
Roller Derby V-Tech 500 Highlights
---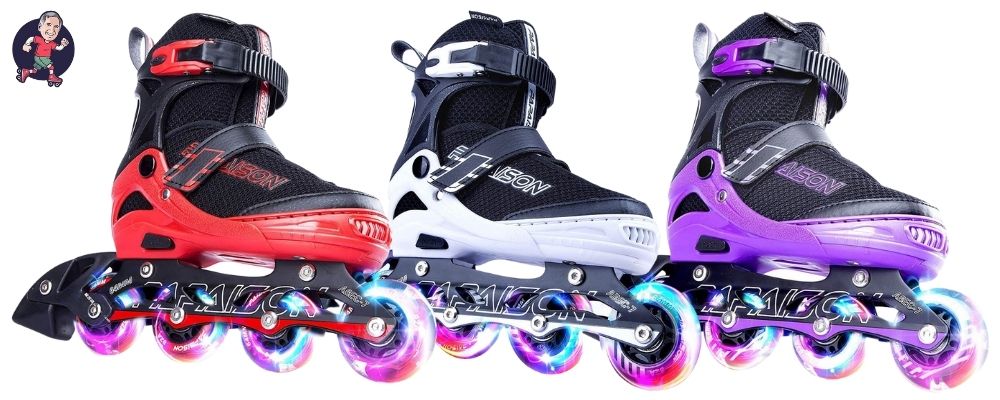 Another option for an adult adjustable sized pair of rollerblades come with the Papaison inline skates. This inline skate comes in at under $100 and the overall construction is pretty good for the price. Also, these skates boast some rocking LED light up wheels that are sure to turn heads.
It comes in 4 different sizes with a push button system that allows you to adjust the skate sizing. You push the button on the side of the skate and then slide the boot out to extend. That makes these great for beginners who just want to get skating.
Papaison Adjustable Inline Skates with Light Up Wheels Highlights
---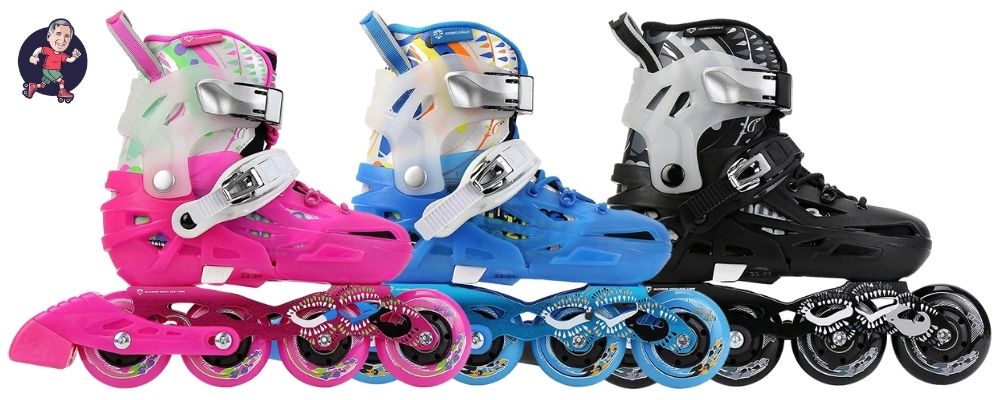 My top pick for the best budget rollerblades for kids are the Flying Eagle S6S inline skates.
This pair of roller blades features a removable, washable boot liner. It also has an aluminum frame which is nice for the price. This is also an adjustable skate with each size capable of adjusting up to four sizes. The 85A hardness hybrid wheels are good for both indoor and outdoor use.
Flying Eagle S6S Highlights
---
11. High Bounce – Best Affordable Rollerblades for Kids (Runner-Up)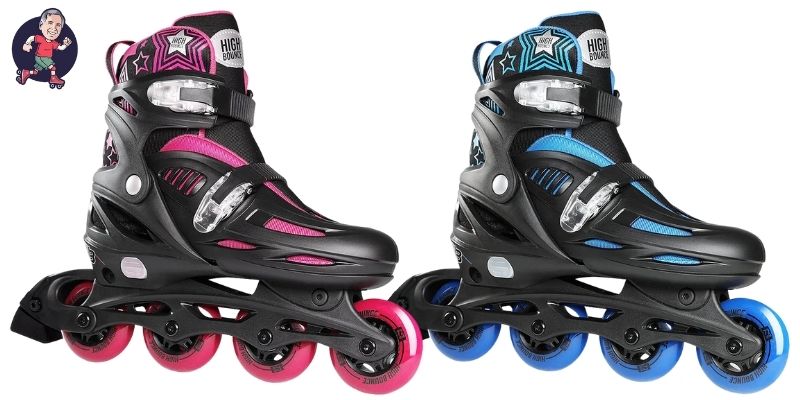 Next up, we have the High Bounce inline skates that are perfect for those on a tight budget (just over $50).
This pair of rollerblades come with up to 4 sizes – all of them adjustable – and the skates adjust with a simple push of a button. They even come in Large and Extra Large sizes that make them also great for big kids. They have smaller 70mm wheels that are perfect for those just starting out.
High Bounce Highlights
---
12. Kuxuan LED Skates – Best Budget Inline Skates for Kids (Bronze)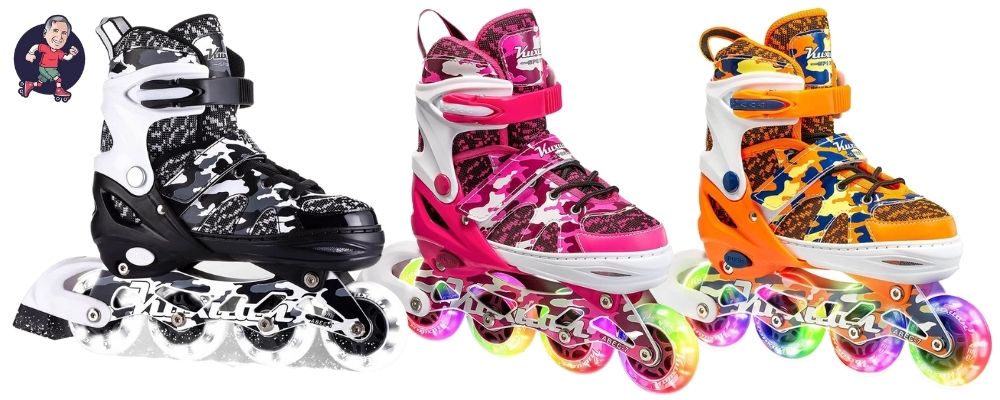 Next up, we have the Kuxuan LED Skates. This pair of rollerblades are fun because the wheels light up while you skate. They also come in 3 different adjustable sizes geared for the little kids. Plus, it has an aluminum frame and 82A wheels that are good for both indoor and outdoor rollerblading.
Kuxuan Light Up Rollerblades Highlights
---
The Best Rollerblades for Beginners: An Inline Skating Guide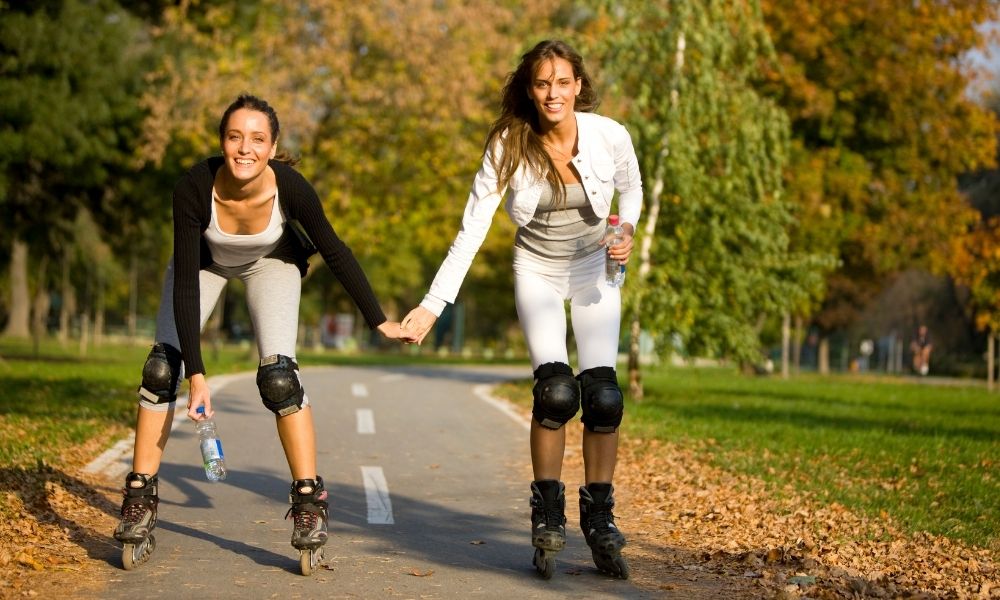 Selecting Inline Skates for Your Skating Level
First, lets go over some summary tips of what to look for depending on your skate level. The biggest differences with each skate level are going to be with your boot type, wheel size and wheel hardness. Let's go!
Beginner Skaters
Whether you are city skating or indoor rink skating, there are a few tips a beginner should keep in mind when it comes to picking out their first rollerblades.
The Boot
First, a beginner skater is going to want to go with a high top boot. This gives you better ankle support and will make you feel more stable when recreational skating.
The Wheels
Next, you want to go with smaller diameter, softer wheels. Your wheel diameter should be 80mm or less. And your wheel hardness should be 85A or lower. Soft wheels are better for outdoor skating as they handle debris, pebbles and rough surfaces like asphalt without making your legs jiggle. They give a smooth ride and the 80mm wheels give you a low center of gravity.
For novice skaters, practice is the most important thing to getting good at inline skating, So, having soft wheels allows you to skate anywhere. Plus, soft wheels also push down into the surface more with your weight. This again helps with stability.
Brakes Please!
And please make sure the roller blades you select have a heel brake. All of the skates I recommend above have a brake. You'll want this when you are first starting out so you can stop. I do have videos that show you how to stop on roller skates, rollerblades and inline skates without using a brake, but I don't recommend that for absolute beginners.
Read below about the Anatomy of Inline Skates below for a lot more details about each part on your inline skate.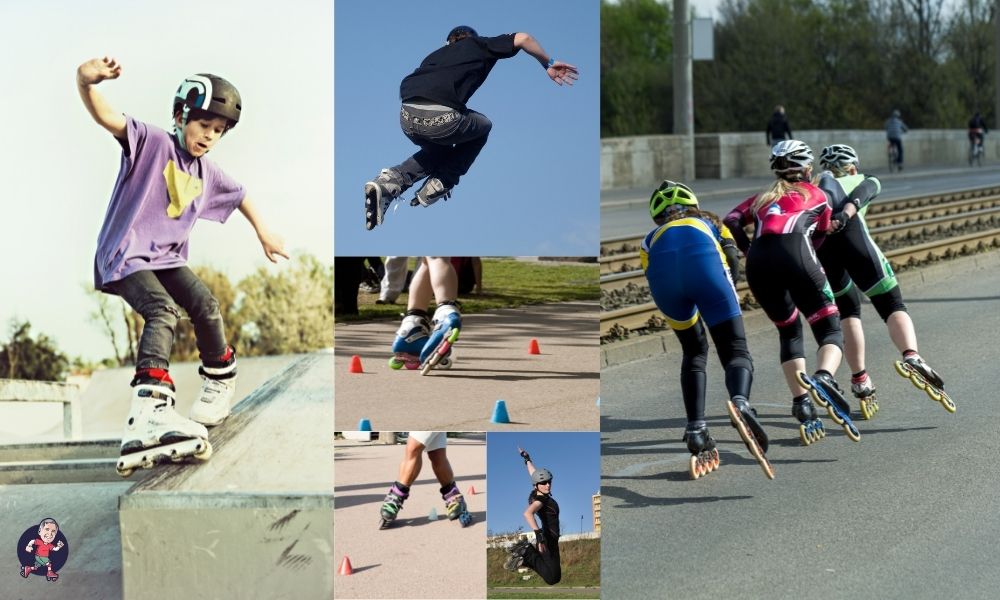 Intermediate Skaters
For you inline skaters who have leveled up, you have a little more choice. If you are into inline speed skating, you could go with a low-cut boot to give you more maneuverability. However, most mid-level skaters stick with a high-top boot.
Where things really change up is with the wheels. Skaters who want more speed will go with taller wheels. Those who may be urban skating and dodging cars, people and park benches will want to stick with shorter wheels for quicker agility.
You really have a lot of choices here. Be sure to check out my Best Rollerblades page as a jumping off point to some of the top inline skates on the market today.
Advanced Skaters
If you are an advanced skater, then you are no doubt likely into some kind of roller sport. Maybe you are into skating fast and need much larger inline speed skating wheels.
Or, maybe you are into urban skating or commuting to work in the city on skates. If that's you, then you'll want to go with shorter wheels for the maneuverability.
Or, maybe you are into hockey, if so, check out my Best Roller Hockey Skates and Best Roller Hockey Wheels pages.
Check out my Rollerblades page for a lot more details. I also have guides on the Best Rollerblades for Men, Best Rollerblades for Women and the Best Rollerblades for Kids if you want even more recommendations.
The Anatomy of Inline Skates for Beginners
Now that we've covered your skill level, lets talk about each part of your inline skate in more detail. We are going to cover each piece of the skate from a beginner's perspective.
Boot: Picking the Right Skate Boot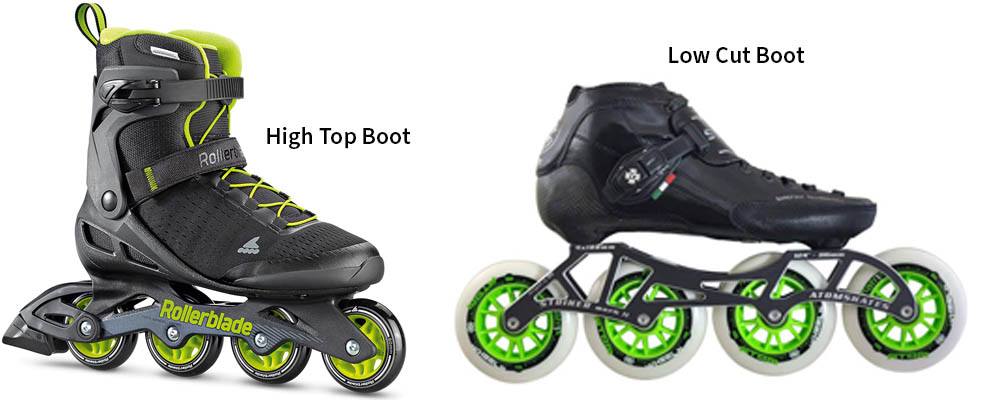 When you are first learn how to rollerblade, you want to have a pair of inline skates that have a high top boot. This is because it provides more ankle support and thus more stability. You want a hard shell, high top boot with a padded liner. It also is good if the inline skates have laces, a powerstrap and buckles to really create a snug fit.
Finally, make sure your roller blades fit well. Inline skates should fit snug without any pinch points. Skates that are loose will give you less stability and will give you blisters. So, make sure you check the manufacturer's skate sizing chart and measure your foot length and width before buying.
The Low-cut boots pictured above are made more for intermediate to advanced skaters who are into aggressive inline skating. Steer clear of those other skates when you are first learning. You can always upgrade later.
Frame: Composite vs. Aluminum Frames

Next, we have the skate frame. As a beginner, you want a durable frame that has a low center of gravity. Keeping you closer to the ground really helps with stability.
For beginners, composite plastic frames are going to do just as well for you as a low profile metal frame.
Composite frames are lighter, cheaper and offer less power transfer from each of your pushes. They also can break under extreme weight and pressure. Most beginners will do just fine on composite frames. I still have many inline skates with composite frames and they are just fine – even for 200lb+ skaters like me.
Aluminum frames typically cost more on rollerblades than their composite counterparts. They also are typically heavier than the plastic version, but are more solid. They give you more power with each of your pushes and will give heavier skaters more piece of mind that you don't have a piece of plastic strapped to your feet.
Wheels: The Perfect Beginner Wheels

Next up, we have the wheels. The part that is the most fun to talk about on skates. The two most important thing about wheels for beginner skaters to know is about the wheel's diameter and hardness (or durometer). We'll also discuss the number of wheels on an inline skate.
Wheel Diameter
First, lets talk about your wheel's diameter – or wheel size or height. As a beginner, you want to stick with smaller wheels. I recommend 84mm diameter or smaller. With smaller wheels, you get closer to the ground. This keeps you more steady. On all of the inline skates above you will see I recommend only models that have four performance wheels that are all smaller in diameter.
Larger wheels are better for experienced skaters who have solid balance and want more speed for longer distances – typically for when they are outdoor skating in marathons. Stay away from the larger wheels until you are much more advanced. Large wheels are just a lot harder to control.
Wheel Hardness (Durometer)
Next, we have wheels hardness. Harder wheels roll longer and are faster, but are also harder to stay upright on when skating on slick surfaces as they slip more. On bumpy terrains, they also can be quite choppy and make your feet and legs jiggle.
Softer wheels are better for outdoor skating and are what I recommend for beginners. They don't slip as much indoors on slick surfaces and therefore are more sturdy for beginners. They will be slower than harder wheels, but you're not after speed when you are first starting out.
Number of Wheels
Last up, we have the number of wheels. Typically, inline skate will come with either three or four wheels. On most beginner rollerblades, you are going to see four wheels on the skate. This is because the wheels are smaller in diameter, so you get more wheels on the skate to fit the frame and extend out past the front and back of the boot.
You'll often find only three wheels on skates with much taller wheels – 100mm in diameter or more. These skates are really again only for more advanced skaters.
To learn a whole lot more about wheels, check out my Best Roller Skate Wheels page where I have the Top 10 Tips for Buying the Perfect Roller Skate Wheels.
Bearings: Tips to Roll Smoothly
The most important tip for beginners with inline skate bearings is that they need to stay clean and properly lubed. You'll see a lot of different ratings on skate bearings (ABEC, skate rated, etc). With new skates for beginners, most skate bearings are going to work just fine for you. You really just need to focus on keeping them clean and lubed.
You can learn a whole lot more about bearing on my Best Roller Skate Bearings page.
Safety Gear: Protect Yourself and Have More Fun
When you are first starting inline skating, you need to make sure you protect yourself. I recommend that all beginners get a helmet, knee pads, wrist guards and elbow pads. Having good protection while you use your inline skates makes insures that you can keep skating. Because getting hurt is just no fun.
To learn a lot more about safety gear, check out my Best Roller Skate Helmets and Best Roller Skate Pads pages.
Frequently Asked Questions from Beginner Skaters
Which rollerblades are best for beginners?
The best inline skates for the newbie skater are going to be those skates with a high top boot, 84mm wheels or smaller and an 85A durometer or softer. You want stability as a new skater, and the best way to get that is with good ankle support and a low center of gravity. Shorter, softer wheels provide that extra stability and a good high top boot comfortable wraps your ankle to keep you upright.
Can I really learn to rollerblade at 40+?
Absolutely! If you are over 40 and want to inline skate, then good for you on making that decision. There are so many great health benefits of roller skating, so good job. You want and need stability and protection when you are first starting out.
Make sure you have high top boots, soft/short wheels and a helmet and skate pads for safety. If you need help, check out my how to rollerblade page where I go over step-by-step how to get started.
And, be patient with yourself. It takes time to learn a new skill. With patience and regular practice, you will get better. And, after a few months, you'll be out there with all the kids doing awesome tricks on your new skates!
Does inline skating help you lose weight?
Yes! Roller skating and rollerblading / inline skating are all great ways to lose weight. Skating is a full body, aerobic exercise where skaters can burn over 600 calories in an hour of activity.
Plus, skating is so much more fun than running or jogging and is better on your knees. Check out my 10 Amazing Benefits of Roller Skating for more cool health tips about this great sport!
What type of roller skates are better for beginners – rollerblades or quad roller skates?
I recommend that absolute beginners start on quad roller skates. The main reason for this is balance. Quad roller skates have two wheels side-by-side on the front and back of the skate. Because of this fact, it is easier for you to balance and center your weight on your skates.
On the other hand, inline skates have all wheels on the skate in a straight line. This is harder to balance on than a quad skate.
However, rollerblades and inline skates have come a long way since they first appeared in the 80s. They are designed now with better high-top boots that provide more stability.
Plus, many skaters who come from ice skating will 100% disagree with me. They already have good balance and will find quads harder because of the different configuration and the softer high top boot.
If you already know how to ice skate (or have pretty good balance) and you want to inline skate, then go for it! Lots of beginners start out on rollerblades and great.
As you can imagine, there is a lot of debate on this topic. To learn more, check out my article Rollerblades vs Roller Skates vs Inline Skates.
Want to Learn Even More About Skating?
Want more reviews on roller skates? Check out my Best Roller Skates page for a list of all of the quads I recommend. I also have pages for roller skates for men, roller skates for women and roller skates for kids where I recommend the best skates on the market today for each group. Or, check out my roller skates for beginners if you are completely new to roller skating.
Or, if rollerblades or inline skates are more your style, then check out my rollerblades for men, rollerblades for women or rollerblades for kids pages. Or, if you are completely new, check out my rollerblades for beginners page.