Spring is here and you want to be the fastest speed skater on the block. But, with so many different inline speed skates on the market, how can you choose the right one for you?
I've skated more miles than I can count, and I've worn more than a few pairs of cheap inline speed skates in my day. I know what it feels like to be a beginner speed skater, and I know what it feels like to get burned on bad gear.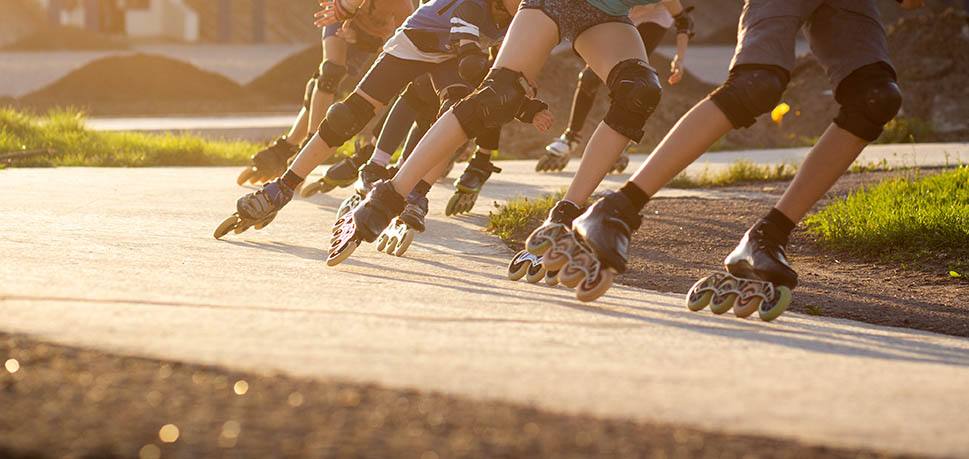 That's why I compiled a list of 17 of the best inline speed skates available today – so no matter your budget or skating style, you're sure to find a pair that will help you reach your top speed in no time. Check out the list below and get ready to start speeding towards your next medal!
My Top 17 Inline Skates for Inline Speed Skating
---
Detailed Reviews of the Best Skates for Speed Inline Skating
Inline speed skating is a thrilling sport that requires both speed and agility. And when it comes to inline skates, there is no better option than the Bont Vaypor. These skates are designed by Inze Bont, one of the world's leading skate designers. They have been tested by the best skaters in the world and given the seal of approval. When only the best inline speed skates will do, this is your skate.
The Vaypor inline skate boot is heat moldable, making it extremely comfortable. It also uses memory foam padding for added comfort and support. The boots are also vegan-friendly, and the base is made from 100% carbon fiber. Not to mention, the standard version of the boot comes with both a buckle lace cover and a YKK zipper lace cover.
These skates are 100% custom and made to order. They will take about 8-9 weeks to get to you because the boots are not made until you order them. This insures they are made special just for you.
Bont Vaypor At a Glance
Pros
Lightweight, comfortable and the best inline speed skates on the planet
100% custom made just for you
Hundreds of mix-and-match configurations
Boots are vegan-friendly
Memory foam padding in the insole
Cons
Because these skates are 100% custom made (including the boots), it can take 8-9 weeks to make the skates and ship them to you. That can be a long time to wait, but you know what they say. Good things come to those who wait. 🙂
---
2. Bont Crono 2 – Best Inline Speed Skates (Runner-Up)
Looking to up your inline skating game? Then you need the Bont Crono 2 Inline Speed Skate. This innovative skate is designed to provide an aerodynamic advantage, helping you zip up to downhill speeds of over 60mph.
But the Crono 2 isn't just about speed. It's also built for adjustability, so you can customize your skating experience to suit your individual style. So whether you're a competitive racer or just enjoy a leisurely skate around the park, the Crono 2 has you covered.
Bont Crono 2 At a Glance
Pros:
Aerodynamic design
Fully adjustable
Incomparable top speeds
Cons:
Pricier than similar skates
---
3. Bont BNT – Best Inline Speed Skates (Bronze)
Looking for a top-of-the-line inline speed skate? Look no further than the Bont BNT Inline Speed Skate. This skate is made with a 100% carbon fiber base, which is heat moldable and ultra-lightweight. The outer skin is made from durable Durolite, while the inner liner is made from comfortable Suede-L.
This boot is designed for responsiveness and features a tight heel for a close-to-custom fit. The boot's tongue has ventilation to keep your feet cool and dry, and the laces are waxed for durability. This skate also features a matte finish, which gives it a unique look. Whether you're an experienced speed skater or just getting started, the Bont BNT Inline Speed Skate is the perfect choice for you.
Bont BNT at a Glance
Pros:
Longer-lasting than comparable boots
Comfortable with or without socks
Sleek, competitive look
Cons:
Runs small—may feel cramped
Boots may feel stiff at first
---
The Bont Jet Inline Speed Skates are the perfect choice for serious skaters who are looking for top performance. These skates are made with high-quality materials, including carbon fiber and fiberglass, which make them lightweight and strong. The boots have also been upgraded to provide better support and stability at high speeds. They're built to last with an anti-stretch tape that holds the boots in their original shape—no warping, loosening, or tearing to worry about.
Thanks to these improvements, the Jet inline speed skate is now around 40% stronger than earlier Bont skates. The Bont Jet Inline Speed Skates are perfect for all levels of skating thanks to their one-piece manufacturing technique and lightweight construction.
Bont Jet at a Glance
Pros:
Boot doesn't collapse or stretch over time
One-piece construction is easy to clean
Lightweight and durable
Cons:
Takes a long time to break-in
---
The Bont Semi Race Inline Skate offers the perfect blend of speed, comfort and control, making it an excellent choice for both beginner and experienced skaters alike. Built around a tried-and-tested design, this skate features a one-piece construction that is both lightweight and durable.
Additionally, the boot comes with a heat-moldable tongue for a custom fit, and super mold technology ensures that it can be easily molded to your foot for superior comfort. The tongue is molded from heat-sensitive EVA, so it can be customized to fit your feet perfectly. Plus, the boot is made from super-stiff materials, so you can really push yourself without wearing down your skates.
Bont Semi Race at a Glance
Pros:
Extra stiff for high speeds
Customizable fit
Built for competitive performance
Cons:
---
The Bont Luna Inline Speed Skate is a great choice for those who are looking for a high-quality, professional skate. The skate features an improved last that provides better support and comfort while skating. Every aspect of this skate, from the hand-wrapped carbon fiber and fiberglass to the heat-moldable epoxy resin, is designed to give you the edge over the competition.
The lightweight yet durable construction will keep you skating at your best while the precision last ensures a perfect fit. Whether you're racing for the finish line or just skating for fun, the Bont Luna Inline Speed Skate is a perfect choice.
Bont Luna at a Glance
Pros:
Hand-wrapped carbon fiber to reduce weight
One-piece manufacturing adds durability
Anti-stretch tape to maintain shape
Cons:
Takes a while to assemble
Long break-in time
---
Powerslide's new XXX inline speed skate is perfect for athletes who demand the best in terms of comfort, support, and power. The XXX features a new carbon shell that is both stiff and lightweight. Its asymmetrical form is designed to distribute more power to the inside of the boot while providing greater comfort and support. Plus, its low boot cuff enhances workability and flexibility, making it easy to maneuver even in the most intense races.
With a race-proven 195mm mounting system, this impressive inline skate comes with a super stiff frame that will make you race like a pro.
Powerslide XXX at a Glance
Pros:
Low boot cuff enhances workability and performance
Extra-stiff for better power transfer
Snug fit
Cons:
---
The Powerslide Arise SL is the perfect skate for speed slalom. With its focus on lightweight design and lateral support, this skate offers a high level of performance and comfort. Its light and firm carbon fiber shell provide a great power transfer and responsive ride, while the sophisticated closure system ensures a snug and comfortable fit.
The cuff can be removed for a more custom fit, and the boot is easily adaptable to different frames with the Trinity 3-point mounting system.  If you're looking for a fast and responsive skate, the Powerslide Arise SL is a great choice.
Powerslide Arise SL at a Glance
Pros:
Three-point closure system keeps boot secure
Suitable for slalom, downhill, and even alpine speed skating
Superior lateral support
Cons:
---
Experience the thrill of high-speed skating with the POWERSLIDE R2 100 inline speed skate. The R2's composite shell provides stiffness and support at the ankle, while the PU leather construction in the top and front of the skate allows for breathability and flexibility. The R2 also features a comfortable padded liner and a precision-fit buckle system that keeps your foot secure.
The R2 100 is the perfect skate for those looking to experience the exhilaration of speed skating. With its supportive shell and comfortable construction, the R2 will help you reach your top speeds with ease. With its integrated liner and glass-fiber reinforced shell, the R2 100 is tough enough to withstand even the most challenging races.
Powerslide R2 at a Glance
Pros:
Fits close to the foot
No pressure points
Low center of gravity
Cons:
---
The Luigino Challenge Striker is the perfect choice for speed skating enthusiasts of all levels, giving you superior performance for all types and styles of inline speed skating.
With its Barefoot Technology (BFT) construction, this shoe provides a snug and comfortable fit while guaranteeing maximum performance. Both the toe and ankle straps provide support and control. The high-density sole padding ensures a smooth ride, while the waxed laces provide extra durability.
The AquaTech feature keeps water out while allowing your feet to breathe, and ProBack technology provides support without sacrificing comfort. The boots are lined with Microfiber to wick away moisture and keep your feet dry, while the Thermafiber keeps them warm. With high-density sole padding and vertical mounting, this boot is perfect for competition or training.
Challenge Striker at a Glance
Pros:
Packed with features
Low profile and lightweight
Snug straps for extra security over the laces
Cons:
Not available in a bundle from Atom Skates
---
The all-new Atom Luigino Strut Striker Speed Skates are the perfect choice for anyone looking for a high-performance skate. With a blended carbon fiber shell, these skates are designed for speed and durability. The Nanobuckles and waxed laces provide a snug, comfortable fit that will keep your feet in place while you skate.
The modified carbon shell accommodates wheels up to 125mm, making this the perfect choice for aggressive skating. The Strut Striker is available in four bold colors, so you can find the perfect look to match your style.  And at one of the lowest price points on my list, the Strut Striker is a great value for the money.
Strut Striker at a Glance
Pros:
Extra-hard shell makes the boot more durable
Available in several configurations
Lower price point than competing skates
Cons:
Not many wheel options from the manufacturer
---
Whether you're a seasoned speed demon or just getting into the racing scene, the Rollerblade Powerblade Pro 125 skate is the perfect choice for those who demand the best. This premium race skate comes equipped with top-of-the-line components that are sure to give you a competitive edge.
The heat-moldable carbon boot is customizable to your foot shape and fit preference, and comes with detailed instructions to ensure a perfect fit. The micro-buckles and anatomical liner work together to provide a snug, comfortable fit, while the extruded aluminum 3WD frames offer improved handling, increased speed and momentum, less vibration, and quicker power transmission.
Powerblade 125 at a Glance
Pros:
Lightweight design for maximum speed and control
High-quality bearings for fast, smooth performance
Laterally-adjustable frame for customizable tig
Cons:
Expensive compared to other skates in this category
---
If you're looking for a skate that can help you go the distance, the Rollerblade E2 Pro 125 is a great option. This skate is made with marathon and half-marathon skating in mind and features a carbon fiber shell to maximize efficiency and balance.
With its removable cuff, you can easily switch from a supportive medium-height cuff to a race-style skate, so you can customize your skating experience to fit your needs. The E2 Pro 125 is also super comfortable, thanks to its superior padding and high support. Plus, there's no break-in period required, so you can hit the ground skating as soon as you put them on!
E2 Pro 125 at a Glance
Pros:
Versatile design for many types of skating
Little to no break in period
Easy to adjust and customize as needed
Cons:
Tall ankle profile may reduce mobility
---
These K2 Redline 125 Inline Skates are perfect for the sporty individual. The removable carbon cuff and carbon base offer high performance and comfort, while the extruded 6061 aluminum frame ensures a lightweight and sturdy skate. Additionally, the SoftBoot technology provides optimal comfort while skating, and the ventilated microfiber upper ensures a snug and secure fit. Finally, the three 125mm Flash Disc wheels provide ultra-high energy urethane with aerodynamic disc hubs for an unbeatable skating experience.
Redline at a Glance
Pros:
Ultra-soft boot feels great on your feet
Lightweight and sturdy frame
Pre-molded for use right out of the box
Cons:
Sizing may run large for women
---
Max out your skating speed with a pair of Vanilla Carbon Speed Inline Skates. These top-of-the-line skates are designed for speed, with a special combination of carbon fiber and fiberglass that makes them light and fast. You can also heat-mold the skates for a perfect fit. Whether you're hitting the indoor or outdoor skating scene, these skates are ready to perform, with high-quality urethane wheels and smooth Abec 9 bearings.
The Vanilla Speed Skates come equipped with a 7000 series aluminum frame and high-quality urethane wheels that can conquer any indoor or outdoor surface. Vanilla's original design and engineering give these skates a sleek look, with a comfortable fit that's perfect for racing or casual skating. Coming in at one of the lowest price points on this list, the Vanilla Carbon Speed Skates are a superior choice for anyone looking to go fast.
VNLA Carbon at a Glance
Pros:
Insanely affordable
Ultra-lightweight and fast
Customizable heat molding
Cons:
May not be as durable as some of the more expensive options
---
VNLA X1 Speed Inline Skates are the perfect skates for beginners. These skates come with everything you need for a precise and comfortable fit, including laces, an adjustable ratchet buckle, and an adjustable velcro cinch strap. The VNLA X1 Speed Inline Skates are also ultra-durable, thanks to the 85A hardness inline wheels and the Vanilla Reaction ABEC 9 bearings. So whether you're skating indoors or outdoors, you can rest assured that these skates will provide a smooth and fast ride. 
The VNLA X1 Speed Inline Skates come with a molded plastic shell and comfort-fit leather upper. These skates are designed to be comfortable, yet durable enough to stand up to regular use. Priced for the budget-conscious, the VNLA X1 Speed Inline Skates are great for beginners of all ages.
X1 at a Glance
Pros:
Comfortable and secure fit
Durable construction
Inexpensive price point
Cons:
Not ideal for experienced skaters
---
PASENDI carbon fiber speed skates are a solid, budget-minded choice for athletes looking to improve their performance. The carbon fiber frames and wheels provide stability and a smooth ride, while the bearings ensure a quiet, gliding experience. Plus, the hard wheels provide excellent grip and handling on any surface.
The quick-slip bearings make it easy to get up to speed, while the CNC machined aluminum sole mounting parts ensure a stable ride. The super fiber leather & memory sponge inner material keeps your feet nice and comfy while you skate, while the shock-absorbing cushions on the heel provide an extra level of protection.
PASENDI at a Glance
Pros:
Superior carbon fiber construction
Ultra-slick bearings
Incredible value for the price
Cons:
Snug; runs a little small
---
Choosing the Best Inline Speed Skate for You
Now that you know a little more about inline speed skates, it's time to choose the right pair for you. If you're a competitive racer, look for a pair of inline skates with a light and fast frame, high-quality roller skate bearings, and hard inline speed skate wheels.
If you're just getting started, go for a less expensive option with an adjustable frame and comfortable boots. And if you're looking for the best of both worlds, choose a versatile pair of all-around rollerblades that can handle racing, tricks, and recreational inline skating.
With my extensive background in all-things-skating (even ice skating!), I've had the opportunity to test out dozens of different pairs of inline speed skates. Whether you're a beginner or an experienced pro, I can help you find the perfect pair! Here are some of the most common concerns I hear from my readers.
How Fast Are Inline Skates?
The speed of your skates will depend on a range of different factors, including the quality and design of the wheels, bearings, and frame. Generally speaking, high-end inline speed skates are capable of reaching speeds above 30 miles per hour. They may be costly, but if you're looking for a serious pair of racing skates, this is the way to go.
Don't worry—you don't have to fly at top speeds to enjoy roller skating. If you're just looking for a good workout, casually exploring your neighborhood, or having fun with friends on the weekends, mid-range skates and standard rollerblades travel at a slower pace, anywhere from 6 – 20 miles per hour.
Inline Skate Wheels Explained
If you're in the market for a new skate wheel, there are two numbers you'll want to pay attention to – the durometer (or wheel hardness and the diameter (or wheel height).
Wheel Diameter

The first is the size (or diameter) of the wheel, which is represented by a number expressed in millimeters (mm). The second is the hardness of the wheel, which is indicated by a number followed by an "A" (for example, 86A).
Generally speaking, inline skate wheels range from 50mm to 110mm in diameter, and larger wheels mean faster wheels. Smaller wheels, such as those in the 50-70mm range, are ideal for agile skatings, such as cruising and street skating. Larger wheels, like those in the 80-110mm range, enable higher speeds and better stability at high speeds.
Wheel Durometer
For indoor use, you'll generally want to use softer wheels that offer good levels of grip, while outdoors you'll need harder wheels that are faster and more durable. The harder the wheel, the higher its number rating will be – typically ranging from 50 to 90 durometer on most skates. A hard wheel will also have less ability to deform or change shape under pressure, which gives it better performance on slippery or uneven surfaces, but means it offers a slightly reduced grip compared to a softer wheel.
3 or 4 Wheels?

When it comes to inline skates, there are two main types: 3-wheel and 4-wheel. Both have their own advantages and disadvantages, so it's important to choose the right type for your needs. Tri-skates, or skates with three wheels, are less stable than 4-wheel skates but they can go much faster because of the larger wheels. They're also more maneuverable than skates with four wheels of the same size.
However, tri-skates are not really ideal for beginners since they can be harder to control. In contrast, quad skates are more stable and easier to learn on, but they're not as fast or maneuverable as tri-skates. So, if you're just starting out, 4-wheel skates are probably the way to go. But if you're looking for speed and agility, tri-skates are the better choice.