Inline skating (or rollerblading) is a great way to stay in shape and have a lot of fun, too! Whether you are a beginner or a more advanced skater, feeling the breeze in your hair as you roll outside in your favorite park is exhilarating. In this article, we cover the top inline skates for men, women, kids and toddlers. We also go over some professional inline skates made for roller hockey.
While I am only presenting the top inline skate from each category, I do have separate articles for each one of these categories with a lot more detail. So, if you want to learn more about any particular category, just click on the links for those articles to learn more.
---
In a Hurry? Here are the Best Rollerblades in 2023
My top pick for best rollerblades goes to the Rollerblade Macroblade. This is because it is made by a leading manufacturer of inline skates, Rollerblade, and it's made of high quality parts at an affordable price.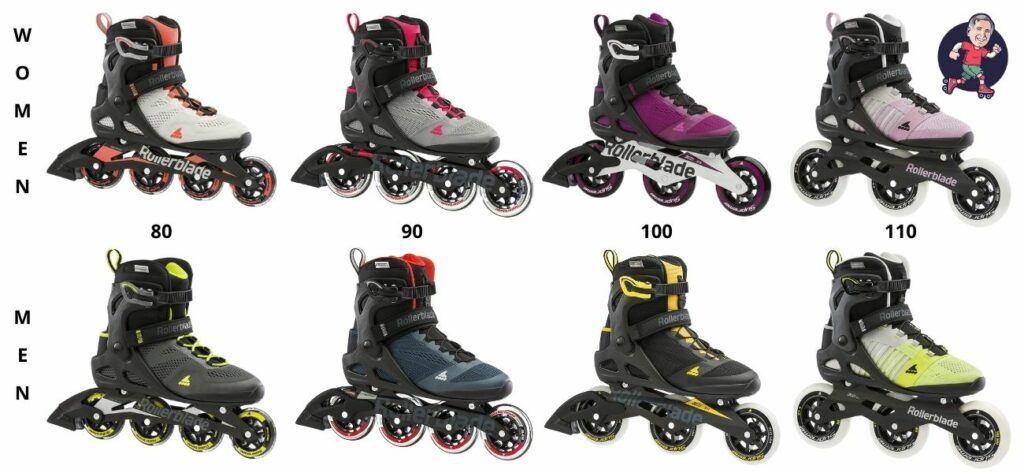 There are 4 difference versions of the Macroblade and 2 different sets of soft boots – one in men's size and one in women's sizes. The only difference between the 4 type of skates are the wheel diameter. There is an 80mm (80), 90mm (90), 100mm (100) and 110mm (110). The other difference is that these skates have either three or four wheels.
Shorter wheels in the 80mm-90mm are made for beginner and intermediate skaters. The 100mm and 110mm are for intermediate skaters or advanced skaters as they are harder to maneuver and also can go faster because of the larger wheels.
The 100 and 110 also only come with 3 larger wheels because of the wheel size. All of the wheels on these rollerblades are made with an 82A (80mm) or 85A (90mm, 100mm or 110mm) durometer wheel which makes them a good hybrid inline skate for both indoors or outdoor skating.
The women's inline skates come in women's sizes 5-10.5 (in half sizes). The men's version comes in men's sizes 6-13.5 (in half sizes). This pair of rollerblades also has an aluminum frame and either SG5 or SG9 bearings.
---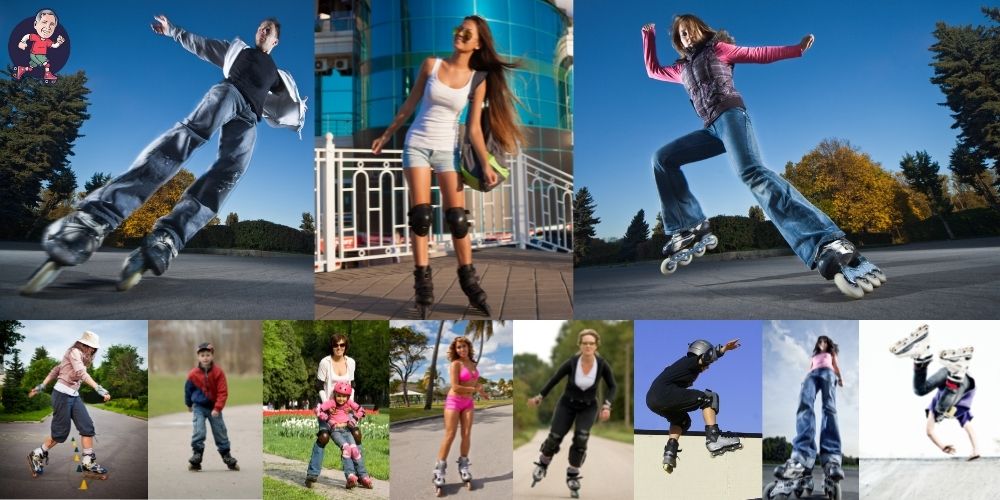 Also, all of the inline skates I recommend below are from my best inline skates for beginners, best rollerblades for men, best rollerblades for women, best rollerblades for kids or best roller hockey skates articles. If you want more information on any of these inline skates (or you want more picks) you can check out those articles for more details.
Or, if you are more interested in roller skates, then please be sure to check out the Best Roller Skates page where I cover traditional quad skates in a lot more detail.
This one is for all you inline skaters out there. So, whether you're a beginner or a professional roller skater, we got you covered.
---
But, Why Trust My Advice on Skates?
My name is Jeff Stone. I have over 40 years of roller skating experience. I was an artistic roller skater (yes, that exists) and spent several years competing at a national level – even winning a national championship as a teen. That's me over there to the right with a lot more hair and smugness. 🙂
But, more importantly, I'm a parent of two wonderful young women who both are excellent skaters. I taught both of them how to skate as little kids. I also have helped 1000s of other kids learn to skate while working and teaching skate lessons at my local roller rink as a teenager.
I also just know skates. My hobby / fun thing to do while couch surfing is to research quad skate and inline skate products and write about them on this blog. I have bought and actually tested dozens of inline and quad skates from leading skate manufacturers. I guess you could call me a bit of a skate nerd.
These days, I skate every week for fitness, mental health and just plain old fun. I love to skate. It's in my bones. For more, read About Roller Skate Dad.
---
My Top 15 Picks for the Best Inline Skates & Roller Blades
---
Detailed Reviews of the Best Rollerblades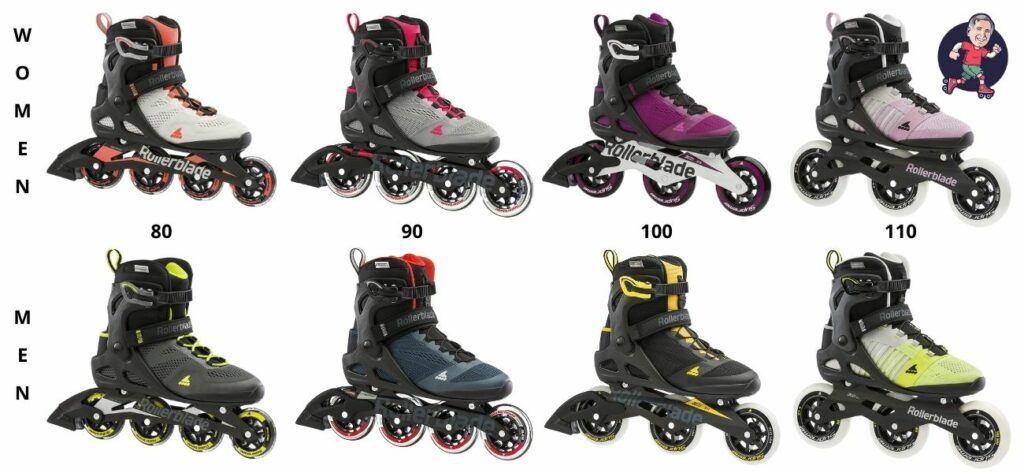 The Rollerblade Macroblade is my top pick for best inline skates overall and for more advanced fitness skating. These inline skates are great for beginner and intermediate skaters who are looking for a smooth ride and a sleek look without breaking the bank.
The boot is comfortable and well padded. It also sports a triple closure system of laces, buckles and a power strap to keep your feet secure which inline skating.
The Macroblade is one of Rollerblade's hottest selling inline skates. It comes in a variety of different wheel heights from the 80mm beginner skates to the 110mm for advanced skaters.
The Macroblade comes in half sizes from 5-10.5. It has a lightweight aluminum frame which is perfect for extra power transfer, more stability and just a better overall feel while roller skating – especially on rough roads and asphalt. The Macroblade 80 and 90 come with four wheels, whereas the 100 and 110 have large wheels and so only come with three wheels.
For all you entry level skaters, stick with the Macroblade 80 or 90. These offer new skaters a lower center of gravity which is important for newbies who are just getting started. You'll have more stability and balance on the smaller wheels of these roller skates. They also come with softer wheels which are better for beginners or those wanting to inline skate outdoors.
The Macroblade 90 or 100 are more intermediate level skates. The large wheels on these inline skates boast the extra speed that you are after. Finally, for all you experienced skaters, the 100 or 110 are probably what you are after for the superior speed. The large wheels will bring superior speed compared to small wheels.
Of course, even those advanced and intermediate skaters with a lot of experience still like shorter blades for the increased maneuverability. So, it's up to you. Rollerblade has a Macroblade size for every skating level and type. They are some of the best rollerblades on the market today. Enjoy!
Rollerblade Macroblade Highlights
---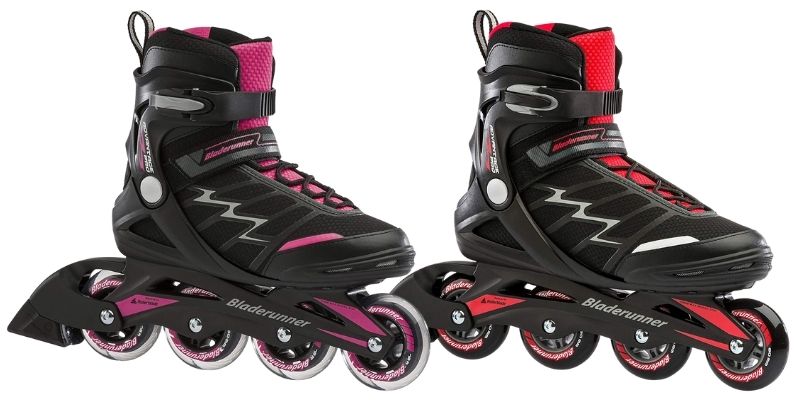 The Rollerblade Advantage is my top pick for the best inline skates for all you beginner skaters out there. This is due to the fact that it's a good pair of recreational skates from a great manufacturer. It also is the most affordable skates from Rollerblade.
The Rollerblade Bladerunner has a padded liner with extra memory foam padding to keep your feet comfortable. This inline skate also comes with a secure closure system to keep your feet safe and secure. It also has a brake so you can stop easily.
The Bladerunner Advantage has a composite, plastic frame and comes with four 80mm Bladerunner wheels. It's a good inline skate for those of you out there who are okay with moderate speed and want to focus more on stability.
This inline skate from Rollerblade is the cheapest model they offer for beginners, but is still one of the best rollerblades on parts and price. If you are just getting started and want the best rollerblades for beginners, check out the Bladerunner.
Rollerblade Bladerunner Advantage Pro XT Highlights
---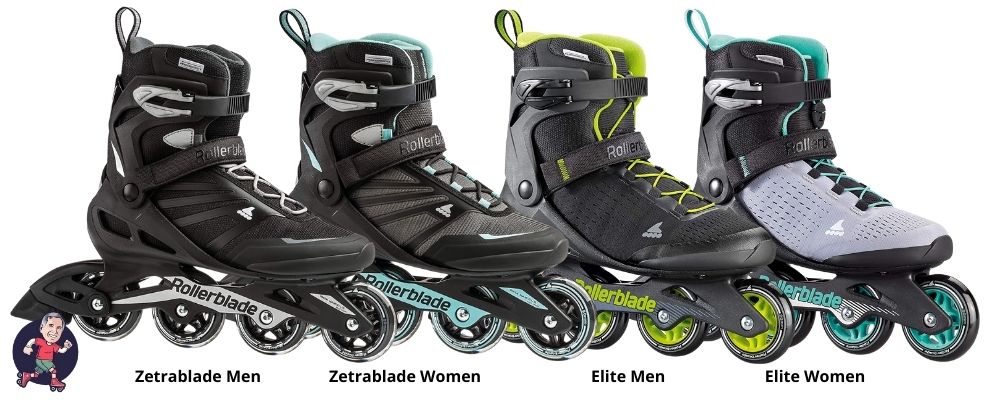 Next up, we have the Zetrablade from Rollerblade. This inline skate is a little more expensive than the BladeRunner, but you also get a nicer pair of inline skates. First, the liner is nicer and more padded. The boot on these roller skates boast a nicer mesh and a seamless toe box that makes the inline skate more comfortable.
The Rollerblade Zetrablade Elite has a lace, power strap and buckle secure closure system like you will find on most rollerblades. The inline skate comes with a composite frame and 80mm diameter wheels – both which are good enough for those just starting out.
The women's inline skates include teal in the boot color and are in women's shoe sizes. The men's inline skates are in men's shoe sizes and either are gray or have a neon green highlight.
If you are looking for a comfortable pair of rollerblades that will give you a smooth ride, then check out one of the most affordable and best rollerblades out today – the Rollerblade Zetrablade Elite.
Rollerblade Zetrablade & Rollerblade Zetrablade Elite Highlights
---
4. K2 Kinetic – Best for Beginners (Bronze)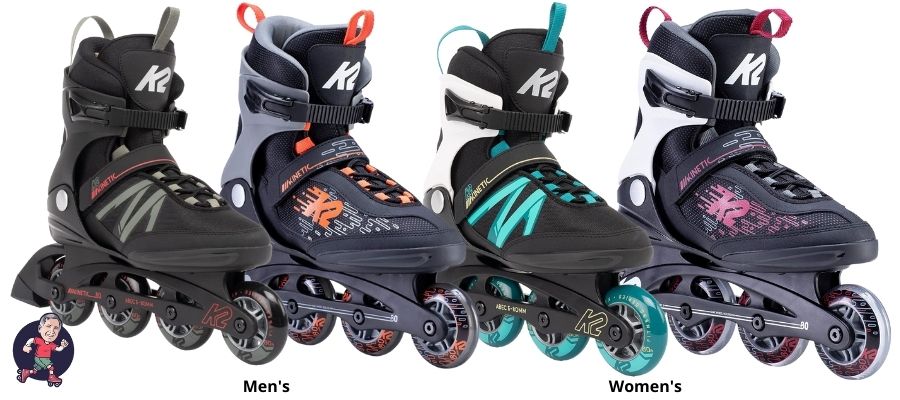 Rounding out our list of best rollerblades for beginners, we have the K2 Kinetic. One of the nice things about K2 skates is they often come in half sizes – not something Rollerblade always offers. K2 also offers a speed lace system on the K2 Kinetic Pro that make putting on your inline skates faster.
The K2 Kinetic has a composite frame that has a low center of gravity giving you extra stability. It also has 80mm diameter wheels which are good for a beginner. You want to be on smaller, shorter wheels when just starting out.
K2 Kinetic Highlights
---

If you really love to ski and you are looking for the best inline skates for cross training off season, then look to inline skating and the Rollerblade Maxxum Edge! Inline skating is a great way to stay in shape when there is no powder on the slopes, and the Maxxum Edge are some of the best rollerblades to keep you in shape offseason.
These inline skates are for more intermediate to advanced skaters or skiers who already have good balance and stability – especially for the 125mm skates. The Maxxum Edge boot is a durable, vented boot that keeps your feet from sweating and has a secure fit while you are inline skating. These high quality skates boast a V-cut cuff to allow for extra flex and versatility.
It has a heel shock absorber to keep vibration to a minimum. It also has a high performance, active airflow foot bed and a premium mesh liner to keep your feet cool while you roll outdoors.
Finally, it has a frame made of aluminum which is solid but lightweight that offers the best power transfer with each of your pushes. This helps to make the inline skate faster, more sturdy and longer-lasting than it's composite counterparts.
Rollerblade then offers two of it's top polyurethane wheels on both of these inline skates. The Edge 90 comes with the Rollerblade Supreme wheels. The Edge 125 comes with the Rollerblade Hydrogen bigger wheels. The 90mm will give you more control while the 125 skates boast more speed.
If you really want a more advanced, solid pair of rollerblades, check out the Edge series.
Rollerblade Maxxum Edge Highlights
---
If you are looking for a great pair of rollerblades for city skating or commuting to work / school, then check out the Twister Edge from Rollerblade. These freestyle skates are especially created for you city slickers who are looking for the best rollerblades for skating in an urban setting but are also interested in fitness skating, too.
The boot has a new, anatomical transfer footbed that provides extra cushioning, shock absorption and provides a secure fit while you inline skate on the city streets and sidewalks. It also has a V-cut liner to ensure that the boot breathes well and keeps your feet dry.
It has an aluminum frame has lateral sliders built-in. It's a great frame for extra speed, stability and power transfer. It also has Rollerblade's Supreme smaller wheels which are some of the best they offer. These smaller wheels give you a comfortable ride while also giving you more control to maneuver around obstables.
If you want a great fitting inline skate that is comfortable and will get you up and down those city streets, then the Twister Edge is a good choice.
Rollerblade Twister Edge Highlights
---
For you intermediate skaters on a budget that want a high performance skate, check out the Rollerblade BladeRunner Formula 100. These skates are great for those of you who started on the beginner Bladerunner or Zetrablade skates are now looking to upgrade.
The boot has the familiar strap, buckle and speed lace closure system that you already know. Then, it has an engineered mesh liner with extra padding to give you the comfort you need. All of that extra padding also provides the extra support you'll need on these larger 100mm / 82A wheels.
This inline skate comes with an extruded aluminum frame that supports a three wheel design. The brake is also standard and already mounted. If it's time to upgrade to a new inline skate but you aren't ready to go all out on a Macroblade, then give the BladeRunner Formula 100 a try.
Rollerblade Bladerunner Formula 100 Highlights
---
If you are looking for some of the best rollerblades / inline skates for speed skating, then the Rollerblade Powerblade Pro 125 wins my top spot. These speed skates are fast. They sport a lightweight aluminum frame that is great for superior power transfer.
The boot is low cut which means it provide very little ankle support (like none). That's great because aggressive skating when speeding around tight corners requires you to get low. You already have superior balance if you are rocking these skates.
They have bigger wheels than almost all inline skates – sporting Rollerblade's top-of-the-line Hydrogen 125mm wheel. With an 85A durometer, these wheels are great on all outdoor surfaces and really fly! I should also mention to you beginners out there that please don't even try. These skates have no brakes and they are really only for the serious advanced and intermediate skaters among us.
These really are the best inline skates on this page and are only for you super advanced skaters out there who have a death wish and a need for speed! 🙂
Rollerblade Powerblade Pro 125 Highlights
---
For all the athletes out there (I'm looking at you Shaq!), Rollerblade makes the RB XL skates that come in sizes 14-17.5. It's the only rollerblades on the market that I know of that come in these larger sizes.
It has an extruded aluminum frame great for supporting extra weight of athletes and all around bigger fellas. It also works great for giving your extra speed and power. These rollerblades come with 90mm diameter wheels that have an 84A hardness that is great for skating both indoors and outdoors.
If you are a gentle giant with large feet and have been searching for a pair of rollerblades in your size, these are the ones for you. And, if you do have Shaq feet (size 23), your going to need to reach out to a skate manufacturer or retailer directly to get a pair of custom skates. 🙂
Rollerblade RB XL Highlights
---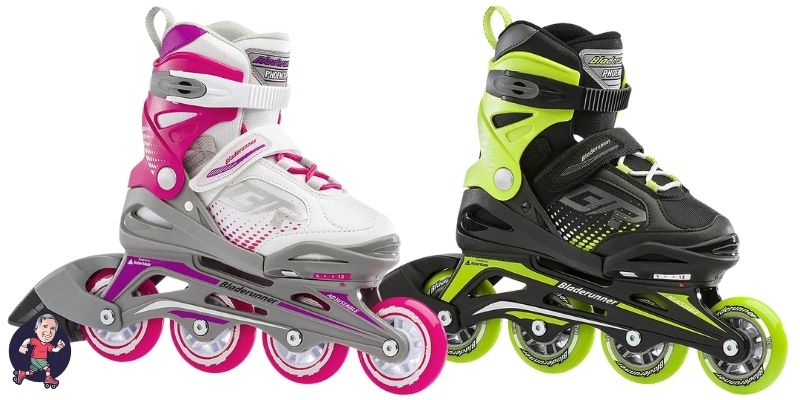 The best inline skates for kids are the BladeRunner Phoenix adjustable inline roller skates from Rollerblade. This is because of the quality of these inline skates for a cheaper price than most.
Beginner and intermediate skaters will like that these recreational skates come in 3 different adjustable size ranges that are easy to adjust with a simple push of a button and a pull on the boot. The medium inline skate alone has up to four sizes.
Beginner skaters will like the velcro straps and laces making it easy to secure the ankle. It also has 80A durometer wheels that are perfect for giving your child a smooth ride whether indoors or outdoors.
Rollerblade Phoenix At a Glance
---

Next up, we have the Rollerblade Microblade – some of the best rollerblades for kids today. These roller skates for kids and toddlers are a little kid version of the Rollerblade Macroblade for the bigger kids.
They come in 3 adjustable sizes and have 2 different configurations – a 4-wheel 72mm version and a taller, 3-wheel 76mm skate. These are a little more expensive than our top pick Phoenix rollerblade, but they are a little nicer and perfect for inline skating indoor or outdoors.
Rollerblade Microblade At a Glance
---
Next up, we have some little kids beginner hockey skates – the Rollerblade Bladerunner Dynamo Jr. These roller skates also come in adjustable sizes and are perfect for the younger kids.
These come with 72mm diameter and 82A hybrid wheels which are perfect for a smooth ride both indoor and outdoor inline skating. It also comes with a high quality aluminum frame which makes it a much nicer pair of inline skates.
Rollerblade Bladerunner Dynamo Jr At a Glance
---
The Bauer Vapor 2XR Pro is my top pick for the best roller hockey skates on the market today. If you are looking for a pair of professional inline skates, then look no further. The Vapor 2XR Pro is an elite-level pair of roller hockey skates. It provides top of the line materials and maximum comfort.
Where this inline skate really shines is in the boot. Bauer spent a lot of time and effort on the stable boot in this setup and on the Dynaflex system which helps to improve your push power. It provides an Integrated Injected Facing that wraps the foot for better support and increased control. The boot also has a plush performance liner and a lightweight construction that will have you flying down the floor with control.
This inline skate is outfitted with on of the top hockey skate wheels in the Labeda Addiction Grip. It also sports a Hi-Lo Kryptonium 76-80mm frame that is lightweight. The inline skate also comes with two 76mm wheels in the front and two 80mm wheels in the back. Perfect for putting you in an attacking position.
Finally, these Bauer hockey skates boast Hi-Lo Swiss bearing that are long-lasting and provides a superior roll. Swiss bearings are some of the best inline skate bearings on the market for their durability and long roll.
The Bauer Vapor 2XR Pro are the best inline hockey skates on the market today.
Bauer Vapor 2XR Pro Highlights
---
A close second on the best inline skates for hockey is the Inhaler WM01 from Mission. This inline skate provides top of the line materials and maximum comfort.
The outside of the boot is constructed with a full carbon Curv composite material. This makes the boot super tough and long-lasting. Plus, the boot is heat moldable. This is a process that allows you to break in your skates faster. It also allows you to shape the boot around your feet providing ultimate comfort.
The tongue on the boots is vented which provides airflow while you play. Plus, each tongue has a large piece of felt making it extra comfortable. The Grip Fit Pro tech used on these boots also helps to keep your feet securely locked in place.
When it comes to wheels, this inline skate is also outfitted with Labeda Addiction wheels. It also uses the Hi-Lo Kryptonium 76-80mm frame that is lightweight. The skate also comes with two 76mm wheels in the front and two 80mm wheels in the back. Perfect for putting you in an attacking position.
Finally, the WM01 uses a Hi-Lo Swiss bearing that is long-lasting and provides a superior roll. Swiss bearings are some of the best inline skate bearings on the market for their durability and long roll.
Mission Inhaler WM01 Highlights
---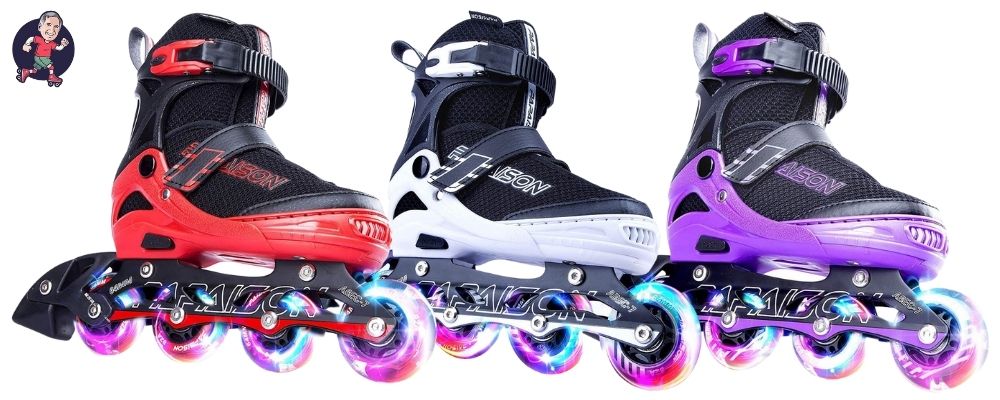 Bring on the colorful LED lights! The Papaison Adjustable inline skates light up and have colorful lights that really get people's attention. The colorful LED lights inside are rainbow color and will turn heads – turning you get the wheels rolling.
They come in up to four sizes – all adjustable. This makes them great roller skates for the little tikes or even your teen. For the best inline skates with LED wheels, check out the Papaison. These roller skates promise to be as comfortable as any other pair while still looking great. Plus, they are affordable, size adjustable, off a smooth ride and are a good overall pair of inline skates.
Papaison Adjustable Inline Skates Highlights
---
Frequently Asked Questions
What are the best inline skates for street and outdoors?
My favorite inline skate for outdoor, street and urban skating are the Advantage Pro XT by Rollerblade for Men and Women. It's a a great pair of quality skates for a beginner and has soft 78A wheels that are perfect for outdoor roller skating.
What are the best inline skates for beginners?
The Rollerblade Zetrablade made are list as a inline skate for both men and women. These are good recreational inline skates that are good for beginner skaters. First, these rollerblades come with a high cuff and a padded liner that makes for a snug and secure fit. The 82A wheels are good for outdoor recreational skating because they will give you a slow, smooth, comfortable ride whether you are city skating or in a roller rink.
Which brand of inline skates is best?
The best inline skate brands for a solid pair of rollerblades for beginners come from Rollerblade. Roller Derby and K2 also make some good rollerblades. For the more advanced skater, look at Mission, Bauer, SEBA and PowerSlide as a few of the top manufacturers of inline skates. In this article, we focused more on beginner rollerblades but we will cover more advanced skates in future articles on subjects like best inline speed skates and best inline hockey skates, so stay tuned!
What are some beginner tips for how to choose the best rollerblades?
For the beginner, you need reliable support that will provide better balance. You want your boot to provide extra support and a snug fit. Next, you want your wheels to be a softer durometer (wheel hardness). I usually aim for a 78A wheel which will give you a smooth ride when you are outdoors and will also be slower, which is great for beginners. As you gain more skating experience and pick up more speed, you can look at purchasing harder wheels for your skates which will offer more speed with less control.
The other important tip for beginners is to get some protective gear. Your going to want knee pads, elbow pads, wrist guards and a helmet. It's a lot of extra gear, but your body will thank you for it.
For even more tips, be sure to check out my How to Rollerblade article where I cover everything a beginner needs to know to get started.
Is rollerblading harder than roller skating?
Yes. Rollerblading and inline skating are a little harder than quad roller skating simply because of weight distribution. On rollerblades and inline skates, the skater must balance on a single row of four wheels. On quad roller skates, your weight is evenly balanced between two sets of wheels – two wheels in the front and two wheels in the back of the skate. This makes stability and balance easier on quad skates vs. inlines and rollerblades.
However, you will meet many people who find rollerblades to be easier than quads. How is that possible? Well, almost all beginner rollerblades come with a high-top boot that provides extra ankle support. This extra ankle support provides stability and security to the beginner skater and makes it easier to balance on that single line of wheels. With that said, in rollerblades you still have to balance on a single row of wheels but that is made easier because of the boot design.
A lot of beginner quad skaters who really need more stability will incorrectly go with a low-cut boot and think that it's harder when they switch to blades. They are correct, it is harder because they picked the wrong quad boot and should have gone with a high-top boot.
Balance is the most important thing when you first learn how to roller skate regardless of if you use inline skates, rollerblades or quad skates. Read more about this great debate in my article Rollerblades vs Roller Skates vs Inline Skates.
Is rollerblading good for weight loss?
Rollerblading is an excellent weight loss activity! In fact, you can burn over 600 calories in just 1 hour of blading, which is better than many other exercise activities. Inline skating and rollerblading are full body activities where you have to get your arms, legs and entire body activated. This greatly increases caloric burn.
If you are interested in learning more about why blading is so great for you, be sure to check out my article 10 Amazing Health Benefits of Roller Skating.
Learn More Inline Skating from the Roller Skate Dad Newsletter!
If you are interested in more advanced roller skating, then be sure to sign up for the Roller Skate Dad newsletter. In my regular newsletter, I send out roller skating tips and tricks. Learn more about the best inline skates available today, the newest inline skate gear, as well as how to improve as a roller skater. The newsletter is geared to casual skaters who want to learn more about this great sport and occasionally hear from professional roller skaters, too. We talk roller derby, artistic skating, jam skating and more.
Sign up for free below!