Now that you have been roller skating for awhile, you may find that your roller skates are rolling slower. If so, it may be time to learn how to clean roller skate bearings! But first, you need to learn how to remove bearings from roller skate wheels so you can either replace them with new roller skate bearings or clean them.
For starters, when you're roller skating you need good, clean bearings in your roller skate wheels. And if you don't take care of them properly, they can become clogged with dirt and debris and really slow you down – not to mention damage the bearings.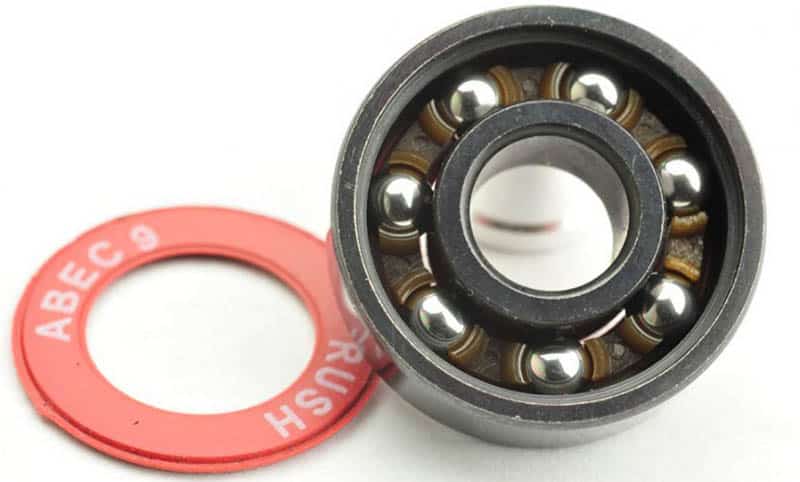 If you're having trouble removing your bearings from your roller skates wheels or you have a pesky bearing spacer to maneuver, don't worry. I've put together a few tips to help you out. With a little patience and some elbow grease, you'll have those bearings out in no time!
Here are the 4 ways on how to remove bearings from roller skate wheels that I will cover in this article:
The first 3 methods I describe will work for quad roller skates, rollerblades or inline skates. The last method only works for quads as you need skate axles to pry the bearing out. 🙂
What Tools You'll Require?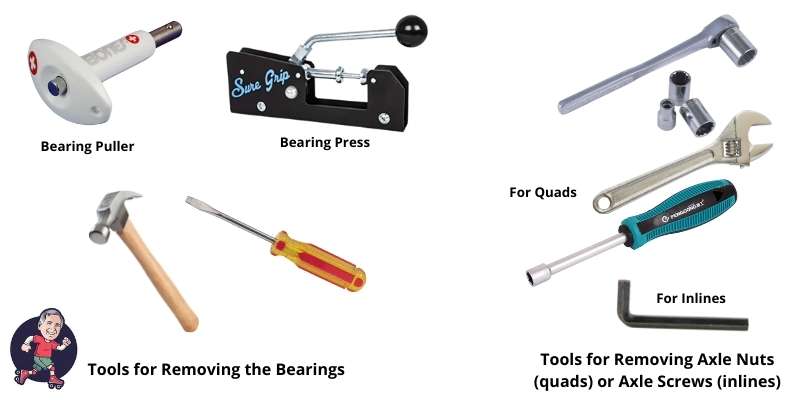 Before you get started, you'll need a few basic tools:
A socket wrench set, socket screwdriver, wrench or an Allen wrench: You will use one of these tools to remove the axle nuts that hold the quad wheel on the skate axle. If you are wearing inline skates, then you'll need an Allen wrench to remove the axle screw that holds your inline skate wheel in place.
Then, one of the following sets of tools:

A bearing puller: This is a specialized skate tool that's used to remove bearings from wheels.
A bearing press: This is a special skate tool that makes inserting and removing skate bearings much easier.
A hammer & flathead screwdriver: You'll use the flathead screwdriver and the hammer to lightly tap the bearing out of the wheel.
Or you can skip all the extra tools and just use your skate's axle! (only for quads)

Finally, grab an old rag or some paper towels because removing bearings is greasy and messy!
How to Remove Bearings from Roller Skate Wheels?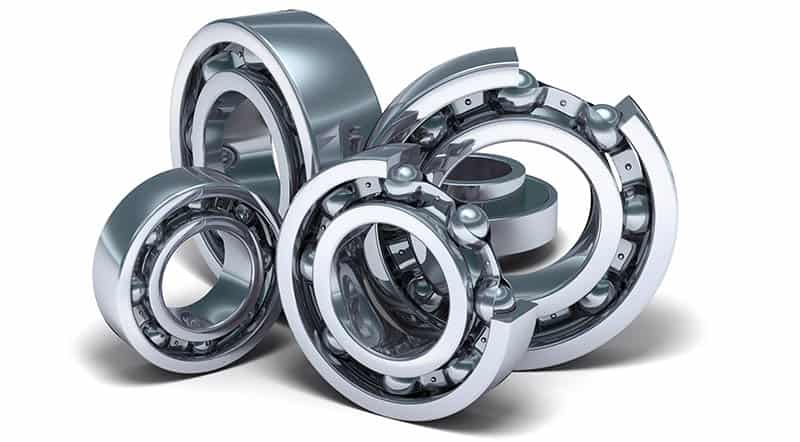 Now that you have everything you need, let's get started. Here are four ways to remove bearings from roller skate wheels:
Method 1: Use a Bearing Puller
This is the most common way to remove bearings from roller skate wheels. A bearing puller is a tool that grips the bearing and pulls it out of the wheel. It can also assist in pushing the bearing back into the wheel.
Step One: Take the Wheels off Your Skates
First, use your wrench or socket screwdriver to remove the axle nut / screw from your skates. Turn counter clockwise to loosen it. Then, pull the wheel off your skate.
Step Two: Insert The Bearing Puller
Next, grab your bearing puller and push down on the button on the top of it. This makes the 2 prongs on the bottom of the tool suck in so you can insert the puller inside the first bearing in your wheel.
Remember, there are 2 bearings in each wheel. Once the tool is inserted, let go of the button on the top of the tool. The 2 prongs on the bearing tool will now press out giving you a vice-like grip.
Step Three: Twist and Pull
Now, comes the muscle! Grab the wheel in one hand and your bearing puller in the other and twist and pull on the puller tool until the bearing comes out.
Depending on how tight the bearings are in your wheels, this can take a little work. Sometimes they pop right out, and other times they can be quite a pain. Just slowly rotate and pull until they release.
After you get the first bearing out, flip the wheel over and perform the same action on the other side of the wheel. Continue doing this with every wheel until you have all the bearings removed.
Method 2: Use a Bearing Press
Another great way to remove bearings from skate wheels is by using a bearing press. The Sure-Grip Bearing Press is a good skate tool not only for removing bearings, but it also makes putting the bearings back in your skates super easy.
The front side of the bearing press has a little hook on it that you can use to pry the bearing out of the wheel.
Then, the internal part of the press has an arm that swings up. You slide a bearing onto the press, then slide on your wheel (without bearings in it) and then slide a second bearing. You push the arm down and then pull down on the handle and tada! Your bearings are pressed into the wheel.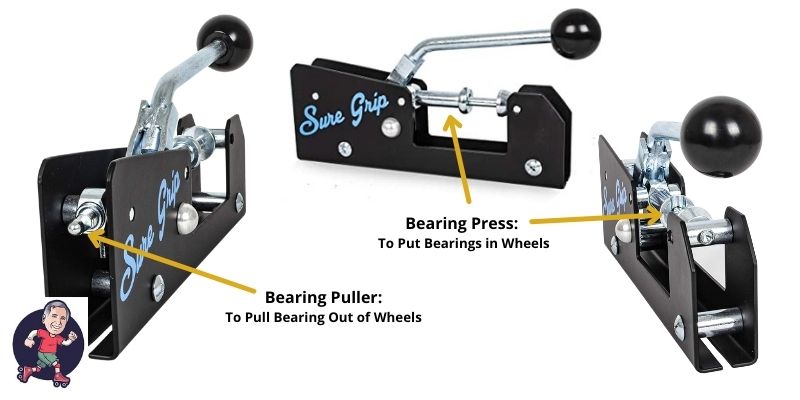 It's a pretty handy tool and it's small enough to fit in most skate bags. I have it in mine and carry it with me anywhere I skate – just in case.
Method 3: Going Old School! Use a Hammer and a Screwdriver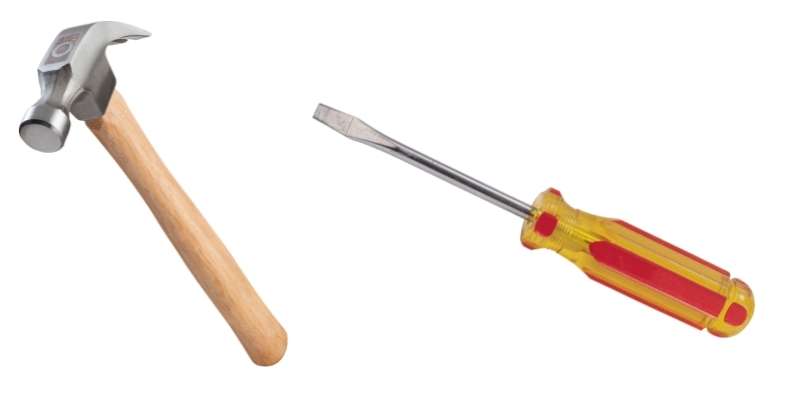 Another common way to remove bearings from roller skate wheels is the good old hammer and screwdriver method. This is how I used to remove bearings back in the day…and it still works great. You do need to be careful that you don't hammer too hard, otherwise, you can damage the bearings.
Step One: Take the Wheel Off Your Skates
First, remove the wheel from your skates using a wrench. Place the wheel flat on the ground or on a table.
Step Two: Place the Screwdriver Through the Bearing Hole
Next, slide the screwdriver through the top bearing and down to the bottom bearing. I find its best to place the flat part of the screwdriver up against the bearing that is on the bottom of the wheel. Make sure the screwdriver is not sliding.
Step Three: Hammer the screwdriver.
Now, it's time to start hammering. Hold the screwdriver in place and give it a few light taps with a hammer. The goal is to push the bottom bearing out from the wheel.
Lightly tap to start. If you can't remove it, give it a harder tap. The key here is not to hit it so hard that you damage the bearing…unless you are throwing these away and installing new bearings. Then, by all means, hammer away! 🙂
Step Four: Remove the bearing.
After a few good whacks, the bearing will start to come out. Keep tapping until it pops out completely.
Method 4: Use Your Skates Axle (Quads Only)
In a pinch, you can remove bearings from roller skate wheels without any tools. Here is a handy skate video from Roller Skate Nation that shows this technique well.
Basically, you use the axle on your quad skate as a tool to pry the bearing out of your wheel.
I honestly prefer using one of the 3 methods above, but this works too if you are in a pinch and need to get a bearing out of a wheel but have no tools handy.
What Hurdles Do I Need to Overcome?
Removing bearings from roller skate wheels can be a bit tricky, but with a little bit of patience, you'll be able to do it. Here are a few things to keep in mind:
Make sure that you have the right tools for the job. A bearing puller, a bearing press or hammer and screwdriver are the most common tools used for this task.
Be patient. Removing bearings can be a bit tricky, but if you take your time, you'll be able to do it.
Never use heat to try to remove or clean a bearing, Do not use a hair dryer or any other heating element around bearings as it can damage them.
With a little bit of patience and the right tools, you'll be able to remove bearings from roller skate wheels like a pro!
Want to Learn Even More About Skating?
Want more reviews on roller skates? Check out my Best Roller Skates page for a list of all of the quads I recommend. I also have pages for roller skates for men, roller skates for women and roller skates for kids where I recommend the best skates on the market today for each group. Or, check out my roller skates for beginners if you are completely new to roller skating.
Or, if rollerblades or inline skates are more your style, then check out my rollerblades for men, rollerblades for women or rollerblades for kids pages. Or, if you are completely new, check out my rollerblades for beginners page.