Rolling down your local rink floor, you feel the wind in your hair as you glide smoothly across the surface.  Your roller skates are barely making a sound as you effortlessly push again to pick up speed.  One of the key parts of a roller skate that make this silky smooth speed a possibility are roller skate bearings.
Roller skate bearings are one of the most important and crucial parts of a roller skate.  Bearings are what allow the roller skate wheel to move on the axle or hub of the roller skate frame.  Having the right bearings and insuring they are clean and properly maintained leads to that smooth, soundless ride we all desire.
What is a Roller Skate Bearing?
Lets break down the roller skate bearings into more detail.  It's a fairly misunderstood roller skate component, so in this article, I am going to start with the super basics and then go into detail about it so you really understand this crucial part of your skate.
First, lets identify where bearings are located.  Grab a pair of your favorite roller skates and turn it on it's side so you can look at one of your wheels closeup.  As you look at one of the wheels, it should look something like this picture to the left.  The silver metal circle in the middle of the wheel is the roller skate bearing.
All roller skate wheels have two individual bearings on either side of the wheel.  One in the front and one in the back.  The bearings are inserted into the wheel usually by pressing them in with your hands.  There is a picture of my favorite bearings, Bones Super Reds, to the right as a closeup so you can see how they look when they are new, clean and not already in a wheel.
Now, if you were to pull a wheel off of your skate and push it across the floor, it would roll on it's own.  It is a wheel after all, so bearings aren't needed to make the wheel roll on it's own. 🙂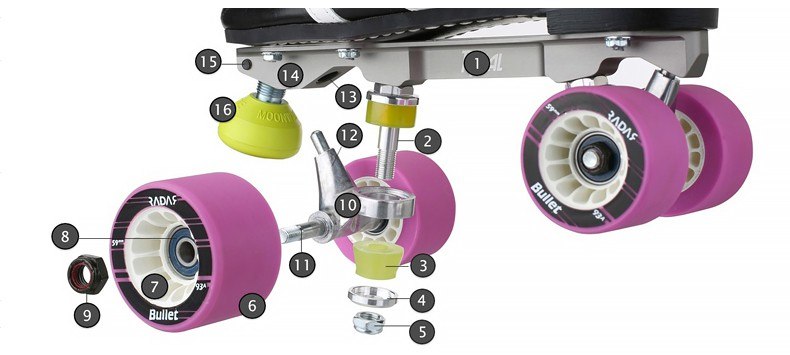 However, the reason the bearing is needed is because your wheel attaches to your skate boot via roller skate plates (#1 in the diagram to the left).  Sticking out at the bottom of every skate plate are four skate axles (#11).  They are the thin, long metal where the wheels attach.  The bearing fits inside of the wheel and the wheel with the bearing inside of it slides over the axle.  The wheel is then secured to the axle via an axle nut (#9).
As you can see from the diagram, there are a lot of other components, but I wanted to keep it simple.  If you want a lot more details on the overall anatomy, there is a really great skate plate breakdown over at Derby Warehouse.  I highly recommend using their interactive skate anatomy diagram to understand your skates better.  Understanding your skates better will really help you take better care of them, and more importantly knowing your skates helps to keep you safe.
This probably is obvious to you now, but if you didn't have bearings, then the axle would either need to be much bigger or the whole in the wheel would need to be much smaller.  Then, you would also have the huge problem of your rubber wheel rubbing up against the metal axle directly, which would not get you very far as the wheel would no longer roll (not to mention that your rubber wheel would be damaged quickly).
Anatomy of a Roller Skate Bearing
Now that we have located the roller skate bearings, lets dig into an individual bearing itself and understand how it works in more detail.  This area will focus on roller skate bearings, but it is very similar for most ball bearings.
Ball bearings are used in all kinds of different applications.  Your clothes dryer, the lazy susan spice tray, your car and of course your roller skates, which is what we are here to talk about.
The roller skate bearing is broken down into 5 main parts:
Shield

The shield is usually a rubber ring that goes on the outside of a bearing.  It is used to protect the insides of a bearing from dirt, water and debris.  Not all bearings have a shield (some people actually like bearing without a shield for the extra noise it makes), but most roller skate bearings do to help protect them.

Inner Race

The inner race is the inner most cylinder of the bearing.  It is one half of the bearing that the ball bearings roll against.

Outer Race

Just like the inner race, the outer race is the outer cylinder of the bearing.  It is the other half of the bearing that the ball bearings roll against.

Ball Bearings

These little, perfectly round balls are where the magic happens.  The ball bearings roll inside the inner and outer race making the bearing turning over and over again.  The inner race is connected to the axle and allows your wheel to roll.

Retainer

Some skate bearings have a retainer that helps keep the ball bearings separated equally from each other in the outer and inner raceways.
Here is a really simple video of how ball bearings work in action:
Here are another couple of great resources that I found that explain bearings in more detail:
Roller Skate Bearings – Jeff Recommends
If you are looking to replace your current roller skate bearings, I personally use Bones Super Reds bearings in all of my roller skates. I find that they are both cost effective (about $50 for a set of 16 – remember you need 16 bearings for roller skates – 8 wheels x 2 bearings / wheel) and are one of the best roller skate bearings on the market.
They are metal bearings and they are pretty easy to keep clean and maintain, too.  I do most of my skating indoors at my local rink here in Austin, Texas, so I find that the cheaper metal Bones Super Reds are the way to go for me.  After 6-12 months, I usually just get a new set for myself.  However, you can use acetone cleaners to clean your bearings and keep them for a very long time – more on that in a future article.
If you have a pair of outdoor roller skates or just want a bearing that will last longer and give you a smoother ride, then I would go with Bones Ceramic Super Reds bearings. 
They are considerably more expensive, but some people really prefer ceramic because they require less lubricant and give a smoother ride.  However, they are usually around 2-3x the price.  I'll do a further breakdown of metal vs. ceramic bearings in a future article for you.
Until next time, thanks for stopping by and keep on rollin'!
Want to Learn Even More About Skating?
Want more reviews on roller skates? Check out my Best Roller Skates page for a list of all of the quads I recommend. I also have pages for roller skates for men, roller skates for women and roller skates for kids where I recommend the best skates on the market today for each group. Or, check out my roller skates for beginners if you are completely new to roller skating.
Or, if rollerblades or inline skates are more your style, then check out my rollerblades for men, rollerblades for women or rollerblades for kids pages. Or, if you are completely new, check out my rollerblades for beginners page.