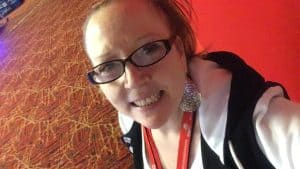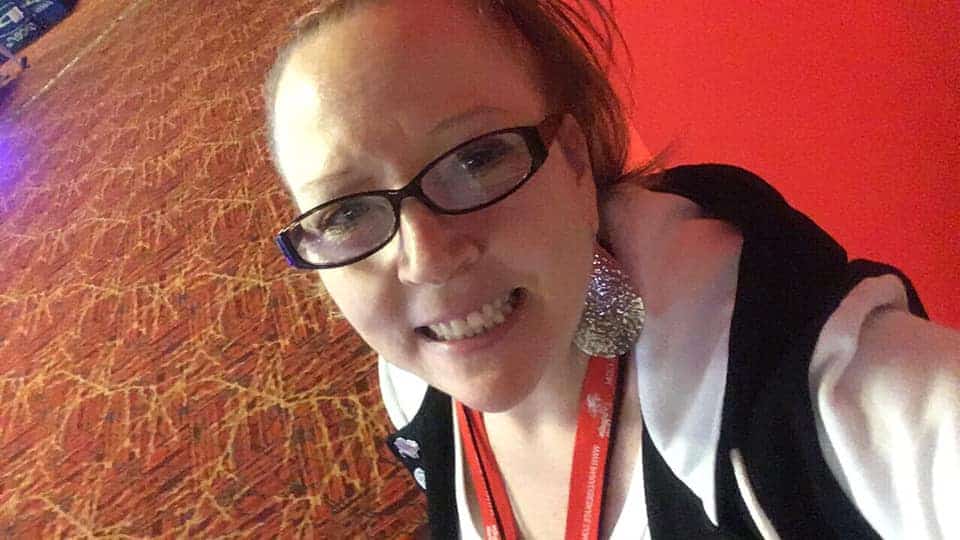 Ginger Dawn Mathews is known as The Skate Critic on Facebook. Ginger has been reviewing roller rinks for the past 5 years visiting over 300 skating rinks and writing reviews on each one. She was featured in the United Skates documentary that aired on HBO in early 2019. Her vast data on skating rink closures was used to make the animated map in the film.
Her mission is to visit, save and grow the number of roller skating rinks across the US. She can be found on Facebook at The Skate Critic.
---
So I don't normally write reviews on a convention…. However……☺️.
Excellent Staff

Excellent Vendors

Awesome Rink Owners!
I met many different Rink Owners I've never met before, Saw Many Rinks Owners I've met before at their Rinks & I met many many many New Rink Owners!! These new Rink Owners are just about to Open, Opening soon or Just filled out there business plan the night before at 3:30am!!! Whoo Hoo!!! ?
There were so many different vendors!!! Everything you need to Start a Rink or Better your Rink!!! All under one roof!!! Wow!!!! Everything from Roll-on to Flashy Lights!!! ??See Videos & Photos in the gallery below.
Loved all the Historical Signs on Roller Skating. See Photos
Loved the Sure-Grip/Pacer Reception sign, Peace necklaces, Light-Up bracelet & Table centerpieces. They were actual roller skates!!! See Photos & Videos
I got some cool pins from Paradise Skate in Antioch & Lakeport California, Susan Geary at RollerSk8er.Com & Rollerbones for My Skate Critic jacket. See Photos
Got a Pop Socket & Keychain from Jeffery B. Warrenburg at Paradise Skate in Antioch & Lakeport California. See Photos
I got these life size Roller Skate stickers from Crazy Skates in Australia!!!Wow!!! See Photos
And I got a really cool Racerback Tank Top from the National Museum of Roller Skating In Lincoln Nebraska. See Photos
Make sure you check out the new "Bones Big Balls" Reds bearings!! ? See Photos
Loved the Carpet on the floor for the Presidents dinner!! I had to get Tony from Roller Dome in Richmond VA to help me cause I was to short to get the whole thing in Frame!! ? Thank You Tony!!! See Photos
I also saw the LA Roller Girls perform at the RSA Conventiotn. No Video though… I tried to go live however the Hotel/Casino has a dampening field on Live feeds. ?
I also gave away Roller Skate Window Decals. Make sure you check out My Awesome Winners! See Photos
I'm going to attempt to name all the Rink Owners/General Managers I came across & their Awesome Rinks!!! Good Lord Help Me!! Alright let's go!!!
Adrienne Van Houten

 – 

Moonlight Rollerway Glendale CA

Jim

 & Sophie Park-Neville – Roller Drome Pittsburgh PA

Darin Pattison 

– Pattinson's West Federal Way WA

Tiffany Peek Caston

 

– Starlight Skatium Fayetteville AK

Brad Armstrong

 

– The Rink Sacramento CA, Roller Kingdom Reno & Top Gun Fallon NV

Joe Champa

 

– Champ's Louisville KY

JoLynn Bryant

 

– Smokey Mountain Skateway Waynesville NC

Jeff Warrenburg – Paradise Skate Antioch & Lake Port CA

Jeff & Ava 

Couey

 – Sparkles Hiram & Kennesaw GA

Michael Couey – Starlite's Stockbridge, Sharpsburg & McDonogh GA

Niali Foggy – Skate King St Louis MO

Scott Campbell

 

– Scooters Wilmington NC

Jeff & Josh Ingram – Skate City's & Xfinity CO

Hassan Sharif – Golden Skate in San Ramon CA

Michael Jacques – Roller King Roseville CA

Marcy Turner-Grey

 

– Future Rink Owner

Jim Dvorak – United Skates of America

Karen Palermo

 

– United Skates of America 

Jonathan Baker

 

– Great Skate in Glendale AZ

Tim Duska – USA in Columbus OH

Crystal Sperling

 

– Pier 2 in Brooklyn NY

Majorie Emile – Branch Brook Newark NJ

Crissela Aguilar – Skateland Mesa AZ

Erica Smith – Skateland Chandler AZ

Alex Wallace – Dr MLK Family Entertainment Chicago IL

Lance Castro

 

– Fun City Webster TX

Bill & Tanya 

Hoefler

 

– Interskate 91 North Hadley MA

Brenda VanOrnum

 

– Lynden Skateway Lynden WA

Alan & Judy Bacon – Rollarena in Richland WA

Mike

 & Robert Penrod – Orbit Huber Heights OH

Jason Khan – DX's Rollerworld Europe 

Bob & Jeanne Housholder – Skateland In Savoy IL

Debra Huemoller

 

– Future Rink Owner

Cort Wahlig – Christiana Newark & Dover Skating Center Dover DE

Shane

 Locklear & 

Tony Kaschalk

 – Roller Dome Richmond VA

Travis Smith

 

– Easley Skate Center In Easley SC

Melissa Wilson – Interskate Lewisville TX
I also remember these rinks and forgot who I talked with. ?
Brentwood Brentwood, TN

Everett Skate Deck in Everett, WA

Skate City in Crossville, TN
Vendors that I met or saw again
If I missed you it's not that you weren't Loved & Noticed!!! I was overwhelmed and excited with so many Rink Owners in one Building!! Also being able to talk with Rink Owners without trying to make sure I remembered every question before I walked out of their rink was Awesome!!!
Also if I forgot you or didn't get to you feel free to add photos, Name & Rink info or Just say you wanna start a Rink and join us in 2020 in the comments!!
It was also Awesome to see Rink Owners having so much Fun!! Considering most Rink Owners work 7 days a week and long hours. Some put in as much as 15-18hr days. So it brought great joy to watch them have some well deserved fun. ?
Even I got to get out of my own Work/Skating Bubble when Jolynn Bryant Took Me Ziplining!!! ??? See Videos
If you missed this Convention I encourage you to come next year. Join Me in 2020!!!! Let's Rock this Convention!!! And most important let's Make My Rink list grow!!! Bring on More rinks in 2020!!!! ?
The only feedback I have and I'm not sure if it's the Vendors themselves or that they were just forgotten to be invited. I notice Zuca, Adonis, Harlick, SP Teri & Alcohol vendors were missing. Harlick & SP Teri Are great skate company's for the serious skater. Adonis-Dan Miller makes plates and Wheels. Also Zuca is an Awesome bag for your Skates. Especially for the Skater that travels. Their bags are designed so you can sit on them. They hold up to 280lbs. So when your waiting to get into an event or if the rink is crowded you can sit on your bag to put your skates on. And since quite a few rinks are doing Sip & Skates why were the Alcohol vendors not here??
And one or two more suggestions for next year:
Have a t-shirt vender. I totally would have had a couple of shirts made and some other people said the same thing. Who doesn't love coming home with a shirt and your Logo on it???

You should have "Dirty Debra Harry" Here!! She is a You Tube sensation out of Fountain Valley Skate Center in Fountain Valley CA and sponsored by Sure-Grip International. She's trying to teach the World how to Skate!!! 

?
This Convention gets 8 Wheels and 1 Toe Stop!!!!
#RSAInternational
#AllSkateForward
#RSAConvention2019
[wpanchor id="photogallery"]2019 Roller Skating Association Convention Photo Gallery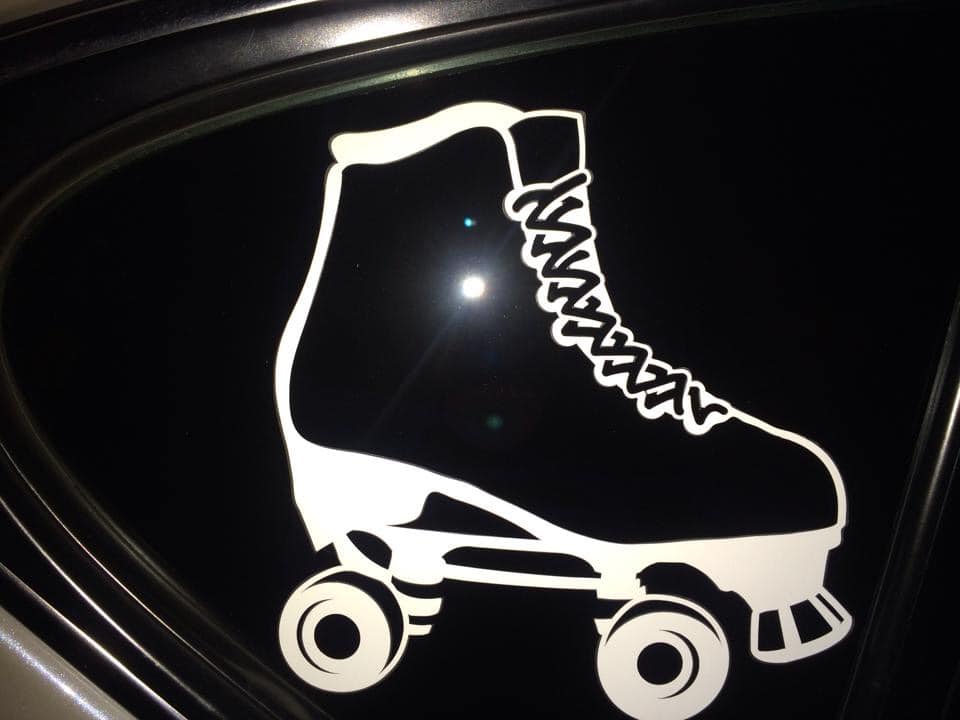 2019 RSA Convention Videos