In the 1980s, roller skating rolled in bold fashion, like permed and teased hair, neon clothing, and aerobic legwarmers. Where the 1970s ushered in the era of roller disco, the 1980s took it to the next level with flashier roller skating rinks, brighter and bolder colors, and fancier roller skates to choose from.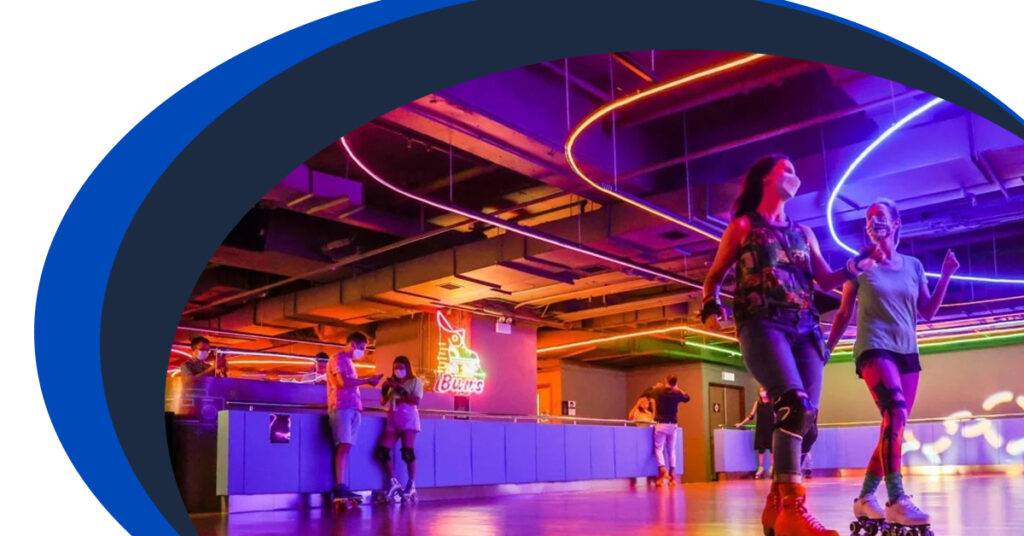 Roller skating was a massive part of the 1980s leisure culture. It gained popularity with everyone – from movie stars to pop stars and athletes. Not to mention everyday people. Young adults had fun at rollerskating parties on Friday nights with their friends showing off their dance moves on wheels. Not to mention the outfits!
Every city had a family-friendly roller rink where children and adults could spend a fun Sunday as a family on skates. Roller disco nights were still popular, and roller skating tournaments and roller hockey were still very much the rage.
It Was All About Fun!
Freestylers roller skated to music, showing off cool tricks, it was a top venue for having a first date, and young fashionistas turned the roller rinks into their personal runways. Much like the 1970s, the roller skating scene in the 1980s was hip and happening!
You'd be hard-pressed to find an empty roller skating rink on a Friday, Saturday, or Sunday at all hours, all day and night. Parents and kids filled the rinks with laughter and joy, even as Moms experienced a little angst as little kids got up on wheels for the very first time.
So, What Was Different About Roller Rinks in The '80s?
Most roller skating rinks have a place to eat, hardwood floors, music, and a great vibe. These things haven't changed! The biggest difference between roller skating rinks a few decades ago and now is that there were no phones for kids or even teens.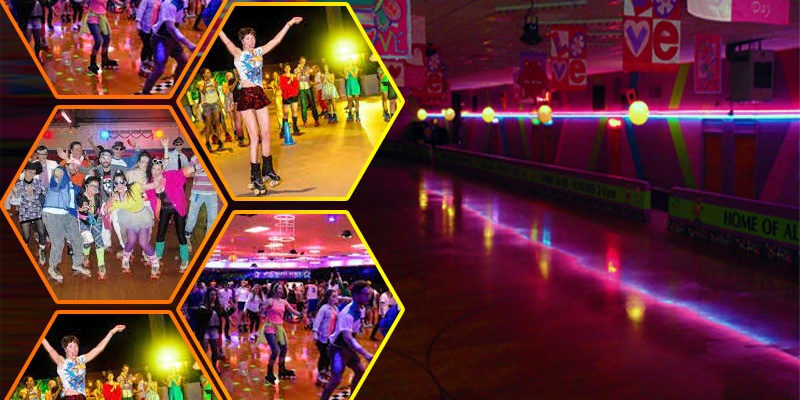 There were no social media platforms either. So, forget about posting selfies and videos of cool tricks on YouTube. Instead of showing off skating skills to strangers around the world, the 80s roller skating scene was about hours of fun and physical activity. 
Roller Rink or Entertainment Venue?
How about both?! It was not just about getting your roller skates on and skating – roller rinks in the 1980s were all-around entertainment venues. Some of the roller rinks of the 1980s had restaurants, and some focused on rocking the best tunes. Others were all about the competition with roller derby and rolling skating tournaments. There were always some newbies hanging on to the railing for dear life, and good vibes were a given.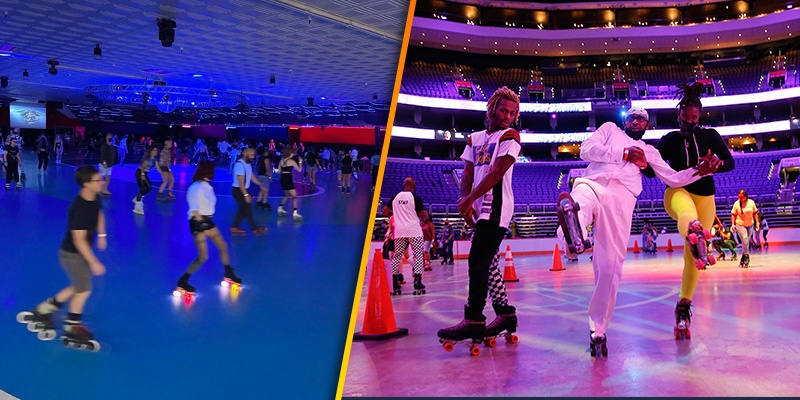 Roller skating remained one of the top choices for physical activity, whether for dancing at a roller disco or sport. The only sure thing is that everyone was still hooked on life on wheels. A trip to the roller rink was as common as arcade games and MTV in the 1980s. It became the place to have parties and meet up with family and friends for weekend fun.
1980s Roller Skating Styles
One thing about roller skating that evolved quite a bit in the 1980s is the skating styles. Just like the 1970s brought on a skating revolution that created a lifestyle around it, so did the 1980s.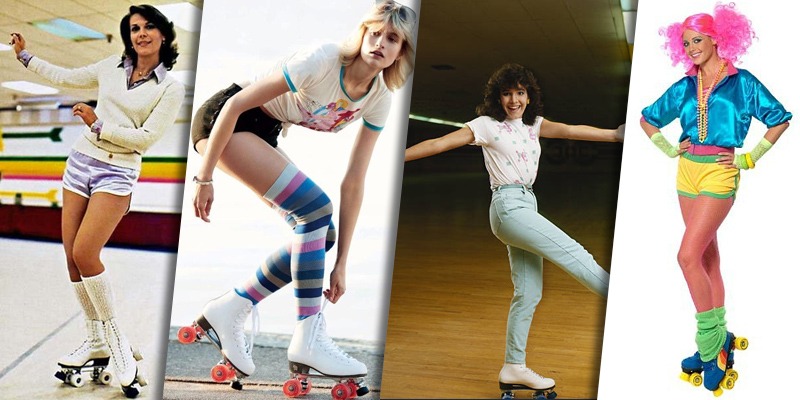 Although roller disco was still very much part of the roller skating scene of the 1980s, the skating style also evolved to include all kinds of tricks and styles. All the major cities like New York City, New York, Chicago, Illinois, Seattle, Washington, and Los Angeles, California, had their individual skating style.
The Coolest Cities in 80s Skate Culture
New York and Chicago experienced a boom in roller skating. They became the Meccas of roller skating, with skating enthusiasts showing off their fancy moves, making it so much more than just good exercise and fun times. In these cities in the 1980s, roller skating was more than a sport. It was exercise; it was a social activity just about everyone could participate in; it was a lifestyle.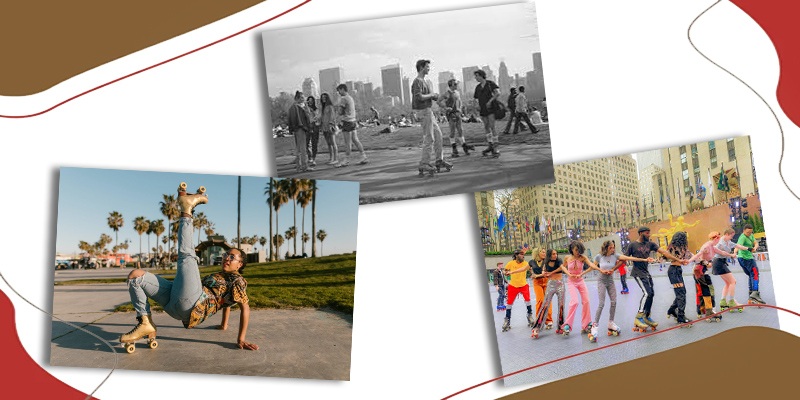 Skaters of all ages put on their roller skates to bust insane air-time maneuvers on half pipes and railing grinds. Whether you're a woman, a man, or a little kid, this sport was the ultimate pastime. Skating became so infectious that popular 1980s TV series began featuring roller disco and roller skating. Shows like Chips and Charlie's Angels were on it!
Even the Fashions Were Focused on Fun!
Tube socks and gym shorts were still on-trend, but the 80s also ushered in new, bold, and bright fashion statements. The hair was big, REALLY big! Perms were in, but perms that were also teased (back combed) were even more trendy! To match the massive hairstyles, women wore statement earrings – again, the bigger, the better!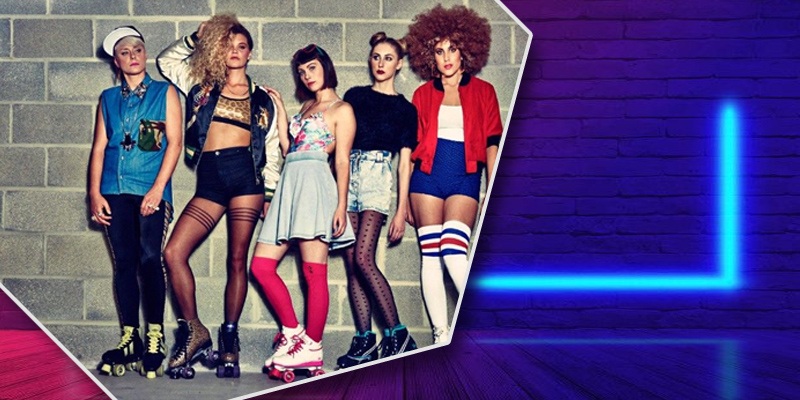 To be in fashion on the roller rinks of the 80s, you could wear any color, as long as it was neon! Neon tights, neon t-shirts, plastic neon jewelry, you name it. It was all in-your-face neon. And if you were one of the few people who weren't into neon, a velour sweat suit was a cool and comfy outfit for anyone. Failing that, you could wear anything that Madonna, Michael Jackson, or LL Cool J would wear, and you'd be radical.
And to match all those awesome outfits, more colors and styles of skates were available than in the previous decade. There was a style for everyone. You could pick and choose whether you liked plain colors, stripes, or for your skates to look like sneakers with wheels!
Roller Disco at '80s Roller Skating Rinks
Although there were many differences between roller rinks in the 1980s and today, a roller skating rink back then had a few things in common with a roller rink of the 1970s. One of the most significant similarities was roller disco! This activity was so much fun; there was no way the '80s kids would let go of it!
Even though the 1970s is better known for the roller disco craze, dancing on roller skates was still a big deal in the 1980s. The world loved roller discos far too much to last only a decade! Skating is all about fun and recreation. What's more fun than dancing to your favorite tunes on your roller skates?
The 1980s Roller Skating Music Scene
Believe it or not, the early years of roller skating were associated with the violin. Joseph Merlin, the inventor of roller skating, put his skates on and played the violin while he was rolling around. What a ride! In later years roller skating became associated with other forms of music. In the 1980s, rink DJs played the most relevant roller beats.
Not a single skate enthusiast could resist putting on their roller skates and grooving on the roller rink. Everyone had their top songs to bust moves to, and the DJs at the skate venues knew just how to play the top beats in the roller skating scene. It created the perfect environment for roller skating lovers to skate their hearts out!
In the 1980s, skating rinks became the ideal venue for people of every age to put their roller skates on and dance to the best music. Roller rink DJs spun hits from Salt-N-Peppa, Prince, Madonna, and Michael Jackson.
A new generation of musicians, like Newcleus, Shannon, and Afrika Bambaataa & The Soul Sonic Force, created drum and synth machine sounds. These became synonymous with the decade of big hair and bigger beats. Next, we'll explore some of the hottest tracks of the 1980s scene. 
What You Heard When You Skate in the 80s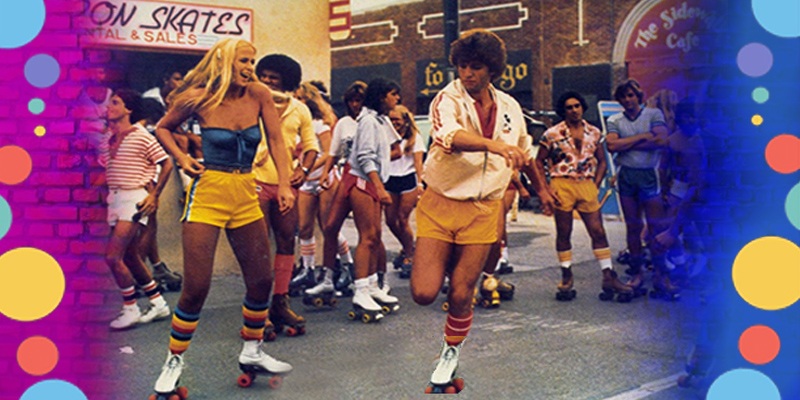 If you were into outdoor skating in the 1980s, you'd probably have a walkman strapped to your gym shorts with all the best skate songs on full volume. If you preferred to skate at a roller rink, there's no doubt you'd hear these ten awesome skate-friendly songs. If they don't get you to put your roller skates on, nothing will!
#1 "Jam On It" by Newcleus – released in 1984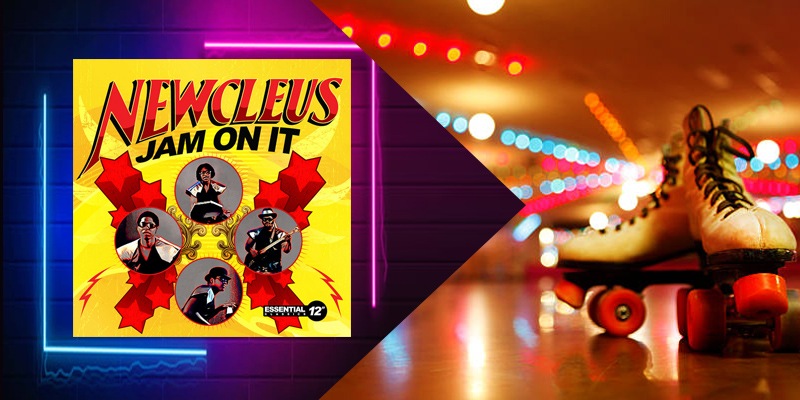 This track is sped-up, fun, and funkadelic. Try out the moves in this video on your roller skates (if you dare!)
#2. "Let the Music Play" by Shannon – released in 1983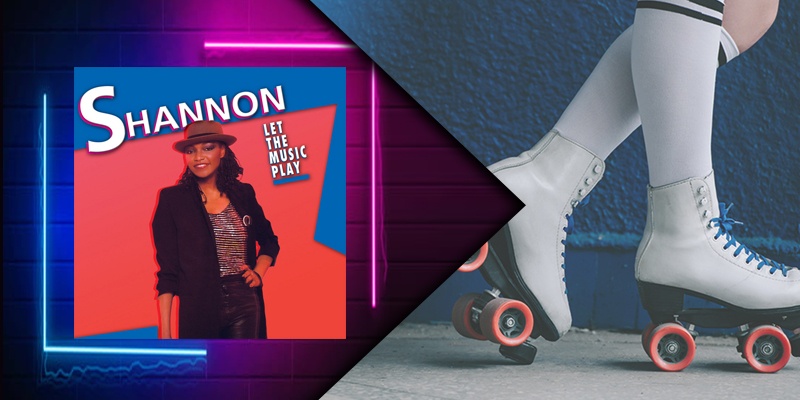 This hit was as fun on the dance floor as on the roller rink. The distinct sounds were made with a drum machine and synthesizers that were limited edition and totally futuristic at the time.
#3. "Push It" by Salt-N-Pepa – released in 1987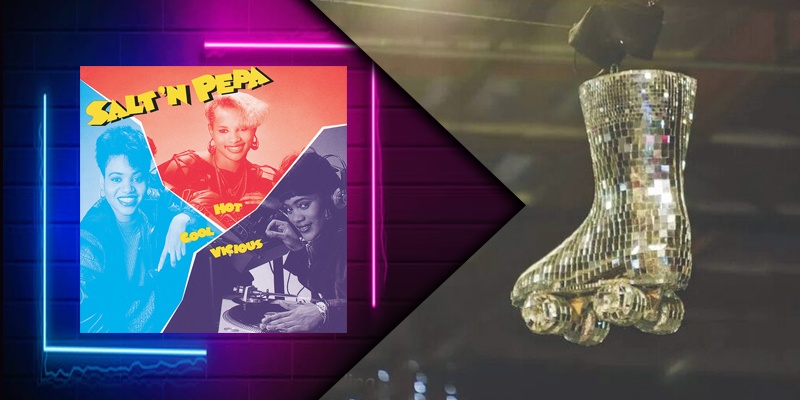 All the 1980s skate freaks loved to spice up the fun factor on weekends to Salt-N-Pepa. Remember to push it real good as you skate your heart out to this dynamic duo's hit!
#4. "No Parking on the Dance Floor" by Midnight Star – released in 1983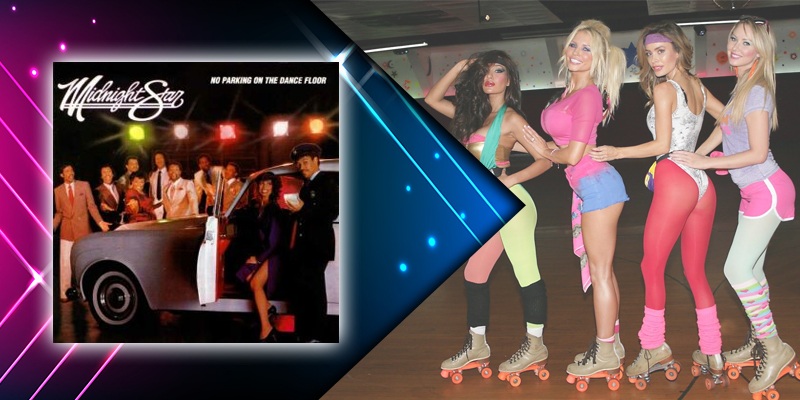 Midnight Star ruled the rinks with a bunch of songs, including "Electricity" and "Freek-A-Zoid." But, the biggest vocoder hit on the rink was definitely, "No Parking on the Dance Floor."
#5. "Planet Rock" by Afrika Bambaataa & The Soul Sonic Force – released in 1982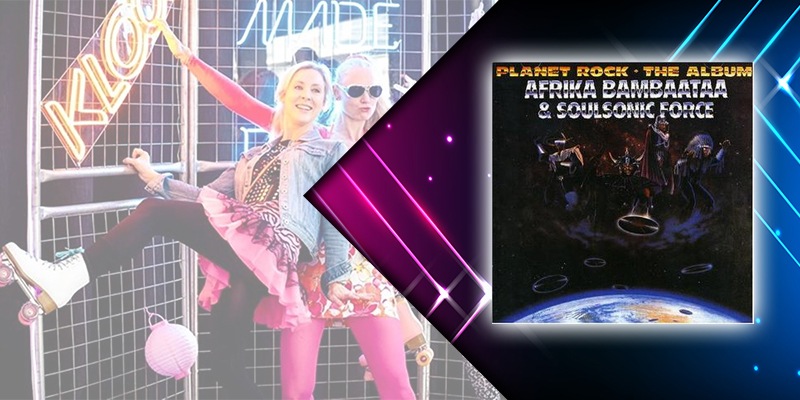 Whether you're into Talking Heads or the Sugarhill Gang, you'd be happy to play this influential song on the rink. It's jammy, easy, and makes for a brilliant skate.
#6. "Lookout Weekend" by Debbie Deb – released in 1984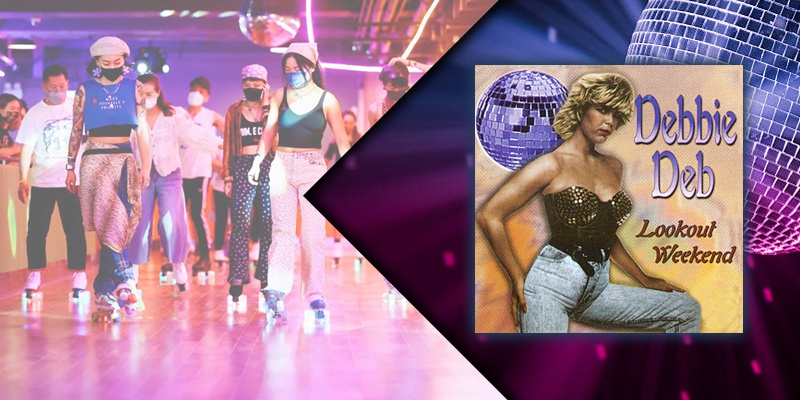 This song was so ahead of its time; new stars like the Black Eyed Peas and Janet Jackson did fun versions of it in later years. We love the electro-pop original best to get a move-on on our skates.
#7. "Egypt Egypt" by The Egyptian Lover – released in 1984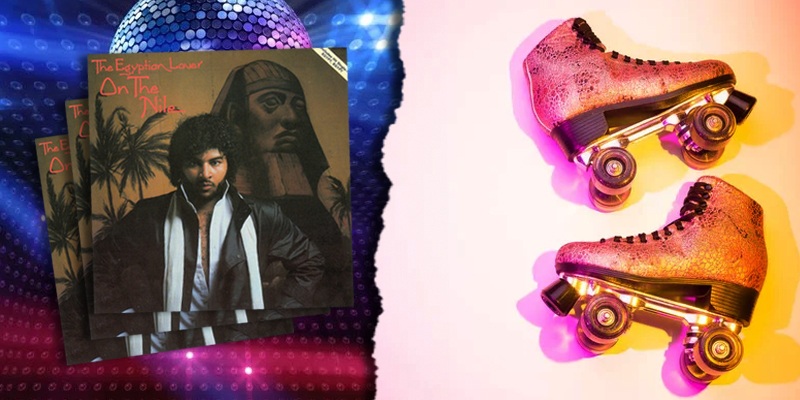 If a super-fast skate to 80's tunes is your jam, this song is it. Please, DO NOT try the moves in this video on your roller skates!
#8. "Round and Round" by Ratt – released in 1984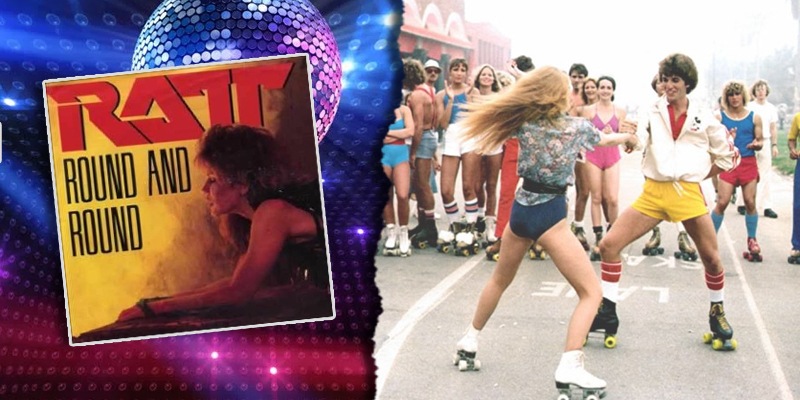 For those 1980s rockers, this glam-metal classic was so much fun! Remember, permed hair and glam-metal go just as well together as roller skates and radical moves. Enjoy the guitar tracks you've probably only heard on a tape recorder!
#9. "You Dropped The Bomb On Me" by The Gap Band – released in 1982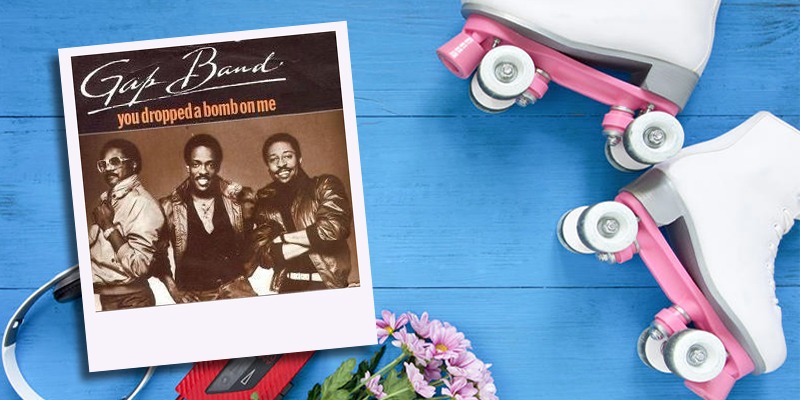 Another popular tune in the 80s skate scene, this song was great for easy skating synth and great as background music for fun times.
#10. "Wanna Be Startin' Somethin'" by Michael Jackson – released in 1982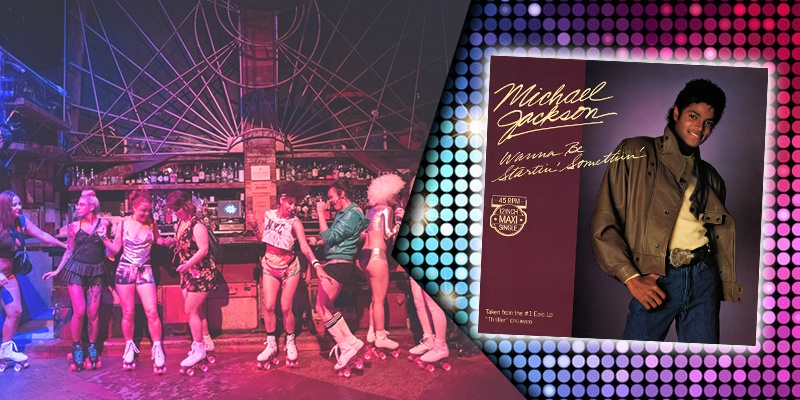 Michael Jackson's iconic moves were adapted to the roller rink, where people loved to skate to his music.
Roller Skating is a Lifestyle!
Roller rinks were one of the top hangout spots in the 1980s. It was where skaters could socialize with play arcade games (of course, with their roller skates on!) They could eat and race around on wheels all day long with music, neon lights, and disco balls to boost the atmosphere. Those who wanted to could dance on wheels; it was far from the end of the roller disco era.
And that's not all the 80s skating scene was about. For those roller skating freaks, it was so much more than just putting on their skates and funky outfits on the weekend for fun. Skating became such a part of their daily routine that people spent most of their day on skates. If you knew how to roller skate, it was a fun and fast way to get from point A to B.
Roller skates were there for transport to fun, fashion, and everything else. It was a part of their everyday lives and their culture. In this era, the roller skating culture was not about creating material for online content; it was mostly about putting your roller skates on and having fun! What more can a skater ask for?