No sport is immune to nicknames for some of its star players. We've all heard of Roger (The Rocket) Clemens, Wilt (The Stilt) Chamberlain, (Shoeless) Joe Jackson, and of course, Wayne (The Great One) Gretzky, but have you ever heard of Gore-ticia Addams or Jenny Jawbreaker?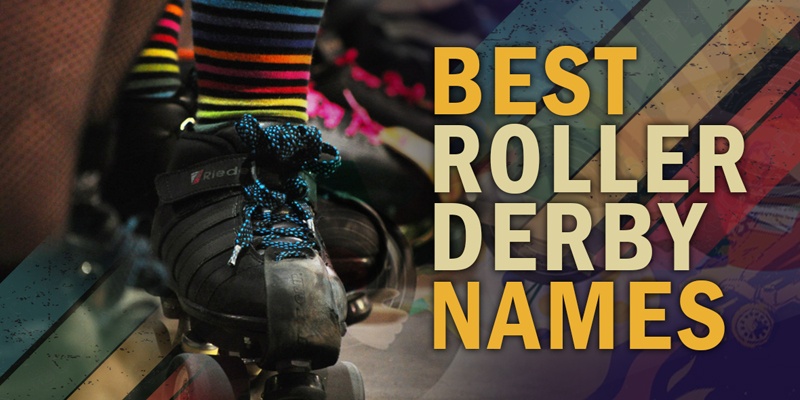 Well, strap a pair of roller skates on! We're going to break out the biggest bone-crushing list of Roller Derby names ever to hit the internet. We'll look at the history of these names and go through the best player and team names ever to grace the oval track.
A Brief History Of The Roller Derby Name
Roller Derby started out as a competitive race held in front of a growing fan base by promoter Leo Seltzer in the mid-1930s. However, it wasn't until the mid to late 1940s that the sport of roller derby, much like pro wrestling, was a platform for players and teams to create catchy and colorful names like Toughie Brasuhn, Bonnie Thunders, and Scald Eagle.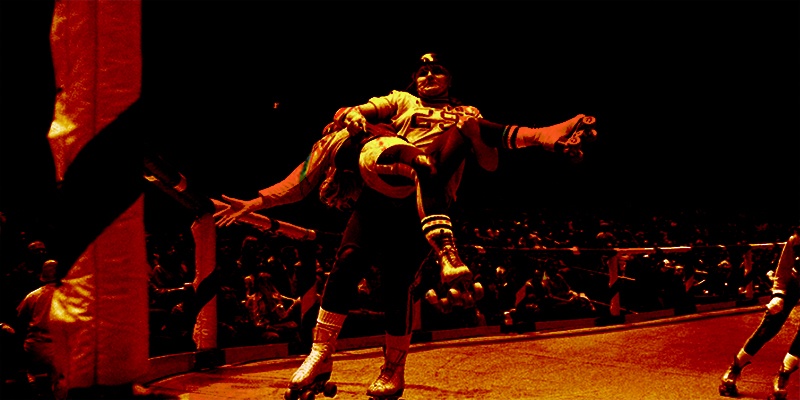 Names were chosen based on the player's abilities, height, weight, and even their hair color. Team names were mainly designed around the city's name or the area from which the team came, combined with a menacing message to other teams.
Original league names included the New York Chiefs, the Brooklyn Red Devils, and the Jersey Jolters. It would be a while before names became more colorful like the Salty Dolls, Tent City Terrors, or The Drop Kick Mollies.
What Makes A Good Roller Derby Name?
Coming up with a catchy roller derby player name is based on many factors. Is the team player a jammer or a blocker? Is the player a fast skater, or are they a powerful and strong force to be reckoned with? This might be a good starting point to building a clever name.
Other things to consider are the personal features and characteristics of the team player, like hair color, eye color, height, and more. Combining the player's attributes and abilities with where they are from and how they fit within the team dynamic can create some of the most memorable and clever roller derby names.
Roller Derby Names By Years
The 1940s-1950s
Although player names from the 1940s weren't as creative as they are now, there was still a "pro-wrestling feel" or element to roller derby player names. Players could create an on-track persona that described how they played the game. Here are a few of the vintage roller derby names you would expect to see at the oval track in this era: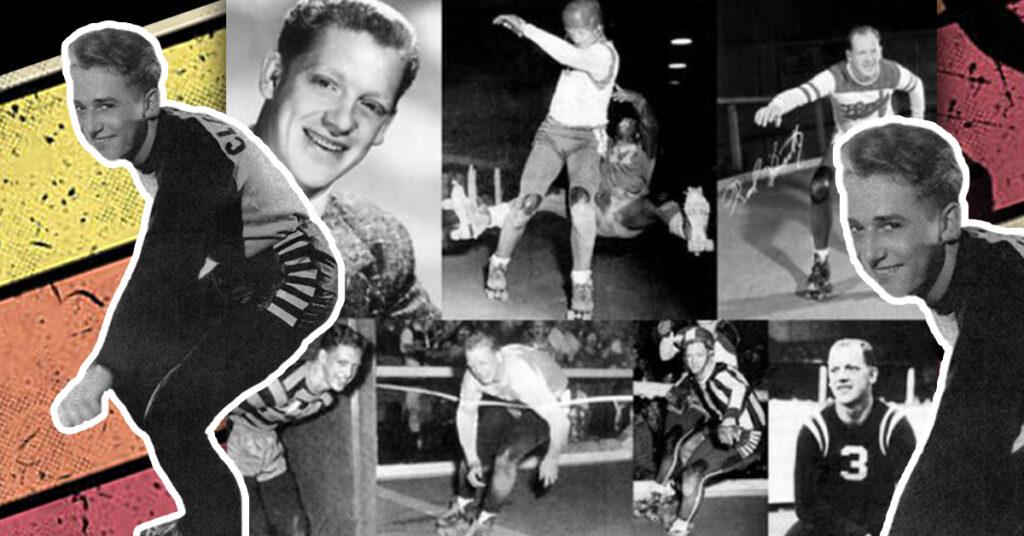 Carl 'Moose' Payne
The Midge "Toughie" Brasuhn
Josephine "Ma" Bogash
Annabelle "Slugger" Kealey
Jack "Toddy" Geffinger
Kathleen "Gene" Vizena
Marion "Red" Smartt
George Run Run Jones
Lewis "Punky" Gardner
Annis "Big Red" Jensen
"Tiny" Grosso
The six original National Roller Derby League team names from the 1940s – 1950s were: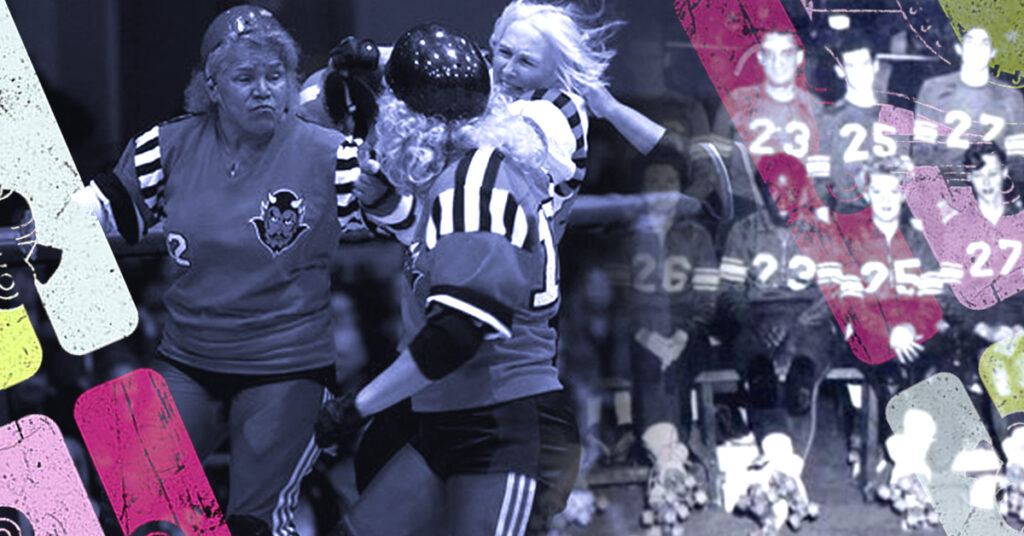 The Brooklyn Red Devils
The Chicago Westerners
The Jersey Jolters
The New York Chiefs
The Philadelphia Panthers
The Washington-Baltimore Jets
The 1960s-1980s
Roller derby player names continued from well into the 1980s with names like:
Russ "Rosie" Baker
Honey Sanchez
Skinny Minnie
Terri Toledo
Little Angie
Mr. T-Bird
Carol "Peanuts" Meyer
Baby Rocko
Donna Fox
John "Big John" Johnson
Florance "Flo" Lang
National Roller League team names were:
Northern Hawks or Chicago Hawks
New York Bombers
Texas Outlaws
Detroit Devils
Los Angeles Thunderbirds or "T-Birds"
Philadelphia Warriors or the Eastern Warriors
Baltimore/Washington-based Mid-Atlantic War Cats
The Florida Jets
The Western Renegades
Other Roller Derby Team Names:
Super Chiefs
Clippers
Pirates
Jolters
Rebels
Panthers
Pioneers
Eagles
Libertadores
Plaid Mafia
Braves
Kangaroos
Renegades
Dynamite
1980s – 2000s
RollerGames was a popular television show created in 1989 by two television producers, David Sams and Michael Miller. It was an over-the-top theatrical version of the sport of roller derby for a growing national audience. It had everything to tantalize the senses – a steeply banked figure-eight track, an alligator pit, several veteran skaters, and younger participants with outrageous gameplay and names to boot. The six roller derby team names were:
The T-Birds
Violators
Bad Attitude
Rockers
Hot Flash
Maniacs
During the late 1980s and early 1990s, names began to be a little more creative. Here are some of the more popular roller derby player names from the TV show RolerGames:
Dyn-o-mite" Darryle Davis
Bill "Blockbuster" Bibbus
Gina "Go-Go" Gonzales
Adam "Speedy" Gonzales
Debbie "the Corker" McCorkell
Matt "Stars & Stripes" Bickham
"Electric Randi" Whitman
Robert "the Icebox" Smith
Mike "the California Kid" Flaningam
Darlene "Dar the Star" Langlois
"Rockin' Ray" Robles
"Lady D" Donna Young
"Deadly" Debbie Van Doren
"Rolling Rocker" Brian Jacobson
"Queenie" Maeve Crommie
Art "Bam Bam" May
Bren "Flash" Futura
Vicki "Sly Fox" McEwan
Jerry "Kahuna" Reis
"Party Pattie" Frazier
Robert "Cass" McEntee
"Sassy" Gina Valladares
Harold "Ice Man" Caldwell
"Irish" Mary Monahan
"Windy" Wendy Holbert
Billy "Hot Wheels" Marshall
Bernie "Monster Man" Jackson
"Latin Spitfire" Patsy Delgado
David "Dr. Fu" Arizmendez
Lyle "the Brat" Morse
"Bulldog" Scott Casto
"The Bopper" Gale Bowers
Pete "Ninja" Christensen
Margaret "Hot Rod" Christopher
"The Tank" Marnie Smith
The Birth of Creative Roller Derby Names
As the early to mid-2000s rolled around, roller derby was making a comeback. With the growing popularity of roller derby at a local level, it wasn't long before teams were popping up all over the place.
With so many teams from many states and countries, finding unique roller derby team names and roller derby player names was becoming more complex. However, with pop culture, media, the internet, and 24 hours of entertainment, players had many new references for some of the best roller derby names ever created.
Even though many of these names will fit into just about any category, let's break down some more obvious names and the category that best suits them. From fun to puns, these roller derby team names are unforgettable, creative, and colorful and give the fans and the sport a new way to love roller derby all over again!
The Best Roller Derby Name List Of All Time!
Creative Roller Derby Team Names
Naming a derby team might be more challenging than naming individual team players. For a great team name, you have to consider all the players, what they bring to the team, their location, and how the team functions as a unit.
Names like Queen Bees and Chocolate Thunder are created to reflect how the team plays, scores, and also how they stop the other teams from scoring. Here are some of the best names for this fast and furious sport teams.
Angels of Anger
Arizona Rollergirls
Babe City Jammers
Bay City Brawlers
Beltway Beauties
Beverly Killbillies
Big Easy Hip Whippers
Billings Beauties
Blood Drawer
Bloodsoaked Skateboarders
Blue Arrows
Boise Beauties
Bomb Shells
Boulder County Bombers
Brewcity Bruisers
Cedar Rapids Whippers
Cheerfully Disastrous
Cherry Bombers Team
Chesty Smurf
Cheyenne Cuties
Chief of Skate
Chocolate Thunder
Cincinnati Blockers
Circle City Socialites
Columbia Quad Squad
Como Derby Dames
Connecticut Roller Derbettes
Contagious
Cork City Firebirds
Dark Water Skaters
Derby Dolls
Diamond State Derby Girls
Diesel Chicks
Dixie Derby Girls
Duke City Derby Dames
Fairbanks Rollergirls
Fifty Shades of Mayhem
Fighting Chipmunks
Fighting Fritters
Fire Fliers
Flow Skateboards
Flying Squirrels
Furrocious Cats
Gate Crashers
Gotham All-Stars
Grand Slammers
Heels in Wheels
Hellmilton Roller Ghosts
Hit and Run
Hot Sauce Hotties
Hurricanes on Ice
Hurtful Hooligans
Kalamazoo Derby Darlins
Kansas City Roller Warriors
Knee High Sox
Lakeland Derby Dames
Lucky Ladies
Manchester Man-Eaters
Mason Dixon Roller Vixens
Majestic Skate Team
Meany Skateboarders
Mentor Ice Diamonds
Moon Possums
Moonlight Skater Team
No Coast Derby Girls
Nottingham Hellfire Harlots
Oklahoma Victory Dolls
One Hit Wonders
Peanut Rollers
Pinup Punks
Pippi Longstompings
Providence Snowplows
Pucker Punchers
Quadzilla and The Good
Rage City Rollergirls
Red Thunder
Renegade Rollergirls
Reno Rollers
Richter City Roller Derby
Rink Rashers
Rock Coast Rollers
Royal Windsor Whiplash
Roller Derby Barbie
Roller Derby Dolls
Rolling Bones
Road Warriors
Roadie Fosters
Rockin' Rollers
Roller Derby World
Roller Girls of the Apocalypse
Rusty Nails
Santa Fe Skaters
Sioux City Roller Dames
Skates N' Derby
Skating Sea Urchins
Slammin' Jammin Roller Babes
Smack Ops
Smash Mouth Girlz
Soul City Sirens
Space Chimps
Split Lip Sallies
Sugar Skulls
Swamp City Roller Rats
Team Montana
Tess of the DerbyWheels
Texas Rollergirls
The Atomic Splitters
The Bad and The Furious
The Devastators
The Mountain Bullies
The Pro Chicks
The Rockland Boulders
The Rockland Brawlers
The Rockland Bruisers
The Rockland Brutes
The Rockland Chuckers
The Rockland Crushers
The Rockland Destroyers
The Rocky Mountain Rollerboys
The Seedy Underbellies
The Snowplows
Tragic City Rollers
Truck and Trailers
Vermont Vixens
Wet Dream Team
Wichita Witches
Roller Derby Names Based On Books
When choosing a great roller derby name, many players look at books and the people who wrote them. Here is a list of some of the top player names based on books, authors, and literary characters:
1/2 Blood Princess
Agatha Crushdie
Alice in Rollerland
Alice in Wounderland
Anais Ninja
Arya Snark
Beatrix Slaughter
Danielle Steal
Danielle Steel Wheels
Emily Deck'erson
Fifty Shades of Mayhem
Grimm Scarytales
Hermione Danger
Hurt Vonneguts
Infernal Myrtle
JayK Rolling
Killbo Baggins
Killer Mockingbird
Lady MacDeath
Little Grrroller-Maid
Luna Shovegood
Luscious Malfoy
Mad Splatter
Malice in Wonderland
Malice Walker
Pain Eyre
Rapunzel
Rita Skater
Rudyard Crippling
Scratcher in the Eye
Sherblock Bones
Sherlock Bones
SinderHella
Sir Skates A Lot
Sylvia Wrath
Tackleberry Finn
Tell-Tale Tarts
Tess of the DerbyWheels
Velveteen Rabbits
Vladimir Naboobkov
Wilma Shakesfear
Wuthering Frights
 Zack Lunch
Roller Derby Names Based on Music
Roller derby and music go hand-in-hand. Most modern-day roller derby teams are born from alternative rock, metal, punk, and underground music scenes. In fact, much of the modern-day revival of the 2000s was taken out of local Indie band scenes worldwide. Some excellent roller derby names are based on bands, musical artists, and songs.
A Boy Named Sue
Banana Slamma's
Block N' Roll
Block Rockin' Beast
Civil Warriors
Dropkick Mollys
Eves Of Destruction
Iron Maidens
Maul McCartney
One Hit Wonder
Pearl Jammers
Phunky Bitch
Platinum Block Divas
Polly Wanna Smack Her
Pumpkin' Smasher
Rock and Roller Queens
Roller Toaster
Sabotage
Smash Mouth Girlz
Tequila Shella
The Foo Foo Fighters
Roller Derby Names Based on Public Figures and Celebrities
Whether you are choosing a roller derby team name or an individual name for you as a player, you'll have a ton of inspiration from celebrities and public figures. Even historical people and modern-day film and television stars are great to draw name inspiration from. The possibilities are endless! Here are some of the top names in this category.
Artillery Clinton
Audrey Deathburn
Chevy Chase-Her
Coco Carnage
Crush Limbaugh
Hellions of Troy
Moanin' O'Brien
Naomi Cannibal
Nasty Pelosi
Princess Of Wheels
Rollin' Polanski
Sandra Day O'Clobber
Skate Hudson
Skate Winslet
Sigourney Reaper
Susan B. Agony
Wolf Blitzthem
Names Based on Pop Culture
Movies, television, social media, and pop culture have just as much influence on naming a roller derby team or player as any other source of inspiration. Here are a few that made the fun and creative name scoreboard.
Asajj Skatetress
Bambi Hunter
Barbie Beaters
Beverly Killbillies
Blockwork Orange
Chaotic Neutral
Chevrolegs
Chevy Impaler
Chopbuster
Crazy Skates
Dirty Coyotes
Give 'em Hell Vetica
Gore-ticia Addams
Hannibal's Cannibals
Harlot O'Scara
Jersey Leshore
Lords of the Skate
Mary Choppins
Mobba Blunt
Naughty Nutcracker
O Hell No Kitty
Pippi Longstompings
S Scar Go
Saber Skater
Smack Ops
Spandex Spoiler
Sweet N' Sour
The Lady and The Tramp Stamp
United Intergalactic Federations Of Super Babes
We Recycle
Wikibleedia
Zombie Dearest
Zombie Skater
Names That Are Bad To The Bone
Any roller derby team will tell you that the more meaning in the name, the more menacing the game. Whether it's the roller derby team name itself or individual players, badass roller derby names are a staple of this full-contact sport. Let's crash into some of the most bone-breaking skate names you'll never want to run into.
Angels of Anger
Avatar of Despair
Ax Wackers
Banshee Bitch
Beautifully Brutal
Begon for Mercy
Bells Of The Brawl
Betty Brawllipop
Beware of Bitch
Bitchy Butcher
Black Death
Block N Tackle
Blood Drawer
Bloodsoaked Skater
Blood Suckers
Breakneck Beauties
Bruiser Babes
Brutal Beauties
Buxom Bruisers
Contagious
Crash Test Lovelies
Crazy Skaters
Crippling Conch Shells
Crusher Cuties
Cutthroat Pandas
Damsels Of Distress
Darkside Skaters
Dead End Derby
Deathrow Roller
Derby Demons
Dollface Smasher
Doom Purveyors
Drop Kick Damsels
Fighting Females
Fighting Thongs
Furrocious Cats
Gate Crashers
Grave Diggers
Grim Reaper
Hit and Run
Holly GoBiteMe
Honey Punchers
Hurt Roller
Hurt Rolls
Hurtful Hooligans
I Wanna Smack Her
Ice Breakers
Jenny Jawbreaker
Jezebella Jammer
Ladies of the Fight
Left Hook Hunnies
Mad Mommy
Mad Mummy
Meanhattan
Miss Fortune
Murderous Mamas
Naughty Knockouts
One Hit Wonder
Punching Poodles
Rioting Rollers
Roller Derby Hater
Rosie and the Knockouts
Rosie the Ruiner
Rusty Nails
Sadistic Sweethearts
Skate Splatter
Scorched Skaters
Smash Skater
Split Lip Sallies
The Blood Stains
The Fat Lips
The Gruesome Twosome
The Lady Punchers
The Lug Nuts
Toxic Cherries
Tragic City Rollers
Trauma Queen
Twisted Nippers
Unholy Roller
Vancouver Murder
Vicious Venus
Victoria VonDoom
Wheels of Mayhem
WickedWheels
Women of Mass Destruction
Roller Derby Names Based on The Sport of Roller Derby
Coming up with a team name or a skater's name is easy if you incorporate words used to describe the sport itself. Many new team and skate names are built around the terms used in the sport of roller derby, like Deathrow Roller, Derby Demons, and New York Shock Exchange. Let's look at some of the more popular skate name ideas born out of roller derby terms.
All Jammed Up
Arizona Rollergirls
Bekah Body Chekah
Block Headz
Block N' Cover
Block N' Jam
Chief of Skate
Cinnamon Roller
Crazy Skaters
Curvy Derby
Derby Divas
Derby Devils
Derby Dolls
Flashy Wheels
Glass City Rollers
Gold Coast Roller Girls
Grim Reaper Rollers
Holly Roller
Intoxiskate
Jammin' and Rammin
Lehigh Valley Rollergirls
Max Penalty
Mindless Skaters
Mineral Skaters
Ninja Roller
Pack Crashers
Pack Punchers
Pirate City Rollers
Pivotal Mistake
Princesses on Wheels
Rainy City Roller Derby
Red Hot Rock n Roller
Rock Coast Rollers
Rocktown Rollers
Roller Babes
Rolling For Soup
Rolling Mosquitoes
Rolling Queens
Rushin' Rolletes
Santa Fe Skaters
Shock Squad
Skaterbrained
Skaterina Skulls
Skaters That Slay
Skates N' Tiaras
Space Jammers
Squid Skate Squad
Steel Skater
Strawberry Jam
Swiss Cake Rollers
Badass Roller Derby Names That Are Simply Cool
When choosing a team name, most of the time, these names come from pop culture, classic references, game rules and play, and sports references like Infernal Myrtle, Lord of the Rinks, Max Penalty, and Betty Block. However, some names are just super creative all on their own. Here are some that made our list of clever, creative, and cool names.
Baby Cakes
Baby Chicks
Banana Slamma's
Beauty and Attitude
Big Rig
Biting Ticks
Bomb Shells
Breakless Endangerment
Bucket Kickers
Cement Freaks Skateboards
Chastity Pelt
Cheetah Chicks
Chihuahua Cuties
Comet Jockeys
Corn Shuckers
Crabby Crustaceans
Crazy Daisies
Creepy Hitchhikers
Cupcake Crunchers
Dagger Skateboarder
Daisy Pushers
Daisy Unchained
Dark Divas
Dazzling Divas
DeceptiConnie
Deer Flies
Diesel Chicks
Dirty Birdies
Down N' Outs
Eye Candy Chicks
Femme Fatals
Fire on Ice
Flim Flams
Giant Slayers
Girlz of Fury
Girlz Rule Boys Drool
Give 'Em Hells
Glamazons
Gold Diggers
Green Country Goats
Gunner Girlz
Haunted Skateboards
Heels in Wheels
Hell's Ballerinas
High Maintenance
Hissin' Kittens
Hot Sauce Hotties
Hot Shots
Howling Dogs
Hussle Hussies
Jumbo Shrimp
Junk in the Trunk
Kappa Jamma Slamma
Knee Scrapes
Ladies of Steel
Lip Smackers
Lucha Libre Chupacabras
Lucky Ladies
Mangy Wolves
Make-up Mavens
Murder City Kitties
Murder Maids
Naughty Not Nice
Pepper Spray
Pink Panthers
Pinup Punks
Pixie Dusters
Platinum Divas
Pucker Ups
Punky Bruiser
Purple Minions
Queen Bees
Rainbow Bite
Raw Eggz
Red Hot
Road Ranger
Rocket Queens
Runaway Brides
Salty Dolls
Salty Dogs
Sassy Sistahs
Screamin' Banshees
Screaming Divas
Shooting Stars
Skating Sea Urchins
Slammin' Jammin' Roller Babes
Sod Busters
Sore Losers
Squid Squad
Suicide Squad
Sweet and Sweaty
Tara Nippleoff
Terrible Turtles
The Baby Makers
The Bond Girls
The Flaming Pink Flamingos
The G.I. Janes
The Inhuman League
The Jelly Rolls
The Slammin' Jammers
The Stop, Drop, & Rollers
The Undertakers
Thigh Masters
Thunder Sharks
Thunder Thorns
Thundering Herd
Trauma Authority
Trophy Wives
Unforgiving Unicorns
Untamed Chicks
Vicious and Delicious
Victory Vixens
Whip Crackers
Wise Witches
Wonder Women
Yard Goats
Yoga Goat Girlz
Let's Not Forget About The Men!
Men have been a part of the game from the sport's early beginnings until the modern day. It wasn't until the last 40 years that women began to dominate the sport. However, there are still some men's teams out there, and their names are just as creative as the ladies. Let's look at some of the best men names for players and teams.
Roller Derby Team Names For Men
8 Wheeled Assassins
All Out Annihilators
Bad to the Bone
Bashing Blockers
Blazing Blasters
Blazing Knights
Brew Masters
Brute Force
Butchers
Deathwish
Demolition Crew
Dominators
Dynamite Dudes
Energy Explosion
Exterminators
Fire Starters
Game Changers
Ghastly Gargoyles
Gorillas on Skates
Hammerheads
Hangmen
Hurricane Blades
Jawbreakers
Lethal Jammers
Mean Machine
Mercenaries
Neck Breakers
Outright Fear
Powerful Choices
Robin Hoods
Rocketeers
Roller Geeks
Rough N' Tough
Shock and Awe
Slayers
Speed Demons
Stone Crushers
Team Chaos
Team Tsunami
The Chosen Ones
The Flamethrowers
The Hit List
The Legacy
The Pitbulls
The Professionals
The Messiahs
The Tribe
The Xtreme
Tidal Waves
Vicious Vikings
War Lords
Warmongers
Wicked Werewolves
Some League Names For Men
Austin Anarchy
Barrow Inferno
Bototos Banditos
Brisbane City Rollers
Capital City Hooligans
Carolina Wrecking Balls
Chicago Bruise Brothers
Collision Roller Derby
Crash Test Brummies
Denver's Ground Control
Flour City Fear
Glasgow Men's Roller Derby
Golden State Heat
Granite City Brawlers
Harm City Havoc
Lane County Concussion
Mad Riders Men's Roller Derby
Magic City Misfits
Manneken Beasts
Mass Maelstrom
Mohawk Valley Quadfathers
New Orleans Brass
New York Shock Exchange
Panam Squad
Philadelphia Hooligans
Pittsburg Blue Streaks
Puget Sound Outcast
Race City Rebels
San Diego Aftershocks
Southern Discomfort
St. Louis Gatekeepers
Super Smash Rollers
Sydney City Smash
Tampere Rollin' Bros
Texas Outlaws
Your Mom Men's Derby
Conclusion
Roller derby is still in full swing. Teams are sprouting up all over the place. It is not uncommon for you to catch a game at your local arena or sports complex. With the continuation of roller derby's popularity, a new batch of names will be born for players and teams. We hope you enjoyed our list of the top roller derby names ever. Let us know if you have any ideas for a cool team or skater name!