My sister and I grew up roller skating. We loved to roller skate. We quite literally skated pretty much non-stop through birthday parties, holidays, and even most of high school with wheels on our feet.
Roller skating was a huge fad in the neighborhood at the time, so we were often dubbed as the "cool" kids on the block. Skates were almost as popular as Pokemon cards, Sony Discmans, and Tamagotchis—everyone wanted a pair!
Today, skating is as popular as ever. Although it isn't as all-encompassing as it was in the '90s, it remains a global favorite. And while roller skating rinks have closed in most countries except the United States, there are still plenty of great places to practice roller skating.
If you've ever wondered about the history of roller skating, you're in for a treat. Stick around as we go through some of the most amazing facts about roller skating, including when roller skates, rollerblades and inline skates were invented, where they originated from, and more!
The Evolution of the Modern Roller Skate: When Were Roller Skates Invented?
The history of roller skating starts way back in the 18th century. roller skating has been a popular hobby, sport, and transportation mode worldwide.
To truly understand the significance of roller skates, let's start from the very beginning.
1760 – Who Invented the Roller Skate?
According to history buffs, the roller skate was first "officially" introduced by John Joseph Merlin, a Belgian investor. Merlin is the first recorded inventor of the skate, even though it was documented that a pair of skates made their first public appearance in a London stage performance in 1747.
Where did the roller skate originate, though? The inventor was Belgian, so you could say they originated there. However, their first appearance was in London, England.
Merlin's roller skate looks a lot like an archaic pair of inline skates but with metal wheels and no toe stop. They were regular ice skates with wheels instead of blades, but it was his pride and joy, and he proudly showed it off.
Everything was going well, and everyone was impressed. But after several other 'oohs and aahs' from the audience, Merlin promptly crashed into the expensive floor-length mirrors that lined the ballroom, broke his violin, and wounded himself.
It's unknown whether this unfortunate accident was the reason why his inline skate didn't instantly become a hit in 1760.
1819 – It's Not Much, But He's Got the Spirit
It wasn't long after when other aspiring inventors latched on to Merlin's design. Monsieur Petitbled, a Frenchman, patented a three-wheeled roller skate design.
Although it steered better than the skate designed by John Joseph Merlin, this skate still wasn't as maneuverable as people wanted it to be. Petitbled's skate only allowed users to move in a straight line with the occasional wide sweeping turn (if they're lucky). Again, the invention didn't become that likable and was dropped soon after.
1823 – Five Is Better Than Four (or Three)
Four years later, Robert John Tyers, a London inventor, patented another roller skate design, too, which he aptly called Rolito.
Merlin's design had two wheels, while Petitbled's had three. Both failed because the skates were challenging to maneuver. Tyers concluded that adding more wheels would (probably) do the trick, and he added two more—totaling five.
The design looked quite similar to what we have today: five wheels in a single, straight row in the bottom of a shoe. Did it work? Yes, kind of.
Indeed, it steered much better than the last two roller skates, but not by much. Again, Tyer's design was sadly dropped.
1863 – Finally Made It
James Plimpton of New York City made it his life goal to improve the roller skate design. Instead of adding more wheels, Plimpton used four—two in the front and two in the back. What we today would call the modern quad skate.
This new design was the best one yet. Plimpton's skates maneuvered like a dream and caused little to no accidents. In fact, it was so good that the city allowed him to open the first public skating rink in New York City, right inside his furniture store. He opened another in Newport, Rhode Island, after that.
Today, Plimpton is known to be the man who changed the skating world to what we know today. His skates dominated the skating industry for well over a century after his death. Plimpton's skates are still used today.
1880s – Want, Want, Want!
Thanks to Plimpton's skate design, combined with other great inventors' efforts by the name of William Brown and Joseph Henry Hughes, quad skates began to truly take shape.
The 1880s is credited to be the roller skates' "boom" period. Skates started being mass-produced in the US; they produced thousands of skates every week to meet the national demand.
1900s – Roller Skating's Golden Age
Over 7,000 people attended Chicago Coliseum's first public skating rink opening in 1902. Thereafter, magazine columns, radio stations, and newspaper journals started talking about the many advantages of skating.
In 1917, Scientific American published a thorough article explaining why commuters should skate to work rather than take the bus or train. They also believed that the United States military would greatly benefit from skates, too! Fortunately, "military states" never took off, but it's still amusing to imagine soldiers wearing roller skates.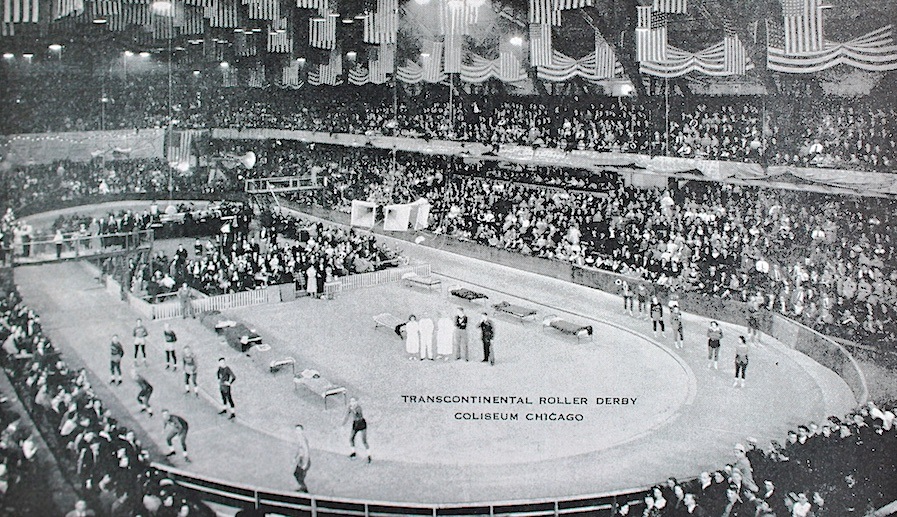 It was 1935 when Chicago Coliseum hosted the first Transcontinental Roller Derby. As a result, Chicago became the birthplace of derby. Roller derby is one of the first roller sports to hit it big. It was also during this time that the Roller Skate Rink Owners Association organized the sport.
Both significantly contributed to the onset of the Golden Age of Roller Skating in America, becoming the number one participatory sport in the nation.
1940s–70s – Don't Hate, Roller Skate!
From 1940-1979, skating became so widely popular that almost every household in the United States owned at least a pair or two.
Roller skating also had a large impact on the Black community in the mid-1950s.
During the height of the civil rights movement, it was common for a public skating rink to strictly segregate by color. One notable incident was when David McKay, a rink manager, banned two black skaters from his skating rinks because, and I quote, "You are colored, and your friend is colored—I allow no colored persons to skate on my floor." This was when Boston's black community began protesting.
Several years later, on August 27, 1963, Ledger Smith skated from Chicago to Washington DC for ten days straight—685 miles, 10 hours a day—just to see MLK deliver his speech. The same speech that's now entitled "I Have a Dream." Throughout his journey, he wore a Freedom sign across his back and chest. Later, he's been fondly dubbed the "Roller Man."
Finally, in 1979, Scott Olson started a little company known as Rollerblade Inc (originally called the North American Sports Training Corp) and in just a decade the quad skate would take a backseat. This special skate design revolutionized the inline skate.
Check out my article on 70s roller skating to learn even more about this great era of this great hobby and sport.
1980s–2000 – What a Time to Be Alive
The 1980s was a crazy time for roller skating. It had it all, literally: fashion, cinema, celebs, music—you get the point.
In fact, skating and skating rinks became so big in the 80s that President Ronald Reagan declared the month of October as "National Roller Skating Month."
Artistic roller skating was a thing back then, too. It was so serious that local competitions led to regionals, which then led to National Championships and World Championships.
Freestyle roller dancing, also known as jam skating, was also going viral. Popular roller skating songs and roller skating movies were being mass produced with hits like Xanadu and Roller Boogie gracing the silver screen. And, there were lots of fun roller skating games being played at the local roller rink. And everyone was always decked out in their cool roller skating outfits. Plus, who could forget all of those fun roller skating party favors from your best friend's birthday party.
Even Amish youth used to roller skate (despite their elder's heavy disapproval) as a mode of transportation and sport in the 1990s.
In 1985, Scott Olson sold Rollerblade Inc, but the brand lives on and is still the most popular inline skate ever. A decade later in 1993, Rollerblade Inc was back and introduced their Active Brake Technology (ABT). This allowed the skater to more easily stop and really helped with the adoption of the rollerblade.
By the early 2000s, inline skates slowly became more popular than Plimpton's first roller skates. Although they required a fair amount of balance, they allowed you to go faster than you'd ever go on four wheels. Plus, let's be honest; they look way cooler than quads!
Present Day – Here to Stay
Although roller skating would probably never be as popular as it was back in the 1960s-1980s, many people still enjoy skating during their free time either for fun or for the many great health benefits of roller skating. Furthermore, as "retro fashion" has slowly made a comeback in today's world, skates are up there with mom jeans, chunky sneakers, and bike shorts. Plus, who doesn't love all of those great roller skating quotes on social media?
Regardless of the reason, we know one thing for sure: roller skating is here to stay, and many (including me!) couldn't be happier.
Closing Thoughts
The history of roller skating spans nearly three centuries. It's a fascinating one, indeed, and I highly encourage you to get out there and skate! Personally, I love to learn about the history of my favorite sports!
If you're thinking of roller skating, go for it! You won't regret it.
Want to Learn Even More About Skating?
Want more reviews on roller skates? Check out my Best Roller Skates page for a list of all of the quads I recommend. I also have pages for roller skates for men, roller skates for women and roller skates for kids where I recommend the best skates on the market today for each group. Or, check out my roller skates for beginners if you are completely new to roller skating.
Or, if rollerblades or inline skates are more your style, then check out my rollerblades for men, rollerblades for women or rollerblades for kids pages. Or, if you are completely new, check out my rollerblades for beginners page.