In the 1970s, the roller skating scene was dyn-o-mite! People from all walks of life loved to put their roller skates on for hours of excitement. Whether they were wheeling around the rink to their favorite disco music, skating down a boardwalk with a boombox, or getting together to show off their latest moves and tricks, the 70s roller skating era was all about good vibes and freewheeling fun!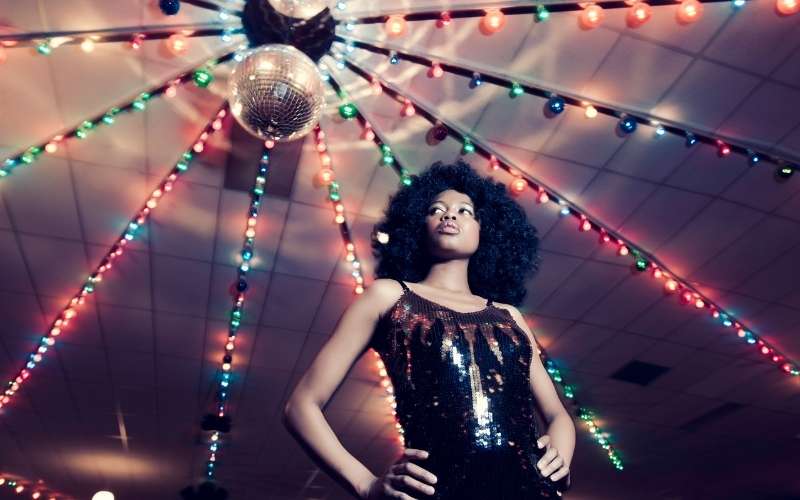 This article will explore the unique experience of roller skating in the grooviest years ever and what made it such an iconic activity for adults and children alike.
Get Your Roller Skates on! Let's Go!
There's just something about the experience of putting roller skates on and learning how to skate without falling. Instead of feet, you have roller skate wheels that move so much faster than what your feet can carry you unless you're Usain Bolt!
It takes a while to get the hang of it, and a couple of hard landings as you learn are inevitable! Eventually, you figure out how to move horizontally across the floor with your skates on instead of crashing vertically towards the ground!
First it Was a Sport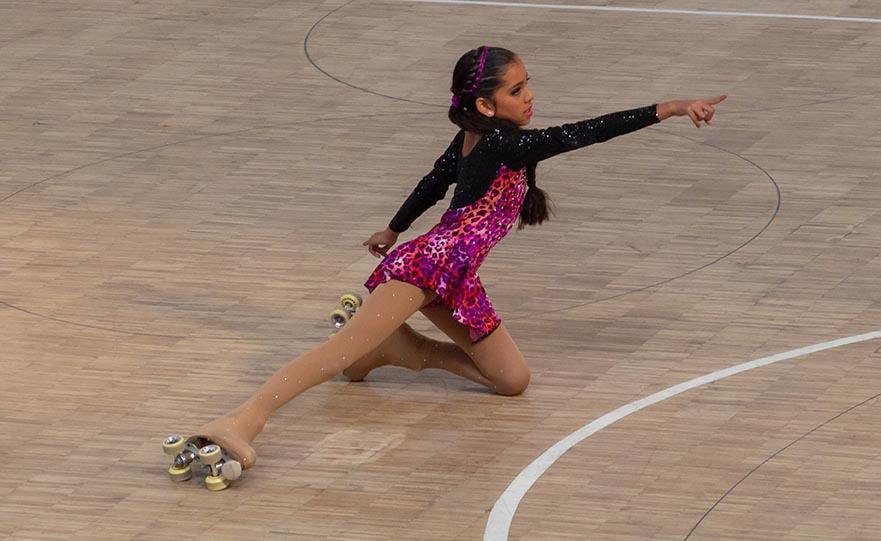 Roller skating took some practice, and it's very physical, so it makes sense that it was known as a sport in earlier years. The competition was tough, and there were many events around the sport, which had a range of options to suit skating enthusiasts of all ages. Some skaters enjoyed artistic roller skating, dance, figures, precision, or freestyle skating. Others preferred more physically demanding roller skating types like jam skating and speed skating.
Taking sport on wheels even further, some super-smart person had an idea to combine roller skates with hockey and invented roller hockey. There's also another exhilarating team sport that involves skates; roller derby, which women mainly play.
Then it Became a Leisure Activity
Roller skating has been one of the most popular leisure activities around. Families would work on their roller skating moves together and help each other through every fall and every new style they developed. Friends getting together and going to the roller rink for weekend skating excursions and all the fun roller skating games became a go-to activity, and roller skates became an excellent choice for birthday and Christmas presents.
Adults and children alike enjoyed skating as a relaxing pastime as skaters found new places to practice roller skating and you could see people on skates everywhere.
THEN Came the 1970s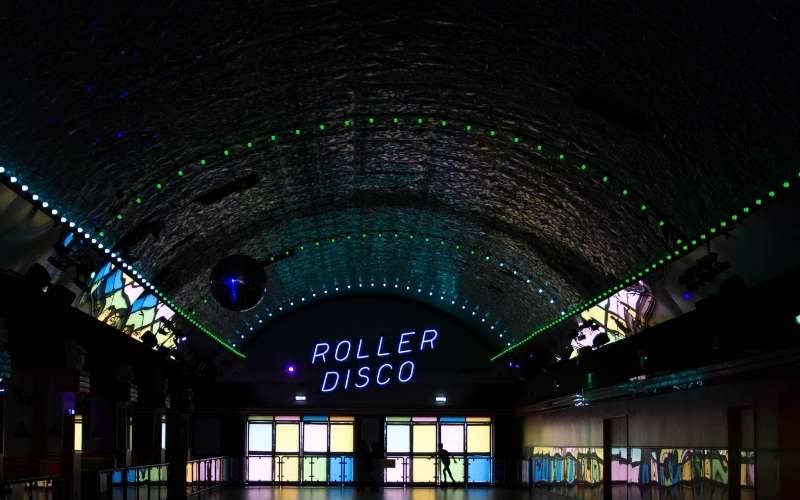 This era was all about bell bottoms, cultural change, and the rise of disco. It's also the era that took roller skating to the next level. People went roller skating crazy! It was now not only a popular sport and an activity to enjoy with family and friends. Plus, there were all of the amazing health benefits of roller skating, too. Some people began even using roller skates as a means of transportation to and from work and school.
Roller skates became available in different styles and colors. Instead of shoes, people wore roller skates to school, work, and just about everywhere else. It became so much more than just rolling around the roller skating rink. Everyone was getting 100% down with the roller skating craze!
Did you say D.I.S.C.O.?
Roller skating was so popular that it wasn't enough to enjoy it at roller rinks, skate parks, boulevards, and boardwalks in the daytime.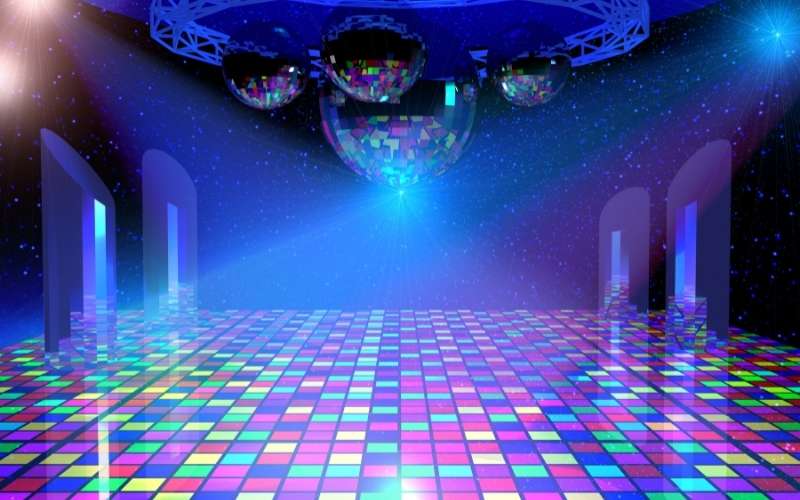 As mentioned, disco was rising, which meant boogie dancing all night long to tunes from bands like the Bee Gees, K.C. and the Sunshine Band, Donna Summer, and Earth, Wind, and Fire. What do you get if you take the two top trends of one era and merge them? An amazing activity called roller disco!
In the 1970s, roller disco became wildly popular and accessible in every major city in America. Instead of dancing the night away, women and men roller skated all night long to a repertoire of disco songs at a disco roller rink. It was like dancing with the lights, music, and fancy outfits; only they did all of this on wheels! So much great roller skating songs came out of this era.
The roller disco craze went on for years, and skaters loved every minute of the scene. The roller rink was a fun space where they could express their unique styles as they rolled around on roller skates loving life. If we had the technology we have now in the 1970s, we'd have seen videos of skaters doing all kinds of cool things on the roller rink all over social media. Instead, we settle for sharing some of the best roller skating quotes and sayings from this era on social media today.
How it All Happened: The History
Although the history of roller skating dates back to the 1700s, when it was used in performance art, the 1970s was when the trend exploded worldwide. We can thank disco for that! The 1970s disco music was upbeat and easy to move to, making fancy footwork straightforward. Throw in some funky fashions and roller skates, and you're bound to have a great time.
Roller rinks became hot spots for nighttime excursions. It was such a big trend that skate enthusiasts created sub-trends from it, like J.B. Skating.
The "I Feel Good" 70s Skating Trend: J.B. Skating
In the early 1970s, a guy called Calvin and two of his friends decided to combine skate moves with their favorite music to skate to – James Brown. They watched the musician's energetic stage presence and copied his crazy moves, only with a pair of skates on their feet!
Calvin and his buddies spent hours taking inspiration from the way the "Godfather of Soul" himself, James Brown, performed his songs. They imitated his fancy dance moves on the roller skating rink and turned it into a distinctive skating style. It soon became a sub-craze called J.B. Skating.
This style involved the skaters working out funky dance routines that included moves like spins, shuffles, groundwork, footwork, and even half-splits and splits! As more skaters on the roller rink got inspired by their moves, a trend was born that continues even today! J.B. Skating is HUGE in the Midwest, especially in major cities like Chicago and New York – both known as roller skating meccas. This craze has stood the test of time!
Hell on Wheels
Cher was one of the many stars of the 1970s who loved the roller skating craze. In the late 1970s, she released her song, Hell on Wheels. The forward-thinking pop singer embraced two trends with this song. She was one of the first musicians to make a music video of a song, and she was totally into roller skating!
Cher is on roller skates wearing a skin-tight jumpsuit in the music video. She is followed by an entourage of bikers, truckers, people driving all kinds of other vehicles, and a man on a horse. This VERY 1970s video was one of the first MTV-style music videos ever; check it out!
Roller Disco on the Silver Screen
Trends tend to make their way onto the big screen, and the 1970s were no different! Hollywood made several boogie-worthy roller skating movies in the era of disco. Here are some of them:
Skatetown U.S.A.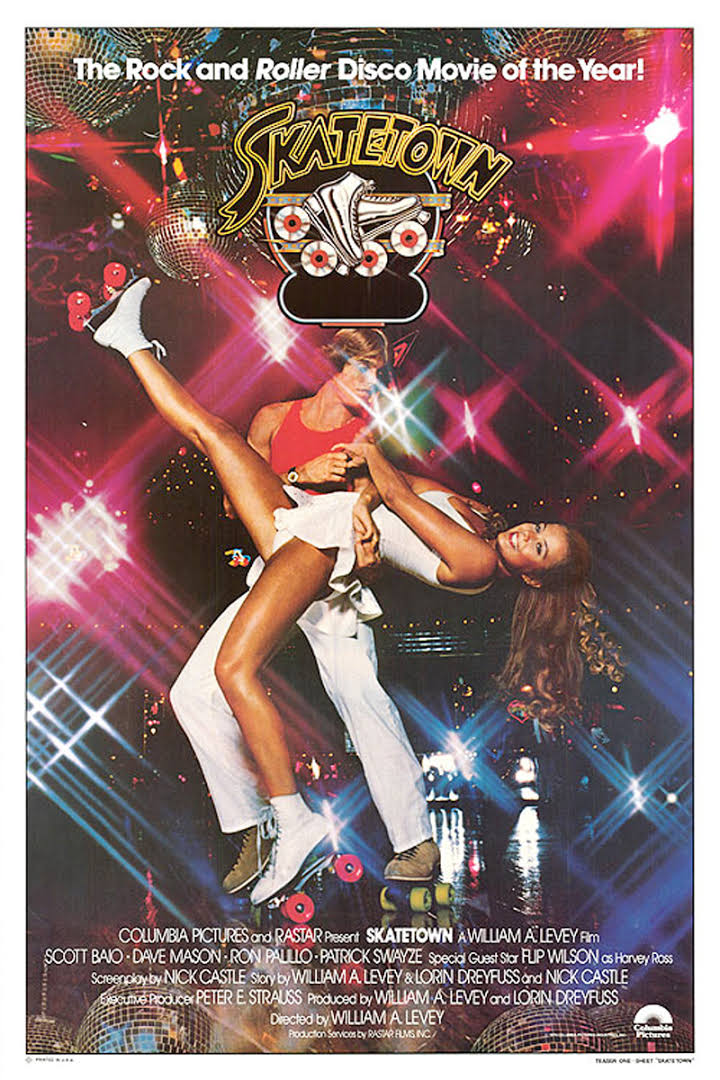 Patrick Swayze is an actor well-known for his dance moves in the hit movie Dirty Dancing, but long before that, he made his big-screen debut in the late 1970s as Ace in Skatetown, U.S.A. The movie was billed as the Rock and Roller Disco Movie of the Year. It was based on a famous disco roller rink.
Xanadu
Okay, the 1970s had just ended when Xanadu was released in 1980, but it was still in the same groovy spirit as everything else to do with 1970s roller skating. Xanadu was originally planned as a relatively low-budget roller disco movie. As several well-known actors joined the production, they decided to turn it into something bigger. However, roller skating remained a recurring theme throughout this fantastical musical fantasy.
Roller Boogie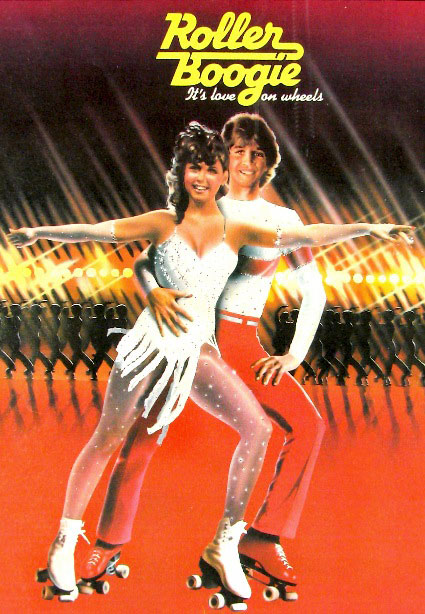 What do you get when you put disco music, roller skates, love, and mobsters together? Roller Boogie! Released in the late 1970s, this movie is about two people who love boogie skating and each other. The plot twist comes in when a powerful mobster tries to take over the piece of land that's home to their favorite roller rink. Of course, the two love birds have to do something to save the rink while also competing in the Boogie Contest.
Roller Disco on T.V.
Primetime television in the 1970s also featured roller skating in shows like Charlie's Angels. Other popular shows, like the crime drama CHiPs, featured roller disco.
1970s Roller Skating Fashion

Every major city had a roller skate rink or two during this era, and weekends turned into a funky fashion parades. Skate enthusiasts refused to search and choose between comfort and style and instead made sure that every outfit looked great and was easy to skate in.
The 1970s roller skating fashion esthetic was far out! There were some crazy disco roller skating outfits in shiny, skin-tight polyester, embellished with sequins, tassels, and even feathers that really enhance the skating experience! Daytime skate fanatics wore cropped tops, bell bottoms, flared jeans, crocheted halter tops, jumpsuits (especially ones with flared legs!), gym shorts and bikini tops, and knee-high tube socks.
Over the years, fads come and go, but the 1970s era has proven to be more resilient. The roller skate fashion of the 1970s was so memorable that it made a massive comeback in recent years. It now features on city streets, on social media sites, and in TikTok videos.
Top Tunes You'd Have Heard at a 1970s Roller Skating Rink
Music was crucial to the 1970s roller rink scene. When the D.J. started spinning vinyl, things got wild on the rink! Roller skating was so popular in this era that many disco music compilation records featured cover art with people wearing roller skates and funky outfits.
Here are seven of the best disco tracks for roller skating in the 70s: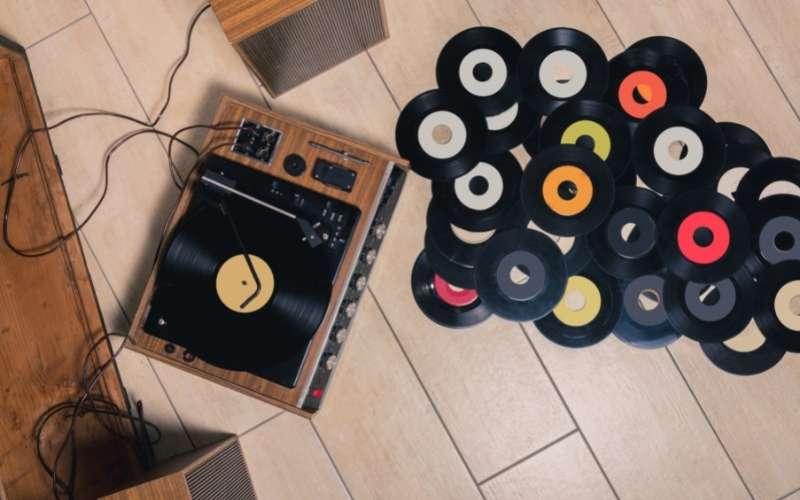 70s Roller Rinks Were Right On!
Well, there you have it! Now you know more about one of the most important decades for roller skating and the impact all the good vibes and groovy tunes had on it. If you love roller skating as much as we do, try returning to the boogie era. Put on some disco music to help you get your groove on and see what moves you can manage on your roller skates.
And if you fall, that's okay. Falling is part of skating, and if you get really good at roller skating, you'll also get great at falling! No matter how good you are, hitting the ground is inevitable; it's just a matter of getting back up and back into the boogie. Catch you on the flip-side groovy people!