Do you love sharing your roller skating life on social media, but you can't think of roller skating quotes to caption your radical photos and videos? This article is just what you need. Whether you're looking for cute roller skating captions to show off your new tricks on Facebook, or perfect roller skating captions for Instagram, we've got you covered!
You're bound to catch some groovy moves if you and your friends take your smartphones or cameras to your favorite places to practice roller skating. Who knows, maybe someone captures the moment you do your best trick ever, or even the best fall you've had! No matter what you show off to the world, skating brings good vibes, and they're always worth sharing! But it wasn't always as simple as using a smartphone to capture all that four-wheeling fun.
The Days Before We Needed Skating Captions for Instagram
Just a couple of decades ago, nobody needed skating captions for Instagram. Social media didn't exist! If you were skating with your buddies back in the day and someone had a camera, it was great, but you had to get the film developed and then show off the pictures in a photo album.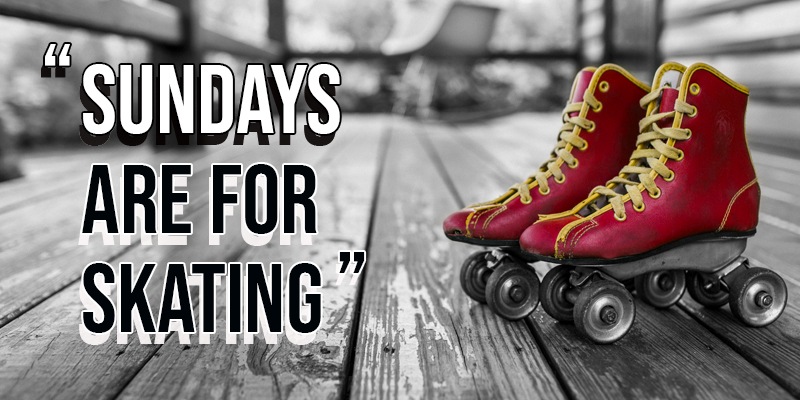 If you were really lucky back then, one of your roller skating friends had a camcorder, and you could put on your favorite roller skating outfits, make your own roller skating movies on video tapes with live-action and play them back at home on your VCR!
These days, most of us have smartphones, and we can snap pics, record videos and add our favorite roller skating songs to our hearts' content. Then, we share them across the world in an instant!
Aren't we lucky!? And to make it even better, all we need is a couple of cool roller skating captions to add to our pictures and videos, and who knows, maybe they will go viral!
Sharing Your Roller Skating Life on Social Media
What's even better than spending a fun day on the roller skating rink? Taking pictures and showing off your moves to friends, family, and the whole world on social media! Since we're now lucky enough to have the technology to capture all the most epic roller skating moments, all we need are some good Instagram captions to make our posts more fun!
Roller Skating Captions for Instagram
If you're crazy about roller skating, thinking up captions may be the last thing on your mind when you're rolling around the rink making cool moves and having the time of your life. But think about it.
To capture all of this awesomeness, you could be taking turns snapping pictures of you and your friends busting your best moves (and your most awesome falls!) A picture speaks a thousand words, right? Sure! But pictures with clever Instagram captions speak millions more!
Amazing Captions for Instagram
Instagram is all about images, reels, and cool hashtags. So it's important to use the best Instagram captions for roller skating photos. And don't forget to add your hashtags! Here are some ideas for captions you can use:
Roller skating brings good vibes – this is my good vibe tribe! #goodvibesonly! #goodvibetribe
Don't be a hater, be a roller skater. #donthateskate
Couples who skate together stay together. #couples skate
Don't run from challenges – roll over them! #keeprolling #bringiton!
Roller skating for life! #skatingforlife #rollerskater
When I die, bury me with my skates on! #skater4life #rollerskatervibes
Audition tape or just a totally rad time – what do you think? #rollerskatingstar #rollerskatingfun
You can't buy happiness, but you can buy roller skates, and that's close! #newrollerskates #rollerskatingfun
Roller skaters fall properly, so they can keep getting up again! #rollerskater #rollerlife
Good things come to those who skate. #skateFTW #rollerskater
Roller skating doesn't make you a roller skater. Roller skaters can't NOT roller skate! #skatingobsession #skaterforlife
Real girls skate curbs. #skatecurbs #curbskating #girlskaters
I'm having a love skate relationship #loveskate #rollerskatinglove
Skaters gonna skate! #skatersgonnaskate
Figure skating means I don't break easily! #figureskater #invincibleskater
Roller girl, queen of my world! #girlskaters #mygirlfriendskates
Old-School Roller Skating Captions for Instagram
Modern roller skating began trending in the 1960s when the slang was totally different from what we use now. When we were roller skating in the 70s, we didn't have social media. So, we didn't have to figure out the best roller skating captions, but it would have been groovy if we did!
The slang of those times suits the roller skating vibes, so you can feel free to use it as part of your skating captions for Instagram. Here are some ideas:
Getting my groove on in the rink.
Far out skating today, slammin' it!
Peace, love, and rolling with nifty tricks today.
This roller girl is not a closet disco queen!
Later days, skaters! Eat my dust!
Got my new skates on. Can you dig it? 
Jeepers creepers, this roller derby babe can boogie.
Getting my skates on, 'cause I gotta skitty!
Grooving on skates is just the way I roll!
Cool Roller Skating Quotes for TikTok
TikTok is great for people who love roller skating because it's all about short and sweet videos that pack a lot of punch. You can easily upload and share your roller rink videos with some fun or funny roller skating captions.
Cool Captions for TikTok
To roller skate your way to stardom and get a great following on TikTok, it's not enough to be the most radical roller rink kid on the block with the best moves. You must combine your awesome videos with roller skating captions that thrill your future followers as much as your moves! Here are some ideas:
Roller skating = flying low and having fun!
This is just the way I roll!
Roll with soul!
The coolest kid is the one at the roller rink skating his heart out!
When in doubt, skate it out.
Number 1 of a million rink-side races!
Four wheels on each foot, skate time!
Don't quit skating. Learn to fall properly!
Work hard, skate fast!
Don't blink! You'll miss my awesome tricks!
Best roller skater, or what!?
Roller skater kids realize they can do anything if they practice!
Nobody's perfect, but roller girls are pretty close to it.
Risk falling, fear nothing, and live without regrets!
The more roller skates, the merrier.
Hip-hop is my main jam, but old-school tunes are rad when I'm rolling!
Best Roller Skating Captions for Twitter
Roller rink adventures are definitely something to tweet about! Whether you want to show off the best roller skating rink, some awesome tricks you've learned, or your fancy new roller skates, Twitter is an ideal platform to get a short but sweet message across, for example:
I'm in a love-skating relationship.
Roller derby babe in the house!
Best roller skater at the rink!
A roller skating guy is great for dating!
Follow my TikTok, so you don't miss my awesome tricks!
Roller skates prove you can balance.
If you fall and get hurt. Stop, but get up and go again!
The best roller skaters are the ones who keep rolling!
I'll be rolling 'till my wheels fall off!
Roller skaters prove that some trends never die.
Who needs a roller coaster when you can roller skate?!
I'm here for the snacks and the roller skates.
Eat. Sleep. Skate.
It's the weekend – let's roll!
Them: Let's go hike! Me: Can I bring my roller skates?
Amazing Roller Skating Captions for Facebook
Facebook makes it easy to share just about anything about your roller skating experiences. If you're a skater who loves Facebook, here are some of the best roller skating captions you can use to make your posts pop!
Relationship status: In love with my roller skates.
All these trampoline parks can suck it; roller skating is way more fun!
Getting my jam on with the Jonas Brothers and my skates on!
Why walk when you can roller skate?
Skating up to the lemonade stand, cool as ice!
Roller skating – it's the coolest classic pastime for all ages.
Life is sweeter at the roller skating rink.
Happiness is: dancing on roller skates to your own beat.
The only way to skate is to skate like no one's watching!
Upgraded from Barbie skates today, check out my new wheels!
Roller skating: because gravity is a terrible thing to waste.
Let the good times roll!
Even if you only have Barbie skates, you gotta start somewhere.
I followed my heart, and it let me to the roller skating rink!
Four wheels on each foot. It's just the way I roll!
Why not start a Facebook page dedicated to roller skating, jam skating, artistic roller skating or roller derby? You could share posts with cool roller skating captions and build up a nice little community of skaters who love the sport just as much as you. Every local roller skating guy and roller girl would LOVE to be part of a page about good skating vibes!
What About Skateboarding Captions?
Those who are die-hard roller skating fanatics might not know it, but this sweet thing called skateboarding teaches kids to balance almost as well as roller skating.
If you're a roller skater who also loves to work on your skateboarding skills and show them off, here are some captions you could use on your social media channels:
What would you do without your skateboarding crew?
Four wheels are better than none!
Me and my skateboarding crew are putting ideas into practice!
Ice Skating is Also Skating!
Okay, instead of four wheels on each foot like roller skates, you have ice skates with blades, but the concept is similar! Here are some ice skating captions for Instagram, Facebook, Twitter, or TikTok:
Metal skates make the world go round!
Speed kills, but ice skating chills and thrills!
Ice, ice, baby!
Are You Ready, Roller Skater?
Well, there you have it! Some of the best roller skating captions for Instagram and other social media platforms. We hope you got some stellar Instagram captions from this article and that you keep enjoying your roller skating as we do and sharing your experiences on your social media profiles with other roller skating fans.
If your idea of a fun day is to roller skate all day long whether just for fun or all of the great health benefits of roller skating, now is the time to share this slammin' sport with the world! You can show off all your roller skating parties, cool tricks you've learned, your roller derby moments, and any other awesome pics and videos you take with your skater friends at skate parks and roller skating rinks.
The world needs more people like us! Roller skating is a classic pastime that just never gets old and should be shared with the whole wide world! The history of roller skating is so interesting and diverse and with continued newcomers, this great hobby of ours will continue forever.
So get those cameras out and start snapping and sharing your roller skating captions, pictures, and videos! And don't forget to add some funny roller skating captions and fails; it will help get you more followers!