You'd think that if you practice a shot or pass hundreds of times, you'd get pretty much the same result every time, right? Technically, it's not simply muscle memory at work; it's also your equipment.
You'll lose precision if you use the wrong stick, and by the time you get used to it, you'll probably need an upgrade anyhow. That's why, from the start, your stick should feel like an extension of your body.
While no stick will replace ability or practice, it will let you concentrate on the game rather than worrying about where the puck will go, even if you do everything well.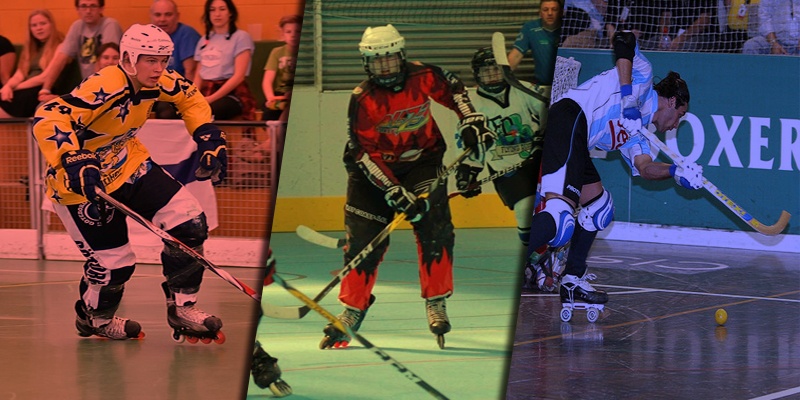 But how do you know the best street hockey sticks when there are so many to choose from?
We carried out extensive research and identified the top 10 Best Street Hockey Sticks currently available on the market.
We spent weeks testing a variety of street ice hockey sticks. Our editorial teams independently studied, reviewed, and selected the best street hockey sticks based on significant data analysis.
My Top 10 Street Hockey Sticks
Street Hockey Stick Detailed Reviews
1. Sher-Wood T90 – Best Roller Hockey Stick for Adults
If you're searching for a high-performance street hockey stick for adults, the Sher-Wood T90 is what you need. The T90 is a better, faster, and stronger generation of the Sher-Wood stick family history.
The stick provides unrivaled performance and durability compared to others in the same range. Its weight was reduced drastically, making it easier to move more fluidly without being slowed down by your stick.
This street stick boasts a heavy flex of 105 and a two-piece aspen core covered by a double horizontal birch laminate with a traditionally-shaped shaft and a fiberglass blade. The carbon bridge provides support and rigidity, ensuring that the VRF.2 blade face remains square to the target without expanding up and losing accuracy. This results in a more lively blade with better precision.
Overall, you'll get a blade with multidirectional and highly impact-resistant fiberglass reinforcement.
Pros:
High performance
Comfortable
Sturdy
Cons:
---
The Sher-Wood T60 is the best roller hockey stick for many reasons. This stick has a high-end feel and appearance at a reasonable price, making it the ideal street hockey stick.
The stick simulates the feel of one-piece composite sticks used indoors for outdoor players. Unlike the more classic wood shaft that comes with ABS blade sticks, the T60 has a considerably superior balance point and shot response, which can help younger players get better with their shooting.
Because the shaft is made of carbon and fiberglass, it is incredibly sturdy and will not lose its pop as quickly as a wood shaft would. The grip finish on this T60 ABS stick is virtually solely found on indoor, real one-piece composite sticks.
Pros:
Outstanding performance
Low cost
Durable
Cons:
The grip can be improved.
---
Even better, this Bauer brand stick is recognized for quality and durability. It can be used on any playing field. The I300 has a flex score of 87. Although it is aimed at young users, the flexibility rating may be too high for adolescents to handle.
In terms of design, the I300 has a sleek black layer. The blade shape provides good puck control and shot speed while retaining the strength and hardness of the stick without breaking it right away.
The stick undoubtedly provides more puck control than many others. It aids incredible shots that allow you to pick out targets with pinpoint accuracy, which is challenging to find with a street hockey stick.
Although its shaft is constructed of a light material, it is nevertheless heavier than regular composite sticks. The blade is a little fragile, but it is for better accuracy. The stick is also light in comparison to other wood sticks. Overall it would be a great buy.
Pros:
Comfortable
Sturdy
Budget-friendly
Renown brand
Protection on any surface 
Cons:
---
The CCM Ultimate is another excellent budget-friendly street stick option. This stick is designed to withstand outdoor surfaces that have a reputation for chewing apart wooden sticks. The ABS blade is fused directly to the wooden shaft to improve overall durability.
The flex of the Ultimate stick is 85, which is about normal for a good stick. It's also nice to have something like this at such a low cost so that if it breaks, you won't have to break the bank to replace it. However, because it is designed to withstand considerable punishment, it should last you long.
The junior and youth versions of the CCM ultimate are a little heavier than some of the other street sticks on the market, but that shouldn't be a problem if you're ready for it. If you require a lightweight stick, you should probably look into something else on the list.
Pros:
Comfortable
Sturdy
Standard curve
Budget-friendly
Cons:
---
If you're searching for a robust yet affordable street hockey stick, check out the T20 Sher-Wood. It'll give you a more traditional puck look and other sturdy street hockey sticks.
This is a small stick for juniors with a fiberglass and carbon fiber reinforced base, which adds stiffness and flexibility to the system.
The Sherwood T20 Hockey Sticks include a reinforced blade that can be used on almost any surface, including asphalt and concrete. The multi-layer lamination construction on the shaft ensures a long-lasting stick with a robust feel. This T20 hockey stick has a 'classic' mid-kick point that gives a powerful shot and the traditional construction.
Pros:
Low cost
Durable
Protection on any surface 
Cons:
---
6. Winnwell RXW2 – Best Wood Hockey Stick (Runner-Up)
This is another well-made hardwood hockey stick that won't break the bank if and when it breaks. The blade comprises a multi-layered wood laminate with a fiberglass inlay, while the shaft is made of multi-laminated plywood.
The Winnwell RXW2 Wood stick has a sensitive feel that allows for excellent puck control and precision when shooting. Winnwell's commitment to producing high-quality equipment that offers gamers the best value has never been greater than it is now. You can rely on Winnwell hockey stick to deliver.
Even though it appears to be a regular twiggy wooden stick, it actually uses hybrid technology to give you the strength and the feel you'd expect from a good street hockey stick.
Pros:
High performance
Lightweight
Low cost
Durable
Cons:
The grip can be improved.
---
With an injected blade and multi-lam construction, this CCM Street Hockey stick provides excellent performance and durability on a range of surfaces.
The stick is designed for use on various surfaces and is also suitable for street hockey. It has a multi-lam structure for a highly robust and durable stick, a long-lasting glossy finish, and an injected blade construction that lasts on any surface.
Overall, the CCM street is one of the most durable and cost-effective hockey sticks available.
Pros:
Comfortable
Sturdy
Low cost
Durable
Cons:
Smaller sizes should be made available.
---
Bauer is one of the most well-known ice hockey equipment makers. It also sells recreational skates and fitness clothing. The Bauer's SH1000 hockey stick is the newest addition to their line of hockey sticks. The SH1000 is one of the most high-performing yet reasonably priced recreational hockey sticks available and will serve you well whether you're playing pickup in the driveway or on the rink.
The stick has a replaceable injected poly-blade and a matte blade finish, giving it a high-end appearance and giving the impression that the player is serious about his game!
Furthermore, the multi-ply painted handle improves grip and comfort. With a length of 53 inches, the SH1000 is ideal for players who are just getting started.
Pros:
Replaceable blade
Comfortable
Sturdy
Cons:
More sizes would be nice.
---
9. Bauer I300 – Best Bauer Youth Hockey Stick (Runner-Up)
The Bauer I300 ABS Junior Wood Hockey Stick is made by a manufacturer with 80 years of experience providing hockey equipment for individuals, amateur leagues, and professionals.
The stick is lightweight and comes with an ABS blade that gives you the control and speed you need to get the ball where it needs to go. The stick provides superior puck control and shot velocity.
IT has a lightweight multi-ply handle and is ideal for any surface. A juvenile handle with a short radius is recommended for smaller hands,
This set of street hockey sticks is perfect for youngsters since it encourages energetic movement, which helps to improve hand-eye coordination in a fun way.
Pros:
Lightweight
Budget-friendly
Renown brand
Protection on any surface
Cons:
---
10. CCM 252 – Best CCM Youth Hockey Stick (Runner-Up)
The CCM 252 Heat is regarded as one of the greatest buys for street hockey players on a budget.
Despite being very economical, the CCM 252 Heat has a really premium feel to it. It comes with fiberglass reinforcement and a white ash blade. As a result, it is incredibly robust while also flexible and light.
Without a doubt, this hockey stick is ideal for budding players who want to take over a larger field in the future. The multi-laminated shaft ensures stiffness and uniformity in the weight, while the rounded corner radius improves feel and comfort. The CCM 252 is very resistant to tear and wear, making them stick more durable.
Pros:
Comfortable
Sturdy
Budget-friendly
Renown brand
Protection on any surface
Cons:
---
Choosing the Best Street Hockey or Ice Hockey Stick
Here's what to consider when choosing a street hockey stick.
Intended User: When looking for the best stick for roller hockey, keep in mind who you're buying it for in terms of age and street hockey experience. Hockey sticks exist in various sizes and materials, which have an impact on how a player plays. While it is self-evident not to buy a full-length stick for a toddler, the same would be true for novice users looking for a midway ground.
Material: Because of the roughness of asphalt and concrete, your street hockey stick will be eaten up regardless of the material you choose for it. As a result, even though a high-end composite stick is available, it is recommended that you remain with a less expensive wood hockey stick. Splintering is a problem with wood, whereas cracking is a risk with composite. The ideal option is to acquire a stick that blends the two materials for a sturdy, long-lasting stick that won't break the bank to replace.
Durability: As previously said, street hockey is hard on sticks, resulting in a short lifespan. You can get some with a wrap or laminate finish, which will give them a little more life than they would otherwise have. You don't want a stick that breaks after one game, but you also don't want to spend a lot of money on a stick that may be sturdy but won't last much longer.
Weight: It's worth noting that street sticks are generally thicker than their ice counterparts. This is because ice hockey sticks are manufactured of a light composite material rather than wood.
When playing on concrete, however, a thicker wood stick is sturdy and will last longer, not to mention that wood sticks are far less expensive than composite sticks.
Style: Even while street hockey sticks are meant to be significantly more durable than ice hockey sticks, there are still a number of aspects to consider. Do you prefer the total durability of a wooden stick or the lightweight convenience of a composite stick? Will you notice the extra control a single-piece option provides, or do you believe the cost of replacing the blade in a two-piece stick is justified?
Add-ons: What's a pair of hockey sticks without a puck to bang around with? Single street sticks are where you'll find the greatest quality, but packages offer all-around fun by including pucks, balls, and even game-accompanying goals so you can keep track of your score.